Healthy low carb meal Ideas
Need to lose a few pounds and want to try some healthy low carb meals or low carb snack ideas?  Maybe you just need some grain-free or gluten-free ideas?

Scroll down to skip right to the full list of low-carb ideas…
(Or click here for a prettier and more organized list of grain-free/low-carb ideas, but there are still more below so don't miss those.)
I have learned that when it comes to losing weight the healthy way, for some, limiting your carbohydrate intake is where it's at.  I tend to cut out desserts, and eat more but not all low-carb, because I don't think totally cutting out a food group is necessary for most.  (Yes, I've gone back and forth on this one though the years.)
How to plan ahead:
You'll need to do some food shopping so you have everything you need in the house. But even before you can do that, you need good low-carb meal ideas!  (Share yours in the comments!)
But first…
A little personal news about my latest dieting endeavors.
As I told you about in this post, Does Fat Make You Fat?, the dieting in my life usually consists of keeping an eye on things (the scales, my clothes, etc.) and when I start creeping up a little, I'll do something before it gets really bad. It takes a few days to motivate myself, and I always have to plan it when there's nothing big coming up (where there might be a lot of tempting foods). I'll watch the carbs (sweets mostly) and portions for a week or two, and step up the exercising some (when I can), and that's usually all it takes to get me back where I need to be.
Damn Dryer
Well, recently it wasn't so much a big change in the scales, and it wasn't my jeans (you gotta love those low-waisted jeans, even if they do tend to fall down without a belt), it was when I had a dress on that I hadn't worn since fall. In the fall when Kent & I were in Chicago to celebrate our 20th anniversary, this dress fit great, and it wasn't tight at all. When I wore it the other day, it drove me nuts readjusting it over and over because it got snug. As much as I wanted to blame it on the dryer, I knew that I'd also gotten that "thick" look in the middle. With bathing suit days here, I knew it was time. So after a few days of "gearing up" my brain for it, making a list, and then shopping for the right foods, I started Thursday on my "watch what I'm eating" diet for a while.
What have I been eating, you ask? Plenty. Here's the rundown:
Snacks, Appetizers and Side Dishes:
Fresh veggies and homemade dip.
Kale Chips – these are amazingly delicious!
Try this Buffalo Dip recipe that you could eat with celery, yum!
A great artichoke dip recipe I found through a Twitter friend, and there's even a link there for some no-carb cheese crisps for dippers!
Eat this black bean corn salsa, but go easy on the corn, and serve as a salad instead of on tortilla chips.
A handful of berries.
***Crispy nuts – an extra healthy, yummy & easy way to prepare nuts.  Or even better, try these chili lime almonds. (These are low-carb, but go easy, I've heard that cheese and nuts are the biggest threats to weight loss when doing low-carb.)
These stuffed jalepeno poppers are one of my favorite low-carb treats. My neighbor friend, Meg, is also cutting back on carbs (read about Meg at this recipe post), so she & I ate a ton of these in the middle of the day yesterday. Besides an egg in the morning, a few veggies and a very little bit of fruit, that's all I had for the day. My plan worked: I filled up on those, so I wasn't tempted by all the yummy food and treats at the graduation open house we went to.
Another favorite are these ham and cream cheese roll-ups.  
I'll snack on celery and peanut butter – it's filling and sometimes I need the crunch.  Or if I need a quick snack, I'll just grab a spoonful of peanut butter by itself!  Apples and nut butters are good too.
Thankfully, it's farm market season, so I'll snack on various veggies that I've got all clean and ready to go in bowls in the fridge, like pea pods, cherry tomatoes, etc., so they are ready to eat quickly and I won't be tempted to nibble on anything else.
I know I'm odd, but I also love to chop up a whole onion and fry it in butter or ghee until nice and golden brown.  A very satisfying snack, believe it or not.  (I use a LOT of butter!)  Or garlic is good this way, too.  🙂
<Eva told me about these Zero carb crackers for when you need something to eat with dips or for something to spread cream cheese on:  Scandinavian Bran Crisp Bread.  They didn't look real appetizing, but I ended up liking them, they just taste like a Triscuit.  (They are in a small plastic wrapped package in the ethnic section at our grocery store.)
For dipping (because there are a lot of good low-carb dips, but the DIPPERS will get ya) my sister uses low-carb wraps or tortillas, and she'll fry them in butter to get them crisp.  The only problem is that their ingredient labels aren't great, but once in a while is probably OK.
Another good dipper is a Crispy Pecan or a celery stick. (Although nuts can be fattening, so not too many of these. They're good for you, though!) Both give the crunch that we sometimes just have to have! Other crispy veggies would work, too, like carrots or bell pepper slices. (Sometimes what this still needs, though, is the saltiness of the chip or cracker, so if that's the case, I'll add extra sea salt to the dip.)
Roasted cauliflower with or without melted cheese is another good side dish.  Try this Roasted cauliflower with parmesan
My sister likes cottage cheese as a low-carb side dish.
Meal ideas:
One of my favorites:  Bunless burger bonanza!  Or any fried burger with sea salt, pepper and melted cheese on top.
Honey mustard chicken (1/2 cup mustard, 2 Tablespoons of honey to dip your chicken in, which I fry in butter and salt & pepper)
Or fry some chicken and make chicken sandwiches for the family, and I dipped mine in some chipotle mayo.
Whip up a stir fry with any meat and veggies you like.  Water chestnuts add a nice crunch.  I made a good one with steak, quinoa, kale, green onion, and a little fermented soy sauce.
My sister likes cottage cheese as a low-carb side dish.
Kent's Easy Asian Pork Loin – Low carb AND gluten-free!
This tasty Fried Fish with Fresh Lemon Garlic Pesto
This Yakisoba recipe is SOOOOO good with extra veggies instead of the noodles!
I love Gazpacho!
And I also love chicken salad!
I like to make sloppy joes for the family, and eat my meat with sour cream, it's so good!
Napa Salad is one of my favorites!
This pesto chicken or just cheesy chicken is SO easy, SO good and low-carb!  This pasta pesto chicken dish is great over romaine lettuce instead of pasta – yum!
I eat a lot of eggs when I'm watching the carbs – here are all different egg recipes, some with carbs and a few really yummy ones without.  These egg soufflés are delicious and they don't have much flour in them.
Some stuffed green peppers would be good.  (I don't have a recipe yet for those.)
Or meatballs made w/out breadcrumbs or with less breadcrumbs than normal.  Or try these Low-carb sausage balls
Tonight we're having steak for dinner, and sautéing more farm market veggies, like asparagus in one pan, and green & yellow zucchini in another.
Salads are always satisfying, especially if you add chicken or steak. I got fresh greens at the farm market the other day, and I may put a couple strawberries on top, a hard-boiled egg, a homemade dressing with less sugar than I'd normally use, some cucumbers, Parmesan cheese, and a few crispy pecans. (But be careful not to eat too many nuts when trying to lose weight.)
Here's another good one that I love all the time, and it happens to be very low-carb and tasty: Caprese Salad
Even though it's been warm out and it's not really chili weather, we all still love it. Soon I'll make traditional chili and a white chicken chili– both are low-carb. (Update: last night I made chili and tonight we had leftovers on the all-natural hotdogs from Costco. The fam had the homemade buns I made, but I fried up a couple dogs, cut them up and ate them in a bowl of chili – it was so good!)
Here are more soup ideas, not all are low-carb, but most are or can be adapted.  I don't know if it's listed, but a good beef vegetable soup is very satisfying.  I usually use round steak (with a bone) for this and add lots of veggies and herbs to give it a great flavor.
A good chicken dinner served with lots of veggies always satisfies.
Make fajitas with those low-carb wraps.  Use chicken or steak, veggies, cheese, salsa, sour cream.  Yum.  Update:  Even better, here's my recipe for Fajitas, which is so good you don't need a tortilla, I eat it as a "rice bowl"!!!  Fajitas with grass-fed flank steak
Fried cabbage is an easy, filling, tasty treat!
Another idea from my sister:  use the recipe above for lettuce wraps, but use cold shrimp instead of chicken, and just eat the filling.  Delicious.
Shrimp cocktail – cold shrimp on a plate, drizzle balsamic vinegar over the top, and a little dab of fresh horseradish.  Good flavor and nice bite, without the carbs in the ketchup.  ZERO carbs!  (My sister loves this.)
Thai Vegetable and Chicken or Beef Stir-Fry – sooooo delicious and grain-free!
"Bhurtha" – I love this spicy eggplant recipe from Sonia!
I am the Omelet Queen! – This is so yummy and satisfying.
More veggie side dishes are here for satisfying ideas!
A roast dinner is always a hit.
This carrot salad hits the spot if you're craving something a little bit sweet
Desserts:
I'm really missing my sweets, but if I keep myself from getting hungry, it hasn't been too terrible.  Sometimes just two chocolate chips will do the trick.  (And you feel like you're really "cheating" so they taste extra good!)  Although, to get rid of the cravings, it's best to not have any sweets for a while if at all possible.
Dessert idea:  fresh fruits with real whipped cream made with very little sugar.
Here's a fairly low-carb dessert! Homemade chocolate or vanilla ice cream – there's not a lot of sugar in this, but if you're trying to lose weight, you may still want to steer clear. (However, if you're going to have a little treat, this is a good choice, because all the healthy fats in this recipe help slow down the insulin response from the sugar. Here's another good one for the same reason: Crème Brule.)
Halloween pancakes (super delicious:  made with squash or pumpkin, and grain-free, too!)
Also, here are some No grain recipes from Sarah, the Healthy Home Economist
Please comment below if you have other low carb/no carb ideas!
Exercise really kicks things into gear
While it's mostly all about what you're eating, of course exercise should still be in the mix. Until recently I was in a bad streak around here where I felt totally buried under my to-do list, so I haven't been out in a couple weeks. I finally got out and ran last night…while pushing a jogger, which STINKS I'm here to tell ya. Then I rollerbladed today – a lot of it was against the wind, so what I'm saying is that after being good all weekend, I'd better be doing a happy dance after checking the scales and measuring tape in the morning.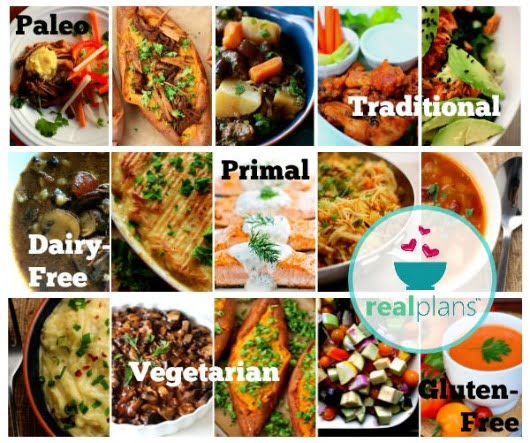 Meal Planning Help!
Sick of planning meals and answering the question, "What am I going to feed these people?"  No matter what kind of eater you are…   Check out these affordable interactive easy-to-use meal plans where the work is done for you!   Also read over my review to see what I thought of it.