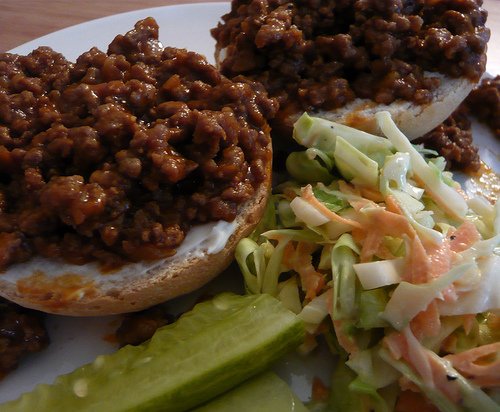 What a simple, fast-food-at-home meal!  My family loves it when I make these organic sloppy joes for dinner, and they're even better (and better for you) when you serve with some yummy traditional sauerkraut or other fermented vegetables. I used my friend Megan's Mom's recipe (thanks Jo!), only I made it with organic ingredients. It was so easy!  You may already have an easy sloppy joe recipe, but just in case, here's a good one: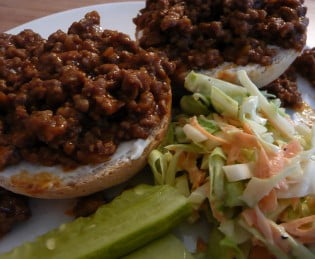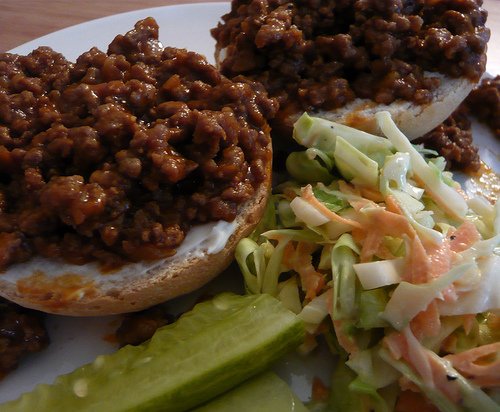 Print
Organic Sloppy Joes
Ingredients
1 pound ground beef (I used ground beef with heart for extra nutrition – no taste difference, honest!)
1 onion, organic if possible, chopped small
2-3 cloves minced garlic, optional
1 organic green pepper, chopped small, or use different colored peppers if you'd like (you may want to omit this if you have picky kids)
1 cup organic ketchup, to avoid high fructose corn syrup and chemical preservatives
1 Tablespoon prepared mustard, I don't always buy this one organic, the ingredient label is very very short
1 Tablespoon raw apple cider vinegar
1 Tablespoon maple syrup, organic cane sugar, or other natural sweetener
1/2-2 teaspoons chili powder (amount depends on your family's preference) for a little spicy kick.  🙂
Optional (Meg says it's good this way, but kids don't like it): 1/4 teaspoon cloves
Instructions
Brown the meat with the onion until meat is no longer pink.  When it's almost done, throw in the optional green peppers.  Add the remaining ingredients and stir until heated through.
Serve with homemade hamburger buns or sprouted flour buns.  If you buy some at the store, try to find organic, or at least some without high fructose corn syrup or trans fats.
To make it even more yummy, spread butter on the insides of the bun and broil face up for a few minutes until golden. This gives it a delicious toasted top. Kent also likes his with pickles and cheese.  Note:  our family loves these so much that I am now cooking 3# of burger when I make it!
Did you make a real food recipe?
I want to see it! Tag @KitchenKop on Instagram and hashtag it #KitchenKopRecipes OR share anything you know I'll love by tagging @KitchenKop and hashtag #KitchenKop -- see you over there!
Related posts (or not):
Meal Planning Help!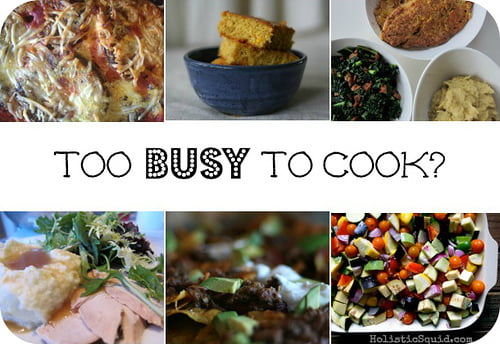 Sick of planning meals and answering the question, "What am I going to feed these people?" No matter what kind of eater you are (traditional, GF, paleo, vegetarian)… Check out these affordable interactive easy-to-use meal plans where the work is done for you.  NOW recipes also available from Nom Nom Paleo, The Paleo Mom, and Wellness Mama all in one spot!  You can read over my review here.