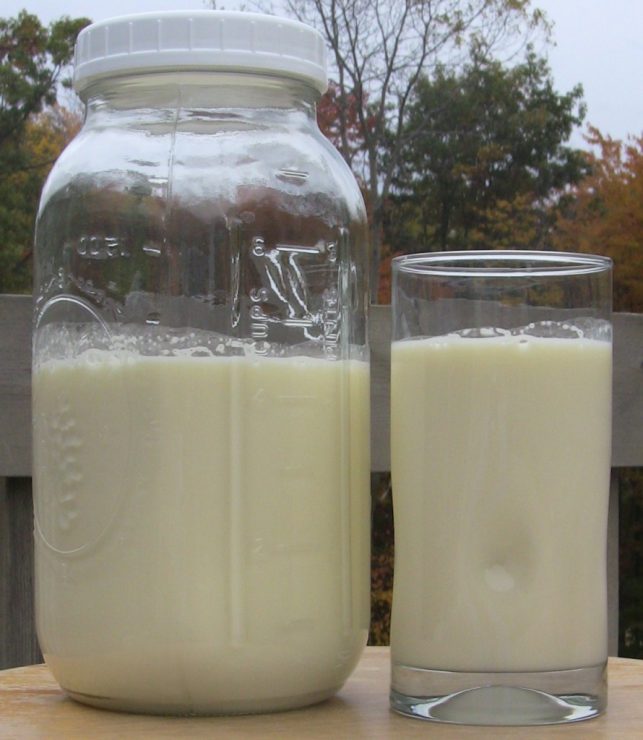 Since some of you may not be ready or able to make the switch to raw milk yet (which is the most nutritious milk — learn why here:  Raw Milk Benefits and Information: Q & A with Mark McAfee), I thought I'd try to help you find the next-best choice when choosing which milk to buy for your family. Keep in mind that milk is a healthy food! But as with all things, there is a big difference between the various options available.
Scroll down to where it says, "which milk to buy", if you just want to skip to the list of best to worst options.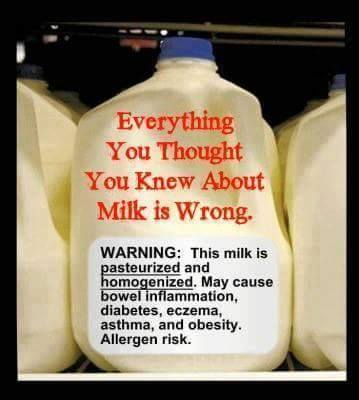 I told you I was a freak
I can be a real crazy-woman on this topic, in case you haven't figured that out already. I was checking out at Meijer one day and saw a woman in front of me buying 4 half gallons ($3.29 each) of Meijer organic ultra-pasteurized milk. It was burning inside of me and I wanted to tell her that she was paying more for something that is not even nutritious, and to top it off, she had FAT FREE milk!  It took everything in me to keep my mouth shut (no big surprise to those of you who know me), but I pulled it off.
The "organic" part was great, but there were two main issues with what she was buying:
The date on the milk was ALMOST TWO MONTHS FROM NOW, which is an obvious hint that this is very UNNATURAL milk! When the date is that far out, that means the milk is "ultra-pasteurized" (which is also stated on the label), whereas most milk you get at the store is only "pasteurized" and the date is about a week or two out. Ultra-pasteurized basically means that they kill the milk at an even higher heat than with normal pasteurization, so it no longer even resembles milk! (They later add synthetic ingredients back in, like vitamin A & D.) The milk is so dead, it doesn't even need refrigeration, but stores sell it in the refrigerated section or else no one would buy it, they'd be so turned off. This processing technique for milk is ONLY to lengthen the shelf life and therefore increase profits for the milk companies. Especially watch for this on those little one-cup cartons of whipping cream, which I use to make whipped cream when I don't have enough raw cream from the top of our milk – never use "Cool Whip"! Real whipped cream is so easy to make, it only takes a few minutes and is much healthier!
The other screaming issue was that she was buying the fat-free milk! I shudder at the thought that she may have children she was buying it for. I know, I know, your doctor told you to drink low fat milk, and he even told you that once your child is a certain age, they should drink low fat milk, too. I will not tell you to go against your doctor's advice, however I will BEG YOU to please do your own research on this and see if there might be another side to the story that they aren't aware of!  And even if it's not on the label, often they add in weird stuff to replace the fat they took out — there's more about that below.  We all, especially our children, need healthy fats in our diet, and dairy fats the way God designed them are healthy fats! It's common sense: God didn't make whole milk cows and skim milk cows! For centuries people would drink their milk whole, unless they were taking the cream off the top to make butter, to stir into their coffee, or to put on their oatmeal or strawberries. Try to let go of the "low fat" mentality that has been beat into us. I know this is difficult since we're still being bombarded by that rhetoric, but just think in terms of common sense. What is more natural? How did God design it? (Read more about why dairy fats/saturated fats are NOT the "bad guys" they've been made out to be and in doing research for this post, I also found this article showing that intake of high-fat dairy products is linked with a lower risk for infertility!)
"But it tastes too thick!"
Some people tell me they just don't like the consistency of whole milk, I used to be the same way, I loved my skim milk! This shows how not just our thinking, but even our taste buds had become warped. If I can get over this, believe me, you can too. At first it might taste a little heavier, but it wasn't difficult at all to get used to it (give it a couple days, tops), especially once I realized how much healthier it is.  By the way, whole raw milk DOES taste much lighter than store-bought whole milk anyway.  Another idea I haven't tried, but I'd love to hear from someone who has (leave a comment below please!): add a little water to your whole milk to make it taste lighter.
Here's more information on why to avoid low fat dairy, the following information in quotes below is from Nina Planck in her book, "Real Food: What to Eat and Why" (anything not in italics are my words):
Q: But won't I gain weight drinking whole milk? A: No! "Unlike polyunsaturated fats, which the body tends to store, the saturated fats in milk are rapidly burned for energy." Not only that, we absorb more calcium from whole milk, which helps us lose weight: "The butter fat found in milk helps the body digest the protein, and bones require saturated fats in particular to lay down calcium." "The cream on the milk contains the vital fat-soluble vitamins A and D. Without vitamin D, less than 10% of dietary calcium is absorbed." (Nina Planck also explains that calcium absorption may be the key to why recent studies show that people who consume more milk, yogurt, and cheese lose fat, especially belly fat, and gain lean muscle. She quotes a nutrition professor, Michael Zemel, who found that calcium from dairy foods is "strikingly more effective than calcium from fortified foods or supplements" for stimulating weight loss.)
Q: Won't drinking whole milk give me heart disease? A: If that were true, then why in the first half of the twentieth century did the incidence of heart disease rise, as consumption of saturated fats fell? (Dairy fat, butter, coconut oil, etc.) In recent years, the more "they" convinced us that low fat was where it was at, the unhealthier we have become! And get this: reduced fat or fat-free milks lose their milky consistency when the fat is removed, so to give the consistency back that everyone expects in their milk, dry milk powder is often added. This contains oxidized (damaged) cholesterol, so the milk you thought you were drinking because it was better for your heart, turns the milk into a BAD FAT after all!  (More about oxidized cholesterol from Sally Fallon.  Also, Katie from Kitchen Stewardship wrote a post questioning this claim, so I did a follow up post on this issue of whether or not dry milk powder can be added to milk without it being on the label.)  *More about the dangers of oxidized cholesterol (from dry milk powder) are here.
"Skim and 2% milk must, by law, be fortified with synthetic vitamin A and synthetic vitamin D. There is some evidence that both synthetic vitamins are toxic in excess."
"Whole milk contains glycosphingolipids, fats that protect against gastrointestinal infection. Children who drink skim milk have diarrhea at rates 3-5 times higher than children who drink whole milk."
Why is milk (and meat) from "grass-fed" animals so important?
If you can find grass-fed dairy products, you'll be getting even closer to healthy raw milk. From "Real Food: What to Eat and Why" (I love that book, can you tell?): "Cows on grass contain more omega-3 fats, more vitamin A, and more beta-carotene and other antioxidants. Butter and cream from grass-fed cows are a rare source of the unique and beneficial fat CLA… CLA prevents heart disease, fights cancer, and builds lean muscle. It aids weight loss in several ways: by decreasing the amount of fat stored after eating, increasing the rate at which fat cells are broken down, and reducing the number of fat cells." (More here on grass-fed meat benefits.)
Avoid milk with synthetic growth hormones: rBGH (or rBST)
Most store-bought milk comes from cows given synthetic growth hormones to increase milk production and profits for the dairy industry. Don't worry, the FDA claims it is safe for us to drink, and we all trust them, right? (Wrong.) Not only is it uncomfortable, inhumane and unhealthy for the cows, it has also been linked to cancer, and early puberty in girls – this is highly debated, but it's a no-brainer as far as I'm concerned. If it makes cows more prone to illness (and shortens their lifespan by half), can it be good for us to drink? So whether or not the claims of increased cancer and early puberty are true, why risk it by ingesting something unnatural?
Non-homogenized milk
Homogenization is the process of shaking the milk so violently that the fat is dispersed evenly throughout the milk and no longer rises to the top.  Just another way to denature a highly nutritious food!  There are also health concerns related to homogenized milk.
If you're lucky, you may be able to find non-homogenized milk from grass-fed cows near you, we have a great local option like that (Hilhof Dairy), it is local (from nearby in Michigan), and contains no growth hormones. It is still pasteurized (obviously, or else we couldn't buy it at a store, but don't forget the cigarettes while you're there, UGH.  It stinks that we can buy THOSe buy not fresh raw milk), but that's the only difference from our farm-fresh milk — it even comes in glass jars. When I can buy milk at a store that is only one step away from the best, I'm thrilled!
You're wondering why it matters, since we drink raw milk. The answer is because we sometimes run out of our raw milk each week and need some store-bought milk to hold us over a day or two until we get more from the farm. (And I also need store-bought milk to give to my day care kids.) OH, and some who think whole milk is too thick, really like this whole milk.
Which milk to buy
Milk Best to Worst–I'm not adding in raw milk here, which is always best if it's from a farmer you trust, or low-fat milk, which is always the worst, as explained above.  Here are your options:
Organic, grassfed cows, glass bottles, lightly pasteurized, but non-homogenized.  Near us I can find Hilhof Dairy in this category.  If we couldn't get fresh milk from the farm, we'd get this and it's this type of milk that I look for when we're on vacation.
Non-organic but non-homogenized, from grassfed cows.
Non-organic, homogenized, from grassfed cows.
Organic, not grass fed.  Note that Horizon milk and almost ALL organic milk at the store that I've ever seen is ultra-pasteurized–you can see the use-by date is months away and even that's a lie, it's actually shelf-stable for years, so don't buy this!
Non-organic, not grassfed.  This is typical "conventional" milk from factory farms, and I recommend it the least.  As a matter of fact, if we could only get these last two options, we wouldn't drink milk at all…   (Read more about conventional dairies:  Dairy Cesspools – Neatly Dividing One Solution into Two Problems.)
To find information about the milk you're thinking about buying, you'll probably need to go to their website and/or call the company, I've done this often.
Can't tolerate cow's milk or can't find milk you're comfortable drinking?  
Read about your next-best options here!
As always, if you have any good information to add, please comment below.  Or if I've confused you more than before, let me know and I'll try to clarify for you.
Related posts: