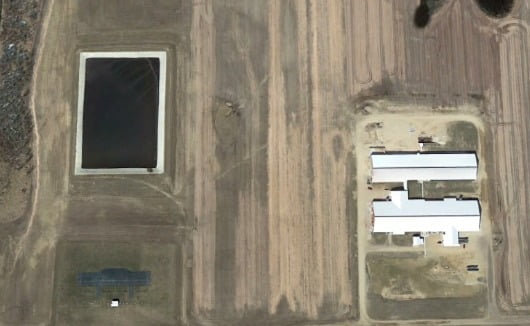 Factory Farm Cesspools — where's the common sense?!
Our son, Kade, is into all things related to aviation, to put it mildly.  (He might have gotten it from his Mom.)  Last spring we got him a remote control plane, which he flies at various remote control airfields around us.  Whenever we're on the other side of town, there's a certain field we always go to.  The first time we were there the guys warned us, "You don't want to crash back there, because there's a HUGE cesspool – it's the waste from that dairy farm."  They pointed to the big factory farm that we'd just driven by and I said, "Wow, how sad that those cows NEVER get to go outside."
This was obvious since there wasn't a fence in sight.
The picture at the top of this post is an actual shot from Google Earth.  You can see the big rectangular factory farm cesspool and the airfield just to the south.  Over to the right are their two big barns.  And these barns are HUGE, so it gives you an idea of how big the cesspool is.  Below is a shot of the barns from the road.

Keep in mind that I've been told by a reputable source that this is actually a pretty good conventional farm as far as their treatment of the cows and their cleanliness, etc.  There was no house in sight though, only what looked like a small office.  How far we've strayed from traditional farming!  And the stench when you're anywhere near the place is absolutely disgusting.
The part that especially bothered me is that it doesn't have to be so complicated.
This now-common conventional farming method of 'handling manure' is what Nina Planck calls, "Neatly dividing one solution into two problems."  (See her comments on this in the video below.)
Imagine how much money it takes to build huge factory farm cesspools / holding tanks?!
And to pay for the system of pipes to get the manure over there!  And I wonder what happens to the waste then?  I'm just a city girl, but even I have to wonder, wouldn't it be smarter instead to let the cows out on pasture where they're happiest and healthiest?  Where they can poop wherever they may and fertilize the ground, which produces rich soil, which then grows lush nutrient-dense pasture to feed the cows what they were meant to eat?  The cows could then nourish us with nutrient-packed milk or meat or whatever that farmer raises and sells.
Doesn't that just make more sense?
It's better for the cows, for the environment, and for our health too, because naturally managed pastures, and the animals out in the sun happily roaming around and munching on it, are healthier and full of the super important fat soluble vitamins.
This is "Salad bar beef" (or "salad bar milk") as Joel Salatin calls it.  
It's the way it was always done until the past few decades when things got so far off-track!  Pasture grasses are what the cows always ate, with maybe a small amount of supplemental feed.  Nowadays they also truck in all of their feed, again, costing more in trucking expenses — it's all so screwed up!  And by the way, that feed is usually a mixture 'specially formulated by a veterinarian' to have the right amount of calories.  A lot (most?) of that being corn, which is not a cow's natural diet for one thing (partly why conventional cows are sicker and don't live as long as naturally-raised cows), and also more grains are not what I want in the meat or milk I serve my family, especially since it's all genetically modified!
As I said, how far we have strayed…
I'm very thankful for our dairy and meat farmers, who know how and why to use traditional farming methods, and I'm just sad that so many modern-day farmers follow the path of a conventional factory operation – obviously, they've somehow been convinced that it's better.
Here's where you can find safe meat and milk near you: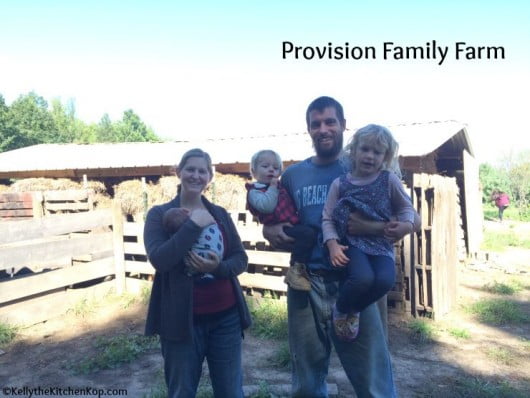 You still have to ask questions to be sure your farmer is doing things right though: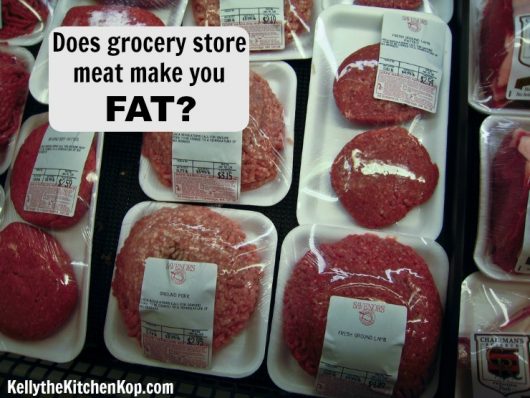 Here's the video with Nina Planck:
Her comments about factory farm cesspools ("neatly dividing one solution into two problems") are at about minute 18:19, but the whole interview is really good about real food:
More: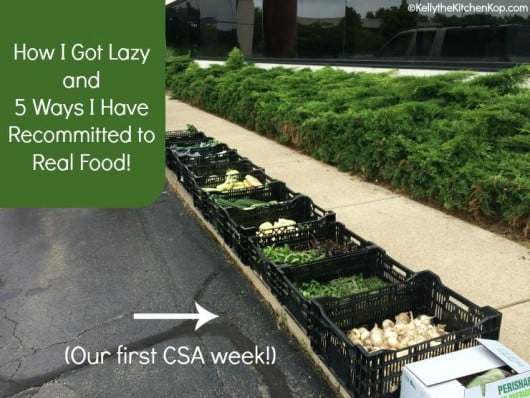 Spy Drones Expose Smithfield Foods Factory Farm Cesspools: