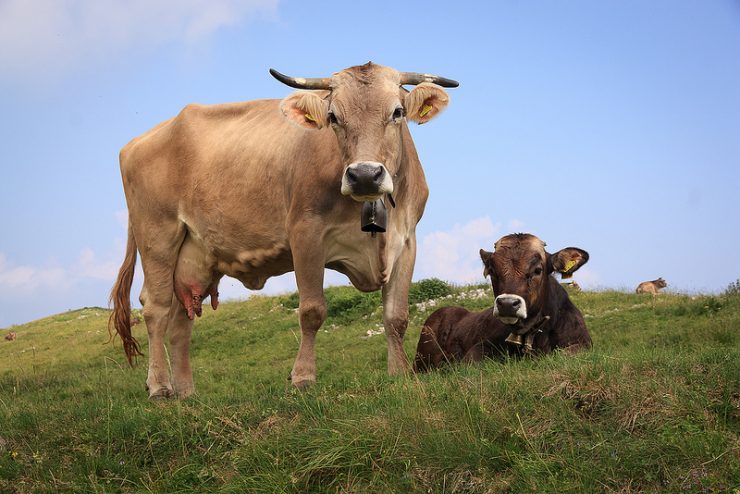 Are Meat-Eaters Ruining the Earth?
Recently at a local art competition there was a huge exhibit with facts and figures showing the evils of factory farms, and how meat-eaters use up so much more of our earth's fuels and resources than non-meat-eaters.  What got me going was that there was nothing there about sustainable farming methods as an alternative, only gads of information about how ethical vegetarians are.  (Thankfully Kent was around the corner because I almost started a scene…he hates scenes.)  Just then the artist's friend happened to be there and overheard me saying out loud, "But this is just wrong!"  He said, "What's wrong?  I know the artist, I can pass it along."  I told him that I wished he had used this opportunity to raise awareness on the better option of sustainable farms and animals raised ethically, how it CAN be done well.  He said, "Yeah, I think he knows that…"  He walked away and I wanted to scream, "Then why didn't he show that, too?!"  Imagine how many people could've been impacted then!
Here's the email I wrote to the artist, but I never heard back…
"When visiting your exhibit recently, I was disturbed by parts of what I saw and thought I would try to explain.  While I agree with some of what you shared, and I also detest factory farms, (terrible for the environment, for the animals, and for those who eat that meat), I do wish, however, that you would have shown another side to the story besides vegetarianism. 
There are many sustainable farms with pastured animals that are getting plenty of fresh air and room to roam.  They're fed what they were meant to eat, and therefore not getting sick or being exposed to antibiotics.  Their life spans are much longer than factory-farmed animals.  With good farming methods, they also use much less of the earth's resources than CAFO's.  Are you familiar with Joel Salatin's farm?  It is a great example of animals being treated well, and meat that you can eat without concerns about getting sick.  If you had also presented this side of the story, not only would you have exposed the truth on the evils of the factory farms, but you could have shown a better solution to the problem as well.  Many who would never consider vegetarianism would probably be willing to buy their meat from good farms.  (And as you've probably guessed, I believe vegetarianism is an unhealthy option for most people anyway, since non-meat-eaters often depend a lot on processed soy for a protein source.  Read more here:  The Cowspiracy Farce.)
I'm wondering if you've heard about this book – here is an interesting review on "The Vegetarian Myth".  Also, here's an article on the China Study: Flaws in the Vegan Bible.

I don't pretend to be an expert on this issue by any means, so I thought I'd direct you to a few more interesting links (below) that you may be willing to look over.  
Thanks for your time,
Kelly"
Readers, I'd love to hear your thoughts on this issue!  And by the way, if you're cutting back on meat for budget reasons, which we do here sometimes, too, just be sure you still get plenty of pastured dairy products and good homemade bone broth.  Often in the cultures Weston Price studied, they could only afford meat once a week, but they ate soups with bone broth and vegetables to fill in.  Here's my list of healthy meatless meals.
Links: