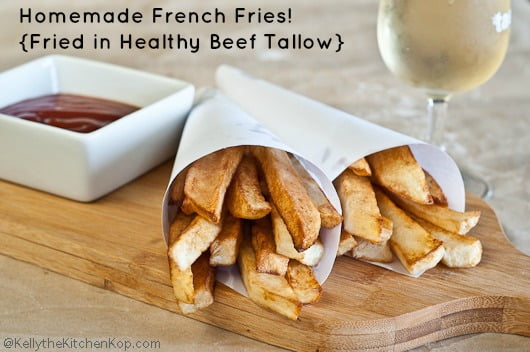 Many people tell me that although they try to avoid fast food, sometimes they just miss fast food French fries.  Now you can have them again, and cook them in your own healthy frying oil at home!
UPDATE (Make them even healthier):  Here's a way to ferment potatoes to reduce the starch content and reduce the formation of acrylamides! Just slice them and soak the night before with about 1/2 c. of whey or vegetable starter culture and enough filtered water to cover. The next day, drain and continue with recipe. Easy! It just takes thinking ahead a little.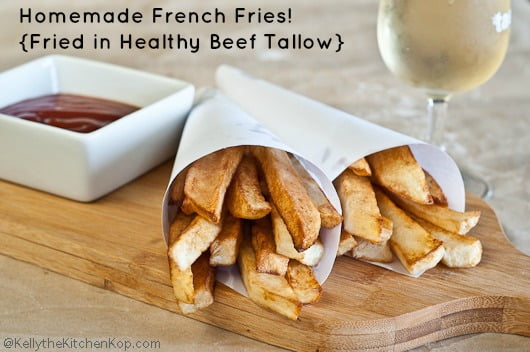 Print
Homemade Fast Food French Fries
Instructions
Slice potatoes for frying — I usually leave the skins on after cleaning well.   (***I use my Bosch with the attachment that cuts them into perfectly shaped fries in a matter of moments!). Dissolve 1/3 cup (I cut this back to 2 Tbsp.) sugar in 2 cup warm water.  Place potato strips in water for 15 – 30 minutes.  (This reduces cancer-causing acrylamide formation at least some, even if you didn't soak them overnight.)
Heat tallow or lard to 350*.  (I like this kitchen thermometer.)  Drain and dry potato strips.  When thoroughly dry place in oil for 1 minute. Remove from oil. Bring oil back up to 350*. (It will have cooled down when cooking the first batch.)  Place potatoes back into the oil and cook until golden brown.  Remove from oil, drain and add sea salt to taste.
Did you make a real food recipe?
I want to see it! Tag @KitchenKop on Instagram and hashtag it #KitchenKopRecipes OR share anything you know I'll love by tagging @KitchenKop and hashtag #KitchenKop -- see you over there!
Notes:
Try serving these with this delicious garlic ketchup recipe!
To keep from wasting any of my precious tallow I drain the fries into a strainer over a glass dish I use to store it in the frig.
Waiting for the oil to heat back up each time was a bit of a pain, but Mmmm, these were worth it!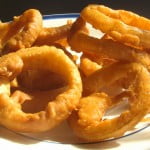 UPDATE:  Now we use deep fryers instead of a pan on the stove (it's safer and makes me feel better, especially since we had a kitchen grease fire when I was a kid and the sound of bubbling grease still freaks me out), read more in this post:  Recipe for Deep Fried Heaven.  There are links there for beer battered fish, onion rings, homemade chicken nuggets, and more!  These are the fryers I wish I had.  But I see they're out of stock, so then I found this bigger fryer with a stainless steel interior!  It also has a nice temperature control and a handy basket — whatever you do, don't get one with Teflon!  (Read about when I ditched my Teflon electric frying pan too.)
"Yummy!  These are very crisp on the outside, but have a creamy potato center.  It really does make a difference rather than just frying once in the oil.  Tastes just like fast food fries!"

Note that if you're like me and still don't have time to cook them twice, or to ferment or soak them beforehand, they're still pretty darn good, and waaaaay better than eating them from a fast food shack, but if you eat them too often, you should still consider the acrylamide risks.
Thanks, Jeanne, for sharing your recipe.