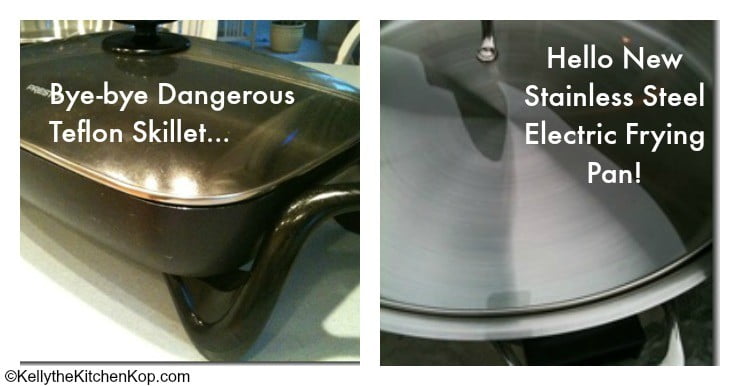 This stainless steel electric frying pan is dreamy!  



I'm reposting this article about our favorite stainless steel electric frying pan, just in case there are still some of you out there using Teflon cookware, because maybe you don't know how dangerous it is or that there are much better options.  I've used this pan for SIX years now and have loved it.  Note that part of the plug fried once (we use this pan a LOT) and when I called the company they replaced it quickly, no questions asked, even though it was a few years old.
Why I love my stainless steel electric frying pan…
Long ago I replaced my Teflon frying pans with cast iron (I love how inexpensive they are, especially if you can find them at garage sales), but I kept my "non-stick" Teflon skillet because it was just so handy, and I couldn't find a stainless steel electric frying pan that was big enough.  I finally found one and I looooove it!

(We needed the 16″ for our family, but a 12″ is also available for less $.  IMPORTANT: If only the non-stick pan shows up at that link, don't get that!  It just means it's out of stock, so try searching for another stainless steel electric pan instead.  Also, if you need some stainless steel baking pans, check those out here!)
No more toxic fumes from our Teflon skillet and the worry that I was exposing the kids to all sorts of cancer-causing chemicals.  And this one is a great size so we can make a lot of pancakes at once, plenty of fried potatoes, or my homemade chicken nuggets that everyone loves.
This is our newest favorite to make in this pan:  Skillet Breakfast Recipe.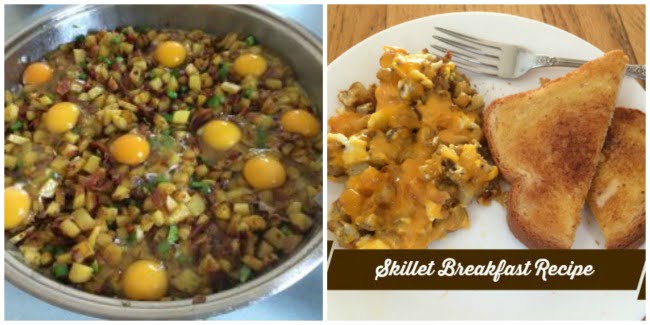 Here's an excerpt on Teflon dangers from a CNN article:
(And can you believe that after all this it ends with, "The EPA does not recommend any steps to reduce exposure to PFOA"?!  How about not using Teflon?!)
PFOA — Perfluorooctanoic acid (also called C8)

What it does: PFOA is used to make Teflon and thousands of other nonstick and stain- and water-repellent products.

Where they're found: PFOA is present in Teflon and other nonstick or stain- and water-repellent coatings as a trace impurity. These coatings are used on cookware, waterproof breathable clothing, furniture and carpets and in a myriad of industrial applications. PFOA can also be produced by the breakdown of these products.

How we're exposed: Inhaling contaminated air, eating contaminated food and drinking contaminated water. Some researchers say nonstick pans give off PFOA vapors, which contaminate food.

Health effects: Almost everyone has PFOA in his or her blood. PFOA causes cancer and developmental problems in laboratory animals. The EPA concludes research on PFOA is "suggestive of carcinogenicity but not sufficient to assess human carcinogenic potential."

Regulation: PFOA is an EPA "chemical of concern."

What you can do to reduce exposure: The EPA does not recommend any steps to reduce exposure to PFOA. You can reduce potential exposure by using stainless steel or cast iron cookware. If you use nonstick cookware, do not overheat, which releases toxic gas.
Read more about environmental toxins from CNN:  Protect yourself from 5 toxins that are everywhere.
Need more convincing?  No problem:  
Look at how nicely all these sandwiches fit into this pan!  I love our big 16″ pan because I can get SO much food in this thing, but you can get the 12″ if that's all you need.  As you can see in the picture, I can crank out grilled cheese for a crowd pretty quickly.  (Which was especially nice when I was doing day care, and also nowadays when our kids always have a few of their teenager friends over, because of course I'm going to feed them, I love it!)  Basically we pull this sucker out 4 or 5 times a week because it's so convenient.
It's better than an extra stove burner, because it's so much bigger than any frying pan or any burner you could put it on.  Instead of using two cast iron pans for something like pork chops or fried potatoes, I just use one.
It cleans up really easily, and food doesn't stick as long as you use enough healthy fats, which is not a hardship for us, that's for sure!  As I explained before (for anyone who missed it), if anything does stick a little, then we just turn it on high, boil some water, scrape it with a metal spatula, and it comes right up.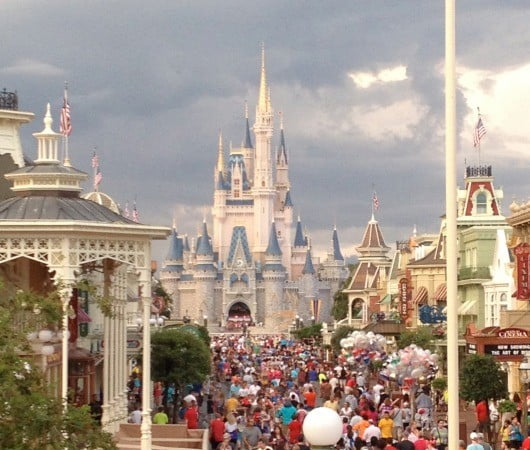 Have you been able to replace your Teflon pans yet?  It takes time, I know.
Remember you don't have to worry about foods sticking if you use plenty of healthy fats!
Why I love the Bosch blender/mixer/shredder/bread maker.