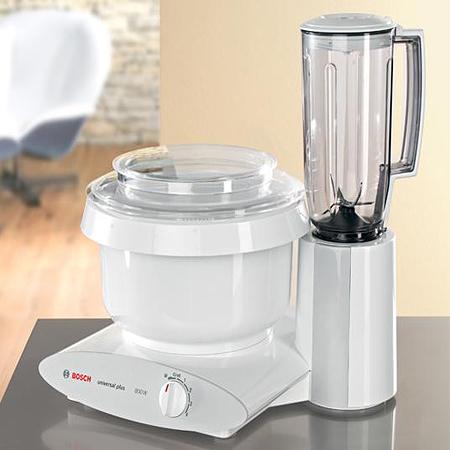 I'll be forever grateful to a reader friend, Shauna, for telling me about my new very favorite kitchen gadget that I am madly in love with. I'm finding more new ways that I love it all the time:
THE BOSCH KITCHEN MIXER AND BREADMAKER (<– get one there)

LET ME COUNT THE WAYS I LOVE MY BEAUTIFUL BOSCH…
It has a 700-watt motor and a big bowl with well-designed dough hooks (& whisk beaters) that can make BIG batches. This is great for our family of six, and also for anyone who likes to make big batches all at once like I do.
I notice a big difference blending ice or frozen fruit for smoothies with this compared to other blenders I've had in the past. Even though the one I used to have was also a 700-watt motor, maybe it's the other pieces and parts that are also stronger, but this one does it much easier and faster. No more pushing things down into the blade over and over and risking my spoon-ends or my fingers – it just whips things up into a great vortex! (Fun to watch, too – the kids love it.)
I LOVE THIS BREAD RECIPE – you should see how my bread comes out in this. Shauna told me that with the Bosch you could do SIX loaves at once, and that it's BETTER than store bought bread (texture, taste, etc.), but I couldn't believe it until I tried, and she's right! It also keeps well, too. (Compared to other natural loaves that is, but not compared to the icky kinds that are full of preservatives, those things will last much longer than they should.) Even after being in the freezer, bread made in the Bosch comes out fresh tasting and still so soft. I've even adapted Shauna's recipe and now I soak the flour overnight first to break down the phytic acid – this way it won't prevent our bodies from utilizing all the nutrients we take in. Apparently the Bosch works the dough so efficiently that it then only requires ONE rise, but with other machines it takes 2 or 3 rises and it's an all afternoon job. Read this blurb: "It folds the dough against itself, processing 100% of the dough every four rotations around the bowl. Other mixers merely stir the dough, never achieving the Bosch's level of gluten development. Proper gluten development produces light bread with great texture. Merely stirring the dough produces brick bread. Bread from the powerful Bosch Mixer needs to rise only once before baking, letting you make six loaves of fabulous fresh bread and have them out of the oven in just 80 minutes."
BLENDER PANCAKE/WAFFLE RECIPE: with the powerful blender, you can experiment with a variety of whole grains (not whole grain flour but whole grains). These are a hit with the family, honest, they love them! (We all love them just as much as my original pancake/waffle recipe, but I like the idea of using a bigger variety of alternative whole grains and not always using wheat flour, since the wheat crop has been so hybridized through the years. In other words, the wheat we eat today is very different from what our ancestors ate. Not to mention that this recipe is great, and WITH 100% WHOLE grains!)
It's so easy to make a LOT of batches of cookies and brownies at once! I love how much time it saves me! (Read the best way to freeze cookie dough.)
How to afford the Bosch:
It's a bummer how expensive this machine is, but with what we're saving on buying our organic 100% whole wheat fermented bread, it won't take long to get that money back. Do what my friend, Lyn, is doing…start an envelope for it, like Dave Ramsey suggests. (She's got an envelope going for everything.)
They also carry accessories that you may want to add on later. I bought mine with the blender attachment, and also the slicer/shredder. It was between the slicer/shredder and the food processor, but the slicer/shredder had a much bigger bowl.
I'll get all these recipes and more information out to you as I can, please think about subscribing (see below), so you don't miss any new posts. 🙂
If you already have a Bosch, comment below and tell us what YOU love about it!