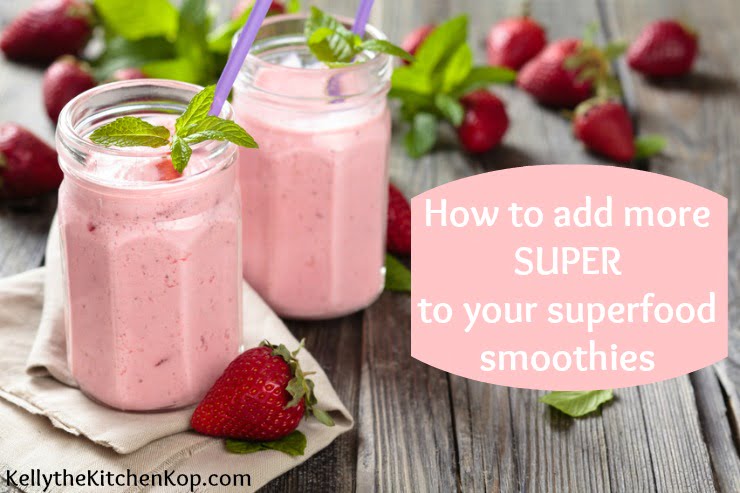 This superfood smoothies recipe makes a fast breakfast loaded with nutrients, the kids ask for it all the time, and we make popsicles with the leftovers!
***Scroll to the bottom for the video!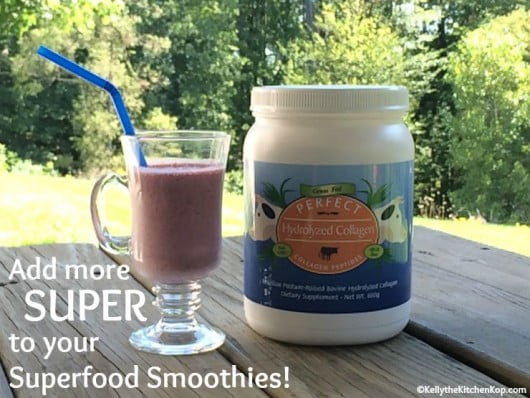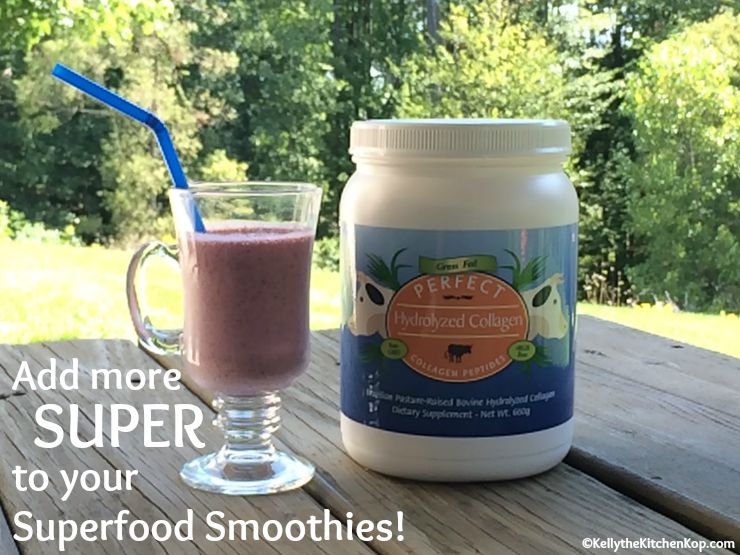 Here's my favorite tasteless superfood that you can slip into all sorts of foods unnoticed, so the first way I wanted to try it was in a food that we have often around here:  Smoothies!
How to Add More SUPER to Your Superfood Smoothies…
This is the perfect food for kids because you can get all sorts of goodies in there without them knowing and they slurp it right up, and often ask to make popsicles out of the leftovers.  (I put up a little fight so they don't realize how good these are for them…  "Oh I don't know if we need to make more of  those today…  Well, okaaaaay."  Here are some inexpensive popsicle makers.)
So in our smoothies this morning, I added in all kinds of good stuff…
Organic berries, whichever ones I have on hand, and some pineapple — canned, fresh, or frozen; also good sometimes are other fruits like bananas, organic apples, kiwi, organic peaches, and our son's new favorite:  frozen organic mangos.  (Some fruits aren't as important to buy organic as others, check the Dirty Dozen to know which are sprayed with the most chemicals.)  I love all the color these fruits add and knowing how many nutrients/antioxidants this provides!!
Sweetener of choice:  A little real maple syrup — just taste-test until you get it to the sweetness you want – but if we use a banana then we usually don't need much extra sweetener.  You could also use a little raw honey (too much overpowers the taste in my opinion, though) or some organic coconut sugar/palm sugar is good too!
I also sometimes add in some of my raw milk kefir (just to get a range of nutrients in there), or if I don't have that, I'll just add some of our raw milk since there are still superfood/probiotic benefits from that.  (More about raw milk here.)
If you have kids like mine that don't like swallowing pills, but you want to get these, the BEST probiotics into them, just open up 1 or 2 capsules into your smoothies and they'll blend right up without anyone knowing they're even there.
You could also add in some coconut milk!  (You probably know about the health benefits of incorporating some coconut into your diet, but if you're like me and don't always like the flavor or taste of coconut in certain recipes, don't worry, here's where to get coconut oil with no flavor, and it's better than no coconut in your diet at all, just not quite AS nutritious and beneficial as the virgin coconut oil.
Fresh cream always gives it a "dessert" and dreamy taste and texture, cream from pastured cows is best.  If you buy "whipping cream" from the store, be SURE it doesn't say 'ultra-pasteurized' on it.  You can tell by the use-by date – if it's 2 months away, don't buy it!  Read more about that in this healthy milk options post.
Raw egg yolks are full of nutrients and healthy enzymes!  Use one for a small batch and 2 or 3 for a whole blender full.  (Only do this if you know and trust your egg farmer — don't do this with grocery store eggs, also FYI: it's best not to eat egg whites raw.)  There's no taste to this, it just adds creaminess.  If that freaks you out, read this about eating raw eggs.
And a couple scoops of this collagen that has no taste, but dissolves easily and packs a powerful punch!  It's made from pasture-raised grass-fed cows, and we all know that cows on pasture are much more healthy than the sad conventionally-raised cows who never see the light of day or get to eat any green grass.  (It's also no-GMO and free of pesticides or hormones!)
Why don't I add any fresh greens?  I'm not against it, but if I did, I'd give them a light steam first to make them healthier, and so they don't block mineral absorption or cause thyroid issues.  Read more about that at this kale chips post.
Blend it all up and enjoy! (I love my Bosch blender, but also just got this new blender that also came with a food processor and shredder and love it.)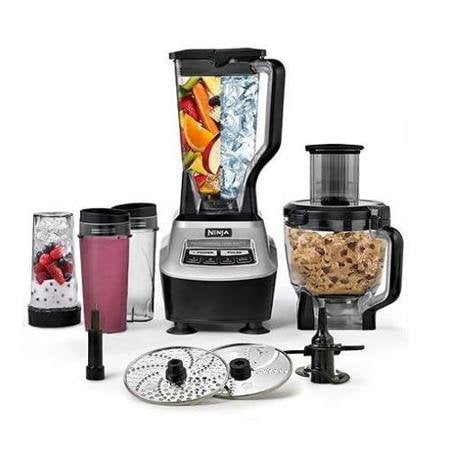 I'll usually pour these into fancy glasses and the kids love it.  With the leftovers, if there are any, I'll make popsicles so they can have a healthy treat anytime. (I got some inexpensive popsicle makers.)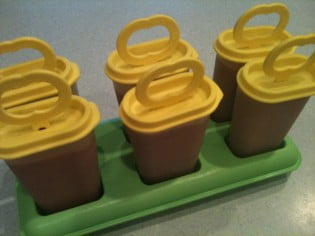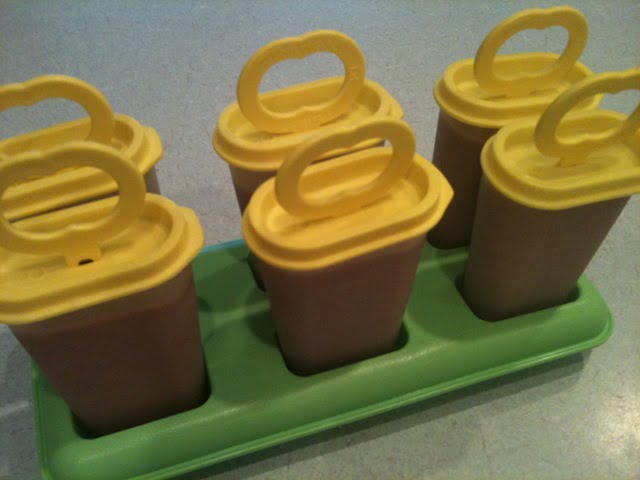 With so many different nutrients and healthy fats, these smoothies are certainly a SUPERFOOD but they taste like ice cream.  ?
More about collagen:  Check out this list of benefits:
Improves Skin Health
Promotes Younger, Firmer Skin
Supports Joint Health
Improves Gut Function and Digestion
Keeps Excess Inflammation in Check
Builds and Restores Muscle
Supports a Healthy Metabolism
Keeps Appetite In Check
Promotes Healthy Brain Function
Promotes Deeper Sleep
What is the difference between gelatin and collagen?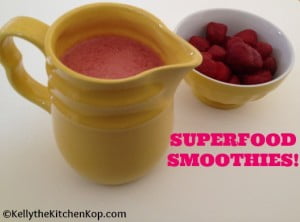 Perfect Supplements explains it like this:
When it comes to science, medicine, and biology the rule seems to be, the more names you can give to the same basic thing, the better. So, take a swig of your coconut oil infused green tea and let's get this terminology out of the way…

Gelatin

 – collagen is the protein found in animal bones and the connective tissue around the bones. Gelatin is what you get when you cook collagen. Grandma's feel good chicken broth? It contained gelatin that came from cooking the bones and turning the collagen into gelatin.

Hydrolyzed Collagen

 – prefer your collagen bathed rather than cooked? Hydrolyzed Collagen is simply collagen that is bathed in enzymes, which breaks the protein down into smaller pieces, giving it a lower molecular weight and making it easier for the body to absorb and digest. Hydrolyzed Collagen has the highest bioavailability of any form of collagen.

Collagen Hydrolysate

 – the exact same thing as Hydrolyzed Collagen…because scientist like words that begin with hydro???

Collagen Peptides

 – basically the same as Hydrolyzed Collagen, which is of course the same as Collagen Hydrolysate. Collagen Peptides is used to denote that the Collagen is made up of shorter chain amino acids, which is what you get once you pass the collagen through the hydrolysate process – the enzymatic bath.
For those of you who want to know more, read this page for more details.
Not just for smoothies!
Since it's tasteless and easily dissolves in hot or cold liquids, you can mix a scoop or two in soups, desserts, water, juice, or tea — you could even mix some into your oatmeal to boost the nutrients in there as well, or really in anything you're making — you won't taste it, but your body will get all the benefits.
Click here to get this collagen & enter the code KOP for 10% off
(***You'll actually get 10% off your entire order, so if you also want to grab some liver capsules, probiotics, coconut oil, or anything else, you'll get a deal on all of it!)
Watch a video!
Remember to get the collagen here and use the code KOP for 10% off!
More you might like:
This post was originally paid for by Perfect Supplements, but hopefully you know by now that I'm very picky about who I choose to help promote.