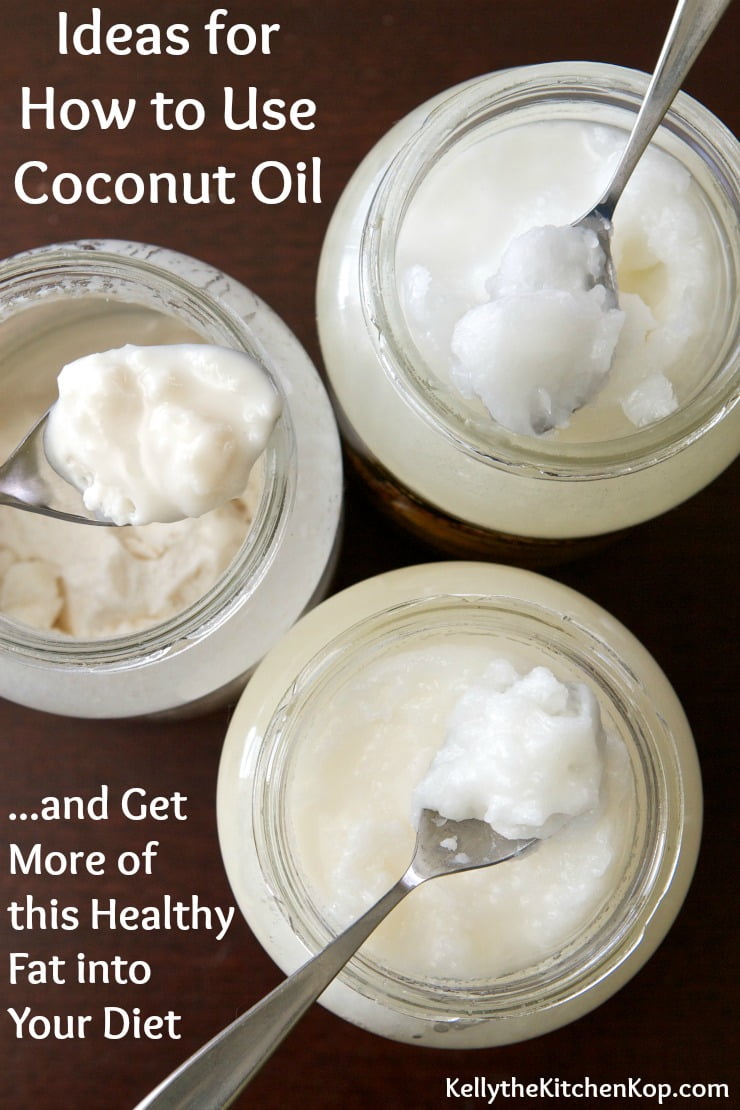 Need ideas for new ways to use coconut oil?  
I used to detest the flavor of coconut (and still don't like shredded coconut), but it has definitely grown on me. I'm thankful for this, now that I know all the health benefits there are to getting more in my diet. My two favorite recipes with coconut are my popcorn and this chocolate candy made with coconut oil.  Another favorite use I have for it is as a Skin Moisturizer – I love the smell and knowing that some of the health benefits are soaking in through my skin.  (And shhhh, it's also great as a personal lubricant.)
A while back, I asked members at a couple of my favorite nutrition forums some questions about their favorite ways to use coconut oil, and the following is a collection of their replies.  A big THANK YOU to everyone who responded!
Scroll down for the list, but first, have you seen these posts?
I asked the following questions:
What are the various reasons you use coconut oil (health benefits, taste, or ?)
What do you mostly use coconut oil for? (Topically or for cooking?)
What foods do you cook in it and how?
What are your favorite ways to use coconut oil?
Here are the replies that came in:
Gillian:  A long shelf life is a wonderful thing. Besides being convinced of its basic healthiness, I have found there are MANY ways to use coconut oil…

It absolutely stops the lip blisters from herpes
I have much less trouble with my Raynaud's (chronically cold feet & hands.)
A friend of mine is quite sure he's having less trouble with athlete's foot, too. 
I put it in the deep fryer as a heat stable oil that I can reuse many times. ( I live with a vegetarian so lard or tallow is not an option there.) Works great, no problems. Homemade potato chips are a hit…
I've taken to doing all my sautéing with it and no one has ever noticed.
I will eat it straight off the spoon if I feel like I haven't gotten enough otherwise, though I know many people get queasy doing that.
I've tried making the coconut chocolate drops and those go easily down everybody. (Unless they hate chocolate – is there anyone like that?)
I like this coconut oil mayo.

Erica:

I use it in my morning tea, along with Stevia and cream.
I eat a spoonful of it to stave off hunger. I lick it like it's pudding.
Topically, I use the VCO after my shower as a bath oil, body and face.
Sometimes I cook with the VCO, but my daughter isn't fond of coconut, so I'll buy the kind that doesn't have any flavor.

Carol B.:
Esposita:

We began using it in GOOT (garlic oil ointment treatment) and in homemade salves. 
We sauté a lot of veggies in it, use it in place of shortening (baking, tortillas, greasing pans).

DiaperSwyper

:

I'm discovering, again, what a great carb craving suppressor it is. If I'm craving a carb loaded sweet "something" it takes the desire away. (Or at least most of it.) My DH ("dear husband") has taken it in the morning and totally not been hungry for most of the day.  Swallow a teaspoon and chase it down with water. You can also put it in hot tea or water but I care for greasy water even less.

Healthy Bratt:

My favorite ways to use coconut oil are in salves, as a skin moisturizer, body lubricant, massage oil, sunscreen, diaper rash/yeast

Wyomama3:

As a skin anti-fungal, it absorbs quickly, non greasy and doesn't leave that 'heavy, caky feeling' on the surface of the skin.
It retains the scent of my essential oils nicely and I use it on my body after bathing, on the baby, as a face moisturizer, as a sunscreen – it leaves that coconutty summer smell.
I love frying tortilla's or wonton wraps – it doesn't leave foods in that soaked-in grease state, I use it in some desserts and baking; it's good for any baked tropical dessert. Remember: if you add it as a liquid to anything cool, it will quickly harden again.

Jill:

I use it for a metabolism boost.

Hedy:

I like it stirred into hot chocolate.

Kati*did:

There are a lot of ways to use coconut oil in the kitchen:  I spread it on bread (instead of butter) and use it in all baked goods except tortillas (the coconut oil makes them stiff when cold), in stir fries, eggs, in/on pancakes/crepes, and add it to homemade almond butter (half and half).
I also use it as a personal lubricant.

joyful_mommy03:

I started drinking smoothies in the morning in order to get 2 Tablespoons of coconut oil in my diet because I had heard about it's metabolism boosting abilities and that it tends to suppress the sweet-tooth – it really seems to be working for me as I have only gained 20-25 pounds this pregnancy instead of my usual 35 or so.
Also good as a hair friz tamer and in bath salts.
In cooking, we generally only use it for sweet items because of the coconut flavor.
What are YOUR favorite ways to use coconut oil?