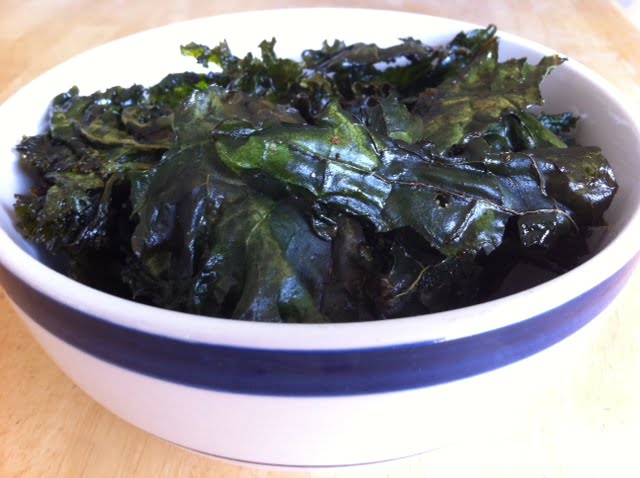 Kale chips satisfy that craving we all get from time to time for something we can crunch into.  Even more, sometimes you just need a good salty snack.  When you're low-carbing it, don't you especially crave that crunch since your not eating things like toast or homemade potato chips?  Recently my new neighbor friend, Melissa, brought us some Kale chips to try.  I know they sound too healthy to be good, but I was surprised that all of us loved them!  This time of year Kale is easy to find, too, so head to your farmer's market before it's done for the year and snag yourself some Kale.
Another reason I love this recipe is because of something you may not be aware of…  Did you know that green veggies like spinach, kale, chard and others shouldn't be eaten raw, such as in a green smoothie, because they contain oxalic acid, which blocks mineral absorption?  Oxalic acid is reduced by cooking, though, so just give it a light steam before you toss it into your smoothies.  Cruciferous vegetables, such as cauliflower, cabbage, broccoli, and a few others, should also be gently cooked before eating them to reduce the goitrogens, which are substances that suppress the function of the thyroid gland.  (Read about other veggies that should be lightly cooked before eating.  Also here's more info from Dr. Kaayla Daniel, Plants Bite Back.)  By the way, you'll only want to buy organic because Kale is on the "Dirty Dozen" list, which means it is usually heavily sprayed with chemicals.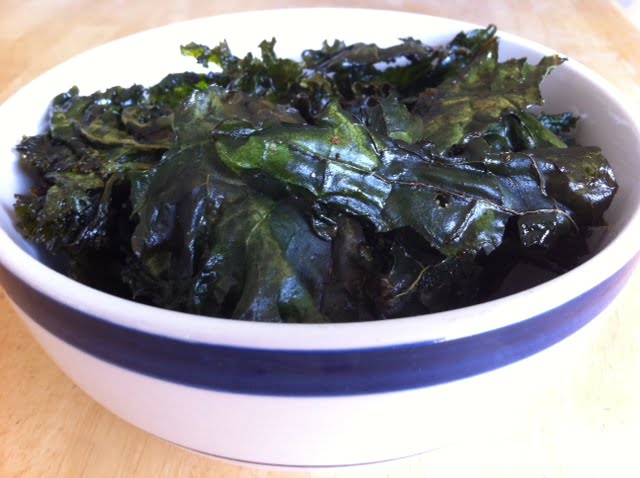 Print
Kale Chips
Instructions
Rinse and dry Kale leaves well, then break into chip-sized pieces (I tore the pieces off of the big stems)  NOTE:  a Twitter friend, Marc, says he doesn't tear his into pieces…interesting…might save some time. Dip each piece into olive oil or brush on the leaves — even easier:  toss in a bag with the oil to coat. Sprinkle with sea salt and garlic powder. Bake at 350*, flipping over when needed, and watching so they don't burn. Time will vary, but mine took about 10 minutes to get nice and crispy. Enjoy!
Did you make a real food recipe?
I want to see it! Tag @KitchenKop on Instagram and hashtag it #KitchenKopRecipes OR share anything you know I'll love by tagging @KitchenKop and hashtag #KitchenKop -- see you over there!
Recently Sarah posted her recipe for Kale Chips to Protect Your Thyroid that you might want to check out – it's different from this one and calls for vinegar.  These might be good for that sour and salty flavor that's so good together sometimes!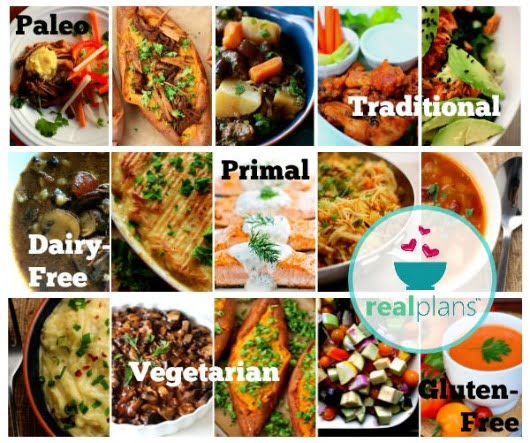 Meal Planning Help!
Sick of planning meals and answering the question, "What am I going to feed these people?"  No matter what kind of eater you are…   Check out these affordable interactive easy-to-use meal plans where the work is done for you!   Also read over my review to see what I thought of it.