Tired of paying so much for expensive store-bought dairy kefir or probiotic supplements?
Where to Get Kefir Grains for Inexpensive Probiotics Plus How and Why to Make Milk Kefir
As my longtime readers know, I've been making water kefir, also called kefir soda, for a while now. Although I have taken a break from that since the explosions — yes, that's plural.  Apparently there was some over-fermentation going on in that batch. (Here's how to make kefir soda pop, pictured here is the time we added raspberries to the second ferment, it was delicious!)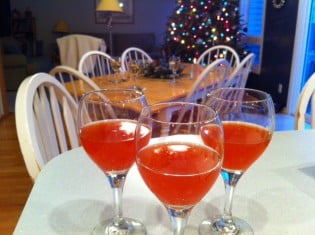 As easy as it is to make kefir water, though, making dairy kefir is even more simple and it's my new favorite!
I hadn't got into it before because I'm not a fan of drinking fizzy dairy, that just didn't sound appealing!  And for getting extra probiotics in my recipes, I'd usually add some organic whole milk yogurt from the store. It's not easy to find, but not impossible, and unless you're using the powdered yogurt starters, then yogurt isn't the easiest thing to keep on hand.  (I've heard that the powdered starters aren't the greatest anyway, you can only use it for a couple of batches and it also doesn't have as much beneficial bacteria.)
Then I learned about how much more beneficial bacteria (probiotics) are in kefir compared to yogurt, and I knew it was time to start getting milk kefir into my family! 
Milk kefir is quite different from yogurt in that the strains contained colonize the intestinal tract and don't just pass through with temporary benefit. Some of the strains in kefir are aggressive in nature too, which means they attack and destroy pathogens reasserting dominance and control of the intestinal environment.

This is why eating a ton of kefir when you have gut imbalance issues can sometimes trigger a temporary healing crisis from pathogen die-off in the gut. Eating lot of yogurt rarely causes this type of reaction as the effect on digestive health is much milder.

In addition, kefir contains a lot larger range of bacteria, as well as beneficial yeasts which combat Candida problems.  (Source)
The only problem…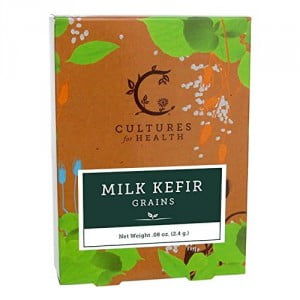 When I first got my milk kefir grains here, I read in the instructions that you really can't activate them in raw milk because it won't work. ("Raw milk contains its own bacteria, those bacteria can introduce competition for the rehydrating grains and keep them from activating properly.") So I knew I was going to have to bite the bullet and buy some regular factory-farm milk from the store.  I know that's all some of you still drink, and yes it's about taking baby steps when you're able, I get it, but it had been a loooong time since I had to go to that part of the store…
Remembering, though, how Sally said that cream is less denatured in pasteurization than milk, I figured I'd just get some of that. When I was in the store about to buy it, however, I thought, "First maybe I should find out if that's okay…" So I looked on my phone and found an old number for Julie at Cultures for Health. When the business first began she was a one-man-show working from her home, but nowadays she's got many employees and a whole office, so I was fully assuming customer service would pick up.
Guess who picked up instead?
Julie!  What I thought was a customer service number went right to her line.  It was great catching up and we ended up talking for another half hour while I grabbed the rest of my groceries. Yep, that was me at the store, being annoying, talking on my phone.
But it's a good thing I called!
Turns out there's no way around it, you really have to activate your kefir grains with regular pasteurized milk, cream won't work, and my store didn't have any organic milk that was not ultrapasteurized, so I had to get the factory-farmed milk.  (Don't get low-fat obviously, which is true no matter what!)  Julie reassured me, though, that very soon, I'd be able to transition it over 100% to my raw milk.  🙂
Here's Julie showing how to activate your kefir grains:
How to make milk kefir
Once you get your kefir grains and activate them as shown above, then add your grains to fresh milk and set it on the counter for a day or two. THAT'S IT. No messing around with warming or getting the temperature just right like you have to do with yogurt. There's also no need to keep a separate starter going with pasteurized dairy. It's all so easy! (Pasteurized or raw milk are both fine, but there are extra instructions for transitioning over to raw milk; and never use ultrapasteurized, which, again, you don't want in your kitchen anyway!)
Here's Julie showing how to make milk kefir:
I usually make enough for whatever recipe I know I'll be using it in (see below for ideas!) and keep it in the fridge until then. To store the kefir grains until you want to make more, just keep them in the fridge in more milk.
Inexpensive probiotics!
As mentioned above, dairy kefir is loaded with good bacteria/probiotics, so you're getting those immune-system, disease fighting benefits, without buying expensive store-bought kefir or probiotic supplements! Granted, sometimes you need those big guns, but for everyday, consuming dairy kefir is a great way to maintain good health! (The probiotics I recommend are here.)
How to get more dairy kefir into your diet:
Now that I've been making it for a while, I'm finding TONS of ways to use it more, I'll basically add some to anything that calls for cream, cream cheese, sour cream, or yogurt, as long as your dish isn't hot as you stir it in, so it doesn't kill the good guys. (The beneficial bacteria.)
Try it in recipes like…
Also at the C4H site, you can learn:
How to make coconut milk kefir (for those with dairy allergies)
How to make soft kefir cheese (or a hard kefir cheese)
How to make kefir cream cheese
Shopping:
This post was originally sponsored by my friends at Cultures for Health.  🙂