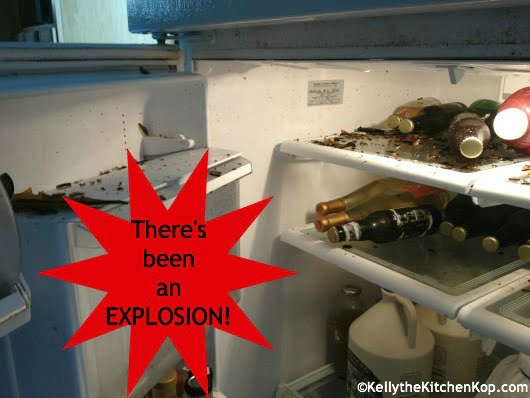 When you read the title I'm curious what first came to your mind, because I'm wondering how many of you real foodies have had this happen before?
What a weekend…
We switched the boys' rooms around (so I can have my own OFFICE!!!) and I'd never done so many loads of laundry all at once before.  It was at least 12 loads.  I've also never done so much vacuuming — I'm here to tell you that kids' bedrooms can get disgusting under all that stuff they don't like to put away.  And sorting through every little piece of junk that they like to hang onto, plus moving furniture, switching dressers, etc., it was a ton of work!
However, the worst job of the weekend BY FAR was cleaning up 'the explosion'.
I've told you before how powerful kefir soda is (click here for how to make Homemade Soda Pop, a.k.a. kefir soda!), but I was talking about the benefits to our gut from the probiotics, and especially the benefits of NOT drinking the nasty soda from the store, but this time it was powerful in a different way…
My kefir soda exploded, not one, but TWO bottles.  All.  Over.  The fridge. 
Every nook and cranny had big and teeny tiny pieces of glass.  It was in our downstairs fridge, so I filled up the sink with hot soapy water and went at it.  It took almost 2 hours and by the time I was done I'd thrown away gads of bottles of old salad dressings and other unrecognizables.
I learned something:
I found what must have been a really old bottle of kefir soda hiding in the back, and I learned that if you leave it around long enough, it forms a scoby-looking thing just like kombucha does.  I guess this makes sense since they're kind of similar.  (Read here why I like kefir soda better, though:  5 Reasons Why I Love Kefir Soda More than Kombucha Tea.)
The big question…
When I was done I had to figure out a way to contain any future explosions, because if it happened to two bottles, obviously it can happen again; I must have let my latest batch go too long on the counter for the second ferment and it got a liiiiiiittle too fizzy.  (I need to get different bottles like these so I can "burp" them when needed.)
Kent came up with a good solution.
First I found a little tub that I was going to snap shut and keep in the fridge to store the bottles in, but Kent had a better idea:  to just put them in one of the fridge drawers and cover it with a towel.  Now if it happens again, hopefully it'll only be a mess inside the drawer.  (Pictured below with the rubberband are my kefir grains — I store them like that in between when I'm making it.  You can get kefir grains here.)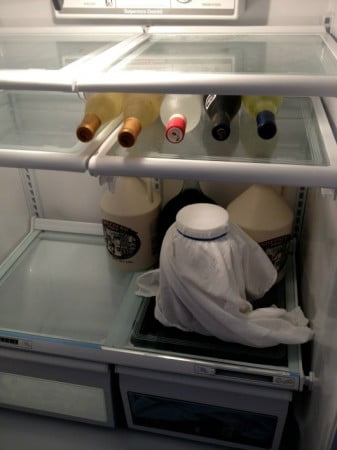 Has this happened to you before, with either kefir soda, kombucha, or some other overly volatile real food?
UPDATE:  It happened AGAIN!  Wonder if the towel kept the mess contained??
Last night we were in bed and just about to sleep when we heard a loud noise like something really huge was dropped somewhere in the house.  Kent got up to check on the kids and they were fine.  No one knew what it was, so we went back to sleep.  Pretty soon we heard kids' feet running to our room, "Another kefir soda exploded in the fridge downstairs!"  I asked, "It's all contained in the towel in the crisper drawer though, right?"  They said, "Most of it is."  Kent told them, "OK, we'll deal with it tomorrow."  So I finally looked…  How could there have been THAT big a mess when they were wrapped in a towel and in a drawer?!  Well, it still took me well over an hour of picking up teeny tiny pieces of glass AGAIN in every little ridge of the lower half of the fridge.
I don't know what the deal is and why they're exploding lately when they didn't before!  I'm not feeling real excited about making another batch of kefir soda pop for a while.  Again, I need to get different bottles like these so I can "burp" them, and then I'll probably be brave and make it again.
More you might like: