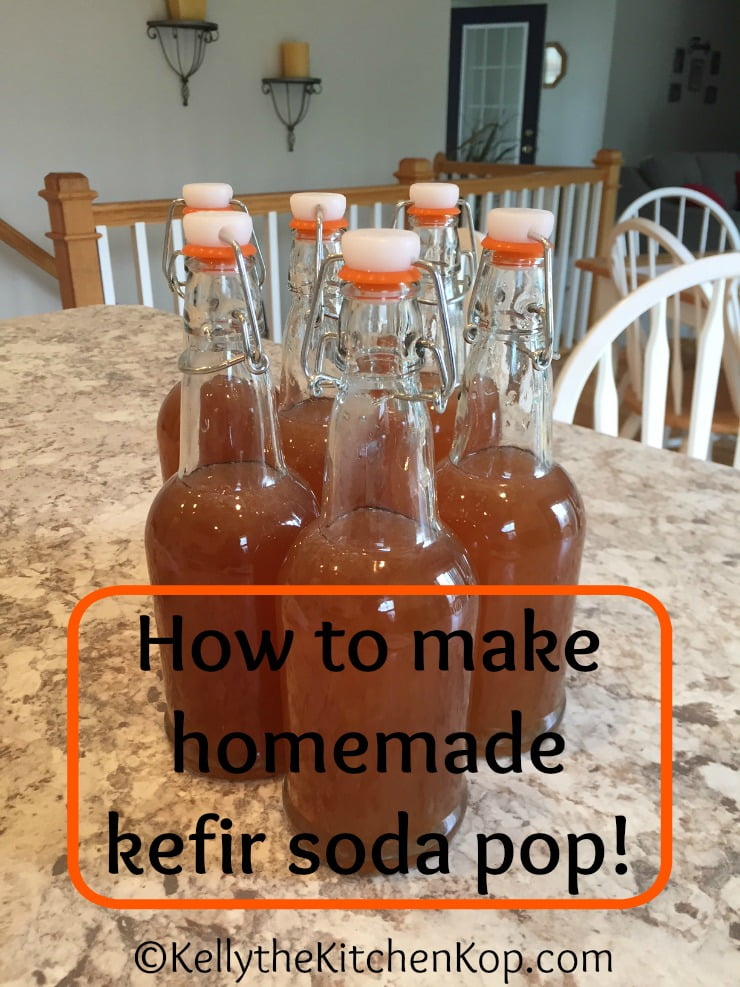 Learn how to make kefir soda here (homemade soda pop), but first: why would you want to make your own kefir soda?
(Just want to get some kefir grains to try making it?  Try asking a friend, or get water kefir grains here.  Or learn how to make dairy kefir here.  Last one:  do you wonder if kefir soda has alcohol?!)
When you make a pizza, or maybe order one in now and then, don't you still feel like a fizzy soda pop like you had in the "old days", before you knew or cared about the evils of high fructose corn syrup?  Before you thought about things like "empty calories"?  On the day before school starts, it's our family tradition to have ice cream and order pizza.  Now when the kids ask if they can have a pop with it, I say yes and feel good about it, too.  (Be sure to see my important tip at the end of this post, though, to keep them asking for it!)  When they drink this fermented beverage, they're getting beneficial probiotics (healthy bacteria) to promote gut health and a strong immune system!  (Click here if you need the "big gun" probiotics.)
What's so bad about soda pop from the store?
Soda from the store has high fructose corn syrup, chemical flavorings, MSG, chemical colors, and preservatives, that's all!  Dark colas are high in phosphoric acid which has been linked to bone diseases such as osteoporosis. Citrus flavored soft drinks often contain bromide which is harmful to your thyroid. Regular soft drinks have been linked to elevated blood pressure. Both diet and regular sodas are associated with increased risk for metabolic syndrome: obesity, high blood pressure, diabetes, strokes, and heart disease.  (See sources for this information below.)
Scary huh?
By the way, a video of exactly how to make kefir soda / water kefir is included in my Real Food for Rookies class!  (Free at that link.)
How does homemade soda pop taste?
When my family tried it (meaning my Mom, step-Dad, siblings), most of them didn't like the taste.  They think it's not sweet enough, but they're used to Coke and Mountain Dew.  They also don't like the fermented taste, but I honestly don't think it's that strong and my kids don't seem to notice it at all.  Besides, if people can get used to the nasty fake-sweet chemical taste of diet pops, surely they can get used to this.  (Have you seen, "Do diet pops cause weight gain?")  In my opinion, Kefir soda pop tastes like a cross between kombucha and a really mild wine cooler–"mild" as in less sweet, and less alcohol taste, too, obviously.  It has a nice fizz, and while it's no where near as sweet as regular pop, it's sweet enough that my kids and I love it, but maybe it takes a bit for your palate to recover when you're used to the fake-sweet junky drinks?
I'm a wine wimp…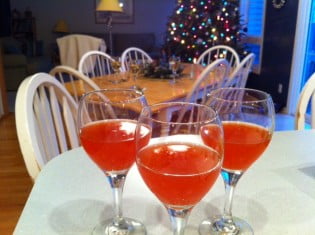 Another way I love to drink our homemade pop is with wine for a spritzer – I've never been a wine person, although I wish I was, since it would be better for me than the occasional Amaretto Sour or Mojito that I normally drink.  But wine mixed with some kefir soda adds just enough sweetness and fizz that I really enjoy it, and it's better than Sprite, which I used to use for this.  (I had to share this update many years later…  My palate continues to change, I can't stand Amaretto Sours nowadays, they are too sweet! I might still drink a Mojito depending on how it's made.  And get this: now wine is my drink of choice, and I'm liking them less sweet all the time, like this keto wine.  Look at this picture above from Christmas Eve when we had wine and let the kids have kefir soda in a wine glass.  This batch was pink because I added raspberries to the second ferment and it gave it a great flavor and color!)
Why another recipe?
While there are other recipes for kefir soda pop out there, I thought you might appreciate another tried and true kefir soda recipe that kids love.  Besides, I had to record mine so I remember exactly how I make it, how the family likes it after playing around with some variations, and so I remember my simple steps – it's got to be simple so that I can make it often enough to keep on hand.
(Did you see my other post on Kefir Soda?  "5 Reasons Why I Love Kefir Soda More than Kombucha Tea.")
How Much Alcohol is in Kefir Soda?
Soon I'll be posting the results of my kitchen chemistry experiment, where I find the answer to that age-old question that has undoubtedly been driving you crazy (yeah right):  "How much alcohol is really in kefir soda pop?"  Many have speculated, but I wanted to know for sure. In that post I'll also tell you why this was so important for me to find out.  (Hint, it has to do with my family members…on my back…!)  By the way, even though I don't have the exact number yet (you wouldn't believe what a project this has turned out to be), I'm still confident that it's very very low, or else I wouldn't give it to my kids, obviously!  (UPDATE – here are the results!)
HOW TO MAKE KEFIR SODA POP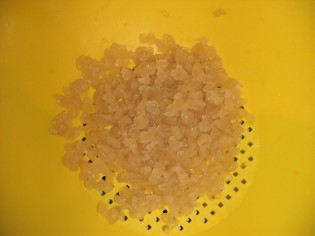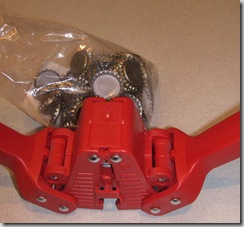 Once you get your kefir grains, follow the directions for rehydrating, then strain the grains (in a non-metal strainer) and use them to make kefir water (kefir soda)…
If a friend gave you some kefir grains, just store them in sugar water until you're ready to make your first batch.  See the next step for how much sugar to water, etc. – just do it the same way for storing as you do in your first step of making it, only keep it in the fridge.  (If you're not going to be making it for months, your grains will usually keep just fine, but to be sure, change out the sugar water every month or so.  I've done it less, though, and it's still been fine.)
To make kefir water:  Dissolve 1/2 cup sugar in a little bit of very hot filtered water.  (I've used organic sugar and organic palm or coconut sugar, but will stick with palm or coconut sugar from now on because I read that the less refined the sugar, the better the carbonation.)  Add cool filtered water up to 2 quarts (1/2 of a 1 gallon jar).  This will cool down your water to room temp – hot water will kill the grains.  Add your kefir grains, stir with a wooden spoon, and rubber band a coffee filter or a tea towel or thin dish towel over the top.  Let sit on the counter for 24 hours to ferment (48 hours will result in less sugar and a more fermented beverage) — this is at room temperature, about 70*.  Make sure it's away from any other ferments/cultures you may have going so they don't mess each other up.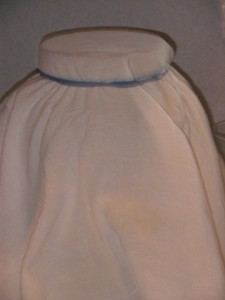 If you're not ready to bottle the soda pop, keep it covered and put the whole thing in the extra fridge until you're ready – this stops the fermentation.
When ready to bottle, assemble your supplies:

kefir water (after fermenting on the counter for 24-48 hours)
funnel
1 quart of any 100% juice you prefer – I've been using a pomegranate juice to make a red pop – which adds antioxidants!  The kids want to try orange pop next.
Bottles, caps, and capping tool (unless you use the flip top bottles mentioned above).
Big non-metal bowl & wooden spoon
Measuring cup or something similar to scoop and pour with.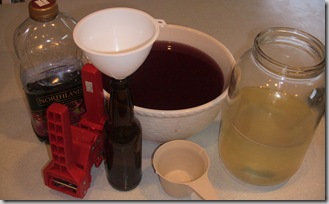 Strain out the kefir grains in a non-metal strainer as you pour the kefir water into a big bowl — I also strain it through a tea towel so little particles from the sugar don't go through.  Use the kefir grains to make your next batch, or set them aside just until you're done bottling this batch.  (Make sure they're in a safe place away from kids…trust me.)
Add the 1 quart of juice to this big bowl and stir.  (By the way, this makes a 1 part juice – 2 parts kefir soda beverage.  I don't think this is too bad – many kids get 2 or more glasses of full strength juice each day.  Mine get 1/3 strength juice in their probiotic beverage a couple times a week or so. I love it!)  My instructions also came with other flavoring options such as dried or fresh fruit, 1 T. vanilla for a cream soda, or 1/2-1 c. lemon juice for lemonade, but I haven't tried these yet.   (Update:  recently I threw in 1 cup of raspberries and let it set another night to get the great flavor and color throughout before bottling, and it gave it a pretty pink color as shown in the picture above.)
Using a funnel, add the kefir soda up to just below the neck of the bottle and cap with your handy capping tool (very simple).  I get about 8 bottles from this batch.  (I got 6 Grolsch bottles, filled just to the neck as shown in the picture at the top.)
Leave the bottles on your counter for 18 hours or so to give it more carbonation, and then refrigerate – now you have cold soda pops on hand!  (At first I left it for 24 hours and it got so fizzy that it squirted all over when we opened it.  18 hours is just right.  This will vary depending on the room temp, though.)  (Again, read here about when my kefir soda EXPLODED.)
Now enjoy having a soda pop around that you don't mind letting your kids drink!  Here's my tip though:  don't be too free and easy about letting them have these or they'll catch on that it's good for them.  I still make them beg a little.
Note:  to store your grains between uses, just keep them in sugar water in the fridge with a cover.  Then when you're ready to make another batch, strain and start from the beginning.  🙂
Another note:  to help your grains to proliferate so you can share with friends and to keep your kefir soda rich in minerals, keep a piece of egg shell in your kefir water (when it's fermenting or just being stored in the fridge), and keep in mind that it seems to like the darker sugars like Rapadura or coconut sugar.  Julie from Cultures for Health has a post about making sure your kefir soda has enough minerals, and she suggests a small pinch of sea salt, and possibly also a small amount of organic molasses as directed in that post.
Last note — a smart reader in the comments shared a way she does this with less steps:  "I put my kefir grains in a mesh bag and tie it at the top. Then I plop them in a 1/2 gallon Ball jar, add 1/4 cup sugar (I've tried different stages of refinement), 1/4 cup juice (I've tried fresh lime, fresh lemon, cranberry, but orange always tasted funky), and fill an inch from the top with filtered drinking water. Cap the lid, gently turn it a couple of times to get the sugar incorporated, taste it every so often until it is to your liking and then take out the mesh bag, put it in another jar and start the process over again so you always have one going. We leave the one we just made out for a second ferment and then just add it to a cup with ice for drinking. No bottles, no filters, no funnels, no bowl. Truly easy."
More you might like:
Sources for the bad health effects of soda and diet soda are here:
https://www.gwern.net/docs/nootropics/2006-tucker.pdf
https://www.nytimes.com/2012/12/13/business/another-look-at-a-drink-ingredient-brominated-vegetable-oil.html
https://www.webmd.com/diet/news/20050613/drink-more-diet-soda-gain-more-weight
https://link.springer.com/article/10.1007%2Fs11606-011-1968-2