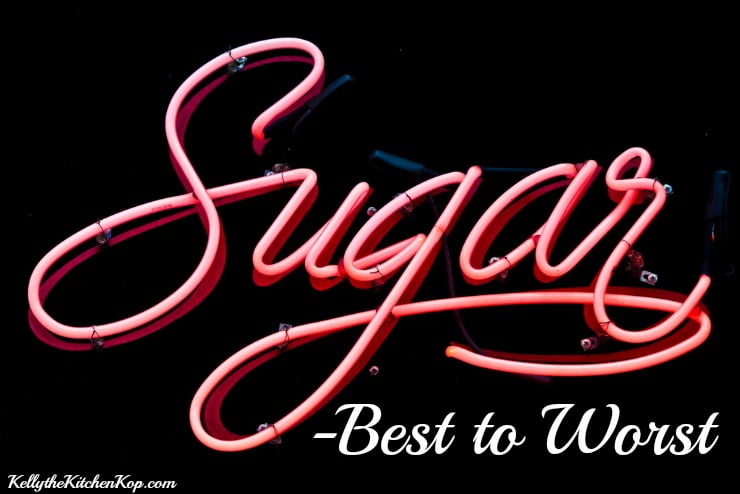 Is any sugar better than another?  Just want a list of sugars best to worst?
Do you ever wonder which sweetener you should use in which recipes? I've put all the various sweeteners in order of okay to "don't do it!" below.  As you all know by now, NO sweetener is good for us, and I'd be much better off if I would kick the habit for good, but until then, it still helps to know which ones are at least a little better than others…
These are in order, sugars best to worst:
No sugar is best, and only small amounts of natural sugars. (Hopefully someday I'll get there!)
These choices are best, but see my notes below for more about each of them:  Stevia, rapadura, sucanat, maple syrup, maple sugar, raw local honey (if you can't find a local source you can get raw honey here), palm or coconut sugar, molasses, dates, muscovado – these are all the least refined, the most natural, and contain the most nutrients – scroll down at that link for a comparison chart of the nutrient content in sugars.
Turbinado, organic regular cane sugar (this one is a little better because organic has no GMOs from the sugar beets), evaporated cane juice, organic brown sugar.
Avoid if at all possible:  Regular refined non-organic white table sugar or brown sugar (see above about GMOs) – refined sugars have no nutrients left in them at all…
Avoid these for sure because not only do these have no nutrients, they also could be harmful: high fructose corn syrup, agave nectar, xylitol, erythritol, artificial sugars like Splenda/Aspartame, Nutrasweet, etc. – it's better to use small amounts of real sweeteners above than to use these fake sugars that are highly processed and void of nutrients, PLUS some of these are dangerous — click the links to read more about each.
What I've learned — some specifics:
I haven't had much luck with Stevia, so I'm afraid to experiment more. Please comment and tell us what you like it in.  Update:  I love it in this sparkling lemonade punch, but honestly beverages are all that I've found that it's okay in.
Rapadura or sucanat are great for some things, like cinnamon toast or to sweeten a sauce, but I have found it to give baked goods too strong a taste.  By the way, I knew Rapadura had some nutrients, but I didn't realize how many!  Check out this great chart with sugar comparisons and which ones we should choose.
I love using palm or coconut sugar in baking, it's my favorite replacement sugar nowadays and baked goods taste perfectly wonderful!  (I just replace it with a 1:1 ratio, but often will decrease the sugar in recipes, at least a little, just because I can and no one ever notices.)
Molasses is a sweetener with a strong taste, I use a little in this nut bar recipe and also in this homemade pizza crust (Yum!), and of course in Molasses cookies, but what else do you like it in?  It is is approximately 65 percent as sweet as sugar and can be used in both cooking and baking. Blackstrap molasses is an excellent source of manganese and copper, and also contains iron, magnesium, calcium, potassium, and Vitamin B6.
This chocolate mousse is a great recipe using dates as the sweetener. You process them up really small and they give a good flavor.
I like raw honey in my homemade bread, in a homemade hot fudge or chocolate fudge, and to substitute part of the sugar in cookie recipes, but if I substitute it for all the sugar, the honey taste takes over.   It has powerful disease-protecting antioxidants that are thought to reduce the risk of cardiovascular disease and cancer. Honey is 25 to 50 percent sweeter than sugar and can be used in cooking, baking, and beverages. As with maple syrup, honey can cause a spike in blood sugar levels and should be used sparingly by those with diabetes. (Note: Do not give honey to children under one year of age as it may put younger children at risk for botulism.)  Source         Get raw honey here if you don't have a good local source.
I don't worry so much about the tiny amounts of xylitol in gum or toothpaste, but would never use it in baking.  Read more here about "Sugar alcohols".
Agave Nectar – Sally Fallon helps to clear up all the confusion at that link.
Muscovado – I haven't used this but heard it is wonderful.
Sadly, "organic cane sugar" (not the same as "evaporated cane sugar", which is more like Rapadura), really isn't much better for us than regular refined white table sugar EXCEPT for the fact that you know you aren't consuming genetically modified sugar, which is no small thing.
In the latest Wise Traditions, Sally Fallon-Morell gives these suggestions:
If you want something sweet, eat a piece of fruit, not a candy bar labeled as a "health food".
Use sweeteners that are known to be safer. For uncooked dishes, unheated raw honey or dates work well. For cooked dishes or sweet drinks, a good organic maple syrup, or even freshly juiced apple juice or orange juice can provide delicious and relatively safe sweetness; dehydrated cane sugar juice or maple sugar may be used in moderation in cookies and desserts that contain nutritious ingredients and good fats such as butter, egg yolks and nuts.
One should limit total sweetener consumption to less than five percent of daily calories.
Many people do best by avoiding sweeteners completely.
Would you agree with the order I listed the sugars best to worst or would you have listed them differently?
Other information on sweeteners: