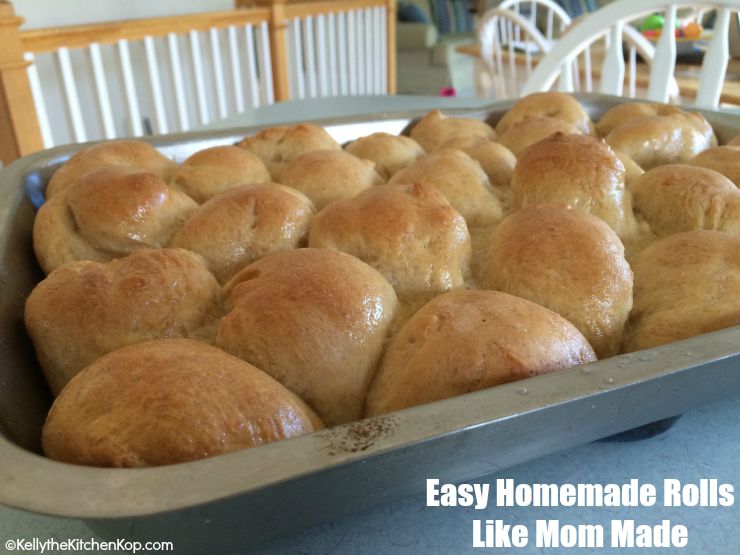 Don't we all love the smell of homemade dinner rolls?
Or the smell of any bread baking? It just draws us to the kitchen, and it's one of my favorite memories — coming home to Mom baking up something delicious for us.  I love to do the same for my family now.
I'm glad I know how, because it seems like I never have hamburger buns when I want to make a quick meal of burgers for dinner, which everyone here loves.  It's also not easy finding buns without trans fats, chemical preservatives, or high fructose corn syrup, so I started just making my own homemade buns, and it's really not too tricky and no big deal, believe it or not!  It just takes a little bit of thinking ahead.
The below recipe is adapted from my bread machine
manual and my Mom's recipe, which is pictured below.  I found this in her recipes after she passed.  🙁  Everyone loved her homemade dinner rolls, and she took countless pans of them to sick or sad friends around town.
Note: if you'd like to make a little better-for-you version of homemade dinner rolls (or buns or whatever), or if you want to make 6 loaves at once, go to this recipe for homemade "soaked" bread that I make in my Bosch or see the variations of that recipe here for making buns, etc.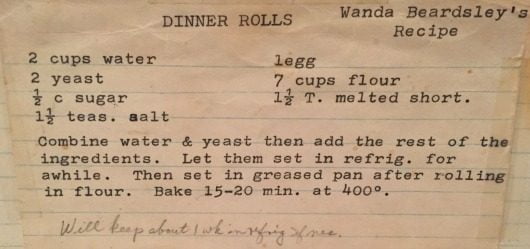 Bread dough for homemade buns, cinnamon rolls, homemade dinner rolls, etc.
Ingredients:
Instructions:
Use the basic dough setting if you have a bread maker and put the ingredients in, in that order.  If you don't have a bread maker, use your kitchen mixer like I do nowadays (it's totally hands-free!), or just mix these ingredients up by hand.
This makes about 20-30 rolls, about golf-ball size, which fit well into an 11×14 pan.  They rise to much bigger though, obviously.
From a note on my Mom's recipe:  "After mixing, let dough set in the fridge for a while (hour?).  Shape and roll in flour, and set into buttered pan.  Dough will keep about one week in the fridge if necessary."
Now you have many options for what you can do with this dough:
Loaf of bread: instead of using the basic dough setting mentioned above, you could use a regular setting and just let it bake in your bread maker.  OR shape your dough into a loaf-size and put the dough into a greased bread pan, let rise, and bake at 350* until golden brown.  If you use pans like mine, you can make nice toaster-sized loaves.
Cinnamon rolls: when the dough beeps done, or when it is well-kneaded, roll it out onto a lightly floured countertop. Spread/sprinkle over the top: 1 stick of melted butter, maple syrup or palm/coconut sugar and plenty of cinnamon (I just use enough of each to sprinkle over all the dough, which I spread out to about 18″ around). Start at one edge and carefully roll it up. Slice into about 3/4″ sections and place them into a buttered baking dish. Let rise 2-3 hours, more or less depending on your yeast and room temp. Bake 15-20 minutes or until golden in 375* oven. If you want them to be extra dreamy you can put more melted butter, sugar, cinnamon, and crispy nuts in the bottom of the pan before you put the rolls in, let them rise and bake. When they're done, invert them onto a platter. YUM.
For an even easier way to make cinnamon rolls (no rolling the dough out): prepare the pan as described above (butter, sugar or maple syrup, cinnamon and pecans if you want them into the bottom of a baking dish), fill a small bowl 2/3 full with cinnamon and sugar…not sure how much, I just guessed – I like it very cinnamony. Grab pieces of your dough out of the breadmaker (or the Bosch) – between a golf ball and a tennis ball size. Shape the dough into a ball, and then work it around in the cinnamon & sugar mixture, flip it, stretch it in, just get as much as you can all over the dough. Tuck the dough back into a ball shape and place the folded pieces down into the prepared pan. Let rise and bake the same as above. Much easier, and just as yummy.  This is how my Mom usually made hers.
Homemade dinner rolls:  Grab small handfuls of dough (I usually make them between golf ball and tennis ball size), roll it in your hands, roll it in a little flour, and place on a buttered cookie sheet or baking pan a couple inches apart. Let rise, then bake in 400* oven 15 minutes or until golden, but start watching them a little earlier since oven temps vary. I run a stick of butter over the top when they come out and also serve with even more butter (again, organic, pastured butter from grass fed cows — if possible), so all the nutrients in your meal can be better absorbed.
Homemade buns: Hotdog, hamburger, whatever – just follow directions in #3 above, and shape your dough however you want to, remembering that it will rise some. This recipe makes 8 big hamburger buns. I make them sort of tall so you can slice them in half once they rise.  When they're a good height and have risen to about the size you want them to be when you eat them, bake at 400* until golden (about 15 minutes, but remember oven temps vary).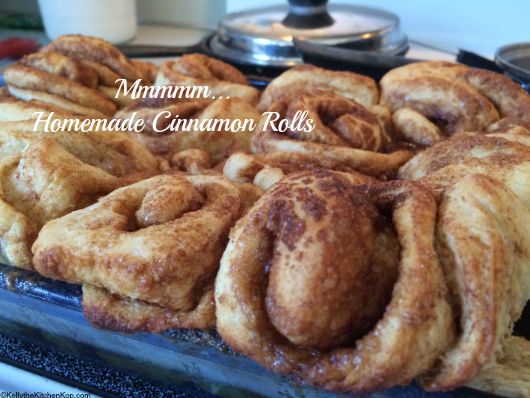 More you might like: