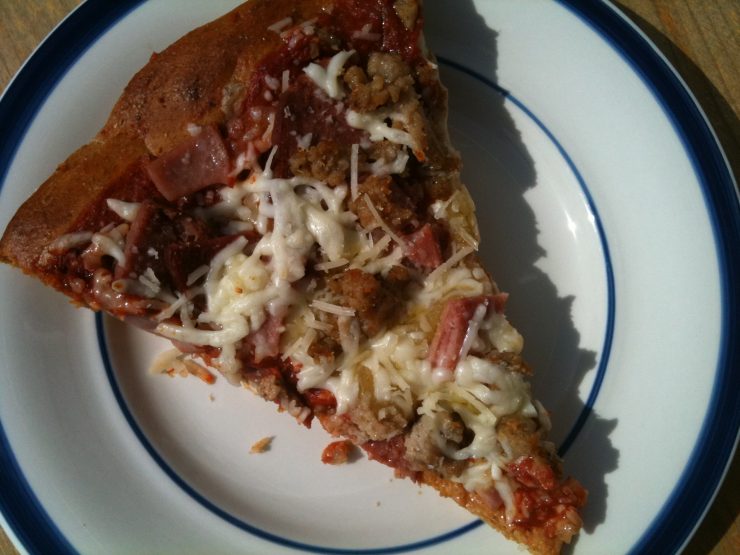 Who doesn't love homemade pizza?  It's definitely one of our kids' favorites.  And homemade calzones are fun too.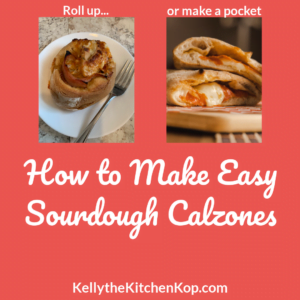 See the newest pizza dough recipe I've been using further below (it has a little molasses in it), we all like it even better!
Now an even newer update–THIS cast iron crispy pizza crust is our current favorite!
This original recipe, though, is the one I use for regular homemade calzones with yeast (the sourdough one has no yeast).  I double it so I can make extra to freeze (read how to do that easily in this post about a couple make-ahead meals that kids love).
And see the soaked version of the dough (for calzones or pizza) further below, where you start the recipe ahead of time to make it extra digestible.  Now that I have my sourdough down though, that's what I use mostly.
Also below are a variety of ideas for easy-to-make pizza variations.
Is that enough options for you?
Use the basic dough setting in a bread maker, or if you make it in the Bosch, knead about 5-6 minutes, add ingredients in this order:
As it's mixing it should start to pull all the dough off the sides.  If it's not doing that, it may need more flour, just sprinkle more in a little at a time until it pulls all the dough from the sides and isn't so wet anymore.  After the dough setting is done and beeps (again, after about 5-6 minutes total in the Bosch), split it in thirds and use floured hands to spread each around three buttered, 15″ stainless steel pizza pans.  (That's for medium-to-thick crust, you could also get 4 thin crusts from this dough.) Let set until a half hour before you want to eat.
In the meantime, prepare the other ingredients depending on what type of pizza you're making:
You can use traditional ingredients (I use organic pizza sauce and other organic ingredients I can find.) UPDATE: here is a homemade pizza sauce recipe!
Sometimes I'll make a bacon cheeseburger pizza: ketchup and mustard for the "sauce", cooked hamburger (grass-fed beef, cooked with onions, salt & pepper), then sprinkle on bacon, lettuce, pickles, tomatoes & cheese.
You could do a meatless pizza: brush on butter with garlic, then add various veggies and cheeses. We like parmesan and mozzarella with tomatoes, peppers, zucchini and Kent likes mushrooms, too.
For a treat spread melted butter on the crust and sprinkle cinnamon & sugar, then bake until golden.
Another one we like is using barbecue sauce instead of regular pizza sauce (I make my own barbecue sauce recipe lately since it's super easy and most store-bought kinds have high fructose corn syrup and the organic ones we've tried aren't great), then we put on ingredients like ham or canadian bacon, pineapple, green pepper, cheese.
You could use this dough recipe (or the one below which I now like better) to make calzones and put ham & cheese inside, pizza ingredients or anything you'd like: flatten a fist-size ball of dough on a lightly floured surface, spread ingredients in the middle, fold over and pinch sides together, and bake at 375* for 12-15 minutes or longer or until golden.  Here are the ingredients I pulled out of the freezer to throw these together later in the day:  ham and 3-cheese calzones, yum: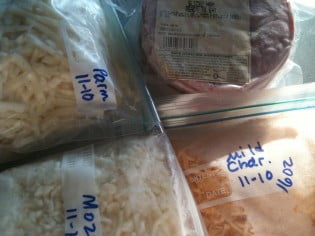 For pizza, always bake the crust 15 minutes or so (375*) before adding the ingredients on top (or it will be soggy), then bake another 15 minutes with the ingredients, until they are hot and the cheese is melted and starting to get lightly browned, plus the crust will lightly brown too.
SOAKED VERSION (for better digestibility)
For the soaked version, start the night before and let set overnight, or I've even started it in the morning and let it set for 7 hours.  (Picture at right.) Again, I double this recipe: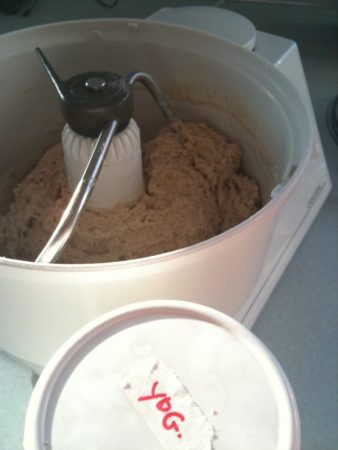 Mix together 2 1/2 cups hard whole wheat flour (or whole spelt or whole grain einkorn), 1/2 cup very warm water, and 1 cup yogurt, buttermilk, whey, or another acidic liquid.
At least 7 hours later add in the rest of the ingredients (add the salt last, after you mix it for a little bit – the flour protects the yeast from the salt, which can kill it and you won't get a rise):  2 teaspoons yeast, 2 Tablespoons soft butter, 2 cups unbleached white flour, 2 Tablespoons honey, 1 1/2 teaspoon sea salt.
Continue with recipe as noted above.
Here's the recipe I use mostly now for pizza crust, it's just a *touch* sweet:
Below is the recipe I've been using lately and we all love it!  A friend, Amy K., gave it to me – makes 2 thick pizza crusts, 3 medium crusts, or 4 thin crusts. Sometimes I'll make different kinds like one meat-lovers, one with just cheese for the kids, and another maybe without sauce, and then I'll brush on garlic butter, various veggies, and 3 kinds of cheeses, yum!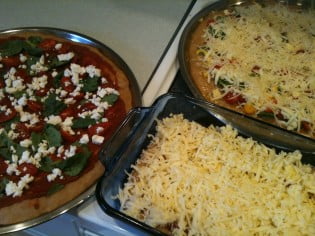 2 teaspoons yeast
1 3/4 cups warm water
1/4 cup soft butter
1/8 cup molasses
1/4 cup raw honey
6 1/4 cups flour (I used 2 cups whole wheat Einkorn flour and organic unbleached bread flour for the rest.)  You may need to add a little more flour, feel the dough after it kneads a bit to know and to see if it's pulling from the sides — it should not be sticky, but a little wet still is okay, you can flour or butter your hands before working with it.
1 teaspoon sea salt (goes in last after the flour)
Follow the instructions above for what to do now.
Note:  this makes about 16-18 calzones (a little bigger than fist size, which rise to even bigger), so I double it so that we have enough leftover to freeze for quick snacks.  (In theory anyway, we rarely DO have any leftover…)  This picture isn't real pretty, but it shows you how I make them, not real fancy!  One of these days I'll remember to snap a shot when they're done before they're all eaten!
Want to try these unique pizzas?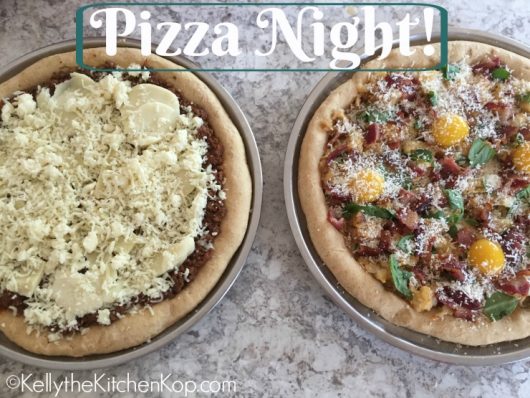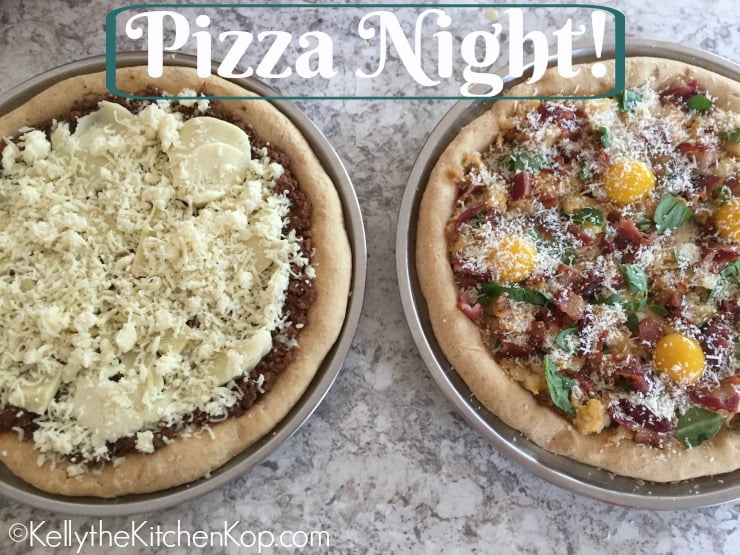 For one we just made this simple sloppy Joe pizza (a good way to do something different with your sloppy Joe leftovers), but for the other one, we were trying to recreate a pizza we had with our son in Detroit from a place called Ottava Via that is now everyone's family favorite.  I was fresh out of foie gras and rosemary apple butter, but winged it with the rest.  We used bacon, onions caramelized with balsamic vinegar, a little bit of homemade apple sauce, cooked potatoes, arugula and spinach, parmesan, and pastured eggs on top — weird ingredients, right?  It's like breakfast and a crazy mix of yumminess all together in your mouth.  As expected, it wasn't as good as we had hoped (I think I need a pizza oven!), but it was darn close.  Check out the actual picture of when we had it in Detroit.
More you might like:
Meal Planning Help!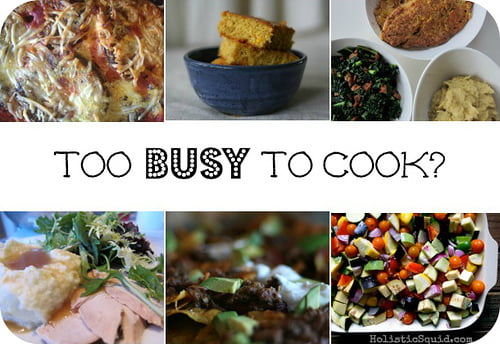 Sick of planning meals and answering the question, "What am I going to feed these people?" No matter what kind of eater you are (traditional, GF, paleo, vegetarian)… Check out these affordable interactive easy-to-use meal plans where the work is done for you.  NOW recipes also available from Nom Nom Paleo, The Paleo Mom, and Wellness Mama all in one spot!  You can read over my review here.