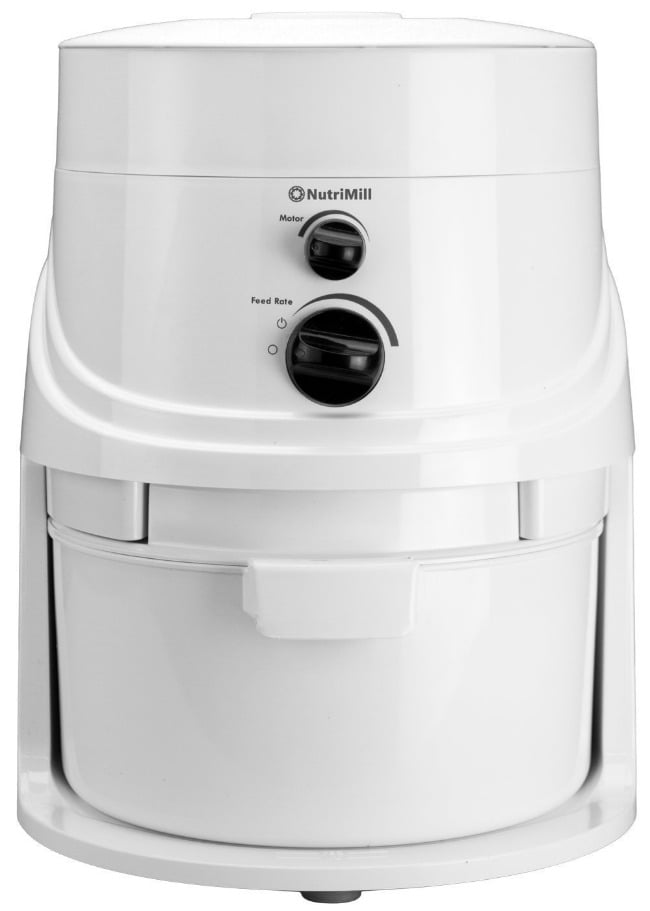 Ready to grind your own grains for the freshest homemade bread?
Warning: if you're new to trying to eat healthier and even reading the title above made you feel a bit overwhelmed, don't freak out. Just move on to the next post and you can think about this later. Or take a deep breath and dive in…
When I had my food conversion, I went a little more overboard than the average person who starts trying to incorporate healthier meals into their diet. One of the first changes I made was in regard to the bread we ate – I began experimenting with homemade bread recipes, and I bought a Grain Mill, because in my research I found out a couple things about the flour you buy in the store:
At it often becomes rancid (spoils) long before it gets to your house
At best it loses most of its nutritional value before it gets to you
So I was determined I was going to grind all our own flour from then on (I'm only up to "most", but not "all"), and the Grain Mill that I found, had all the features I wanted.
Now I use mine often and it feels great knowing how much more nutritious our recipes and meals are (and especially my homemade bread) when I'm using fresh flour I've ground myself.
I chose this one because:
It got the best reviews.
It can grind more grain at once than others.>
They say it's quieter than others, although it's the only one I've owned, so I don't have anything to compare it to.
It also has more options for course or fine flour, for different types of grain, etc., than the others did.
What grains to buy?
I buy spelt berries or einkorn berries for grinding, those two are my favorites because I like to get away from basic wheat whenever I can.  Read more about using alternative grains.
Here's where to buy a Grain Mill so you can grind your own grains
More info:
It's not ridiculously loud.
Adjusts from course to pastry fine flour with a turn of the dial.
High speed stainless steel milling heads.
Large 20 cup flour capacity.
Mills all hard and soft grains and legumes.
Bowl locking system results in minimal dust during milling.
Convenient cord storage. You simply pull out what you need.
Limited lifetime warranty.
Note:  Because you can't always grind your own grains right when you need some flour, I'll grind some and then keep it in the freezer.  This isn't as ideal as fresh, but still better than the store-bought flour which has sat there for who knows how long.
Let me know if you have any other questions.  🙂