We all know someone with a gluten sensitivity, and why is that?  Why are SO many unable to eat gluten-containing foods?
Do you know anybody who gets sick when they eat bread in America but when traveling in Europe, find they can eat as much bread as they want with no problem?  (Read testimonies about that here.)
And have you noticed that having company over these days isn't as easy as it used to be?  Now you always need to make some gluten-free options, and likely, when you serve your celiac or gluten-sensitive guests, you'll find out that they can't eat your special-made dish either, because they're also unable to eat dairy or sugar.  Yes, it's a different world now.  But why?
It turns out that there's wheat, and then there's wheat, if you know what I mean…  
When I received my free copy of the new Einkorn cookbook, I thought it would be just that, a cookbook that would help me adapt regular flour recipes over to einkorn flour recipes.  I've been using einkorn flour more and more over the past few years after learning about how it's the original grain of wheat and better tolerated by most people since it hasn't been hybridized throughout the years like conventional wheat has, and because it has many additional nutritional benefits.
However, this book rocked my world!
It turned out to be much more.  There have been a few times in my life where I've read something that made light bulbs go off in my head so fast that I just knew in my gut that I was reading truth.  This book had that effect on me.  It just made so much sense and I kept thinking…
Is THIS the answer to the Gluten Sensitivity Epidemic?
Now keep in mind, I'm not saying that I think this is the only culprit.  Our food supply has changed SO much in the last few decades, in a multitude of detrimental ways.  From the changes in farming practices and the GMOs in our food, to the cheap chemical additives in everything, and a hundred problems in between, so obviously that's all going to have an effect on our health.  But I do believe this is one HUGE piece to the puzzle…
"Everything about einkorn is different".
Einkorn is the only wheat never hybridized.  By the way, note that hybridization and genetic modification (GMOs) are very different, and genetically modified seeds are much worse than hybrid seeds; but for certain plants, they've been hybridized SO much, that the resulting crop is not easily digested in certain people.
Unlike hybrids, which are developed in the field using natural, low-tech methods, GM varieties are created in a lab using highly complex technology, such as gene splicing. These high-tech GM varieties can include genes from several species — a phenomenon that almost never occurs in nature."  (Read the entire explanation from Mother Earth News.)
Einkorn only yields about 1/5th of what modern wheat yields, but it has 30% more protein and 15% less starch, which means fewer carbs!  (And if you're a pre-menopausal woman in your late 40's like myself, well, that's good news.)
It has 50% more manganese, riboflavin, and zinc, and 20% more magnesium (most of us are deficient in magnesium!), thiamin, niacin, iron, and vitamin B6.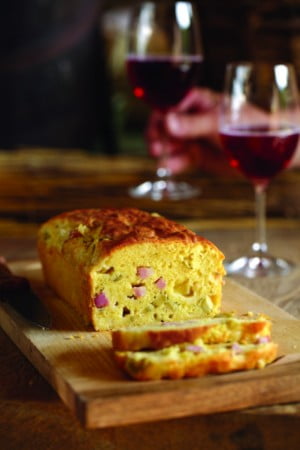 More nutrients = more flavor.
There's no noticeable taste difference in most recipes, but if it's in something like bread, you can really taste the subtle nutty flavor.  (By the way, I've had pretty good results just swapping out einkorn flour for regular flour in recipes, but Carla says in her book that in some recipes it won't behave quite the same, so she shares the reasons behind that and the necessary tips for success.  Click here to get einkorn flour.)
In the opening chapters, Carla explains the very interesting story that led up to when they realized what was going on with their daughter…
Her asthma, drowsiness, and snoring cleared up in just two months, and I soon realized that it was not bad table manners that had caused her to chew loudly at meals — it was the fact that she couldn't breathe through her nose and had had to eat with her mouth open.  The hair she lost grew back shiny, thick, and curly, and her swollen abdomen flattened.  As she healed, slowly her sensitivity to eggs and dairy also subsided.  It was not only Giulia who felt better — my husband and I noticed that certain nagging health issues, like an occasional skin rash, tingling in our legs after sitting too long, congestion, and headaches, vanished as well after we switched to einkorn."
"If you have symptoms of gluten sensitivity and a diagnosis of Celiac Disease has been ruled out, einkorn may be the only type of wheat you can feel good eating."
I'm not one to buy into the theory that no one should eat grains (yes, I know, I've bounced around on that a little over the years, thanks for hanging with me as I work through all of this), but I do wonder, even if no one in our family has skin rashes, hyperactivity, digestive problems, or other health issues, could modern wheat still be doing something in us silently, just because it IS so different from the wheat of our ancestors?!
After reading this book, I want to strive toward getting ALL conventional wheat out of our house.
Yes, it will be a process, but I've got some ideas…
When Kent and I go out on a date night, we've gotten into the habit of letting the kids have an organic frozen pizza from the store or an organic box of mac and cheese.  I figured that we eat enough nutrient-dense foods on an every day basis that a little organic junk food won't hurt them once in a while.  However, I was thinking that it wouldn't be so hard to make up a few organic einkorn pizza crusts (yep, the book has a recipe), partially bake them, and throw them into the freezer.  Then the kids can pull them out, spread on some organic pizza sauce and some cheese, and throw it into the oven.  For the mac and cheese, we can use einkorn pasta, and our daughter is pretty good at easily making a homemade cheese sauce to go on top.  (Like this stove-top macaroni and cheese recipe.)
Really any recipe that calls for pasta can just be swapped out for this einkorn pasta.  (They even have gluten-free/rice pasta if you do have Celiac or if you are still unable to tolerate even einkorn.)
We love dipping crackers into cream cheese or this fiesta cheese dip for a snack, so now I buy these einkorn sourdough crackers.  Plus there are three recipes in the book to try making your own.
Bread is going to be next up in my kitchen.  I tried making this beautiful no-knead einkorn artisan bread recipe (pictured below) and loved it to serve warm with lots of butter as part of a meal, but it's not so great as a sandwich loaf.  However, the cookbook also has a recipe for a "Classic Sandwich Loaf", which I'll be trying next.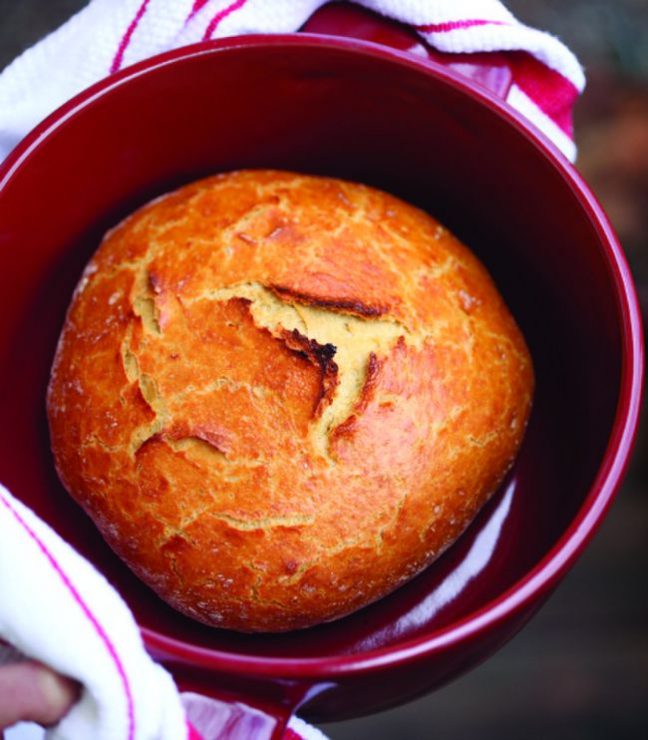 This cookbook reads like an interesting novel!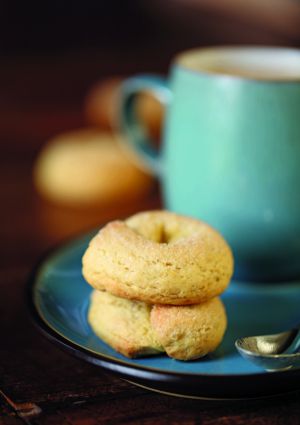 Probably because I love cooking so much, I enjoyed reading about each delicious real food, European-inspired recipe, with the stories about Italian farms and traditions, and how different ingredients can change it somehow.  Or how you could tweak it this way or that if desired.  Maybe it's just me, but I don't only like to eat food; I like to read about food, talk about food, and hang with my daughter and/or husband (and more & more our youngest son too!) as we cook together and watch TV shows about food!
Plus the heartfelt stories about Carla's daughter's health really moved me.
The other thing I love about this cookbook is that it has new, interesting (but not complicated) recipes that I'd like to try, but also a bunch of easy-for-Moms recipes that kids love — recipes like bagels, hamburger buns, pita bread, tortillas, crackers, buttermilk pancakes (which I happen to be whipping up for my son and his sleepover buddies in a few minutes, at his request), chocolate cupcakes with chocolate chip buttercream frosting, Italian cream puffs (top photo), and New York style pizza.
By the way, you might like this funny video:

More posts you might like:
This post was originally sponsored by Jovial Foods.  Photos reprinted with permission from Einkorn: Recipes for Nature's Original Wheat. Copyright © 2015 by Carla Bartolucci. Photos by Clay McLachlan. Published by Clarkson Potter, an imprint of Penguin Random House, LLC.  See my full disclosure here.