Would you like to know how to eat carbohydrates safely and how to lower the glycemic index of the foods you love?
If you'd like to continue eating bread, potatoes, or other starches (and who doesn't?!), then there are a few tricks to help you lower the glycemic index of these favorites.
First, here's my newer post about how I lost weight, even after menopause!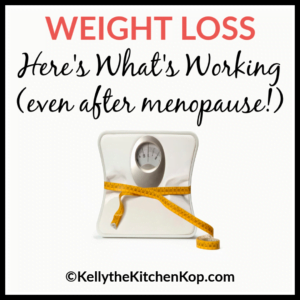 Why Lower the Glycemic Index?
If you lower the rate at which the sugars in your food hit your bloodstream (this is called their "glycemic index") and control the sharp blood sugar spikes they can cause, you are also minimizing the problems this can lead to, such as weight gain, nerve damage, stroke and cancer.  Simple as that.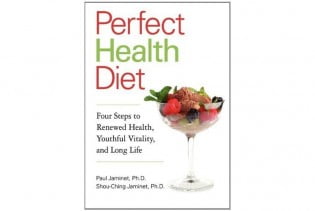 These tips come from a book that I've learned a ton from, The Perfect Health Diet.  While my conclusions differ from theirs some (and mine have evolved over the years quite a bit, too), mostly I agree with their recommendations.
Their "perfect" diet includes "safe starches" like potatoes, berries, and rice, but recommend avoiding things like grains and vegetable oils.  (There's a lot more in the book, including their complete what-to-eat and what-to-avoid list, I'm only hitting on parts of it today.)
Of course I'm totally locked in with avoiding vegetable oils, those are disgusting and make me sick, too (literally).  Read more about healthy fats here.
But when it comes to the grains, I do believe that properly preparing them can make them much safer to consume.  Others will flat out need to avoid grains if they have a compromised immune system or a gut that can't handle them, but we're all different.   At our house, most of the grains we eat are fermented or sourdough, but not all.  And sometimes I'll use white einkorn flour since it's such an old, traditional grain.  However, any grains around here are all eaten with plenty of healthy fats, and you'll read more about why that's so good below…
From the book…
How to avoid hyperglycemic toxicity:
You might think that the answer is to consume very few carbs.  But this would be naive!  

It turns out that on low-carb diets, much of the body becomes insulin resistant – meaning that it doesn't respond to insulin signals and so doesn't take in glucose after meals.  This happens so that glucose will be directed to the liver, where it can be stored in glycogen and released later for use by the brain.  

This "physiological insulin resistance" is a protective response of the body that assures that the brain gets the benefit of a limited supply of glucose.  But it has a paradoxical effect:  because the rest of the body is refusing to take up glucose and the liver takes it up slowly, a meal of carbohydrates is followed by higher postprandial (after-meal) blood glucose levels in low-carb dieters than in high-carb dieters.  (But later the book also says how unnatural and dangerous high-carb diets are…)

In short, low-carb dieting can increase the risk of postprandial hyperglycemia.
My takeaway from that little blurb:
THIS must be why it seems that any attempt at very low-carb dieting I've done in the past few years (to 'lose a few pounds that have crept on') has led to gaining that AND a little bit more back on when I eat normally again!
Anyone else experience this after low-carbing?
So as a side-note, lately I keep my weight more stable by not doing extreme low-carb and instead lowering grain consumption (and especially limiting sweets!) when the scales misbehave.  I'll still eat the 'safe starches' they talk about in the book, along with a small amount of properly prepared grains, and also avoid conventional wheat for the most part.  (I prefer spelt or einkorn these days.  Click those links for where to buy.  Also, have you seen this post on wheat sensitivities and alternative grains?)
The best strategy for glycemic control
Some of these may be new to you and some you may have practiced for years…
The trick is to prepare the starch properly and to eat it as part of a meal, in combination with other foods. Here are some ways to reduce the GI of starchy foods:

Cook them gently.  When starches are cooked in boiling water (as with home-cooked rice or boiled potatoes), their GI is fairly low, around 50-60:  but when they are roasted at high temperatures, their GI often approaches 100.
Avoid industrially prepared foods.  To speed foods through factories, industrial foods are often processed at very high temperatures, raising their glycemic index.  Commercial puffed rice or instant rice has a GI almost double that of home-cooked rice.
Eat starches with fat.  (This is my favorite one to implement!)  Fat greatly slows down the speed at which starches are digested, substantially reducing the peak blood glucose following a meal.  Dairy products – milk, butter, and sour cream – are especially helpful.  Put some butter on your potato!  (Especially butter or ghee from cows on pasture!)
Eat starches with vegetables.  Including fiber in a meal significantly reduces the GI of accompanying starch.  Vegetables are the natural way to add fiber to a meal.
Eat starches with acids, especially vinegar.  Vinegar, pickle juice, and many other acids reduce the GI of starches.  (This makes me very happy since I sooooo enjoy my salads before meals with balsamic vinegar like this one or dressings made with citrus like this one!  Or even a good pickle on a bun with a burger or sloppy joes!)

The effect of all these measures is to lower the GI of starchy foods by more than 50%.  If starchy foods are gently cooked and eaten as part of a meal that includes vegetables, fat, and an acidic sauce, even diabetics can expect a low risk of postprandial hyperglycemia.
Isn't that great news?!
More you might like: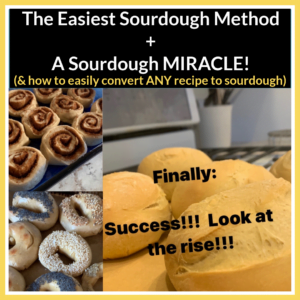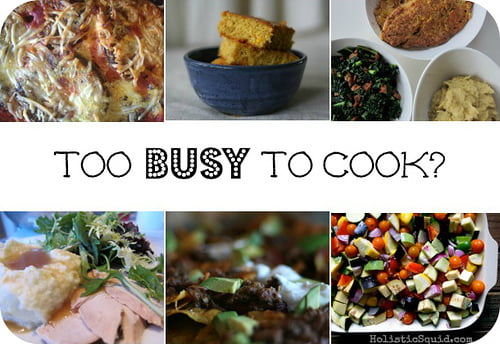 Sick of planning meals and answering the question, "What am I going to feed these people?" No matter what kind of eater you are (traditional, GF, paleo, vegetarian)… Check out these affordable interactive easy-to-use meal plans where the work is done for you.  NOW recipes also available from Nom Nom Paleo, The Paleo Mom, and Wellness Mama all in one spot!  You can read over my review here.