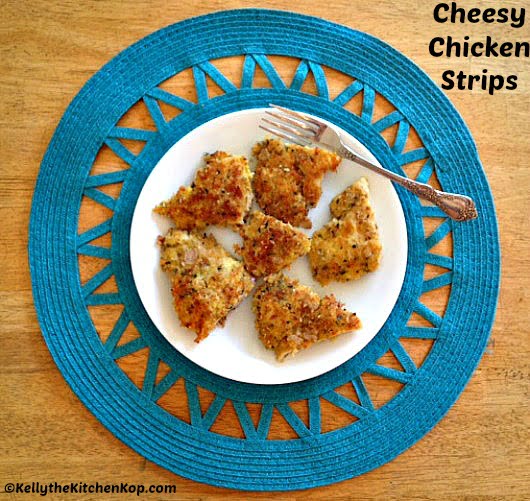 Adults and kids alike LOVE this chicken nuggets or "chicken strips" recipe.  It's easy to make larger quantities so you can take some to a friend OR use leftovers for chicken sandwiches the next day. (I had one with my yummy cilantro ancho-chili lime mayo, and it was delicious!)
Baked Cheesy Chicken (Easy Chicken Strips Recipe)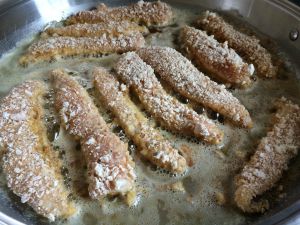 Ingredients: (organic when you can)
1/4 cup butter, melted (pastured butter is best)
1/2 cup flour (preferably sprouted flour)


1 teaspoon 

sea salt

1/2 teaspoon pepper

1 teaspoon garlic powder

1 egg

1 Tablespoon milk

1/2 cup shredded cheddar cheese

1/2 cup shredded parmesan cheese

1 1/4 cups Italian seasoned bread crumbs (bread crumbs with some dried oregano and/or parsley tossed in)


6 thin boneless pieces of chicken, cut into smaller pieces if you'd like to make them kid-friendly and more "nugget" shaped. (Try to use chicken that is locally raised, free-range, no hormones, etc., or if you don't have a good local source, find safe poultry here) ***Note that you could also use this recipe for fish!

4 Tablespoons butter, melted
Instructions:
Preheat oven to 350 degrees F (175 degrees C). Coat a 9×13 baking dish with 1/4 cup melted butter. In one bowl, mix the flour, salt, pepper & garlic powder. In another bowl beat together the egg and milk. In a third bowl, mix the cheese & bread crumbs. Dip each chicken piece first in flour, then egg mixture, then cheese mixture and place in the pan. (Once you get everything in the bowls, it goes fast.) Drizzle 4 Tablespoons butter evenly over chicken. Bake 35 minutes in preheated oven, or until coating is golden brown and chicken juices run clear.
Optional "fried chicken strips" method:
If you'd rather fry the chicken, use butter or ghee and fry on each side 'til golden brown and crispy.  Just make sure it's done by cutting into the middle of a thick piece.  If there's no pink, you're good to go.  (Cut chicken into strips for "chicken strips" – kids love this.)  I use my Stainless Steel Classic Electric Skillet
– I love that pan!
This is so easy, I hope you like it! If you have some easy meal ideas, leave a comment below! 
Trying serving with homemade barbecue sauce or in one of these salads!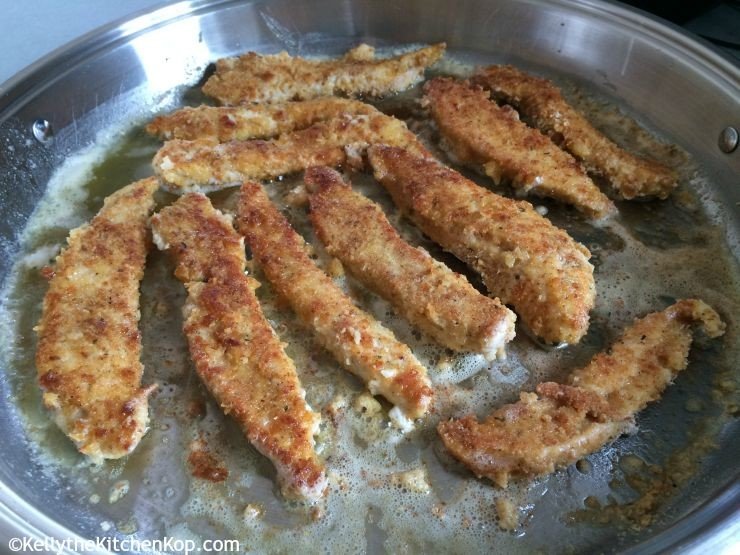 RELATED POSTS/LINKS:

Meal Planning Help!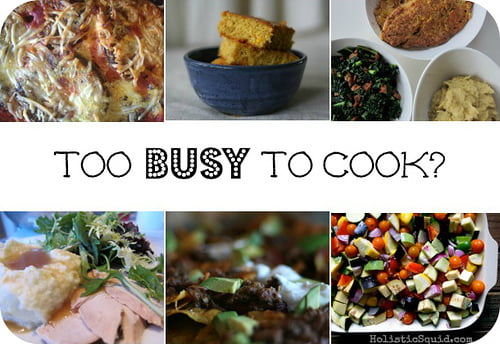 Sick of planning meals and answering the question, "What am I going to feed these people?" No matter what kind of eater you are (traditional, GF, paleo, vegetarian)… Check out these affordable interactive easy-to-use meal plans where the work is done for you.  NOW recipes also available from Nom Nom Paleo, The Paleo Mom, and Wellness Mama all in one spot!  You can read over my review here.