My favorite and best kitchen gadgets
I'm all about convenience, I admit it. I've got too much going on to be spending more time in the kitchen than necessary, so I stock it with the best kitchen gadgets that will speed things up a little or make life easier. The other reason I'll buy a new kitchen gadget is if it helps me to cook healthier. There's only so much room, though, so it's got to be good in order to justify taking up more space on my counter or in our storage room.
When I'm shopping for a new gadget I really shop. I look online and research all the various options to decide which features I need. Then I hunt down the one that has all those features at the best price. This takes a lot of time, so to save you from some of that, I thought I'd show you what and where I've found a few of my favorite things.
Here are some of the best kitchen gadgets around:
(Click on the pictures OR the link to find the product — included are affiliate links, thanks for your support of this site and if it has helped you at all along your journey to better health, I appreciate you clicking through these links to buy.)

First, since using space efficiently and not having a lot of clutter around my kitchen is important to me, I've found some great items to help with that in our new kitchen.  See the video here of our kitchen remodel in case you missed it, and at that post I show you all my space-savers and countertop de-cluttering ideas there.  🙂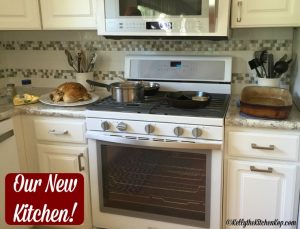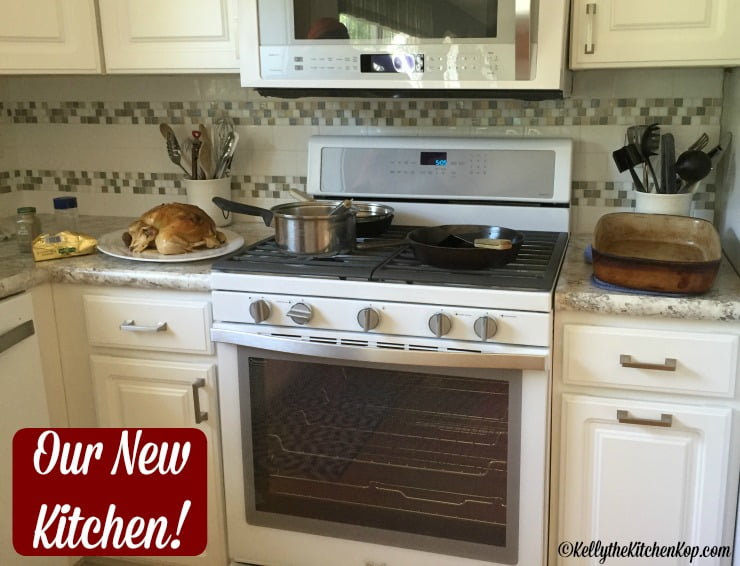 These days my very favorite and at the top of my list of best kitchen gadgets is my pressure cooker, because it can do SO much SO fast.  Not to mention that it's a multi-function machine so besides being a pressure cooker, it can also sauté, slow-cook, and more!  Check out the 10 best ways to use a pressure cooker here (one of my favorites:  pressure cooker hard-boiled eggs are SO easy to peel).  I got this pressure cooker because it was a lot bigger than the Insta-pot and less expensive too, but if you have your heart set on an Insta-pot, that now comes in the bigger size too!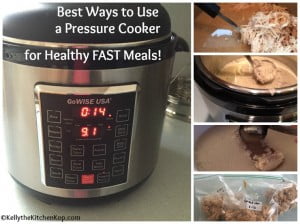 Electric Deep Fryer – I decided to get two of those, and now I can fry in my delicious and healthy beef tallow without worrying about free radicals/cancer from the oil getting too hot and screaming up over the smoke point.  (By the way, that one doesn't have a temperature control knob, but all the reviews on it were great and they said that it gets to 350* quickly and maintains that temp well, which is the temp I fry at.  I called the company to be sure, and they said that it varies between 375*-400*, but tallow has a smoke point of 420* so I'm still good.)  Models with a temp control were MUCH more expensive, and since I was buying two, I had to give up that feature.  I'd have been even happier if I could find these without a non-stick surface, but I had no luck with that.)  Update: After I bought TWO of those, I read about this fryer with a glass bowl:  1500-Watt 2-Quart Glass-Bowl Deep Fryer!  But I see they're out of stock, so then I found this bigger fryer with a stainless steel interior.  It also has a nice temperature control and a handy basket — so that one would be my first choice now instead of the non-stick interior.  (Read about when I ditched my Teflon electric frying pan.)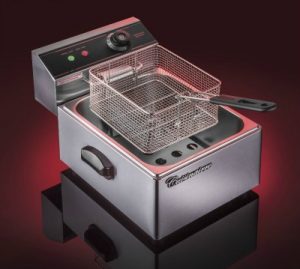 Here's my kitchen's workhorse:  My beloved Bosch mixer!  It's got a powerful blender too.  I love how I can turn it on, cover it, and do something else while it mixes.  And it's got a huge bowl so I can make big batches of bread or baked goods in there!  I also got the slicer/shredder because the bowl was nice and big for shredding a LOT of cheese at once and then freezing.  I can't stand the chemical preservatives in the shredded cheese at the store.  (Read about how I use my beautiful Bosch, and another Bosch post, or here's where to get a Bosch.)

Food Processor – I use my food processor all the time!  For grinding bread crumbs or chopping veggies or making my pesto, I love it!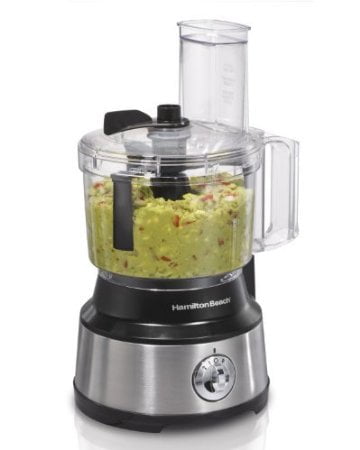 Toaster Oven – I LOVED this toaster oven.  Now I use the convection feature on my new microwave, but before that this made not using our microwave no big deal at all. It has options for toasting/baking/convection baking/broiling /defrosting. I used it to defrost meals I've made ahead and had in the freezer, then after it's defrosted, just keep it right in there to bake it. The convection bake feature is nice, it can bake things quicker than in a regular oven and truly it doesn't take THAT much longer to warm up leftovers in there instead of in the microwave – I go do one thing and come back and it's hot. I also like that I can toast a lot of bread at once.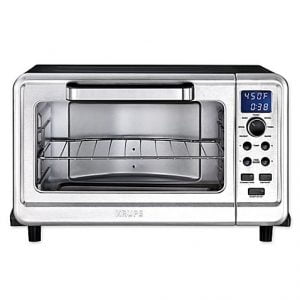 Zojirushi BBCCX20 Home Bakery Supreme Bread Machine – I used this bread machine for years and loved it, but now I use my Bosch to knead bread, and then just shape and bake myself.  The part I loved about this one is that it has 3 custom settings so I could set it to knead, rise, bake, etc., for as long as I wanted for each. This is great when I experimented with 2-stage process breads or "soaked" grain recipes. Bread machine recipes are so easy, you just throw a few ingredients in, and then it does the rest for you.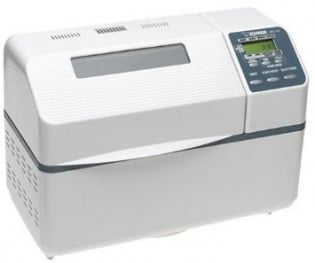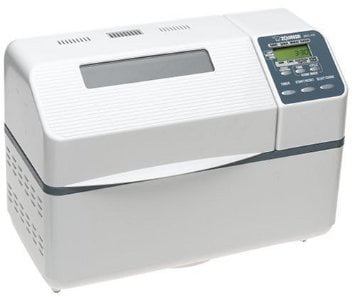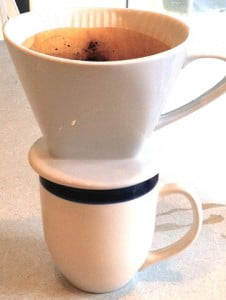 Grain mill — I use mine often and love knowing how much more nutritious our recipes and meals are when I'm using fresh flour I've ground myself. (Flour loses a lot of its nutritional value the longer it sets.) I chose this one because it got the best reviews, it can grind more grain at once than others, they say it's quieter than others, too, and it also has more options for course or fine flour, for different types of grain, etc. Click here for NutriMill Grain Mill.  Read about the Nutrimill and how I chose that particular grain mill:  For really fresh bread, mill your own flour!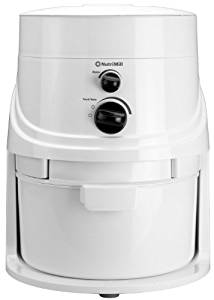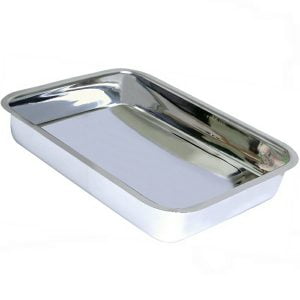 Hand blender / Stick blender – I use this a lot since I got it for Christmas. It's much easier pulling this out than my regular mixer (for certain recipes), and it reaches right inside soup pots or other places that you couldn't use a regular mixer for. It grinds up veggies small so the kids don't notice them in soups or sauces. This would also be good for making your own healthy baby food. It washes up easily in the dishwasher, too. My favorite use is for mashing potatoes – you can do it right in the pan you boiled them in – just drain, then mash with butter, cream cheese, garlic, sea salt & pepper – yum!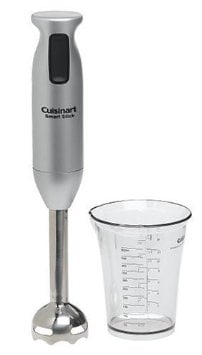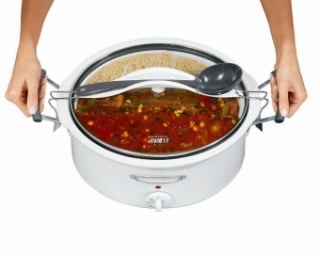 Dehydrator – Right now I dry my sprouted grains or soaked nuts in the oven, but I need a dehydrator, because my oven temp only goes down to 175* – too hot to save the enzymes.  I'd also like to dehydrate veggies from the garden, and maybe try making jerky.  (What else do you use your dehydrator for?)  So I can't say that this is now one of my best kitchen gadgets, but hopefully I'll get one and it will be eventually.  🙂  This one has the most space inside and has great reviews.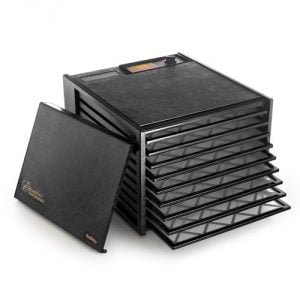 What are YOUR best kitchen gadgets? Or if you have any questions, please comment below.  🙂
More you might like: