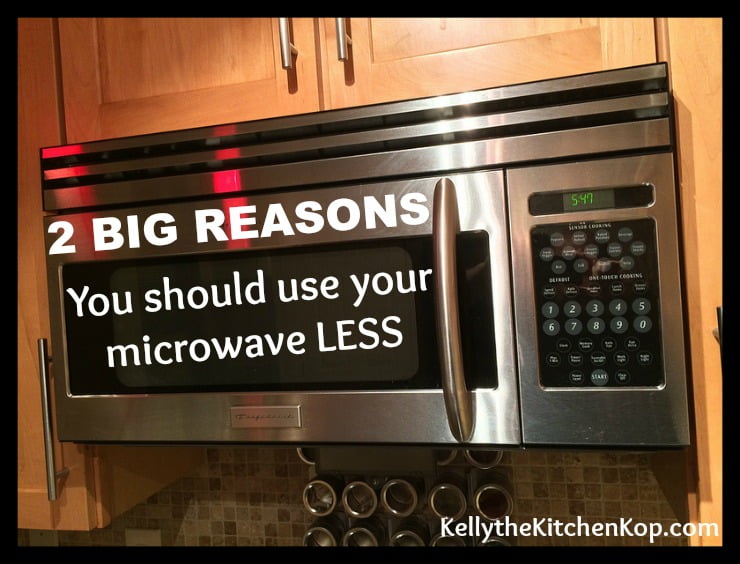 Harmful effects of microwaves — are you concerned? 
Don't freak out on me, I'm not going to suggest you totally avoid the microwave…yet. I only want you to start thinking about it more. That's how it started for me. For example, as you're popping something in there, start saying to yourself, "I wonder how else I could warm up my…(fill in the blank)?"  If you're stumped, feel free to comment and ASK ME!  I'm all about convenience in my life, so if I can limit how much I use a microwave, you can too.  It's really not that big a deal. I'll tell you about ways I've gotten around using the microwave as much as we used to and how I still have plenty of convenience built into my life, but first you probably wonder why we don't use it as much anymore…
1. Possible harmful effect of microwaves:  decreased nutrition.
I'm not going to tell you that there are proven harmful effects of microwaves, but here are a few studies that suggest it may not be wise to use one, or at least try to use it less…
I'm also not going to tell you that "it changes the whole molecular make-up of the food", because whenever a food is cooked it is changed and less nutritious, no matter how it is heated up, but as you see above, one of the harmful effects of microwaves is how it depletes more nutrients than other types of cooking.  (Also, everyone should incorporate some raw foods into your diet for more nutrition, and remember, the more gently food is heated, the better.  Do keep in mind, however, that some vegetables, such as spinach, kale, chard, plus cruciferous vegetables, such as cauliflower, cabbage, broccoli, and a few others, should be cooked for optimal nutrition — more about that here.)
2. More possible harmful effect of microwaves:  radiation.
How many of you Moms out there would step away from the microwave when you were pregnant to avoid any possible harm to your baby while it was on from possible radiation?  Well, if it is a concern for babies in the womb, don't you think it's a concern for all of us?
Read this from Chris Kresser who says that as long as you step back while it's on, it's really not that different from other cooking methods, except for how it doesn't cook food very nicely.
"The FDA requires that microwaves emit no more than 5 mW/cm2 of radiation at a distance of 2 inches from the microwave. They also point out that microwave radiation dissipates rapidly as you move away from the source, so a measurement taken 20 inches from the microwave would be about 1/100 of the measurement taken at 2 inches. This is good news, because it means that to avoid radiation from your microwave, all you have to do is step away from it while your food is heating."
But do our kids (or us for that matter) always remember to step back?
He says that "most" microwaves don't leak radiation and "real microwave emissions seem to stay below the federally mandated maximum".
I'm just not sure that reassures me enough.
He also says this though, "If you're going to be concerned about exposure to microwave radiation, you'd probably be better off getting rid of your cellphone than your microwave oven. (But that's a topic for a another day.)"
Hmmm, what do you think?
3.  That's not all…
Besides the possible harmful effects of microwaves mentioned in the studies above and the concerns about decreased nutrition and radiation, there are more reasons why we limit how much we use our microwave these days…
Don't worry, even though we try to avoid the harmful effects of microwaves, here are some ways that I still have plenty of convenience built into my life: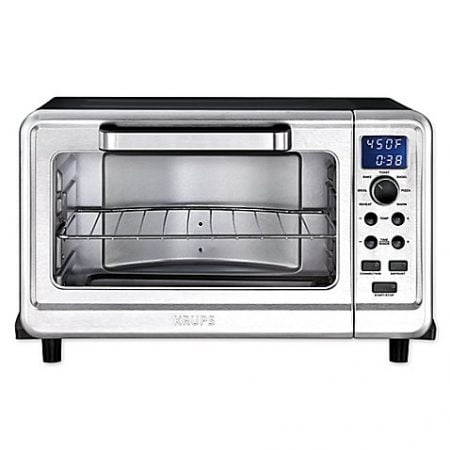 I used to use our Toaster Oven a LOT — there are 5 different ways to heat (toast, broil, defrost, convection bake & bake), and the "convection bake" feature works great for warming stuff up. You pop it in, go do one thing, come back and it's done.  However, once we remodeled our kitchen we replaced our toaster oven because it took up a lot of counter space, and I do still miss it sometimes, but now we have a microwave oven that has a convection oven in it.  I use that almost daily for warming up leftovers, for melting butter, and for an extra oven — it fits a whole cookie sheet!
Another gadget I love is my hot water dispenser. This saves a lot of time. I use it in a variety of ways: to melt a few chocolate chips I put them into a glass bowl, set that bowl in some hot water, and in 5 minutes they're melted. To thaw some blueberries for pancakes, I just run hot water over them and drain – done. Same thing for frozen peas, and then babies and toddlers will scoop them up, believe it or not. Works great for tea, obviously, or mostly to make my morning pour-over coffee.
Here's a very helpful post from my friend, Wardeh, on how to heat up foods without a microwave.
So these days it's not that we never use the microwave, but we use it much less than we used to.
Turning the oven on or getting a saucepan out to warm up leftovers with a little water or milk in the bottom really doesn't kill you, even though I used to think it surely would.
Give it a try!  🙂
More you might like:
Have you seen our home remodeling posts?