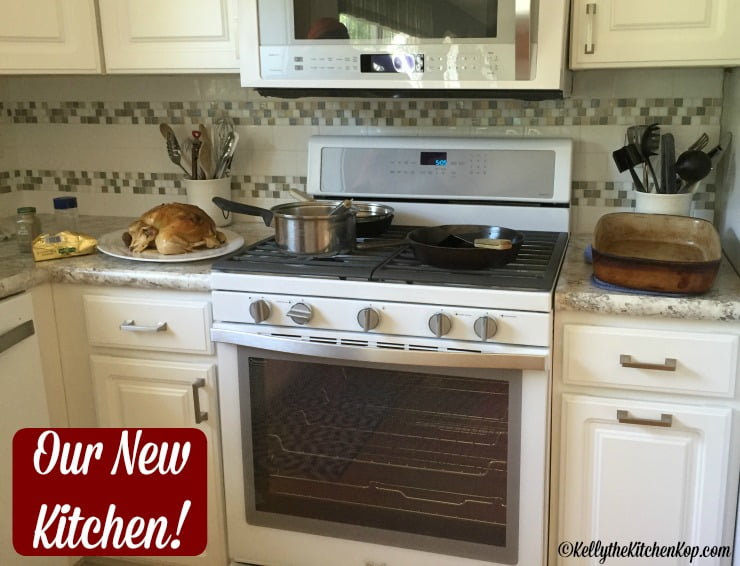 Our new kitchen remodel video…
Finally I was able to find the SEVEN hours it took to compile the pictures then edit this video, so now I can show you our kitchen remodel project from start to finish!  It also took a while to include all of the links that I promised you; from our old favorite gadgets that got us through when our kitchen was all torn up, to the new odds and ends that helped me get organized when it was time to put everything back together again, you can find all of those links below, along with the video of course.  🙂
One little note I'd like to make you aware of…  When you see the video and you hear about how our fridge didn't fit at first, and then neither did our stove, just know that YES we did measure first, several times actually!  When I put this on my Facebook page, people were like, "Geesh, what an idiot, why didn't you measure?!"  What happened was that they were the right sizes on the edges, but bowed out in the middle, or the actual appliance measurements were off just enough to mess us up.  That's the scoop on that, just to be clear!
Just want to watch the new kitchen remodel video?  Go here or scroll below.
First, a recap on how all of this came about:
Have you ever read your kids the book, "If You Give a Mouse a Cookie"?  It's about how one thing always leads to another which leads to another…
It all started when we decided to ditch RO water and ordered this new filter.
We figured that if we were getting a new filter, we may as well get our other faucet fixed that's been leaking for months and we had to urnck it just right when we turned it off to make it stop.  (I like to make up words sometimes.)
And if we're getting a new faucet, maybe I should get a new sink so we don't have to pay the plumber to cut holes in a new one again later.
And if we're getting a new sink, we may as well get the kind we want, which is the under-mount kind, so we'll have to get the new countertop we've needed for EVER.  (We had only been here less than one year and I looked at that countertop and thought, "WHAT was I thinking picking out that color?!"  Also, the laminate has since come off in two spots — it's a classy look.)
So if we're doing all that, we may as well get the new lower cabinet doors and drawers that have been literally falling apart — pans fall out the back, the drawers sometimes won't shut…
We started freaking out about how much it was all going to cost but THEN found out we were getting money BACK from our taxes!
THEN our dishwasher broke and since we got it less than a year ago, they're giving us a free replacement!  If we were getting a new one, we may as well replace all our appliances that were also falling apart, so they can all match.
Since we were getting new appliances, we figured we may as well get our stove switched over to gas.  (Which we should've done when we built our house, and Kent said so, but nooooo, I thought I wanted the flat cooktop electric kind so it was easy to clean.  Dumb dumb dumb of me — I hate cooking with electric and the flattop is NOT easy to clean after all, it's a huge pain, so was always dirty anyway.)
And lastly, since all that was getting done, we decided we may as well get our wood floors redone!
THAT is how one thing led to another and we decided to redo almost the whole kitchen.  It had been 18 years and it was time, which I explain more in the video below or watch it here.
Or check out my previous post where I show how we cooked without our kitchen.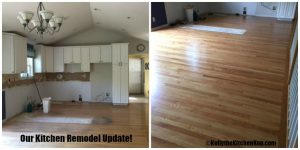 Here are the links I promised with a little more info about what you'll see in the new kitchen remodel video, OR just scroll down to watch!
Here's the new under-counter water filter we have now.  Read more about WHY we got this one and ditched our Reverse Osmosis water.  We're really enjoying the taste of REAL water again, as in: hard water WITH all the minerals that are naturally in water, but filtered so all the junk is not in there, like Fluoride, pharmaceuticals, etc.  (We also paid a little more for the brushed nickel faucet to match our other new faucets, the filter comes with one that's a shiny stainless steel.)
Here are the Ball jars for the other stuff you see there.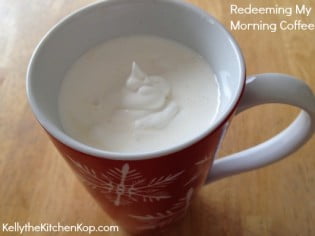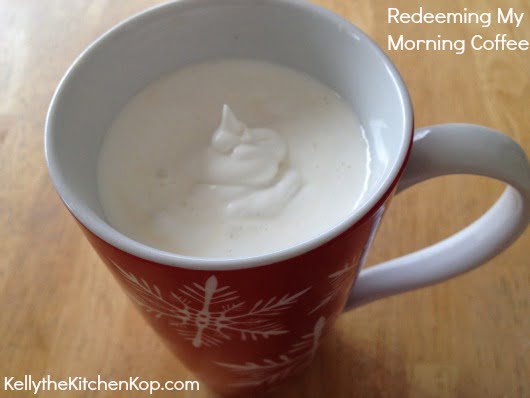 Normally we use the water from our hot water dispenser for coffee, which we still have in our new kitchen, and we use it for other things too, like tea, of course, or to quickly defrost frozen berries for yogurt or pancakes.  I use this so much, for all sorts of reasons, that I appreciated it even more after not having it for a month.
Speaking of tea, I've been loving this no-caffeine tea lately since it's been hot, it's really refreshing over ice.  In the winter it's nice hot, too.  It doesn't have much of a flavor like most herbal-type teas have, and no sweetness, it just takes like basic tea, which is what I prefer!  You can get it in tea bags, or for loose-leaf tea, I keep it in this neat big jar I found (similar to these glass jars), and strain it through this cute little strainer as I'm filling up my glass.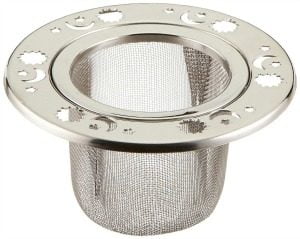 This toaster oven has served us well for years, even thought it was in an awkward place on our counter.  I loved how this model toasts, bakes, broils, convection bakes, and defrosts.  We will keep that as a backup for downstairs now, because our new microwave is also a convection oven which is what we used most in the toaster oven anyway, just to heat something quickly instead of heating up the whole oven.
Here's my new paper towel dispenser.  I use this a lot since I'm such a freak now about trying to keep everything clean in the new kitchen!
I love my countertop white ceramic utensil crocks to free up space in our drawers!
I got this new egg holder for the fridge since our old one was cracked.  I put a little mesh on the bottom so they didn't roll around.  (It says it's a popcan holder.)
These are the bumper protector things for our stools that don't stay on.  After you watch the video you'll know what I'm talking about, and tell me, should I just glue those suckers?
I also got some new silverware the other day because when we have my family for Thanksgiving I never have enough — apparently pieces have gotten tossed into the trash over the years.  My Mom & Dad gave us our old set when we were married almost 29 years ago, so I guess we got some good use out of those.  I didn't realize how tricky it was to find nice silverware that doesn't cost a fortune though!  First I found some that were a good deal, or so I thought, but they all rusted the first time they went through the dishwasher, PLUS they were so light and felt cheap.  Finally I found this set that I love — it's heavy but not too heavy, and was $80 for service for 8 with extra serving pieces.  Booger I see Amazon has the same set for $70!  I figured I'd go ahead and get some new steak knives too, and they turned out to be a nice set.
Youza, that's a lot of links!  I hope some of them are helpful to you.
Here's the entire recap in our new kitchen remodel video (plays after the ad):
More remodeling projects you might want to check out: