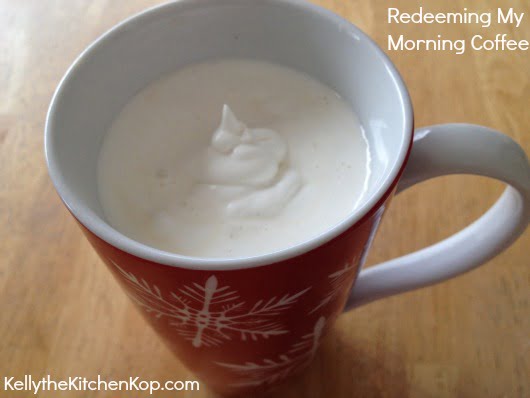 Coffee: good or bad?  Is Drinking Coffee Good for You or No?  
Like many of you, coffee is part of an every day lovely morning moment for me.  Once in a while it doesn't happen because if I don't have time to sit and enjoy it, I don't want it.  When that happens it's no big deal, I don't get headaches or anything.  Once in a while it's more than a cup-a-day, but not often.  (If you wonder whether or not it's good to drink coffee daily and if drinking coffee is good for you, there's more on that below and I want to hear what you think, too.)
By the way, if you don't really like coffee or you want something different now and then, here are some coffee replacements that are good for you.  <– That post has some hilarious coffee memes too. 🙂
I've always liked it best black, and while I'm thankful that I don't like it with sugar, I've always wished I did like it with cream, because a little real cream from pastured cows would redeem my morning cup of happy by adding in some nutrients!  (Only whole cream, NOT ultra-pasteurized, and preferably raw…)
If you're scratching your head in confusion or freaking out right now about why I'd want to add fat into my diet, read about healthy fats here and why what you've heard about them is all WRONG.
Recently I have found a way that I love it with cream, so my cup of coffee has some redeeming qualities, and wait 'til I show you how dreamy it is…
First I brew a cup of my favorite coffee using my ceramic pour-over coffee maker
 and our Instant Hot Water Dispenser
 – notice the hot coffee doesn't touch any plastic this way (you could also use a teapot or this plug-in glass kettle which is FAST):
(Read more:  A Cup of Coffee Without Plastic Toxins Please!)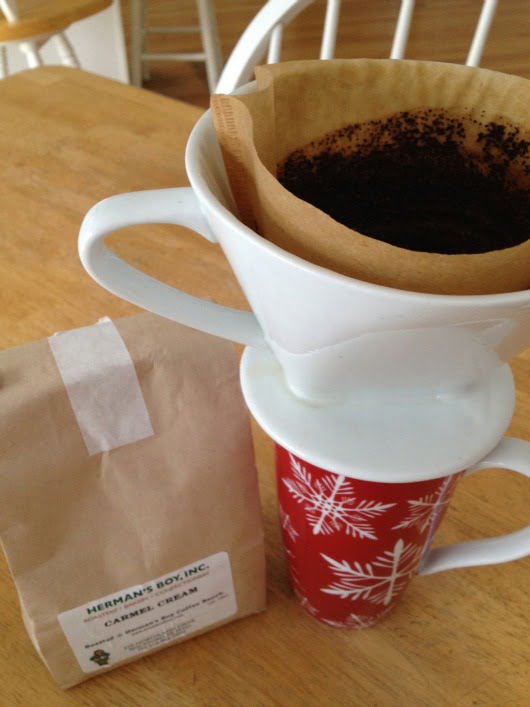 Next I pull out my new favorite kitchen tool, a milk frother like this one
, and whip up some real cream (again, best is raw from pastured/grass-fed cows so it's loaded with nutrients, but at least be sure it's not ultra-pasteurized!), this only takes a minute and it's sooooo worth it.  The kids like it on their homemade gourmet hot cocoa too.  Add even more redeeming qualities by also blending in some collagen and some colostrum for extra gut-building nutrients!
Next, dollop a spoonful onto your coffee and enjoy the dreaminess!
Sooooo — Coffee: good or bad?  Is Drinking Coffee Good for You or No?
As you know, there are many who advise against drinking coffee (Sally Fallon is one), but there are just as many who say that drinking a cup a day is actually good for you, so I don't plan on stopping!  
I have, however, cut back a little since stupid menopause, and this is why…
As I explained in my post:  Should we embrace our muffin top?
My peri-menopause symptoms first began when I realized I was becoming mineral deficient. (Did you know that most people are mineral deficient?) I started getting leg cramps, or "charley horses", at night, along with heart palpitations.  (Read more here about my simple solution.)  I especially noticed it on the days when I drank more than one cup of coffee, that's how I knew coffee was the culprit, and this makes sense since I know that too much does deplete minerals.  Apparently mineral depletion, specifically Magnesium, is heightened in menopause due to low estrogen, because estrogen helps our body utilize Mg, and this can be dangerous (source). The first thing I did was cut way back on caffeine. I already didn't drink much, usually one cup a day, but now I don't always drink coffee every day, and if I do, it's fairly weak.  Or I'll have half-caffeinated/half decaf.  (I drink Dandy Blend now and then instead, or drink more raw milk, or if I have bone broth on the stove, which I do a lot, I'll just drink some of that to try and put more minerals IN!  Here are more good coffee replacements to try.)  

By the way, yes, I started doing more magnesium foot soaks with these magnesium chloride flakes that dissolve in warm water—not the same as epsom salt soaks, that's magnesium sulfate and is not absorbed as well, but does help.  More:  How I Stopped Painful Leg Cramps at Night.)
Something else interesting though…
At the November Wise Traditions conference in California, even Julie Ross (author of The Mood Cure: The 4-Step Program to Take Charge of Your Emotions
) said that coffee with breakfast, not instead of breakfast, is ok for healthy individuals who tolerate it fine.
But since I fast most days until dinner, that's not the best news for me!

Here are a few more links for you to look over from my blogging friends who give good reasons why they are in favor of drinking coffee (yay!):
So take all of that into consideration and decide for yourself:  Is drinking coffee good for you?
My other posts on coffee:
Unrelated posts you might like:
Share your thoughts in the comments, and also will you share this post on the social media links to see what others think, too?