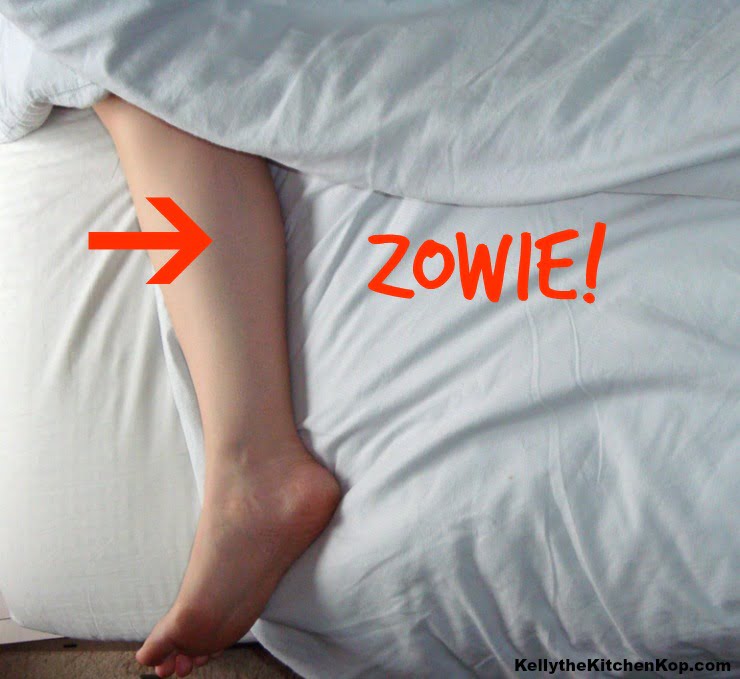 Do you ever get painful leg cramps at night…
And did they show up around the same time as peri-menopause?  Even if not, I'll bet this solution will still help you.  And if you ARE getting charley horses, it's a sign of something more serious going on in your body that could even be dangerous…
Just want the shorter version?  Here you go:  Reverse osmosis water strips out the minerals/electrolytes, and
mineral deficiencies
are the main reason for charley horses.  So we ditched our RO water and
here's the water filter we got instead–use the code KOP for a discount.
 (
Read more about it here
, it's way more affordable too!) and that stopped
most
of my leg cramps.  Once in a while if I have too much coffee or don't drink 
enough
water I'll still get leg cramps, so then I take these homeopathic remedies, which helps:
Now for the rest of the story…
Oh the joys of peri-menopause.  
The on-and-off hot flashes are annoying, but whatever.
Never knowing when my cycle will show up keeps things interesting with the Hubs!
The weight gain stinks even if it's only 10# or so, but still, ughhh.
I shouldn't complain because it hasn't been TOO terrible, probably because I'd already gotten a pretty good handle on eating a healthy diet — if I was still eating how I did 12 years ago or so, the basic SAD-standard American diet, I'm guessing my symptoms would be much worse, especially the weight gain.  (Read more about my peri-menopause FUN here.)
However, I also started getting painful leg cramps at night…
Before we go further, here's an important reminder:  I'm not a doctor or anywhere close, use what you read here only as a place to start on your own research!
I told you more about when I first noticed the painful leg cramps or "charley horses" in the post, Should we embrace our muffin top?:
My peri-menopause symptoms first began when I realized I was becoming mineral deficient. (Did you know that most people are mineral deficient?) I started getting leg cramps, or "charley horses", at night, along with heart palpitations. I especially noticed it on the days when I drank more than one cup of coffee, that's how I knew coffee was the culprit, and this makes sense since I know it does deplete minerals. Apparently mineral depletion, specifically Magnesium, is heightened in menopause due to low estrogen, because estrogen helps our body utilize Mg, and this can be dangerous (source). The first thing I did was cut way back on caffeine. I already didn't drink much, usually one cup a day, but now I don't drink coffee every day, and if I do, it's half-caffeinated/half decaf.  (I drink Dandy Blend now and then too, or drink more raw milk, or if I have bone broth on the stove, which I do a lot, I'll just drink some of that to try and put more minerals IN! Here are more good coffee replacements to try.)  
I also learned that mineral deficiencies, especially Magnesium, can contribute to metabolic syndrome (heart disease, diabetes, high blood pressure, obesity), and can increase insulin resistance, and therefore weight gain!

The mineral magnesium is critical to human health, helping the body perform functions as varied as blood pressure regulation, muscle contraction, heart rhythm stabilization, and nervous system communication. 
Modern water-purification techniques, consumption of magnesium-depleted bottled waters, and poor dietary habits contribute to widespread magnesium deficiencies in the US and around the world. Although the US RDA for magnesium is 420 mg per day for adult men and 320 mg for adult women, most Americans ingest about 270 mg of magnesium per day. 
Magnesium deficiencies have been linked to sudden death from cardiac arrhythmias, along with conditions such as muscle cramps, migraine headaches, and metabolic syndrome. 
Optimal magnesium intake, by contrast, is associated with improved insulin sensitivity, optimal lipoprotein levels, suppression of abnormal heart rhythms, reduced blood pressure, relief from migraine headaches, and improved exercise capability, among other health benefits. 
Strategies for optimizing daily magnesium intake include consuming foods high in magnesium content, supplementing with the soluble fiber known as inulin, drinking magnesium-rich mineral waters, and taking magnesium supplements that supply standardized amounts of elemental magnesium.  (Source–Magnesium Lost in the Filter-Also there is a list of foods high in Mg.)
So as I explained in this post, I also started doing more magnesium foot soaks with these magnesium chloride flakes that dissolve in warm water — not the same as epsom salt soaks, that's magnesium sulfate and is not absorbed as well, but does help.  I also used this Magnesium chloride spray before showering.  I still didn't remember to do either of those anywhere near enough, though, so I started taking these Mg supplements.
That helped some, but I'd still get the charley horses, even if I only drank a cup of half-caf and half-decaf, and I just knew that having a body depleted of minerals is NOT good, so I cut back even more on the coffee.  I MAY have whined to Kent now and then, as he was drinking his cup on a lazy Saturday morning…
"Must be nice not to have to deal with stupid menopause."
THEN we finally got our kitchen renovation done, and we got this new water filter installed.
This one does NOT strip out the minerals like Reverse Osmosis water does.  (Read more: Why We Ditched Reverse Osmosis Drinking Water.  Obviously, this will vary depending on your water and its mineral content where you are.)
Here's the water filter we got (use the code KOP for a discount), and it's affordable too!  Look at all the bad stuff it takes OUT, while leaving the good minerals IN (mine is the 2nd column from the right):
And guess what, since I've been drinking our new water, which tastes SO fresh and much better by the way, I haven't had anymore painful leg cramps at night!!! 
It's been so nice watching the kids get a big drink knowing all the good stuff is still in there, the minerals that are naturally found in water, unlike the overly-filtered or bottled water that many of us are drinking these days.  I'll still limit my coffee consumption, because I want to keep all the minerals in my body that I can of course, but it's such a relief knowing that our new water filter really is doing what I wanted it to, AND that the whole kitchen remodel was worth it!  (Wanting to ditch the RO water is what started the whole remodeling idea in the first place.)  Not to mention that I can enjoy a cup of coffee now and then and not worry about getting palpitations or painful leg cramps at night.
One more update I'm adding later:  If ever you do still get them in the night, maybe you don't have RO water anymore but you just didn't drink enough that day or you had too much coffee, keep this Mg homeopathics by your bed (12x potency) along with this one with ALL the minerals, those help so much!
Then get more minerals in like this:
My sister puts some of this salt in her mouth or on her food and that helps her.
Another note:  I remembered that I did get these cramps once in a great while in the past, and it was always when I was eating low-carb and avoiding grains, which are another good source of minerals, FYI.
If you have any questions, let me know in the comments!
More posts you'll want to check out: