Want to know how to get colostrum into your diet?
Since it's a superfood and has helped so many regain their health, this is a very good question, but first…
Have you heard of Colostrum?
If you're a Mom, you probably know that it's the "first milk" that nursing babies get after birth, and is commonly called liquid gold because it's so so good for them–it builds their gut health and is one of the ways to give them the best possible start in life. This is true of all mammals, but cow colostrum is actually good for their calves AND for humans to consume, kind of like regular milk. Only this isn't actually milk, it's PRE-milk and loaded with nutrients that nourish our gut. (Many who are dairy intolerant can take this because it's PRE-milk, but ask your doctor first and start slow.)
You may know that gut health is EVERYTHING:  if your gut is healthy, your whole body is healthy!
This is the colostrum we take daily. 
There's more below about why THIS is the only one we'll take and how to get the best pricing.
There are SO many health benefits of colostrum!
But I have to be very careful about how I tell you that.  This book spells it out well.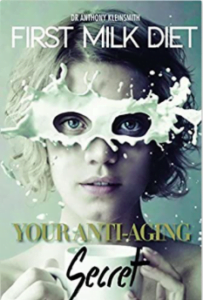 Or go here for more info:
1. Health benefits of colostrum
and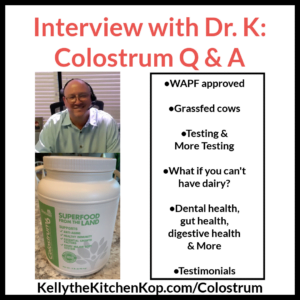 How to Get Colostrum Into Your Diet
I take capsules every day just to be sure I'm getting enough into my diet, but I also keep the powder on hand to throw into all sorts of things, it tastes so creamy and wonderful:
Froth into coffee for a dreamy latte
You could pack it into your gums before bed so it can absorb quickly and effectively
Stir into yogurt
Add to pancake or waffle batter
Mix into regular or keto cheese sauce
Add to ANY cream-based recipe for extra creaminess and nutrition
Just eat it off the spoon as Paola explained here!
This is the colostrum we take daily.  
Why I like this kind best:
It's the best because it's from pastured cows, it's tested to be sure there are no pesticides or hormones, it's left ​whole​ with nothing taken out or added in like most colostrum out there, and it's true colostrum from the first 6 hours, so there's no transitional milk in there at all from when it starts to switch over, which means MORE nutrients.
How to get the best pricing:
When you go here to shop, be sure to click "join us" instead of "shop" to become a free member for the best pricing.
Questions?
If you have any questions, just shoot me an email:  [email protected].
More you might like: