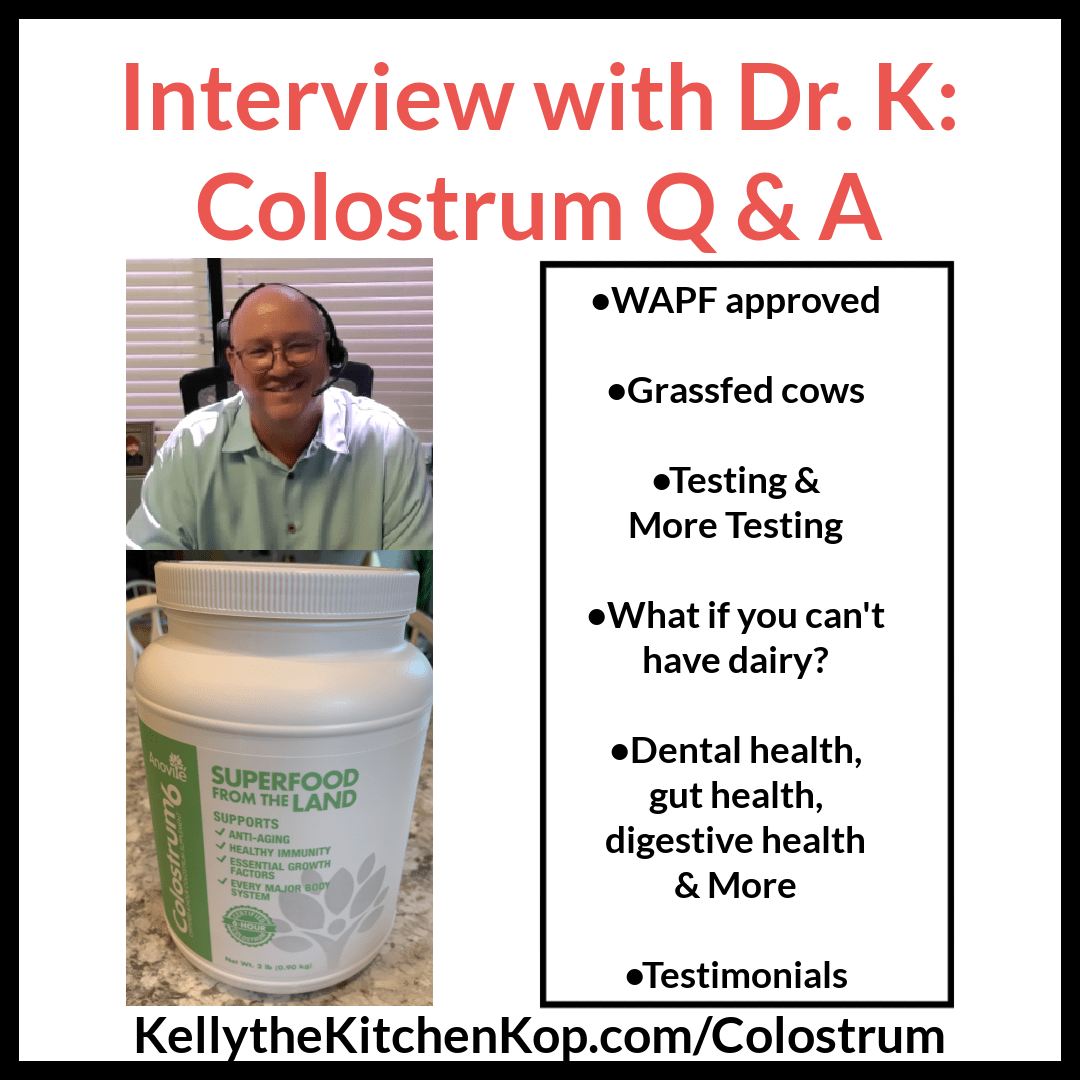 In this colostrum Q & A, I interview Dr. Kleinsmith ("Dr. K") and ask him my questions about colostrum.  
I've included a list of time-stamps below the video in case you'd rather skip to the parts that most interest you.
Watch the Colostrum Q & A Video here:
*You'll need to wait a few seconds for the ad to finish; and you may need to click the sound icon to turn the sound on:
(*If your browser isn't playing nice and you don't see the video, you can watch it over here instead.)
I hope this video is helpful, please email me (K[email protected]) or comment here with any questions!
Here's where to get the colostrum mentioned in the video:
***NOTE:  To get the best price, click "join"–NOT "shop"– for wholesale pricing when you become a free member.
Colostrum Q & A with Dr. Kleinsmith time-stamp (so you can skip around):
0:00 How did Dr. Kleinsmith first learn about colostrum and how did it turn into a business?
3:47 How is this colostrum better? (100% colostrum or transitional milk?)
5:34 WAPF recommends Anovite
5:51 Does the colostrum come from 100% pastured cows & how do you vet the farms?
9:37 Where are the cows raised?
9:52 Why testing is so important
10:43 How they help farms get set up so they meet their requirements
12:13 Why the farms pasture feed AND lot feed and how a cow having a variety of exposures helps us
13:20 More about their extensive testing
13:34 Is the colostrum certified organic?
14:45 Paola talks about her family dairy cow & how farms keep their cows healthy
16:12 How the farms they work with are often skeptical at first
16:59 How us eating McDonalds is like junk-feeding is for cows
19:16 The spray-dry process
20:41 The 6 components that make up colostrum
21:45 Is the colostrum raw?
24:09 Beyond IgG for helping to modulate autoimmune issues, anti-aging & regeneration
25:21 Using colostrum as coffee cream, at what temp is the colostrum no longer raw? How dairy fat is protective
26:09 Being creative in how to use colostrum
26:32 How he shocked his orthopedic doc
28:40 More about raw vs. using colostrum in higher temp recipes
29:12 How he takes colostrum pills PLUS he packs the powder in his gums at night for acceleration of body repair & regeneration (& even better absorption this way!)
29:35 How age & stress uses up our growth & regenerative factors, how colostrum helps this
30:48 Can those who are sensitive to dairy still take colostrum?
31:26 How a life stress can cause food sensitivities! (& how colostrum can help)
32:15 How those sensitive to dairy should start out very slowly
33:07 Is there anyone who should NOT take colostrum?
33:38 How they're planning to help open up doctor's eyes to the benefits of colostrum
34:18 His favorite testimonials & colostrum benefits
36:02 How colostrum can help to seal a leaky gut and build up our immune system
37:36 It's not just about dying later, but living better NOW
38:42 Good fats vs. bad fats
If this colostrum Q & A didn't answer all of your questions…
Please comment below!
More you might like: