If you want to learn about reversing diabetes naturally OR if you didn't even know it was possible, you have to watch the video below! 
I'm sending this post to everyone I love who has Type 2 Diabetes.  Off the top of my head that's about eight people so far–I hope you'll use the share buttons and do the same!
A couple of quotes:
Type 2 Diabetes is a disease of too much insulin.  Who thought it was a smart idea to give those with a disease where you have too much insulin, more insulin?  That's like giving an alcoholic more alcohol!"
"Even if you've had 27 years of diabetes, you can get rid of it in a month.  You can take the fattest diabetics and still cure 90% of them."
Seems unreal doesn't it?!  The video includes success stories, and I've heard many myself over the years of writing this blog.  People really do turn this around ALL of the time.

Read a few more quotes about reversing diabetes naturally…
When you treat people with insulin, with medication, they tend to get worse over time.  So you can actually break these treatments into two groups.  One side leads to a cure, there's the bariatric surgery, the fasting, and a very low-carbohydrate diet.  Those all lead to a cure for diabetes because you stop your medication and do very well.  There are other treatments that don't lead to a cure, which is the insulin, the drugs, and the low-fat diet…
You'll never guess of course, which path we choose.  We (mainstream medicine) choose with all our treatments, with all our research and all our goals, published by the Diabetes Association, to go this way, toward the path where there is no cure, we know it because we've been doing it and people aren't cured.  This is the problem, if you look at the American Diabetes Association, they have several facts.  It's a fact, for most people Type II Diabetes is a progressive disease.  Well, that's actually a LIE, because we have lots of people who are reversing diabetes naturally.
Here's Dr. Jason Fung's & Jimmy Moore's book:  Complete Guide to Fasting:
Some graphics for you about reversing diabetes naturally: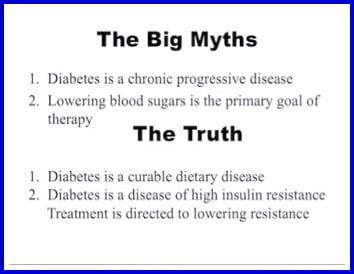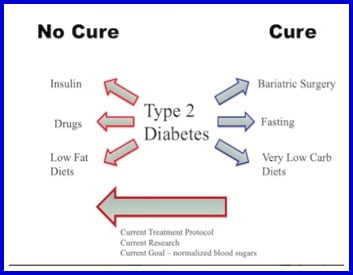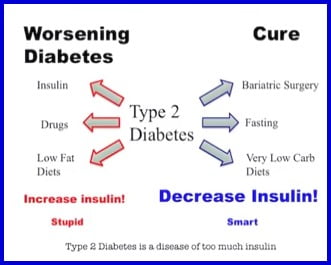 A note about the video below…
He lists three ways that have been shown to work when reversing diabetes naturally:  weight loss surgery, fasting, and very low carb diets.  Because of the many risks with surgery (see "scary stories of bariatric surgery"), that's a route I would not normally recommend.
Before I watched the video I would've only suggested low-carb diets of those three for meeting the goal of reversing diabetes naturally (high healthy fats, safe/healthy meats, and organic vegetables), because I always thought that when you're fasting, you're denying your body the nutrients it needs to heal!  However toward the end of the lecture, and after reading his book, I've changed my mind and realize how beneficial fasting can be — everything makes more sense.  (But then yes, you definitely do need to eat nutrient-dense meals when you ARE in your eating window.)  Especially for those who need to lose weight and lower blood sugar, missing a few meals is not going to harm them–it'll actually help get you on track!
See my post about how to make fasting easier.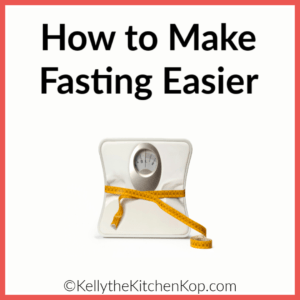 IMPORTANT:  I do still think it's important if you're on medication not to do any fasting without professional monitoring, as mentioned in the video.  Also, one thing I wasn't clear on until I read the book was how often fasting is recommended.  Now that I've read the book, I realize that it's different for everyone.  Some may lose weight and go off their diabetes meds by just eating one meal a day, 3 days a week.  Others need to step up the fasting more.  The book explains all of this in detail.
I don't have diabetes, but…
There's a strong diabetic tendency in my family, so I have fasting days and drink just coffee or bone broth, as a way to prevent it from ever rearing it's ugly head.  (FYI:  Fasting days are also good for saying extra prayers…)
Also see my newer post about how I lost 22#, even after menopause!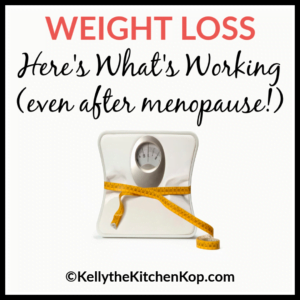 Watch the video:
Please share and send this to anyone who doesn't know that reversing diabetes naturally is POSSIBLE!