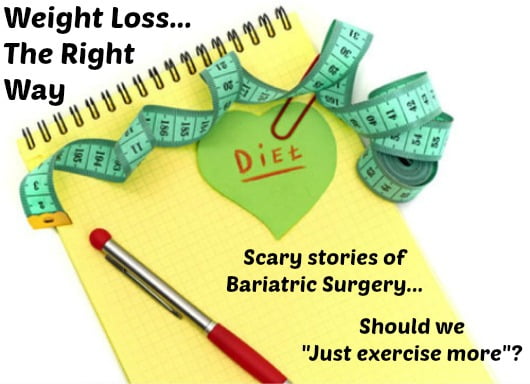 Learn more about weight loss…  The right way 
By Joanie Blaxter, founder of Follow Your Gut.  Here's Joanie…

Weight Loss
Let's pretend!!  Let's pretend you're a researcher in a white lab coat and your job is to discover the effect of food on health. So you start the experiment by giving your lab animals food they would never eat in nature.  For example, high levels of carbohydrates and sugar. Then you remove most of the nutrients and replace them with hidden chemicals specifically designed to make the denatured food artificially taste better and create cravings to eat more.  (The shareholders of the company you work for are delighted and management gives you a raise, but that's another story…) And lo! Due to the wonders of science, the animals not only eat the food, they eat a lot.   And eventually become obese.
Why do they gain weight?
Well… the food is lacking in nutrition, so the animals crave more simply to get a bare minimum of nutrients to function. Very little nutrients with lots of processed carbohydrates makes them gain weight. They are never full because they are not nourished, and consequently begin to develop health problems while continuing to crave more food. So, how can we make our animals lose weight?  Brilliant!  We'll perform surgery to artificially shorten their gut and shrink their stomachs so they'll be forced to eat less. This, my friends, is the "miracle" of weight loss surgery and we are their lab rats…  (From Dr. Mercola:  Obesity Surgery Even Worse than Previously Thought.)
I've known two women who had bariatric surgery.  Neither could eat post-surgery.  And I mean that literally.
Everything they ate came back up, got stuck, made them nauseated or gave them heartburn.  And it wasn't just that they weren't eating the right food.  With the onset of their post-surgery digestive problems, both women struggled to teach themselves how to eat nutrient-dense foods. Wouldn't you think that the medical profession would teach all obese patients the rudiments of proper eating choices and nutrition to achieve weight loss BEFORE recommending life-altering surgery?  Instead these patients had to learn it after! After surgery these women simply didn't have the physical space internally and could barely hold anything down, no matter the quality of the food.  Ironically, these two were considered success cases because they never chose (or couldn't afford) to have the band removed.  They simply learned to live with their disability.
Tragically, one of these women got pregnant after her bariatric surgery. 
The baby was born with multiple birth defects and died shortly after birth.  The doctor said the birth defects were due to fetal malnutrition as a result of the mother herself not getting enough nutrients. I know this mother.  I know she tried. I wonder if her bariatric surgeon ever warned her about this possible complication BEFORE her surgery?  I wonder if there are other young women like her?
In fact, nearly 40 percent of patients who undergo weight loss surgery experience major complications, including:
difficulty swallowing
reflux
malnutrition
blackouts
infection
kidney stones
bowel & gallbladder problems
liver failure and
increased risk of death   (source)
A study published earlier this year found that:
Nearly 50% of patients required removal of their bands
Nearly 1 out of 3 patients experienced band erosion
60 percent needed to undergo additional surgery
As such, the researchers had no choice but to conclude: LAGB (laparoscopic adjustable gastric banding) appears to result in relatively poor long-term outcomes." (Also from Mercola:  Woman Loses Legs After Weight Loss Surgery.) Since most lap-band centers are located in SoCal, I regularly meet someone who has already had or is considering undergoing bariatric surgery.
That fact only makes it common in our area (for now), and NOT SAFE!  (From Natural News:  Post Fatalities, FDA Issues Warning to 8 Bariatric Surgery Centers.) So weight loss surgery isn't a good option.  What next?  Exercise?
Why "Just Exercise!" Will Never Make You Healthy
You hear it everywhere – in the media, at school, at work, in the doctors office… You're overweight, tired, depressed and generally don't feel good? Just exercise! You'll feel better! That advice is wrong on so many levels. First of all, doc, let's skip the gym and instead give you an extra 100-150 lbs to carry around. Might that not be enough "exercise" for the day right there?  It certainly would make me tired. Second, doctors' medical school training includes next-to-nothing of nutrition.  With no real understanding of or effective tools for obesity, doctors over-focus on the simplest answer: exercise.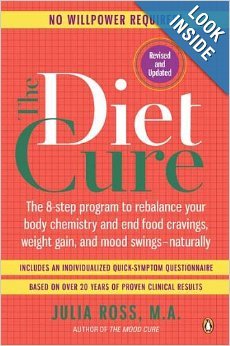 And yet, as Julia Ross clarifies so elegantly in her book, The Diet Cure, obesity is fundamentally a condition of malnutrition and brain starvation. Most people in this country – and most especially the overweight – are depressed and exhausted. And when they go to their doctor for help, they're told, Everything that's wrong with you is because you're overweight. Ignore your fatigue and just exercise. You'll feel better! So they drag themselves to the gym. The problem is, they don't feel better. They usually feel worse. So telling someone obese to just get out and exercise isn't wise, how about sugar-free substitutes in our food?
Stevia is Not the Answer Either
And sorry, but the consumption of any kind of no-calorie-low-glycemic artificial sweetener only makes us fatter. Turns out all artificial sweeteners stimulate particular centers in the brain which, in turn,  make us crave calories, thus stimulating overeating.  (Artificial Sweeteners Gaining Increasingly Bad Press – and for Good Reason.) Here's a better idea when it comes to sweets… The real key to losing that sweet craving is to control your blood sugar levels by decreasing processed carbs while increasing good fat in the diet.  Most everyone who switches to a Traditional Foods diet remarks on how their desire for sweets falls away effortlessly.
Every form of diet out there failed this 300-pound man.
You name the weight loss program and Richard Morris tried it. And being a person of iron will, he tried and tried and tried again and again… It wasn't until he replaced 'dieting' and 'counting calories'  with nutrient dense Traditional Foods and regular, not extreme, exercise that he was finally able to gain energy and reduce fatigue while secondarily losing weight.
Get healthy first and the weight loss will take care of itself.
Personally, I do not believe fat people are fat because they don't exercise enough.  Nor do I believe they are fat because they necessarily eat more than thin people.
Issues commonly affecting the obese include:
chronic malnourishment
adrenal fatigue  (This is a video with Joanie herself talking about adrenal exhaustion!)
gut dysbiosis, and
the consumption of too many processed, nutrient-deficient and carbohydrate-sugar-starch-heavy foods.
More you might like:
To learn more about weight loss as an aspect of getting healthier, check out these two books by diet experts: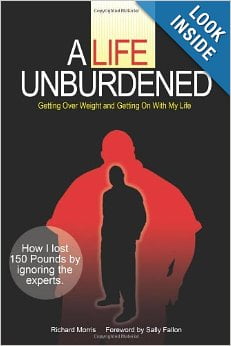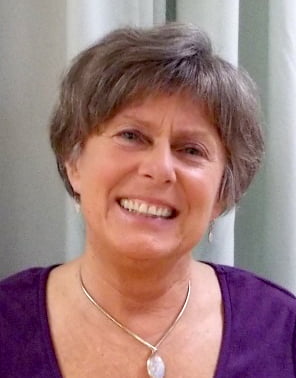 Thanks Joanie!  By the way, contact Joanie here for health consultations.  See all her posts here.  And for more about eating a traditional foods diet and how to implement this, check out the Kitchen Kop Real Food Ingredient Guide or take the Real Food for Rookies online class.