Have you said this?  "I'm Doing All the 'Right' Things, Why am I not Losing Weight?"
By a guest author (also read a newer post about this from Kelly:  How to Lose Weight Even After Menopause!)
By now we're all aware of how important it is to consume grassfed, rather than factory farmed, animal foods in order to avoid antibiotics that are given to commercially produced chickens, pigs, cows, etc., among other health concerns associated with what Kelly and other real foodies call, "mystery meat". (Click here for a safe source for healthy meat if you don't have a good local source.)
But as a consumer you need to know that for the most part, farm animals do NOT receive antibiotics because they are sick. Antibiotics are routinely administered to make animals gain weight faster.
If antibiotics make farm animals gain weight, do they do that to humans too?
Short answer:  Do bears… I mean, uh, YYEEESSSSS!!!!
Antibiotics reduce gut bacteria – good and bad – to very low levels. Because beneficial strains in our digestive system keep the pathological ones in check, when the anti-bacterial medication is stopped, most likely what rebounds in the intestines is a much higher percentage of harmful strains.
The by-product of the harmful strains is irritating.
That's why it's not uncommon to hear complaints of symptoms that actually worsen or deepen after being "cured" by a round of antibiotics, because post-protocol an individual's overall load of these irritating toxins increases along with their numbers of unfavorable strains and microbiome imbalance.
These bacterial by-products induce swelling in the intestinal wall which, once it gets bad enough, actually create holes, also known as leaky gut, and then, upon being absorbed into the bloodstream through the wall, these toxins increase the overall bodily inflammatory load, potentially anywhere.  Bodily inflammation, in turn, CREATES WEIGHT GAIN, among many other health problems. 
An increased inflammatory load resulting from gut dysbiosis isn't the only thing that makes animals and humans pack on the pounds when exposed to antibiotics…  
(This is Kelly jumping in with a little of what I remember from nursing school many years ago, along with the Greek/Latin I've been teaching the kids:  In case you're wondering about the word, "dysbiosis":  "dys" means "bad", "bio" means "life", and "osis" means "condition of", so dysbiosis basically means a condition of having bad living organisms in your gut.)
Very specific harmful strains of gut bacteria are associated with weight gain.
Fecal transplants are becoming more common as a form of treatment for people infected with antibiotic-resistant bacteria, most commonly for C. difficile infections which can be life-threatening. In 2011, a mother with recurring C. diff. opted to receive a fecal transplant from her obese, but otherwise healthy daughter.  The mother subsequently recovered very successfully from the C. diff. infection. However, like her daughter, she became obese, gaining 36 pounds in 16 months.  
Just from a fecal transplant.  
Clearly, in addition to gaining beneficial strains that helped defeat the C. diff. in her microbiome, she also gained other, not-so-beneficial strains that altered the way her body handled food.      (Source: Rapid and unexpected weight gain after fecal transplant)
Doing all the "right" things, but not getting results? Address your gut health!
It's entirely possible to have two people on exactly the same diet with exactly the same number of calories, exercise regimen, etc. – and only one will gain weight while the other will not.
This is because specific strains of bacteria actually harvest energy more efficiently than other varieties.  It's not about the speed of our metabolism. It's about how much energy our bacteria extracts from our food and passes over to our body.
What a relief to learn this!
See, it's NOT just that I'm a weak-willed over-eater, okay Mom?!?!  (Oops, sorry, some leftover childhood drama there from being a chubby kid with bacteria that harvested way more calories than anyone else in my family, even though we all ate basically the same food.)
What encourages the presence of those energy-harvesting, make-you-fat strains in the gut?
An excess of simple carbs and sugars.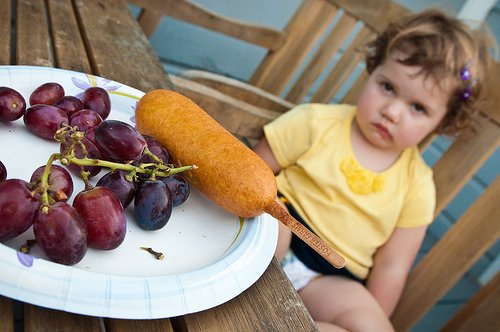 It's always a two-way street between diet and bacteria. We don't feed ourselves as much as we feed our bacteria.  And, in fact, our bacteria actually dictate to us what to eat.  Once we develop an overgrowth of the "bad guys", these hungry, harmful strains create cravings that literally make us CRAZEE until we feed them the sugar and starches they need to grow!
Does this put your "picky eater" child in a new light?  (See Is What You Feed Your Child Damaging Their Brain? And Why Picky Eaters Are a Red Flag).
Reduce the cravings.
How do we change unhealthy cravings, for ourselves and our kids?  Two ways:
Reset the gut ecology and you not only redetermine your body metabolism, but you also change your cravings!
Once the gut microbiome begins to shift to a healthier balance, and you have fewer toxic strains demanding to be fed, many report their desire for unhealthy food begins to effortlessly fall away. (This mom searching for help for her autistic son never expected that benefit: This Mom will make you cry, how one small change brought help and hope.)
This is the missing key to why so many diets fail.
We can lose weight temporarily with extraordinary measures (counting carbs and calories, exercising more, etc.) but without altering our energy uptake by measurably improving our gut microbiome population profile, the weight will return every time.
Bariatric Surgery
Even the weight loss from bariatric surgery appears to be from a reduction in the make-you-fat strains in the gut microbial population and not simply because it prevents overweight people from eating "too much."  This makes sense once you understand that changes in our eating patterns always force a corresponding change in our gut microbiome.
The gut microbiomes of the bypass patients displayed significant compositional differences compared to those of seven obese women who did not undergo surgery. (Source: Gut Microbiome After Weight-Loss Surgery)
Seems to me it's a lot easier to approach weight loss by reducing the numbers of  "make-you-fat bad guys," thereby improving my overall microbiome health, rather than risking all the dangers associated with surgery.
Read the story of my friend who was told by her doctor that the reason her baby was born with multiple birth defects was due to the malnutrition induced by her bariatric surgery: Weight Loss the Right Way (Scary Stories of Bariatric Surgery and Should We "Just Exercise More" ? 
Artificial sugar makes it ALL worse.
And, ironically, even when we try to trick our brains by feeding the cravings "empty" calories in the form of artificial sugar, those chemical additives create even more damage to an already imbalanced microbiome. Neurotoxins, like aspartame, do this by interfering with the ability of gut bacteria to communicate neurologically with each other.
Doctors (at the University of Chicago) said when they gave NutraSweet to lab mice, it literally blew holes in their brains.  (Emphasis mine, Source: Leaked Podesta Emails Confirm Suspicions About Aspartame Dangers)
Bizarrely, artificial sugar has not only been shown to actually CAUSE weight gain – even more than consuming sugar – AND is associated with insulin resistance and diabetes, yet another obesity factor, but also an ever growing list of really terrifying disease conditions: birth defects, brain lesions, cancer, epilepsy/seizures, depression/anxiety and infertility.
And, yet, we still see diet soda everywhere.
It's being sold to our children, and beloved friends and family are drinking it!  For more information on why it's SO HARD to give up a diet soda addiction, see Do You Have These Aspartame Withdrawal Symptoms? Hope for Your Diet Soda Addiction – and be sure to read the many comments from readers testifying to what happened to them mentally and physically when they gave up their addictive habits.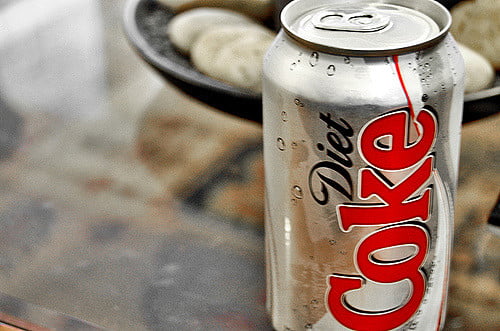 HINT: Don't ever start consuming artificial sugar products and NEVER let your children have them!
How can we protect ourselves if we HAVE to take antibiotics?
You want a probiotic that has been shown in clinical trials to survive in the presence of antibiotics and so can be taken AT THE SAME TIME, such as this probiotic, a gut commensal spore bacteria.
These kinds of spore bacillus strains have been prescribed since the 60's by both physicians and veterinarians, mostly in Europe and Asia, to be taken along with antibiotics to help prevent antibiotic-induced digestive problems. So, they not only have a long track record of safety, but also very successfully survive antibiotic exposure due to their protective spore shell.
Furthermore, because gut commensal strains actually produce their own antibiotic compounds to target and kill only the harmful strains (including the varieties that encourage obesity), they also naturally have a high resistance to pharmaceutical antibiotics.
This makes gut commensal spore strains the ideal probiotic to take during and after a course of antibiotics, to protect against a resurgence of pathological strains post-protocol.
How long must I keep taking these probiotics once I get to my ideal weight or health?
That will depend entirely on the number of toxic strains in your gut microbiome, but Kiran Krishnan, a microbiologist with particular expertise with gut commensal spore bacteria, recommends reducing your intake to not less than one cap about three times a week.
This is because we are designed by nature to daily consume these gut commensal spore bacillus naturally from food grown in microbially rich soil and, unfortunately, none of us live in an ideal world. Our microbiomes are damaged on an ongoing daily basis by two realities:
Modern food and agricultural systems are both now heavily sterilized, and
We are bombarded by invisible sources of antimicrobial chemicals and heavy metals in our environment.
Spore bacillus are categorically different from the vegetative strains in fermented foods or most commercial pills.  Lacking the protective spore shell, the lacto, bifido, and other bacteria are unable to bind to the intestinal wall.  Spore bacillus, however, thrive in the oxygen-free environment of the intestines, selectively targeting and killing only harmful strains.
So, as a microbiologist, Krishnan recommends some level of regular consumption of this kind of spore bacillus to compensate for these gut-damaging – and weight gain inducing – modern day environmental factors.
So, tell us about your experiences losing weight.  Did the weight eventually return or was it permanent?  What's worked and not worked for you?
Related posts and info: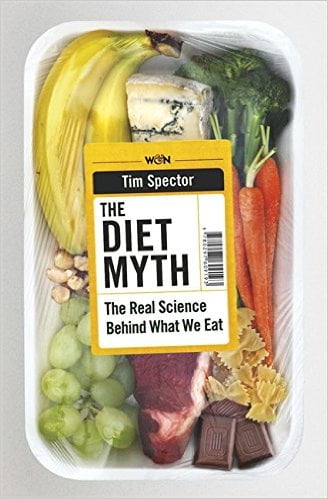 Photo Credits: Featured Pic, picky eater, bariatric surgery, Diet Coke