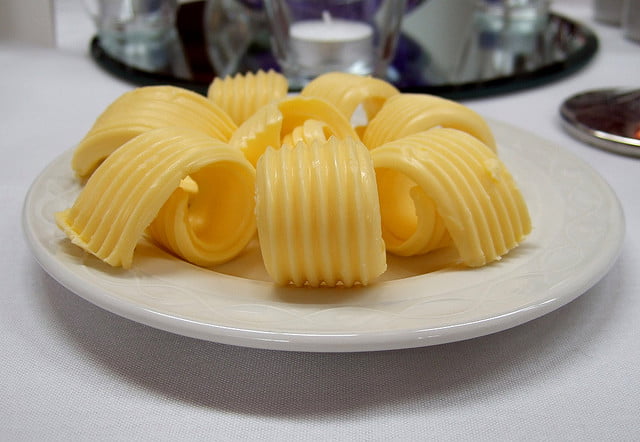 Confused about fats?
Which fats are good for us, and which are detrimental to our health and cause weight gain? They may not be the ones you think. Warning: politically incorrect nutritional information just ahead…
I'm going to be very blunt…
Please don't tell me you still have a tub of "I can't believe it's not butter" in your kitchen? (Read about when the I Can't Believe it's Not Butter people contacted me, ha!)  Or sticks of margarine? Or "Promise spread"? Besides the fact that they're not even real food because of how processed they are, those have trans fats: nasty hydrogenated or partially hydrogenated oils. (Even if they say, "Zero Trans Fats per Serving", check the ingredient label.) And if you don't find any trans fats, I guarantee they are made with vegetable oils.  I hope you don't have any of those around…right?  If so I encourage you to get rid of the bad fats in your kitchen!
What's wrong with vegetable oils?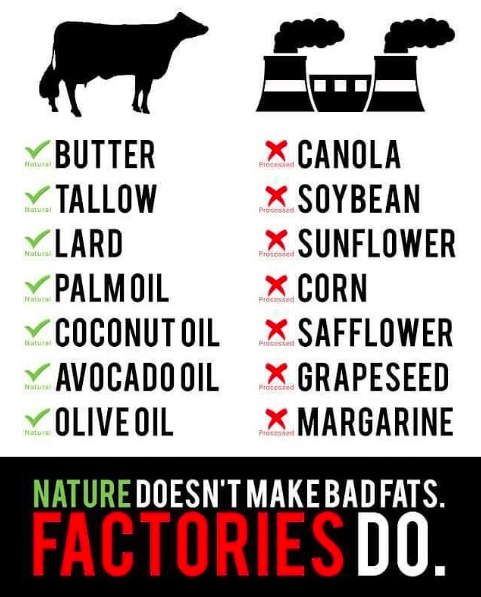 Sunflower, Safflower, Corn, Soybean, Canola, Cottonseed, Grape Seed, Margarine, etc. are all NEW fats to civilization and they're super-processed and foreign in our bodies.  Read "Do fats make us fat?" for more info on why butter is good for us, contrary to what you've heard.  With this topic, I try to ask the same questions when searching for the truth as always, and with fats I only have to think about what people have been eating for centuries vs. these new "foods" that have come out in my lifetime…and the resulting effects on our health.
You don't need to look far to find the evidence: cancer, obesity, anxiety and depression, gut disorders, heart disease, immune system dysfunction, sterility, learning disabilities, growth problems, osteoporosis, and more.  Vegetable oils are also high in omega 6's, and since we need a good balance of omega 3 and omega 6 fatty acids in our diet for optimum health, when they're unbalanced, they cause inflammation and all sorts of health problems, including gut issues, anxiety, heart disease and weight gain!  Read more here:  Good Fats, Bad Fats: Separating Fact from Fiction.
NOTE:  Keep in mind that palm and coconut are considered vegetable oils, but those are traditional fats, saturated fats, and actually very good for you!
So you're wondering, "Well then what do I cook with?"
For baking, I use butter, pastured butter is always best, but any butter is better than the alternatives. By the way, I do not soften it in the microwave, get this: I get out a saucepan to melt it! I know, that thought seemed dreadful to me not that long ago, too, but it's really not difficult. Or set it on the counter ahead of time, easy!
For higher heat frying, we use ghee (clarified butter – which means the milk solids are taken out as those are what can burn), bacon grease, beef tallow or lard.
For deep frying I love using lard or tallow.  You can render your own or find a local source.  If you can't find it locally, here's where you can find a safe source of beef tallow online.  Just watch your smoke point – frying in too high a temp can cause free radicals (cancer causing) to go wild in our bodies. See the link below for a list with smoking points for various oils. (This is also why you shouldn't eat fried foods in restaurants. You never know what oil they're using.)
I almost forgot about Bacon grease – I use that for frying eggs, or pancakes, or other things where a bacon flavor would compliment what you're making. We only get bacon from our local farm where we know the animals are raised well. (Or here's where to find healthy meat online.)
By the way, palm oil is another healthy oil that you may see on ingredient labels, I tried cooking with it once and didn't like it, though.  I may have just had a bad brand.  It was red, so maybe that kind just had a taste I didn't care for.  It's also important to source palm oil only from those who are using sustainable growing methods!
More reminders about fats/saturated fats:
Great info on cholesterol & fats:
Saturated fat remains stable at high heat, making it the preferred choice for cooking over unstable unsaturated fats. Generally speaking, the higher the proportion of saturated fat in an oil, the safer it is to cook with.
Favor cooking methods that use moderate heat, and avoid cooking with unstable vegetable oils. Very high heat methods, such as grilling, can turn even good fat into trans fat.
Share your comments below.  🙂
DISCLAIMER:
As with anything and everything you see on this blog, be sure to do your own research and talk with your doctor before you make any drastic changes in your life. I don't know what your specific health issues might be and I don't know your health history. However, don't JUST talk to your doctor without researching it yourself, too. Most doctors' main area of expertise is in the field of medicine. I'm not saying that is all bad, but nobody can know everything, so what would be especially helpful is if you had a doctor who is knowledgeable about the natural ways of looking at things, too, and who doesn't necessarily use medicine as a first line of attack.  See my full disclaimer below.