How to Fight Depression and Anxiety Naturally 
Thank you, Jill, for today's guest post and for your willingness to share all you've been through in your own battle, and what you learned about how to fight depression and anxiety naturally, as well as chronic fatigue.  Your story will be a source of hope and healing for many!
Please remember that nothing here is intended to replace professional guidance–neither Jill nor I are doctors.
If at all possible, TRY to implement the below ideas EARLY before you need to go to the doctor–besides helping you find counseling, which is obviously wise, usually ALL they know to do there is prescribe medication.  I know the meds may sometimes be necessary, but so often they only make things worse as time goes on (the long list of warnings and risks for an increase in suicidal or violent thoughts scares the crap out of me!) and it's also VERY difficult to ever get back off of them…  Sadly, in most cases they are the beginning of a lifetime of ups and downs, with the continual need to "tweak" the meds again and again, then switch to a new one due to side effects or ineffectiveness, etc.
Don't lose hope!  The suggestions below can and do help even if you've already started taking anti-depressants, but once you're on meds, it does become more difficult, but not impossible.  
Instead I just wish docs would help people find the root cause, and suggest people use more natural options for long-term healing that Jill talks about in this post!  I know none of this is easy, though, and each person is so different…
*By the way, if you have a teen or preteen struggling in these areas, see the post on How to fight depression and anxiety naturally – help for TEENS.
I've bolded the main points throughout the post so you can skim if that's your thing, because there's a LOT here–I keep adding more options as I come across them, so now there are many more than just 20…

 
*Just have pen and paper handy and jot down 2-3 options that resonate with you most to start off with.  You can add more later or come back here to try something different if needed.  Be patient, but it's so worth it to help yourself in these natural and safe ways.
Before Jill shares her story and tips below, I've got a few ideas you could also try to fight depression and anxiety naturally:
First, it may seem obvious, but before looking at diet or supplements, when you have anxiety it's best to take an honest assessment of your life and see if there's anything in your situation that could be changed to relieve that anxiety or stress?  Often there are no options for changing a difficult situation, or sometimes it's more internal (which is when the suggestions below will be especially helpful), but take a moment first to at least consider if there's something externally in your life that needs addressing?  Maybe a job change is in order, or counseling to help with a tough family situation, only you know what could help.  Keep reading though if you don't know WHY you are struggling, if you know it's health related (internal), or if changing a difficult situation isn't an option right now…
The MAIN thing I suggest when someone is dealing with anxiety or depression is cod liver oil.  (<– Get a discount with the code KOP at that link.)  Here's why:  Eating processed foods with nasty vegetable oils like soybean, canola, corn, etc. can throw off your omega-3/omega-6 balance which clearly causes mood problems.  This is because they are high in omega-6 fatty acids.  Even too many nuts or avocados, which are good for you but also high in omega-6's, can be an issue.  Taking cod liver oil helps that!  So does eating more pastured meats and cooking in fats like pastured butter, lard, and beef tallow, because these are very calming and also provide omega-3's to balance out the omega-6's and they also have more of the crucial vitamins A, D, and K.  This often will bring a huge improvement in only a couple of days!  (Read more about that here.)  TESTIMONY:  Our friends' college-age son came to ask my advice when he was experiencing some pretty heavy anxiety recently (I'm so thankful he was comfortable asking me for help!), he started on CLO right away and felt better within just a few DAYS.  He now tells everyone that this made the biggest difference in how he feels and he's doing much better now, thank God!  Another friend of mine noticed her mood lift after only two days of taking CLO.  I've seen the change in myself too! <– Read my story at that link & see a short video with more about this.
This probiotic alone has helped many people with anxiety and depression, and since gut health and brain health are SO connected, this is the other FIRST thing I suggest people start taking.  (The bottle says one/day, but it's best to start out with less–break open the capsule and sprinkle on food, there's no taste–especially if you're not used to taking them, because they're powerful gut cleaners and you don't want to have GI "die-off" symptoms from starting out too fast.  If you're having anxiety or depression issues, work up to at least 2/day but even more is better…  Work with your natural doc on this.)  Again, get a discount with the code KOP here.  ***The same company now has a new product that also would be very helpful:  (Click the photo to purchase & again, use the code KOP for a discount.)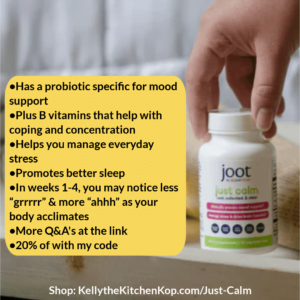 Also, Rescue Remedy is a safe, natural supplement for episodes of anxiety and it's popular for all ages, and even animals.  You might want to give it a try or keep it on-hand for a quick-acting calming remedy.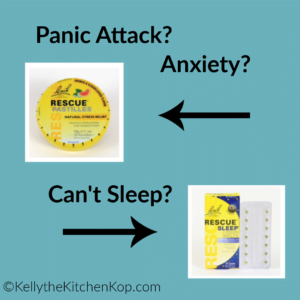 Here's a chart showing more about the Rescue Remedy options.  If you can't find what you want at the link above, try here.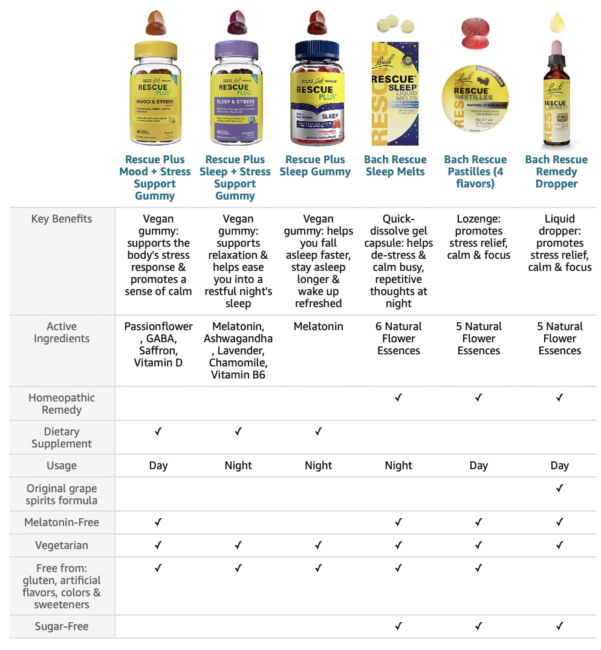 These capsules have a couple highly regarded healing mushrooms that help with mood and stress:  Lions Mane and Reishi.  (Also good for more energy and to boost the immune system.)  Or read more about this Chaga mushroom tea that has so many health benefits, like helping with sleep (my friend is sleeping through the night for the first time in years), for chronic pain — it's the only thing that helps her son since his horrific car accident many years ago, and so much more — read the post about it here or see #14 below for more info.
"What if I'm already taking an anti-anxiety drug?"  Don't stop taking it for now.  Homeopath Joette says that homeopathy does not interfere with drugs, and hopefully over time they may even lessen your need for them and you can talk to your doc about slowly weaning off.
Try this remedy for the following:  grief (even long term), emotional shock; certain kinds of anxiety or panic attacks, persistent feelings of regret, mental or physical exhaustion, worry, homesickness, emotional or physical breakdown after prolonged stress, PTSD, loss of confidence and persistent fear, lack of trust in others, depression and continually negative thoughts and feelings, disillusionment and disappointment. And Joette says, "These stress reactions can take many forms, including both physical and mental symptoms such as nightmares, flashbacks, hyper-vigilance or jumpiness (exaggerated startle reflex), insomnia, depression, anger, emotional numbness, racing heart, difficulty concentrating, headaches or stomachaches, etc."  Take 2 times/day for several days, if not weeks. As you improve, you can stop and resume taking it at a later time if the suffering reappears.
Also look into this remedy for the following:   Depression, especially in a hard-working person who is feeling overwhelmed.  (Joette also says it's also indicated for males who have impotency, undescended testicles, chronic fatigue, or low sperm count.)  Read a dramatic story with that remedy here.
And here are specific homeopathic remedy options for kids.
This combo remedy helps many with sleeplessness or stress.
*Note that if you have other health issues going along with your anxiety or depression, such as digestion or sleep problems, homeopathy can help with those too!  You may want to checkout one of Joette's classes.
Last thing from me before you hear from Jill:  I haven't researched or had experience with this personally, but I understand many people have found relief from anxiety and stress with CBD oil!   (It's 100% legal in every state, the kind at that link is organically grown, and it doesn't have THC, which is the component that gets you high.)
Now read Jill's story, including what helped her get better and fight depression and anxiety naturally (a few of my own comments are in italics):
Sometimes life drops a bomb in your lap that leaves you reeling.  Other times the stresses of life can gradually wear on a person until something within them breaks and they are thrown into depression, an anxiety disorder, or chronic fatigue.
We are only human after all. 
For me it was a bomb in the form of a sexual assault, which left me struggling for years with Post Traumatic Stress Disorder and all of the depression, anxiety, and eventually fatigue that goes with it.  I'm happy to say that I have been free from PTSD symptoms as well as chronic depression and anxiety for many years now.
One of the important aids along my journey was that of implementing dietary and lifestyle approaches to building up my body and mind.
It's surprising how dramatically a major emotional struggle can effect our physical body and health.  And when our bodies are not functioning well, our mental health is further affected and a self-perpetuating cycle can develop.
There were no magic bullets for me, but time, faith, and applying the approaches I am sharing below helped over time to move me out of that cycle and on to wellness.
I hope that my story will provide some tools as well as hope for others who feel stuck in a cycle of depression, anxiety, and/or exhaustion.
By the way, although I did not use pharmaceuticals—I tried Paxil very briefly, but my side effects were enough to make me drop the approach completely—I realize that for some people, prescription anti-depressants or anti-anxiety medication may be helpful and even necessary.  Again, none of what I am sharing is intended to replace professional guidance.
Before jumping in with tips on how to fight depression and anxiety naturally, I think it's important to start from a perspective that recognizes that God did an amazing job creating us.
When you are in a depressed, anxious, or severely exhausted state it can feel like that's just how life will be from that point on, but our bodies and minds really were designed to heal—what we need to do is cooperate with the process by providing our body with support that works for healing and not against it.
Of course there are differences between people and what works well for one person may not work for another, but here is a list of basic recommendations for helping the healing process along that apply fairly universally:
1.  Cut way back on or completely eliminate sugar and refined carbs. The reason for this is that big fluctuations in blood sugar create stress in our bodies.  Both high and low blood sugar cause your body to release a surge of adrenaline and cortisol, which are stress (fight or flight) hormones. Even whole grain sources of carbohydrates can drive spikes in blood sugar, so take it easy on those healthy whole grains as well. Holistic psychiatrist, Dr. Kelly Brogan, also recommends eliminating gluten and GMOs because of their effects on inflammation and the gut (more on that below).  Why add stress to stress?  For people battling anxiety these surges can trigger panic attacks.  Prolonged stress also creates imbalances that can cause hypoglycemia.  This is an example of emotional stress leading to physical problems that in turn add more emotional stress.  (If you can't give up sweets and refined carbs totally, just do your best!)
2.  Don't go too long between or skip meals. If you feel hungry, you already have low blood sugar, so healthy between-meal snacks may be necessary—or several smaller meals a day instead of 3 big ones. Be sure to include plenty of quality protein and fat with every meal to support stable blood sugar, which goes a long way in supporting stable stress hormones.  This is not a good time to eat a low fat, low protein (vegan or vegetarian), high carb diet. Enjoy your butter (not margarine or hydrogenated vegetable shortening!), olive oil, avocados, coconut oil, walnuts, eggs with the yolks, full-fat raw dairy, grass-fed meats, cod liver oil, wild caught fish and seafood (from clean waters), and even organ meats. These nourishing traditional foods will support your body and mind.  Though continually vilified, cholesterol is a building block of adrenal and sex hormones, which tend to get out of balance under prolonged stress so there's another good reason to remain friends with animal foods. Of course eating a variety of colorful and green leafy vegetables will work in your favor as well by providing additional vitamins, antioxidants, and beneficial phytochemicals.
3.  Think nutrient dense. People under emotional stress often have a difficult time eating or experience changes in metabolism.  I remember having a hard time eating (from nausea, upset stomach, lack of appetite, etc…) and after eating it sometimes felt like the calories and nutrition were not being absorbed.  You definitely don't want to waste any eating effort on worthless foods, so bypass processed junk or take-out and go for real, whole foods. And the USDA Food Pyramid and newer MyPlate guidelines will not help you move towards healing; instead, this is a time for deep nourishment. I know cooking healthfully is a challenge when you're exhausted and under stress but this is where modern conveniences like slow cookers and pressure cookers can make life easier. Check out Kelly's slow cooker recipes, best ways to use a pressure cooker — recipes and tips, and a whole list of FAST and easy meals.  A good meal planning service can take a lot of cooking and planning stress off as well.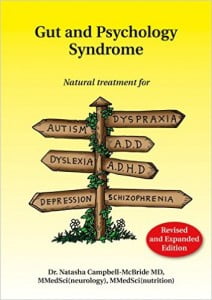 4.  Along those same lines, many people battling depression or anxiety have the added complication of stomach or intestinal problems as a result of the stress.  Our brains and gastrointestinal tracts are connected far beyond what most people would imagine and one profoundly affects the other (which is why the GAPS Diet is so effective in battling emotional problems!)  Be extra kind to your digestive system and consider adding these probiotics (especially if you have frequent diarrhea) or digestive enzymes like these.  Food preparation can make a big difference as well.  I wish I knew at the time how soothing bone broths could be to your stomach and how easily its nutrients are absorbed.  If you are a regular reader of Kelly's blog you already know about the benefits of traditional food preparation and there's no better time to apply that knowledge than when your body really needs it!
(Note from Kelly:  Homeopathy is also very helpful for digestive issues and is often much easier to implement than special diets.  Also see another post by Jill:  Nourishing Bone Broth for Rookies.  One more you might find helpful:  The GAPS Diet for Rookies.)
5.  Many people experiencing stress and fatigue find that they crave salt. As it turns out, we often need more salt during such times—your body will tell you if you need it.  Raw, unprocessed salt is easier for your body to use properly than regular table salt, plus it contains a full array of trace minerals, which are also needed while under stress.
6.  Try to get plenty of sleep. Don't let yourself run on empty in any way, whether it be an empty tank from not eating, or an empty tank from being sleep deprived.  Sleep deprivation taxes your adrenals big time (you know the phrase "running on adrenaline"), which feeds the problem.  Take naps if you need to and sleep in on weekends if you get the chance.  Our bodies and minds do a ton of repair work while we're sleeping.  Maintaining a consistent, relaxing bedtime routine, sleeping in complete darkness, avoiding overstimulating evening activities (high intensity exercise, stressful conversation/conflict, suspenseful movies, etc…), turning off Wi-Fi, keeping cell phones out of your bedroom, and avoiding caffeine and sugar (especially in the evenings) all help promote quality sleep. This supplement combines relaxing, adrenal supportive herbs and phosphatidylserine to reduce cortisol production prior to sleep. (See this post for more suggestions:  how to get more sleep – don't miss the comments where lots of good stuff is.)
7.  Often these stress-related challenges leave people with insomnia, which was a big problem for me.  Melatonin, kava or other sleep-promoting teas, herbs, or supplements can be helpful.  I received some great advice during two separate seasons in my life when I really struggled with insomnia.  The first is if you wake in the middle of the night and you know there is just no way you are going to sleep, rather than stress over it (which makes it worse), get up, brew some herbal tea, and have some quiet time to yourself to read something relaxing, journal, pray, or read your Bible — no suspense thrillers!  If you are going to be awake at night, you might as well make it a quality time.  The other piece of advice I received is in the morning after not sleeping well, focus on the sleep that you DID get rather than on what you did not get and be thankful for it—somehow it seems to double the effects of sleep so that one hour becomes like two.     (Note from Kelly:  try this for insomnia, also, there are SO many homeopathic options for this depending on what ELSE might be going on with you, consider asking a homeopath for help.)
8.  Eating a small snack containing protein and fat before bed will help prevent blood sugar drops in the middle of the night, which can also prevent a middle of the night panic attack and promote undisturbed sleep. That used to be a common time for me to get panic attacks—even now if I go to bed on an empty stomach I can sometimes feel slight shaking and increased heart rate from the release in stress hormones, which keeps me up.  A handful of almonds or a glass of raw, whole milk are quick options that can even head off a low blood sugar-induced panic attack if you catch it at the beginning.  (Again, Rescue Remedy is a safe, natural supplement for episodes of anxiety.)
9.  Cut back on or gradually eliminate caffeine. It revs you up unnaturally and contributes to exhaustion if you are already at that place.  It stimulates stress hormones too, which you really don't need. Tulsi (holy basil) tea supports adrenal health and is a good alternative.  If you want something that tastes like coffee, try Teecchino—it comes in grounds that brew and taste just like coffee, but it's completely herbal and non-caffeinated (and yummy).  Alternatively, chaga tea has a a rich, earthy flavor and makes a great coffee substitute too. Another benefit to Chaga is that it's an adaptogen that can provide additional support during stress. Learn how to make Chaga tea and read about other coffee alternatives here.
10.  Take about 20 minutes in the afternoons to chill. Put your feet up, drink some relaxing herbal tea or eat a snack, and just relax.  It will switch your gears and recharge your battery, especially if it's been a busy day.  Afternoons are a common time for energy and emotional crashes. This 20 minutes of rest is really important in cases of adrenal exhaustion—pushing yourself without breaks will further damage your body, which negatively effects your emotional and mental health even more.
11. Exercise is great physically and mentally and has been proven to be quite effective in healing depression, but don't overdo it. If you feel exhausted you will start over-taxing your system instead of rebuilding it, so listen to your body. Getting outside in and of itself is therapeutic, so even a light walk can be great.  (Have you seen this post?  Benefits of Walking vs. Running and how I got peace back into my life!)
12.  Sunshine is very therapeutic when wanting to fight depression and anxiety naturally, or for any stress related issues. Not only does it supply much-needed vitamin D (as long as you are not slathered with sunscreen), but the bright light from the sun positively influences brain chemistry and hormone balance.  Think about all the people who experience winter time depression—we need the sun!  I remember craving sunshine while I was really struggling.  It seemed to mysteriously ease some of my emotional pain and was very soothing, even though I had not yet read any scientific explanation for why that was.  Just don't go overboard and burn yourself!  (Remember, if you don't have access to the sun, you can take this Vitamin D3 — it's very helpful, even if it's not AS beneficial as the real thing.  Read more in my post here about when I was in a Funk last summer.)
13.  Don't forget to laugh and have fun.  I know it's not always easy to just "turn on", but studies show that laughter is incredibly healing for our minds and bodies.  We don't need studies to tell us that though — we have all experienced the refreshment that comes from a fun day out or after a good laugh. And on the other side of that coin, if you feel like crying, by all means cry.  Tears were made for a reason and a good cry can be at least as stress relieving as a good laugh.
14.  Many herbs are helpful for bringing stress hormones into balance—like tulsi (holy basil) mentioned above. Adaptogens are substances that improve stress tolerance and regulate the body's stress response, reduce fatigue and inflammation, and improve immune function, mental focus, and sexual response. Many Chinese and Ayurvedic herbs are classified as adaptogens. Ginseng can be a bit over stimulating if anxiety is an issue, but rhodiola helps promote "calm" energy and is a better choice for those who are battling panic attacks, plus it's supportive for relieving depression. Other stress-supporting adaptogens include eleuthero (AKA Siberian ginseng, not a true ginseng: energy, immune, and focus supporting), ashwaghanda (very calming but not recommended if pregnant or sensitive to nightshades), holy basil (AKA tulsi), maca root, and medicinal mushrooms such as reishi.  (Also, as mentioned above, these mushroom capsules have a couple highly regarded mushrooms that help with mood and stress:  Lions Mane and Reishi.)
Keep in mind it takes a couple weeks for adaptogens to build up in your system enough to really notice a difference and energizing adaptogens should not be taken after 2:00 p.m. to prevent feeling energized at bedtime. Here are some combination adaptogen formulas from reputable companies: Gaia Herbs Adrenal Health Daily Support, Herb Pharm Stress Manager, Integrative Therapeutics HPA Adapt Capsules, and (I especially trust this company–>) Perfect Supplements Revive.  Amino acid therapy is another natural approach to consider researching and is discussed in The Mood Cure.  (Just try one at a time to see what helps.)
15.  One book I read on stress said that humans are one of the only "animals" who don't manufacture their own vitamin C!  When most animals are under stress their bodies make large additional quantities of vitamin C for their bodies to use. In addition to vitamin C, B vitamins are also important during times of stress and can make a big difference for some people. Unless specifically labeled non-GMO, most vitamin C (ascorbic acid) is derived from GMO corn. Find non-GMO vitamin C options here and natural B complex supplements here (some synthetic B vitamins can be very problematic for people with certain genetic SNPs, so I recommend avoiding synthetic forms such as folic acid—read more on that issue here).
16.  Cod liver, fish, or krill oil are recommended for anything stress, anxiety, or depression related. Some studies have shown they can be equally effective as prescription meds for mild to moderate depression.  I wouldn't take any less than what is required to get 1,000 mg of omega 3 fatty acids. If taking a liquid that would be somewhere between 1/2 and 1 teaspoon per day. (Find the cod liver oil here that I recommend, this is a better option than basic fish or krill oil because of the other nutrients.  Use code KOP for a discount.) 
17.  There are other more interventional type approaches such as bio-identical hormone therapy, but I think it's advisable to seek the guidance of a naturally minded healthcare provider well versed in natural treatment of depression, anxiety, and adrenal fatigue before venturing too far beyond the basic recommendations that you would most likely be told to follow anyway. Knowing what I know now, I believe that I would have recovered much faster if I'd had the guidance of a functional medicine doctor. Functional medicine is an emerging, upstream (root cause), very individualized approach to optimizing the body's function and health. FM practitioners can be M.D.s, D.O.s., D.C.s, N.D.s, or nurse practitioners, but they have all received special training and certification in unraveling chronic, complex, and difficult to identify and treat (in the conventional model) health issues. They "get" gut health and natural hormone balance.  Ask your natural-minded friends for trusted local recommendations.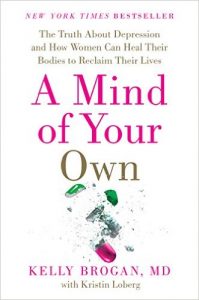 18.  See below for books that were the most helpful for me at the time. A more recently released book that I wish was available to me back then is A Mind of Your Own: The Truth About Depression and How Women Can Heal Their Bodies to Reclaim Their Lives by Dr. Kelly Brogan. Dr. Brogan is, to the best of my knowledge, the only functional medicine psychiatrist in America and she knows her stuff. Another great resource is The Anti-Anxiety Food Solution by Trudy Scott, which provides research-based, real food dietary and supplement guidelines to support healing from anxiety and depression.
19.  The vast size of the supplement section designated for stress in any natural foods or supplement store is a testament to the fact that if you are struggling with these issues, you are not alone.  The other side of this is that we sometimes forget that it is normal to experience occasional depression or anxiety, even for stretches of time.  The human experience includes the full spectrum of emotions, including difficult as well as wonderful seasons of life and everything in between.  I wonder if we sometimes have unrealistic expectations of ourselves and neglect to give ourselves permission to grieve or otherwise process emotional challenges.  I know how scary it is to "crash" and feel that your mind, emotions, and body are out of control.  Talking with others who understand, especially someone who has been there and made it through, can help to balance hopelessness and remind you of the reality that people are not only fragile, but also resilient.
I will add here that you've got to be "smarter" than your emotions when you want to fight depression and anxiety naturally.
Our feelings are not always an accurate measure of reality, which is so important to remember when anxiety rears its ugly head—particularly when irrational fears or despair accompany it. I love the idea of writing yourself a letter on a good day when your mind is clear, as a sort of "reality check" to refer back to on difficult days when you just can't see the light behind the clouds. You'll find yourself needing to pull that letter out less frequently as the healing process moves along.
20.  For me, the above tips were in lieu of meds—I used Paxil very briefly but the side effects were so awful I gave up quickly on that route.  I discovered what I've shared here by trial and error, research, and guidance from a healthcare provider experienced in natural hormone balance. 
Healing was very much gradual—so gradual that sometimes it didn't feel like I was making progress, but when I'd look back over several months or a year's time I was able to see a lot of progress.
It's sort of like 1 1/2 steps forward, 1 big step back.  Really, to be totally free of the PTSD took about 5 years, but keep in mind that during those years I was continually, slowly improving, so that by the end of those years I found myself wondering, "Gosh am I 'normal' now?  Maybe!"  Of course, what is "normal" anyway? 🙂  I like to say it's a setting on your washing machine.
I'm not sure if anybody really completely arrives at "normal" in this life!
Thanks so much Jill!  
Here are a few more thoughts on how to fight depression and anxiety naturally…
Many commenters have brought this up and here's what Scott said:  "I'm actually quite surprised that magnesium did not make this list. As someone who has suffered for years with anxiety, magnesium has helped me more than anything one thing. Citrate or malate, both work wonders. Stay away from oxide, completely worthless (does not assimilate well, around 4% assimilation)."  Here's the Magnesium supplement I take and you could also use these Magnesium flakes in a tub full of warm water for a calming effect.  (Use the code KOP there for a discount.)  Nowadays, I am loving this homeopathic remedy and it's what I wrote about in this post:  How to stop migraines.
Two more posts you may have missed: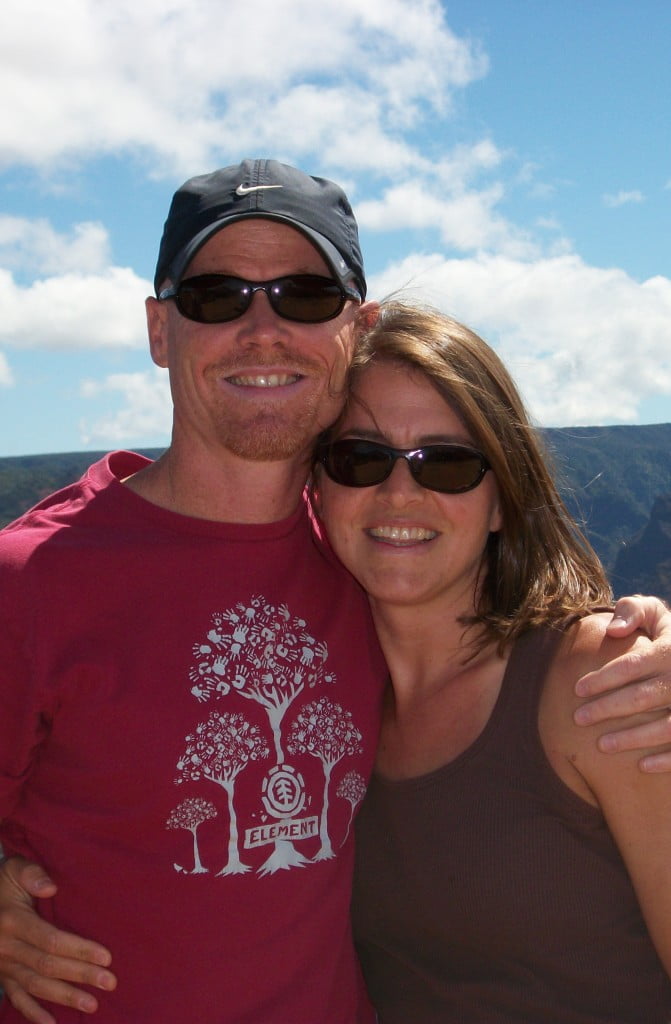 About Jill (from 2011 when this post was originally published):
"We live in Waco, TX—just moved last summer after living in Hawaii (on the Big Island) which was after we lived in South Africa—lots of transition in the last few years.  I'm a stay-at-home, homeschooling mom of Luke, who is almost 16, and Hannah, who is almost 18 and will be starting college at Baylor University in the fall. My husband, David, is the acute care and outpatient therapy manager (physical, occupational, and speech therapy) at a hospital here in Waco.  I've been doing well (PTSD and related health issues) for several years now—probably 7 or 8 years, though I find my stress tolerance level isn't what I think it used to be.  Of course I'm not as young as I used to be either!"
More resources to check out from Jill:
The Bible — this was and still is my anchor to reality and a constant reminder of my inexhaustible source of hope.
Next book on my list to read: The GAPS Diet – Gut and Psychology Syndrome, by Dr. Natasha Campbell-McBride (My daughter has multiple food allergies and a many-years battle with acne, which she would like to be rid of.) Update: GREAT book, and following the GAPS protocol for 1 1/2 years reversed all but one (gluten) food allergies/sensitivities for my daughter and completely healed her severely acne-prone skin.
And even MORE:
What about YOU?  Do you have more tips to share on how to fight depression and anxiety naturally?