Learn about homeopathy in a self-study class!
Did you know that homeopathy is the second most commonly used form of medicine in the world?  Read more about that here.  Join us to learn more about why so many depend on these safe, natural remedies to take care of their families on their own and avoid unnecessary trips to the doctor, where they'll likely put you on drugs with many scary side effects and risks for long term harm.  We don't know what's coming in the future with the FDA starting to stick their noses into homeopathic pharmacies, so learn this information now before our options are limited!

In the past I've led several homeopathy classes with smart people like Joette Calabrese, Sheena Rice, or Paola Brown, and now…
I've compiled what I've learned into a self-study class, so you can delve in on your own to start learning, or add to what you've already learned!
Jump links if you're short on time:
First the basics, what actually IS homeopathy?
Besides that homeopathy helps us avoid potentially dangerous pharmaceutical drugs and even over-the-counter meds (which do have side effects!), it is also a much gentler way to feel better with illnesses or injuries.  It helps to root out issues long term, instead of pushing them deeper where they're likely to roar back in bigger ways later.  Here's more:
I have so many stories to share with you about how it's helped in our family, and I'm sure many of you have your own success stories to share too!
Let me give you just one example of how it's safer:
You know how parents are often told to give their kids Tylenol/acetaminophen for pain after receiving one of the 74 (SEVENTY-FOUR!) shots in the current vaccine schedule?  Well it turns out that Tylenol depletes glutathione in the liver, the very substance our bodies need to fight that attack and detoxify! "It's the body's most important tool for detoxifying and excreting metals. Glutathione works as an antioxidant, keeping in check the potentially destructive process of oxidative stress caused both by normal metabolism and environmental contaminants." (Source for quote.)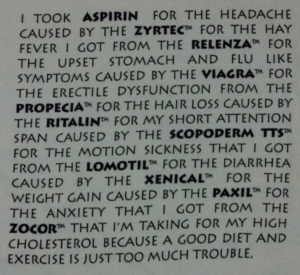 What to do instead?
Instead you can learn to read the type of pain, injury, or illness your loved one is dealing with and take the correct homeopathic remedy to help!  It's gentle, has zero side effects, and it works WITH your body, not against it. The same is true for when you have a cold sore, a migraine, ear aches, eczema, leg cramps, Covid, or anything else! (I have a friend who is highly sensitive to everything, and she's especially thankful for these remedies–it's the only option she has.)
What's included in the self-study class:
You'll be given access to my private notes area where the following resources will be available to you:
Tons of personal notes from various classes I've taken, such as how to find the right remedy for your health issue, what the different potencies mean, and so much more.
Periodic remedy discount codes.
Recording of a recent discussion class on my friend Paola's book, Evie and the Secret of Small Things, and all of the class notes.  Here we also discuss our own homeopathy successes.
Bonus recording with info on colostrum & the supplements we take, why, how they're beneficial, and how this works in my life along with essential oils and other natural, safer solutions.  This add-on will be helpful for anyone with chronic health issues, those concerned about slowing down aging, weight loss, bone health, auto-immune issues, for those who are parents, and everyone in between!
Suggested homeopathy books and resources.
Links to free homeoapthy resources that I've found.
All my homeopathy posts in one spot with specific info on how I treated different health issues.
Join my Facebook homeopathy support group where you can ask questions or get help from me and others for finding the right remedies and help implementing all you've learned.
Also you'll be welcome to email me any quick questions you might have.
Specific protocols and remedies for dozens of ailments, injuries, and illnesses, so YOU can help your family no matter what may be in the future.
How to register:  
I'm happy to answer any additional questions, but please read here carefully first–thanks!
–>> Register for the self-study class here and don't miss BOTH steps:
~A.  Send $50 payment:
~B.  THEN BE SURE TO email me to let me know you registered, so I can contact you with the link and get you started!  [email protected].
~Class fees are non-refundable.
Last note:
Keep in mind that I don't claim to be a homeopathy expert or anywhere close!  I'll just share how this natural form of healing has helped me and our family, and share more resources with you that I've come across.  🙂
Here's an interview you might like where I chatted with my friend Paola about homeopathy (plays after the ad): 
Questions?  
Please read everything over well first, but if you still have questions feel free to contact me here:  [email protected].
I can't wait to have you learn more about homeopathy with me!
More you might like: