Join my homeopathy class to learn about these safe remedies in an all new way!
Did you know that homeopathy is the second most commonly used form of medicine in the world?  Read more about that here.  Join us to learn more about why so many depend on these safe, natural remedies to take care of their families on their own and avoid unnecessary trips to the doctor, where they'll likely put you on drugs with many scary side effects and risks for long term harm.  We don't know what's coming in the future, learn this information now before our options are limited!

In the past I've led several "Gateway" homeopathy classes with Joette Calabrese, who I've learned so much from, but this time I thought we'd try something different and learn from my friend Paola!  She's developed many wonderful materials for all ages and I can't wait to dig in with you.
Jump links if you're short on time:
First the basics, what is homeopathy and other Q and A's about the study class:
More Homeopathy Q&A–what IS homeopathy? Hint:  Homeopathy is not the same as naturopathy, functional medicine, chiropractic care, holistic healing, nutritional healing, or other natural treatment options.  It's a whole other world that I didn't understand until not that long ago!  Also learn where healthy diets, supplements, and essential oils come in.
Study class Q&A's:
I have been interested in learning about homeopathy. My question is, I'm 59 years old, would this course be for me?  It seems to be geared for kids.                  Although the textbook for this class is geared toward kids, Paola tells everyone that it's actually for ages 6-96, because it's in storybook format, so everyone will enjoy and benefit from it! It's a great beginners course OR those who took classes with me from Joette in the past will benefit as well, because learning from a new instructor for a well-rounded approach is so important. It's interesting also to see how their philosophies are different, not to mention cementing in what you've learned before to help it "stick", so you're ready when situations arise in you or your loved ones lives. These materials go even further than homeopathy to cover strenghtening the immune system, with informaiton on keeping your family healthy long term.
How many pages are in the textbook?                    There are 300 pages–it's very easy reading because the story is interesting and easy to follow.
Does it include specific health concerns and best homeopathic remedies for each?                    Yes, the entire 2nd half of the book is just that.  But in addition, it also has a TON of information on our immune system, the germ theory vs. the terrain theory, and there's even a lot about traditonal foods and how our great grandparents ate!
Why homeopathy is BETTER:
I'm sure most of you agree that treating our families ourselves with natural and SAFER methods instead of pharmaceuticals, or even over the counter options that usually still have serious risks, is SUCH a better way. Not just to avoid side effects, but also because it often helps root out issues so they don't come back later with a vengeance, as often happens. Homeopathy is gentle and yet really works. I have so many stories to share with you about how it's helped in our family, and I'm sure many of you have your own success stories to share too!
Let me give you just one example of how it's safer:
You know how parents are often told to give their kids Tylenol/acetaminophen for pain after receiving one of the 74 (SEVENTY-FOUR!) shots in the current vaccine schedule?  Well it turns out that Tylenol depletes glutathione in the liver, the very substance our bodies need to fight that attack and detoxify! "It's the body's most important tool for detoxifying and excreting metals. Glutathione works as an antioxidant, keeping in check the potentially destructive process of oxidative stress caused both by normal metabolism and environmental contaminants." (Source for quote.)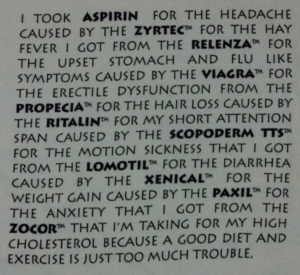 What to do instead?
Instead you can learn to read the type of pain, injury, or illness your loved one is dealing with and take the correct homeopathic remedy to help! It's gentle, has zero side effects, and it works WITH your body, not against it. The same is true for when you have a cold sore, a migraine, ear aches, eczema, leg cramps, Covid, or anything else! (I have a friend who is highly sensitive to everything, and she's especially thankful for these remedies–it's the only option she has.)
Who is Paola?
Many of you know Paola–she's been a good friend for years and has taught me a lot about homeopathy. She actually used to work for Joette (the one I originally learned so much from about homeopathy) and has now been developing her own materials to help people move further along in their homeopathy journey. She's also the president of AFHC, Americans for Homeopathy Choice–where she's been working hard to keep all of our options available before the FDA rips them away from us or regulates these beloved remedies to death.
My discussion class with FREE bonuses and extra class/add-ons:
Get a chance to ask your questions.  Feel free to send them ahead of time to be sure they're seen and covered:  

[email protected]

.
You'll be able to join a free add-on class where I'll share information on the colostrum and other supplements I take, why, how they're beneficial, and how this works in my life along with essential oils and other natural, safer solutions.  This add-on will be helpful for anyone with chronic health issues, those concerned about slowing down aging, weight loss, bone health, auto-immune issues, for those who are parents, and everyone in between!
You'll get access to a TON of resources that I've compiled just for those who join my discussion classes.  There are specific protocols and remedies for dozens of ailments, injuries, and illnesses, so YOU can help your family no matter what may be in the future.
After completion you'll get discounts on Washington Homeopathic remedies!  This is my favorite pharmacy where I buy most of my remedies–these come in glass bottles and are the most economical because you get the most doses for the price.
After completion you'll also be able to join my private Facebook homeopathy group where you can ask questions or get help from me and others for finding the right remedies, to help you implement all you've learned.
After completion everyone who signs up by September 15th (extended) will also get a free digital copy of my entire book:  Real Food for Rookies.
Details/schedule:
Order your textbook now (and other materials if you choose)–see below–so you'll have plenty of time to read the book before we meet.  It should take a week or two for them to arrive, depending on where you are.
Start reading/going over the book anytime, but plan to have your entire book read before October 12th.
Be sure to keep paper handy to make note of any questions as you go along or anything that stands out to you so we can discuss it later.  As mentioned, send any questions you think of ahead of time to be sure they're seen and covered:  

[email protected]

.
DATE/TIME for the Q&A/Discussion meeting: Thursday, October 13th, 11:00 a.m.-12:30 p.m. (Eastern), with the add-on supplements/ colostrum meeting going afterward for another hour or so.  I'll plan to stay longer to answer every one of your questions!
This will all be via Zoom & recorded. Prior to starting you'll be emailed a link to join.
Afterward I'll send you all of the free bonuses and the recording for you to refer back to.  🙂
How to register:  (Don't miss BOTH steps!)
I'm happy to answer any additional questions, but please read here carefully first–thanks!
–>> STEP 1–CHOOSE ONE of these options to purchase your materials from Paola:
~Go here to order the main textbook (in storybook form-for ages 6-96!), "Evie and the Secret of Small Things", in digital audio for $32 or CD audio for $42.  (No discount for just the book, sorry.)
~Go here to order the main textbook (in storybook form-for ages 6-96!), "Evie and the Secret of Small Things", in physical form–an actual textbook, for $71.  (Again, no discount for just the book, sorry.)
~Go here to get the grade 1-12 curriculum bundle for $287 and use the code KOP for a discount–if you have kids, grandkids, neighbor kids, nieces and nephews, or any kids in your life, and especially if you homeschool, this bundle will be so worth it!  It's so important not only to raise healthy, holistic-minded kids without the chronic health issues that plague so many today, but also to teach them TRUE health that will bless your family for generations to come. In this bundle you'll get the main "Evie and the Secret of Small Things" textbook/storybook, plus more resources to cement the concepts: digital remedy flash cards & memory games, digital vocab & reading guide, teachers manual/online teacher area, and a workbook for the age you choose.
~Go here to get the pre-K/Kindergarten bundle for $77 and use the code KOP for a discount–get lessons and coloring pages for all 26 letters of the alphabet. This covers all 19 remedies from the above curriculum plus additional homeopathy/health concepts.  (NOTE THAT YOU'LL STILL NEED TO GET THE BOOK ABOVE if you're doing the study class with us, as it doesn't come with this pre-K/K bundle.)
–>> STEP 2–Register for my discussion class (or the recording) with free bonuses + an add-on class–> don't miss both A & B steps here:
~A.  Send class payment–cost for the discussion class and/or recording AND free add-on class & bonuses (see list above!):  $35 if you register by 11:59 p.m. 9/15 (extended):
Pay via Venmo (preferred) @Kelly-Moeggenborg OR
Pay via paypal to

[email protected]

 and ***please be SURE to choose the "friends & family" option when paying–email me if you don't see it & I can help, otherwise they charge fees.  Once you're signed in and go to send money, you may need to click "change" if it says "pay for goods or services" and choose "send to a friend" instead or you may see it as the "friends and family" option.  ***To clarify, you do NOT want to "pay for goods or services" and instead want the "send to a friend" or "friends and family" option to avoid fees.
~B.  Email me to let me know you registered, so I can contact you with the Zoom link and to send you the free bonuses!  [email protected].
Class fees are non-refundable.
Last note:
Keep in mind that I don't claim to be a homeopathy expert or anywhere close!  I'll just share how this natural form of healing has helped me and our family, you'll learn from Paola, and I'll learn more along with you.  🙂
Don't miss this interview I did with Paola (plays after the ad): 
Questions?  
Please read everything over well first, but if you still have questions feel free to contact me here:  [email protected].
I can't wait to have you join us and I'll be in touch soon!
More you might like: