How to Help Eczema with Homeopathy
Recently I told you how my world was rocked when I learned about homeopathy (also at that link, read about how I wiped out my hormonal migraines), and now I can't help but share remedies with friends or when something comes up with our kids!
A while back I saw a friend with her 2 year old daughter.  Ever since she was a baby, this sweet girl has had terrible eczema and was miserable.  I knew that my friend is natural-minded and was always trying this or that to help her daughter, but once I learned more myself, I had to ask if she'd consider looking into how to help eczema, or "Atopic Dermatitis", with homeopathy…  Thankfully she said yes!
WANT TO LEARN MORE?
Check out the picture
The photo above shows how the skin on the back of her ankles looked before we began and how it looked after only one month–still not perfect but much improved!  It's labeled as "after" in the photo, but it's even better now, four months later, so showing her today would've been a more telling "after" shot.  (However her Mom tried to send me a new picture tonight that wouldn't come through because they're on vacation and have spotty internet.)  Here's what her Mom said though:
"Thank you for helping us figure out how to help eczema with homeopathy, we've been so happy with how her skin has been, and she even went swimming in the pool today and didn't have a problem, that's a big one for us!"
It's amazing what homeopathy can do!
Below I'll share what helped her eczema…
Keep in mind, this is only one case based on what was going on with her specifically, and someone else may need different remedies if these aren't effective or if their symptoms present in a different way.  Also remember I'm not a doctor, so this is just what one friend used to help her daughter.
*A special thank you to my friend Sheena who helped me pull together this info using Joette's blog info + this Banerji book, and more resources too, including her own experience — she ROCKS it with homeopathy and I'm blessed to have her in my corner.  🙂        (Here's another Banerji book I just ordered that has even more protocols.)
Before you start, DO THIS FIRST!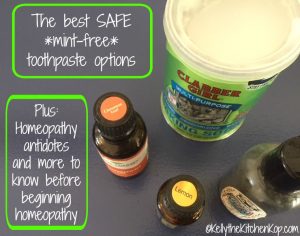 How to help eczema with homeopathy — suggested tips:
Begin with this on day one if you've ever taken steroids for eczema (which is not recommended, it only pushes the condition deeper and is then harder to uproot!):
—Alternate Camphor (200c) and Antimonium Crud (200c) every three hours for one day.  For example 8am Camphor, 11am Ant Crud, 2pm Camphor, 5pm Ant Crud, 8pm Camphor.  (As the camphor stops the action of the steroids, she may get itchy.  The Antimonium Crud is to help with that–you can skip that if there's no itching.)
On day two discontinue the above and start the following as needed depending on your symptoms (remember to take each of these 15 minutes apart):
—Bovista (200c) one dose every other day for any food sensitivities.
—Aethusa (200c) twice daily, morning and evening for any dairy sensitivities.
—Arsenicum Album (6x) twice daily, morning and evening for eczema, more often if needed for itching.
—Hepar Sulph (200c) once every other day, as part of the Banerji protocol.
—Use this on her skin in the meantime to soothe and control any itching.  (Use the code KOP for a discount.) You could just melt it to put some in a little jar to keep in the bathroom or keep handy somewhere.  (Use the rest to make healthy french fries, seriously!)  It won't heal her skin on its own, but will hopefully make her feel better!  (Also while you're at that site, you could grab grass-fed ground beef or meat sticks for snacks, I love all of the meat there, just FYI.)
—Also good topically is this witch hazel for calming inflammation and soothing sensitive skin.
—Keep on hand for occasional constipation:  Nux Vomica (200c) twice daily as needed. (She had that going on too.)
—Keep this on hand in case itching is bad and the other stuff isn't helping.
We added in prayer to this protocol!!!
Wonder how long to continue with these remedies?  That's easy:  Joette says to take as long as needed.  Once you no longer have eczema symptoms, just stop.  If any issues come back, resume.
Will you share?
If you know someone who has eczema, will you share this post with them please?  And if you have your own success story, please tell us about it below!
More that might help: