Have you heard of trying digestive enzymes for eczema?
Do you or someone you love struggle with eczema?  Have you wondered how to get rid of eczema for good?  Today I'm sharing another success story, this one from Heather who healed her daughter using digestive enzymes for eczema.  If you try it, let us know if it works for you, too…
From Heather…
Digestive Enzymes for Eczema
My story is about our 4 year old daughter when she had eczema behind her knees and inside her elbows. The dermatologist gave me special soap and some sort of prescription medicine, but I knew something wasn't right on the inside. These remedies only treat the outside.
So I decided to start massaging her with castor oil to see if that would help release toxins. Boy did it ever! The eczema spread through her entire body. She was covered with red itchy skin from neck to legs. Poor girl! She and I didn't get much sleep for about a month as I tried every trick in the book. I did give her the prescription cream but it only gave her temporary relief. We eliminated allergenic foods but had only minimal success with it.
Then we decided to try digestive enzymes for eczema with everything she ate. Within a week her skin was cleared up! If we slacked off the eczema returned.
Today we give her the enzymes fairly regularly but not religiously. A tiny patch on her inside elbow appears every few months or so and we know its time to get back on track with the enzymes.
I hope our story can help someone else who is experiencing this. I'm so thankful we found an answer to relieve our daughter's misery!
Don't you love success stories using methods that don't involve doctors or prescriptions?
It's good, though, that it doesn't sound like Heather is still giving the digestive enzymes with every meal because I've heard that depending on them isn't such a good thing.  Does anyone have more insight on this?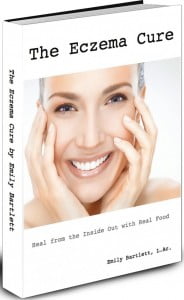 I asked Emily Bartlett, author of The Eczema Cure what she thought of using digestive enzymes for eczema…
They can be super helpful, but they don't treat the root of the problem… SO I would recommend using them if they help but not to rely on them to actually "fix" the digestion."
If you want additional help with treating eczema and its root problems, you can find more in Emily's popular e-book:  The Eczema Cure.  You'll learn the following:
Why eczema happens, so you understand the root cause behind your condition.
 How steroids and antibiotics actually contribute to your condition rather than heal it.
 Exactly how to identify environmental and dietary triggers, so you can put an end to those flares!
How to "put out the fire" that causes your itchy, red, oozing rash.
How to strengthen your immunity, so you're armed with the strongest defense to defeat your eczema.
The exact supplements and nutrients your body needs to heal, and the best sources.
The truth about probiotic foods, including their vital role in your diet.
The facts about dairy, including must-have information about dairy sensitivities and alternatives.
Tips and recipes for cleansing foods that detoxify gently.
….and MUCH more.
Here's a photo of Emily's daughter before and after implementing The Eczema Cure: