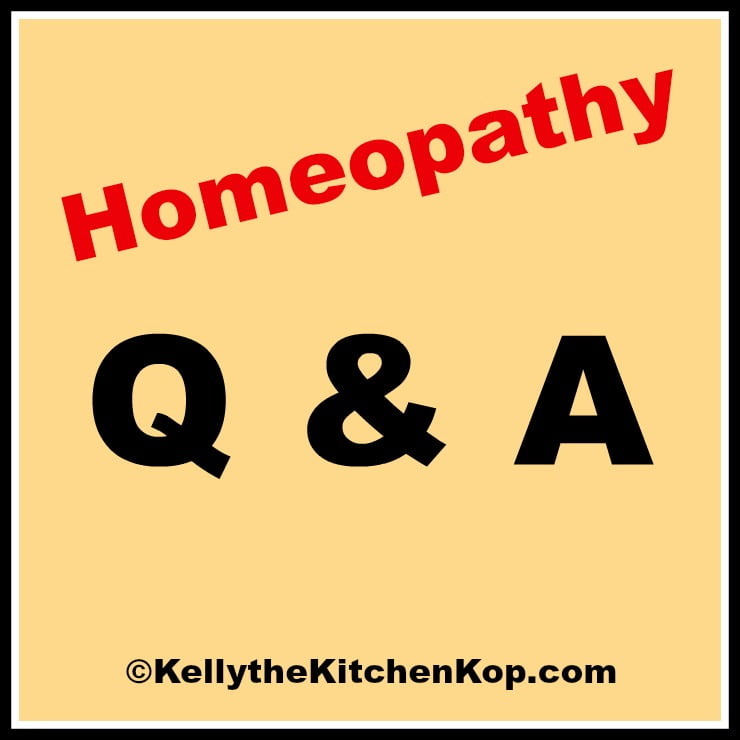 I've got a big homeopathy Q and A list for you today, but first I'll tell you what happened with my friend last week…
A close friend of mine has a super stressful life, to say the least.  Think of the 5 most stressful things that a person can go through and she's living through 4 of them all at once.  So I talked her into letting me take her out for a "mental health day" last week.  After Mass at the Cathedral we went for lunch, and pedicures were planned for after that.
The weather was perfect so we sat outside by the lake, but as we got to our table she said, "Oh no, my knee is starting to do that thing it does, the muscles are cramping and starting to spasm.  I probably won't be able to relax because the only thing that makes it bearable is walking around…"  She was rubbing it and in obvious pain, and figured that kneeling at Mass must have set it off.
Thankfully I carry a few homeopathic remedies with me and grabbed the one that often helps muscle spasms and said, "Here, try this."  I put the pills into her hand and then tried to distract her as best as I could.  We were talking about this or that, but she kept rubbing and it was obviously still really hurting.  In 5 minutes I said, "Is it any better?"  She said no, so I gave her more.  5 minutes later I noticed she wasn't rubbing it so I asked, "How is it now?"  She got this shocked look and said, "Oh my gosh Kelly, it's completely better, there's no more pain at ALL!"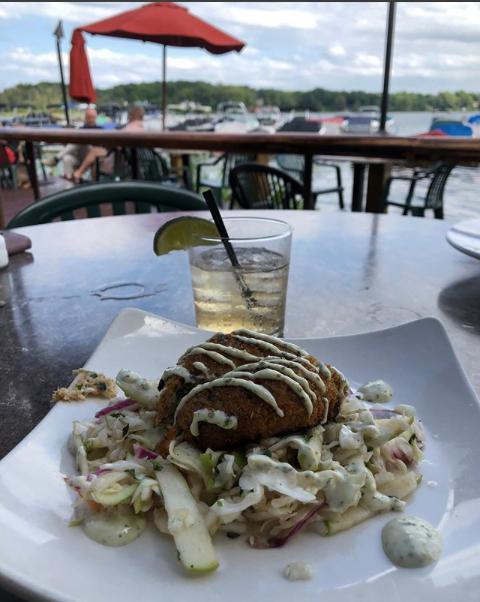 We enjoyed a relaxing lunch, went on to our pedicures, and for one afternoon at least, I could help my friend rejuvenate before she went back to her stressful life.  (That's a picture from my Instagram that she snapped of our crab cake apple slaw appetizer-yummm.)  By the way, a similar story happened with that same friend a few months ago.  She'd had a migraine for 2 solid days, and I convinced her to come over.  We sat on the deck and I gave her the same remedy that helps my migraines.  It took a few doses and about 20 minutes, but her pain went from an 8 to a ZERO and let's just say that this friend is quickly becoming a believer in the power of homeopathy.
I'm adding in one more story here later — it's another homeopathy success that has worked twice now and it helps fast:
Since menopause I've gotten migraines once in a while.  Read here about how I got a handle on those finally.  But after a while the migraines were different and the remedy I told about in that post wasn't working the same anymore.  So I did some research for different remedies to try, and I always keep a few of those on-hand.  Sometimes one might work, sometimes another, it always depends on that headache because they're not the same each time.  One day I was in the car and I'd been crazy-busy running the kids around all day trying to get stuff done and realized that a migraine had started to build.  It was behind one eye and down into my jaw.  Somehow I just knew that I needed Spigelia.  So I took it and in less than 10 minutes it was GONE.  That type of headache would normally build until it was so painful that I'd just have to go to bed, but not this time!  The other day the same thing happened.  I had the headache that was behind one eye and into one side of my jaw.  I took the remedy, 2 pills under my tongue, and within 10 minutes it was gone again.  I love homeopathy!
I hope it helps you in the same way–everyone is different and you might need a different remedy, but I hope you won't give up trying and that you're willing to keep learning more.
Homeopathy Q & A
Also, you may want to check out two other homeopathy Q & A posts:  here and here.
Here are a few more questions I've gotten in the past about homeopathy so maybe you're wondering about these things too…
1. What's the difference between a homeopath and a naturopath? (And more about how homeopathy works.)
My quick answer is that a naturopath is a health professional with or without formal training who uses natural methods for diagnosing and healing.  So they'll do things like muscle testing or hair analysis, etc., and then usually they'll recommend diet changes or sometimes expensive supplements from their office to correct what they find.  Not that these don't sometimes help or that SOME supplements aren't necessary (we still take some that are imperative, but not as many these days), however it can get SO expensive over time.   
A homeopath is different because while they might be like me and also advise about nutrition or other natural ways to heal, mostly they use homeopathic remedies, the little pills that go under your tongue and they're made from things in nature in order to stimulate your body to heal itself.  This is done by matching symptoms.  A conventional diagnosis is a good idea when something big is going on just to be sure of what you're dealing with (so you use the correct remedy) but it's not *always* necessary, especially in acute cases — mostly you go by the symptoms and how it's presenting.  This is SO much better than any other options for healing because it roots OUT the disease process or ailment, instead of just covering it up for a time only to have it rear its ugly head again later.  There's more:  the remedies are inexpensive, you can get many of them on online, and they do NOT expire!  
I asked my friend Sally Oh how she would answer this question.  She's a functional medicine practitioner (a type of naturopath) who is also recently learning more about the power of homeopathy.  (She's the one that said when we were taking a homeopathy class together, "This is blowing my functional medicine mind all to hell!")  Here's what she said:
"I would say that both Naturopathy and Homeopathy seek to heal at the root cause.  A homeopath would use only homeopathy where as a naturopath would use homeopathy, lifestyle modification, lab testing, supplements, etc. As a functional health coach, I've been trained to work like a naturopath. However homeopathy seems to work much more simply and more effectively… I'm leaning more towards using homeopathy as my base."
2. How is Homeopathy better?  And where do healthy diets and essential oils come in?
Sadly, here in the U.S. we are so pharmaceutically-driven.  Our doctors are mostly trained in handing out drugs. These are often toxic, loaded with side effects, and only push the disease process deeper.
Did you know that homeopathy is the second most commonly used form of medicine in the world, it's just behind indigenous herbal medicine — conventional Western or "allopathic" medicine that is used mostly here in the U.S. is fourth! Hundreds of millions of people in more than 80 countries use homeopathy, and it's part of the national healthcare system in the UK, Germany, France, India, Pakistan, Sri Lanka, Brazil, and Mexico.  Healthcare in France is rated by the World Health Organization as the very best in the world — note that 95% of all French general practitioners, dermatologists, and pediatricians and 75% of all midwives use homeopathy for their patients.  (Source)
Homeopathy is a SAFE medical alternative and roots out the disease process, sometimes quickly for acute issues, and for chronic cases it usually takes more time.  It is affordable and also doesn't require any big diet changes, so it's not as difficult as the GAPS Diet or other healing diets!  This is huge for those who just can't or won't change their diet, or maybe they've tried and didn't see any improvements.  (Of course improving your diet is always ideal, but sometimes that isn't possible right away for whatever reason.)
There are so many many reasons why I'm thankful to now have homeopathy as a big part of my "mom tool box", along with a healthy diet and other natural remedies like essential oils.  I love helping my friends and family feel better!
Here's a powerful example of the difference between homeopathy and conventional medicine.  If you don't read anything else, you must read this article that Joette wrote for the WAPF about how the Banerji homeopathic protocols are healing cancer in India:  Don't believe homeopathy has a place in cancer treatment?  Think again.
Here's an excerpt:
"The Banerjis' research and the documentation and publication of their results have attracted the attention of other cancer research organizations. Some have conducted their own studies using the Banerji protocol methods. One such organization is the department of molecular genetics at the MD Anderson Cancer Center in Houston. In 2003, the International Journal of Oncology published the results of an MD Anderson study.1 The Cancer Center's investigators found that the homeopathic preparation of Ruta graveolens 6C administered in combination with Calcarea phosphorica 3X induced complete regression of tumors in six out of the seven glioma patients who took part in the study.1,2 Six out of seven is 86 percent! These are truly incredible results given that oncologists consider this particular form of cancer as practically incurable. The usual five-year survival rate for adult glioblastoma patients is around 10 percent.3″
3. Is homeopathy "new age" or "woo" and how does it work?
Not even a little.  With homeopathy different plants or minerals or other natural parts of the earth God gave us are used to make remedies that heal.  I don't understand perfectly how it works, but I also don't understand how I can take a picture with my phone and then send it to my friend across the country in California in less than 5 seconds!  All I know is that it does work.  Not every single time, because nothing will do that, but it heals a LOT.  You can read more about how it works in a couple books that a friend recommended to me:  A Christian's Guide to Homeopathy and God is a Homeopath.
Here's what Joette says:
"Homeopathy is a system of medicine that is fundamentally different from conventional (allopathic) medicine.  Whereas allopathic medicine focuses on suppression of symptoms, homeopathy seeks to correct the underlying imbalance that caused the symptoms in the first place. Homeopathy achieves this by strengthening the body's own defenses, thereby allowing the body to heal itself.
It's unfortunate that the word homeopathy has the prefix "home" in it because it gives the impression that homeopathy is synonymous with home remedies, food supplements, vitamins and herbs. In fact, homeopathy does not incorporate any of these modalities.
Homeopathy is derived from the Greek word "homeo" meaning like or similar, and "pathos" meaning pathology or illness. So the literal meaning of homeopathy is 'similar illness'. This means that a homeopathic medicine is administered based upon its ability to mimic the disease state, thereby stimulating the body to heal itself.
Homeopathy had its beginning in eighteenth century Germany, with Samuel Hahnemann, a physician and scholar whose practice included aristocracy and royalty.  Disappointed in the results of the medicine that he and his colleagues were then using, Hahnemann left his prominent practice.  He went on to discover a profound natural law, the Law of Similars, which became the foundation for homeopathy. The Law of Similars asserts that any substance which can cause symptoms when given to a healthy person can help to heal those who are experiencing similar symptoms when given in a very minute amount."
"Homeopathy is not based on any spirituality, but on science.  When a substance is diluted and succussed (shaken) according to incredibly precise mathematical measurements, the substance's toxicity is removed and the curative elements are brought to the fore. This happens regardless of the technician's religious beliefs and irrespective of the homeopath or client's faith. It is true that Hahnemann's religious belief may not be in line with many of ours, but the medicine which he formulated is scientifically sound and not spiritually driven.  By the way, the good doctor was a Swedenborgian, a Christian group in Northern Europe in the 1700's.  We use light bulbs every day, but how often do we question Edison's faith? Similarly, have you ever questioned Bill Gates' religious beliefs on booting up? We drive cars but don't think twice about Henry Ford."
Two more good articles to read:  What did Mother Teresa think of homeopathy? and Homeopathy and Religion
Here's an excerpt:
"Homeopathy is a medicine that is inexpensive, efficacious and puts the power of healing into the hands of the family by eliminating the need (in many circumstances) for a mother to be reliant on a medical doctor for every little sniffle.
Don't forget: Homeopathic medicines can't be patented. And we all know the answer to most questions regarding 'why' is to follow the money!  So, the reason the naysayers are threatened by homeopathy is the reason why I love it!
There is no other medicine — I repeat, no other medicine — that gracefully bows to the family like this one does.  It supports the family because it gives back to the mother her God-given right to heal her family. 
4. What about the sugar in homeopathic remedies?  What about the lactose or gluten in homeopathic remedies for those who are allergic?
I called Boiron to find out for sure and here's what I learned…  (I assume other brands would be similar.)  There are 42.5 mg of sugar in each pellet (sourced from sugar beets in France). One dose is 5 pellets, so each dose has 212.5 mg of sugar which equals 0.21 grams of sugar/carbs.
OHM pharmacy says this:
"Our pellets are lactose free, made from certified non-GMO, Kosher, gluten-free sucrose from beets. We use cane alcohol that is non-GMO Kosher Certified, free of corn, gluten and allergens."
***Homeopathy can root out allergies, though, so that's just another reason that you'll want to LEARN more about this — especially if you've tried the GAPS Diet and either couldn't pull it off (it's not easy) OR it didn't help for whatever reason.
5. What could I try if I am dealing with …  (Fill in the blank.)
So far I've written about eczema, migraines, shingles, and earaches, BUT the very best thing you can do is to learn yourself how to help your friends and loved ones!
6. Is homeopathy like vaccinations?
Here's Joette again:
"Very briefly, here are just a few differences between the two:  The theory behind immunizations is to use an immunogen to hopefully offer immunity against a given disease before the body is exposed to it. There is no illness present when the vaccine is injected. More importantly, for many, the use of a pathological animal protein injected directly into the blood stream might be a cause for pause. (Not to mention the aborted fetal parts, the toxic metals, preservatives and other scary ingredients — that was my, Kelly's, addition… More on vaccine decisions is here.)
What homeopathy does is much different. Homeopathy does not use a gross substance and then inject it into the body, but rather gives the body a very gentle stimulus (remember, it's been highly diluted, far beyond a vaccine) which allows the body to recognize the stimulus.  It then can begin healing itself, on its own!
Not just for a specific illness, but for the entirety of problems from which the person suffers.  The well-chosen remedy gives the body a gentle nudge in the right direction. That's why I call it the polite medicine."     (Source)
7. How can I get my skeptical husband on board?
Just start using homeopathy on acute issues for yourself and the kids (sore throats, muscle spasms, headaches, anything you come across!), and when he sees the results, he'll be floored without you having to do much convincing at all!
8. Is it possible to "sneak" homeopathy without detection?
Good question!  Just as you could easily give it to your animals (people heal their pets or farm animals with homeopathy all of the time), you could also easily slip it into your child's water.  Just dissolve 3-4 pills in there and they can drink up without knowing.  This is great for picky kids.  (Especially since picky kids often also have undetected food allergies, so you could address those.)
9. What's the best first step for beginners?
For years I dabbled in homeopathy, Joette even guest-posted on my site a few times, but I never truly "got it" until I jumped in with others who also wanted to learn.  You'll want to dig in and help your family yourself instead of relying on others, because isn't that really what we want to be able to do as Moms?
If you'd like a good book for beginners, this one is a good place to start.  (It's the first one I bought.)
10. What if I'm NOT a beginner and want to dig in deeper?
Joette goes really deep in her homeopathy courses that you can check out here.
Once you've taken those classes, though, the best way to dig in is to just start using it and learning by experience.  Also, obviously, Joette's site and her podcasts are full of great info, but as I said, it wasn't until I took her Gateway classes and started using it myself (and started getting so many successes) that it rocked my world and I saw all that it can do.
11. One more question I'm adding later:  When I order remedies, it asks for pill size and bottle size, what should I choose?
When buying remedies (<–That's my favorite brand because not only are they one of Joette's recommended brands, you get more pills in each bottle and they're glass bottles.)
Did I miss any of your questions?  If so, ask in the comments and we can do more 

homeopathy

 Q and A there!
More you might like: