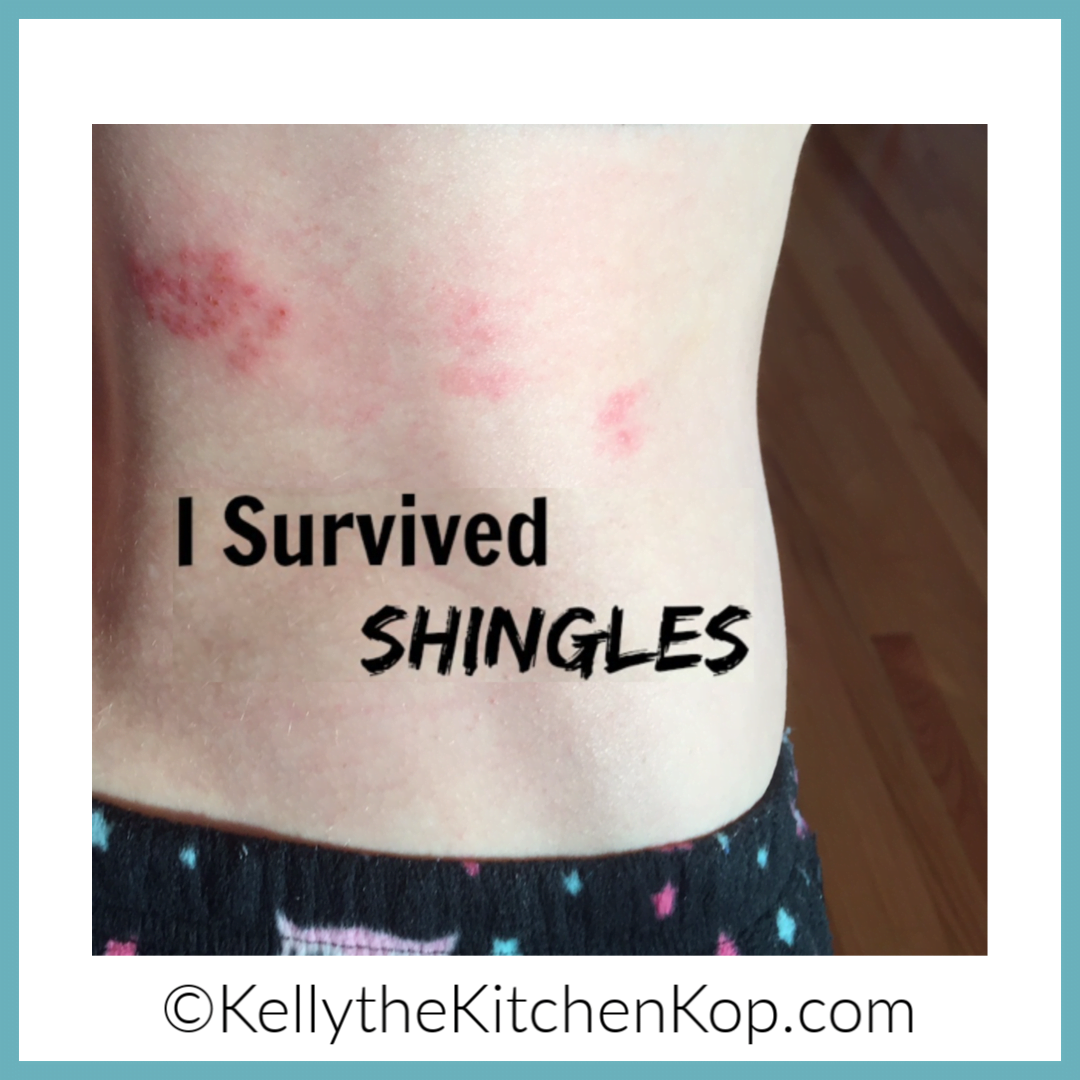 The whole scoop is here:  the best natural remedies for shingles…
First, as always, I have to remind you that I'm not a medical professional, I'm just sharing what worked for me.  Do your own research and find what's best for you after discussing with a trusted medical professional.
It happened again.  I've told you about this before:  I'm convinced that at times God allows me to get some weird stuff just so I can research it and then pass along what I've learned to all of you, my beloved reader friends.  And I do love you guys and all, but this is getting a bit ridiculous!  Besides the below issues, I'm pretty darn healthy and feel great every day!  But each of these experiences have taught me a lot about natural remedies that will help you get better without causing a bunch of new problems in the process, as most drugs will.
And those conventional "fixes" don't really get you better anyway, they just put on a little bandaid and later when it's ripped off again, you're usually worse off than where you started.
God knows that I love helping all of you get better, stay healthy, etc., but we really have had some odd maladies hit our home, and even some nerve-wracking issues like…
This time it was shingles, lovely. But at least then I could figure this one out for you too:  the BEST natural remedies for shingles that WORK!
Yep, that's my back in the picture above, you even get a peek at my owl pajamas, ha!  I had shingles a few months ago and I'm just now finding the time to tell you about it.  I'll share some of what I wrote in my daily notes to keep track of what was happening.
It began as quite the mystery–nothing was making sense at first…
It started on a Sunday when my back began to ache in an unusual way that I'd never felt before.  I was in the car a lot over the weekend and thought maybe it was from that.  It wasn't horrible, just a weird dull ache that felt a little like muscle pain on the right side of my back all day.
It was worse on Monday, I was uncomfortable if I was in one position too long and had to keep moving around.  (I later learned this was a shingles symptom, but hadn't put that together yet.)  By evening there was a little burning sensation in the front on the right side too.  Since I still thought it might be a muscular issue and it was a "pain that gets better with motion", I took some of this homeopathic remedy (30C), which also turned out to be a good shingles remedy, but I still wasn't thinking shingles yet…
Tuesday I began getting itchy, not constantly but occasionally, on my mid-abdomen and side.  Because of the burning and how it hurt in the front and the back, I started wondering if my gallbladder or liver were involved somehow–it's crazy how many of these symptoms are similar to gallbladder issues!  (Read more about that here:  How to keep your gallbladder and what to eat if it's already removed.)
By Wednesday I started getting a little rash on the middle of my back, and when I had a numb feeling on the skin there, which was still a little itchy, I still had "gall badder" in my head–even though I eat so many healthy fats, I couldn't imagine that my gallbladder could be sluggish for any reason!  I was researching it, of course, and learned that "bile backing up in the bloodstream" could cause the numbness…
Thursday early in the morning I woke and felt the same mild pain in middle of my right side under my rib cage and it went toward the front and back, and I still had that weird rash in the middle of my back, about 2 inches square, that was mildly sore and only mildly itchy.  I started to realize that this thing wasn't going away, although it wasn't getting worse either, so I got some apple juice to start a gallbladder cleanse.
Monday

 

there were 2 MORE itchy spots along a line around my waist and one in front, so then it finally hit me:  this is shingles and not gallbladder–the back pain and tingling was all nerve related, duh!
Thankfully the pain and itching isn't bad at all, only a mild case I think?  I was consulting with Joette about something else, and asked her if I should take some homeopathy to prevent the symptoms from getting worse.  She reminded me that you just treat the symptoms, so if they're not bad or bothering much, just leave it for now.
The following Monday my side started to hurt a little more again, and it's weird that I didn't have that for week or so and then it was back.  Still not horrible, just annoying if sitting or standing too much.  Also I started getting "zingers" in my arm and on my side–where a little quick shooting nerve pain would startle me, so I took this remedy (200C) for that and any lingering back pain and it worked well.
Two weeks after the rash first began it was pretty much gone. Still a bit itchy on my side and back now and then.

  The b

ack pain is mostly gone too unless I'm on my feet a lot.  Now just the shooting pain occasionally so I started taking this remedy that is more for nerve pain (200C, but I kept 1M on hand just in case I needed it).
And that was the end of my notes, it was done!
---
Best Natural Remedies for Shingles — 

everything I used myself is

 spelled out here…
Thankfully my case was mild and fairly short too, only about 2-3 weeks from start to end.  However I know that for some, it can be a long and very painful ordeal, so you might consider consulting a homeopath or natural doc for help.  Hopefully some of these suggestions help you.  (By the way, I'm very leery about conventional meds for shingles and wonder if they don't make things worse!  More on this below.)
This remedy would be good to take (30C) at the very first sign of shingles–here are the symptoms to look for:

The first symptom of shingles is usually pain on one side of the body.  There may be itching, numbness, tingling, burning, a constant ache, or "zingers" as I called them–a shooting nerve pain.  This is really bad in some cases.  I didn't have the nerve pain at first, just an ache that felt better if I moved, which is why I knew to start with that remedy, but it turns out it was a good choice for shingles (itching, pain) and Joette said she thinks that's why I had such a mild case, because it's what I took right away!
Typically, 1-3 days after the pain starts, a rash with raised, red bumps and blisters shows up on the skin in a similar areas to where the pain was, often near the waistline.  They can become pus-filled, just like with chicken pox, then form scabs in less than 2 weeks and disappears within another week or so.  These could cause scarring, more on this below.
Sometimes:  Fever and chills, headache, upset stomach or abdominal pain.
Epsom salt baths are nice because a little extra magnesium is good for so many things, aches and pains for one, and the warm water felt good too.  (Plus I slept extra well that night!)
A heating pad at night was wonderful.  (Until I'd get a hot flash, then that would get pitched pronto.)
I ate this "detox salad":  just shredded beets with an ACV dressing (Apple cider vinegar mixed with a little honey.)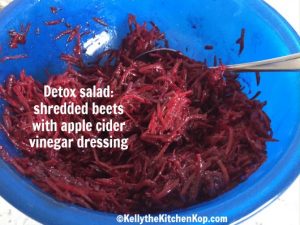 Best Natural Remedies for Shingles–more homeopathics that may help:
Rhus tox (30c) is one of the more common remedies employed for the treatment of shingles. If Ranunculus is the Rolls Royce, then Rhus tox is the Cadillac of remedies that relieves the fearsome itching and pains accompanying this condition. The rash consists of small, red fluid-filled vesicles or blisters that break when scratched, spreading the infection. The individual will mostly likely be restless, changing positions often seeking relief. Shingles will appear primarily on the left side of the body. Hot baths and warm compresses bring temporary relief.
Iris versicolor (30c) is indicated when the rash is worse on the right side of the abdomen and under the right arm. Shingles are often accompanied by abdominal upset or problems with the pancreas. Also used for neuralgia (nerve pain).
Clematis erectus (30c) alleviates shingles pain that features burning, red blisters that become aggravated at night time and with the application of cold water. There may be urinary tract complaints during an attack of shingles, more clearly indicating the use of this remedy.                  (Source)
Best Natural Remedies for Shingles–more natural remedies suggested by others:
I'm going to pass along more natural remedy ideas as I hear of them, please feel free to comment below or email me.
One person said, "take Lysine and Vitamin C for shingles, along with B vitamin support."
I was reminded of what a huge role stress plays in getting shingles or making it worse, but ironically I didn't really have any big stressors in my life when I got it.  Obviously, though, decreasing stress is always a good idea for your health.
Someone else suggested geranium essential oil.  I looked it up and found this!  "A recent study shows that geranium oil is extremely useful for reducing pain due to post-herpetic neuralgia following shingles. Geranium oil provides relief within minutes whereas topical capsaicin, the commonly prescribed conventional remedy for shingles pain, begins to alleviate pain in about 2 weeks." (Source)  Note that you'll probably need to dilute this with a little coconut oil or at least do that at first to test it.  (Maybe even test it on another area that isn't as sensitive as the rash area is.)
---
Why not take the shingles medicines from your doctor?
Joette Calabrese is convinced that shingles and MOST other health issues are milder and do not recur when you don't use the conventional meds.  Those are what makes it more intense or what causes it to last for a year for some people! 
You have shingles—>your doc gives you an antiviral medicine.
You have asthma—>he puts you on an inhaler.
You have eczema—>you go on steroids.
You have anxiety—>he puts you on the meds and now you're STUCK.
Now you'll get everything worse and it'll last longer, and it'll come BACK!
"Often, homeopathy can work in spite of allopathic drugs, but not so well when it comes to shingles.  It is my experience that if drugs are begun, homeopathy's ability to clear the case is hampered."
I'm convinced I had such a mild case because I didn't take any shingles medications.
Be aware of shingles vaccines!
After having had shingles, of course I'd still never recommend the shingles vaccine either, read this, including the comments.
As a matter of fact…
Does the Varicella vaccine have anything to do with WHY there so many more cases of shingles nowadays?
So in case you're wondering, Kasey's chicken pox that I told you about not long ago was about a year after I had shingles.  And too bad, because if he had gotten it beforehand, I may not have gotten shingles at all…
Chickenpox Is Nature's Way of Protecting You from Shingles:
Nature has devised an elegant plan for protecting you from the shingles virus.
After contracting and recovering from chickenpox (usually as a child), as you age, your natural immunity gets asymptomatically "boosted" by coming into contact with infected children, who are recovering from chickenpox. This natural "boosting" of natural immunity to the varicella (chickenpox) virus helps protect you from getting shingles later in life.
This is true whether you are a child, adolescent, young adult, or elderly—every time you come into contact with someone infected with chickenpox, you get a natural "booster shot" that protects you from a painful—and expensive—bout with shingles.
In other words, shingles can be prevented by ordinary contact, such as receiving a hug from a grandchild who is getting or recovering from the chickenpox. But with the advent of the chickenpox vaccine, there is less chickenpox around to provide that natural immune boost for children AND adults.
So as chickenpox rates have declined, shingles rates have begun to rise, and there is mounting evidence that an epidemic of shingles is developing in America from the mass, mandatory use of the chickenpox vaccine by all children.            (Source)
I was lucky…
I know that shingles is really horrible for some people, with debilitating nerve pain that can go on for months (although they really should check out the remedy mentioned above for nerve pain!), but thankfully my bout with it was quite mild and not too big a deal.  Hopefully now that you know about all of the best natural remedies for shingles, you'll be ready in case you or someone you love is surprised when they have it too!
More you might like: