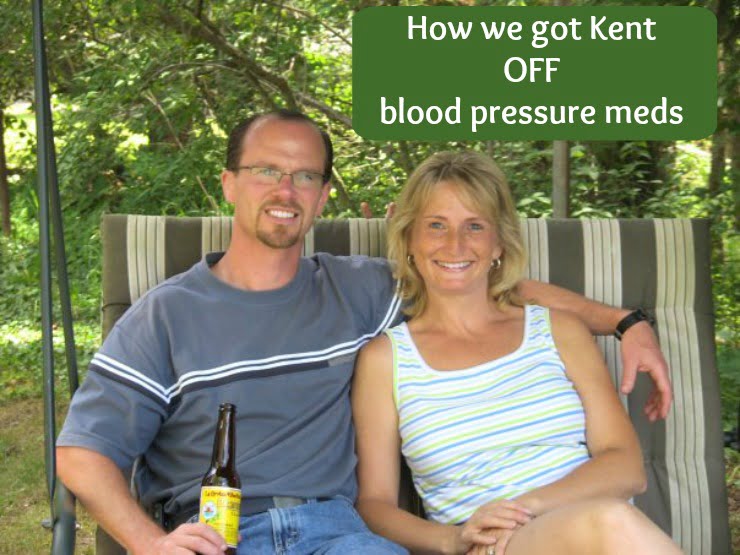 Going Off Blood Pressure Medication
First this note/disclaimer:  "The information found here has not been approved by the FDA and is not intended to diagnose, treat, cure, or prevent any disease."  I'm only sharing our own story, your situation may be VERY different, and I'm not a medical professional or anywhere close.  Use this information only to do more research on your own and beware, just going off blood pressure medication willy-nilly or too quickly could cause a stroke or other health problems, proceed carefully with your doctor's help!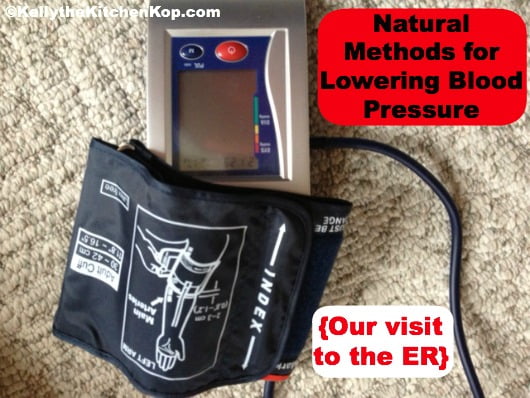 Over a year ago now we had a huge scare that ended up with Kent in the emergency room with a blood pressure that got all the way up to 210/118 at one point!  Read that story and find MORE natural methods for supporting blood pressure health over there–today I'll tell you what exactly we ended up doing to wean Kent OFF blood pressure medication, but there may be a different natural remedy that works for you.
I hated waiting in the pharmacy line.  And what's "safe" now, often is NOT safe the next minute…
I know, I know.  Sometimes we need the drugs.  Many times in life we might be really happy to have them, like when I had that kidney stone!  But I hated knowing Kent was likely going to be on his blood pressure pills the rest of his life, and I'd be in that pharmacy line the rest of my life picking it up for him.  After all the ranting I do here on the site about the rampant corruption in the pharmaceutical industry, it just felt wrong standing there.  Especially knowing what I know now, about how supportive natural methods can be.  AND the way drugs are "safe" one minute and then pulled off the shelves for safety issues the next like this blood pressure medication, I just don't trust the drug makers to know what they're doing!
First I had to convince him.  
He was sure that his blood pressure issues were genetic, and that could be true, almost everyone in his immediate family has high blood pressure, but I still wasn't convinced that meant he had to be on blood pressure meds forever.  If we tried everything we could and he still needed the meds, then okay, and we'd be thankful for them, but first I really wanted to give the natural methods a shot at helping him have a healthy blood pressure!
So I did what any good blogger would do.  I asked my reader friends!
Between my initial post on our scary visit to the ER where I shared quite a few methods for lowering blood pressure naturally, the comments there, subsequent Facebook discussions, and some helpful emails from many of you, my intelligent and generous reader friends who love to help others, I had plenty of ideas on what to try.  (However, no, I wouldn't blindly follow advice found online or anywhere–this was just a starting point.)  Kent, being the open-and very natural-minded guy that he is, was game to try…
THIS PART IS VERY IMPORTANT!
I am not a doctor, not even close.  I have to restate my disclaimer that is always in place and visible on and around my site:  Do not take anything here as medical advice.  I'm sharing what we've learned in researching this and he's carefully trying things, but you need to do your own research, talk to your doctor or naturopath, and find what works best for YOU.  Blood pressure is really truly nothing to screw around with!
Here's how we started:
1.  First you need a reliable electric arm BP cuff–I asked him to get super consistent at taking his blood pressure every night, twice.  He recorded his second reading in a notebook, and he's done this every night since January.  Before we did anything we wanted an accurate idea of what his normal numbers were.  (I say "normal", but these were his normal numbers on his medication.)
2.  This stuff he was already doing:
He takes this probiotic (<– the only kind I recommend) along with this K2 for heart health.  (Use the code KOP for a discount if you decide to get those.)
He was already great about taking cod liver oil daily, which is great for many health reasons, but in this case due to the omega 3's (supports heart health big time).  The KOP code works there too, and also for the next one…
He takes these liver capsules (to support liver health because an unhealthy liver can cause blood pressure problems).
He continues to get 8 hours of sleep every night, he's really good about this.
He also exercises and practices intermittent fasting regularly.
He loves real, whole foods and loves my cooking.  (Who couldn't with all the healthy fats?  Don't be afraid of animal fats, these are GOOD for us, and avoid anything with canola or soybean oil like the plague!)  Read more about this in my book, Real Food for Rookies.
This may have been the biggest thing of all, though:  his prayer life is better than ever, and he's much more calm these days, even with his job that has been very stressful lately, and even with the close call last week that almost made me a widow.  (I'm still thanking God for that one!)
3.  Kent and I talked about the many natural options to try and decided to start with these—even if you're not doing the stuff above, these can still work:
NOTE:  Now that I'm learning more about homeopathy, I was told that Arnica is a good option for high blood pressure.  You'd have to dig in to learn more as far as potency and frequency, but that's a tip for you!  I didn't know much at all about homeopathic remedies back when this happened, or I'd have researched that a lot more.
4.  Once he was taking the above for a month or so and after we talked to his doctor, we started having him wean off his meds, all while continuing to monitor his blood pressure, of course.  We did it in very slow steps.  He was taking one BP pill daily (he was on a low-dose already), so first he went to every other day for a while, then every third day, and then none.  He's now been off the meds completely for over a month.  I loved it when the pharmacy called to tell us to come get his meds and we could ignore it–these methods really do support your quest for a healthy blood pressure!!
As you can see by his log he's doing great: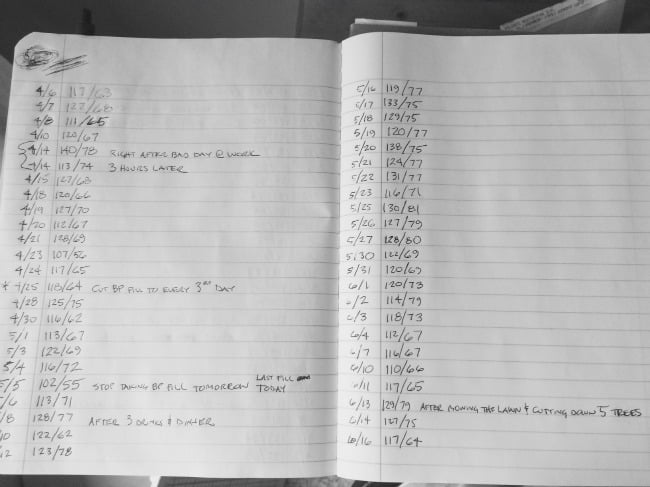 Reader stories
Big thanks to those of you who shared your stories with me, too!
My husband had high blood pressure and was taking medication (beta-blockers) for 10 years. We switched our diet from a 'heart-healthy' low-fat mediterranean diet to a high-fat, medium carb, completely unprocessed diet, and he started taking this garlic supplement daily, drinking hibiscus tea, and taking some extra magnesium most days – he's been medication free for 2.5 years now, and his blood pressure is perfect!  There is good research coming from Australia confirming that aged garlic has the same impact on blood pressure as medication. This is the link to a podcast with one of the researchers.  By the way, his high blood pressure tendency was also considered hereditary, as both his parents have been on medicaton for years, and they are not overweight, don't drink or smoke, are not stressed and have a pretty relaxed lifestyle."       (Thanks Gina!)
Thanks for your article. I have a similar story. I eat a healthy diet, avoid all processed foods or too much sugar. I workout several times a week–resistance and cardio training. I live a fairly stress-free life, spend time in prayer daily and take numerous supplements including high dose vitamin C and ubiquinol, calcium, omegas, turmeric, etc., but I still have hypertension, well I used to!!  My maternal grandfather died due to a stroke in his 50's, my mother and brother are thin, fit and also hypertensive!  I saw my doctor about three years ago, and after checking my blood pressure she told me I was a walking stroke, but she knew my thoughts about conventional medicine. She gave me six months to find my own natural remedy. It took me about two years; I tried almost everything you mentioned. I spent far too many dollars. Finally, I found a cure… I take this heart health supplement.  I also take take Beetroot capsules. I had to play around with the dosage, but I take one heart health pill in the morning and evening (if I take too much I feel stressed and irritable), and same with the Beetroot.  My blood pressure is normal and I am happy. I hope this helps!"                  (Thanks Karen!)
I, too, have had this up and down with my blood pressure for the last 10 years. I have literally tried EVERYthing to fix it. Believing that God would help me find an answer, I didn't want to resort to conventional meds for this. I finally got my answer and solution. After every diet, exercise, herb, cleanse, I made a call to doctor Thomas Cowan in CA and he told me to get the same heart health supplement and to take two in the morning, two in the afternoon, two in the evening until blood pressure is normal.  Within 1 month my numbers were so low I had to cut down to one a day. Now I take one about once a week. It's all natural and really really works!!!  I asked her, "Did he say if it's something you stay on forever then? And if so, is that safe?"  She replied, "At the time I spoke with him I wanted to get pregnant again, so naturally I was concerned about safety. He said that it is perfectly safe to take while pregnant and even to take for life. It has herbs that strengthen the heart. Good for people to take for maintaining a healthy heart even if they don't have high blood pressure. I've experimented a bunch of different ways taking them after my BP went down. It seems for me that I can only go a week or two without taking it before my numbers start climbing again. Which is fine. I don't mind taking one every week or so. It's pretty powerful stuff and all natural too.  I have been taking it for 3 years now with absolutely no side effects either!"              (Thanks Kelly!)
Many of my family members have had success with Hibiscus Tea. There's lots of research out there, so it might be worth looking into!        (Thanks Emily!)
One last important reminder:
Even herbs or natural supplements can be powerful, and they can interact with other herbs or medications you may be taking.  Be careful with this and get help from your doctor or natural health practitioner!  Do not blindly trust what you read here or anywhere, there is too much I don't know, be your own health advocate.
Have you gotten yourself off blood pressure medication?
Please share your stories in the comments to help others, thank you!
What is YOUR health issue?  If I can help you, shoot me an email!  [email protected].
Here's more you might like: