How to get rid of a UTI fast and without drugs (See below for how to prevent them)
First this note/disclaimer:  "The information found here has not been approved by the FDA and is not intended to diagnose, treat, cure, or prevent any disease."  I'm only sharing my own story, your situation may be VERY different, and I'm not a medical professional or anywhere close.  Use this information only to do more research on your own!
Today I'll tell you what happened recently and what caused the pain that brought me to the floor. 
I'll also tell you what I learned about how to get rid of a UTI fast and without drugs, how I was reminded of those times when we're really thankful for doctors and pharmaceuticals, and toward the bottom is what I now know about how to prevent these issues in the first place!
It all started first thing Monday morning when I noticed a funny feeling in my lower abdomen…
It was a mild ache, and I couldn't put my finger on what it was.  It felt a little like a menstrual cramp but it wasn't the right time for that.  Within a couple of hours I knew it was the beginning of a urinary tract infection because I was having the classic symptoms I learned about many years ago in nursing school:  I felt like I had to go ALL the time.  As the day went on this urgency and pressure increased to where it felt like I'd been holding it in forever after a huge cup of coffee, but when I'd go only a little would trickle out.  I didn't have the burning sensation like some do with bladder infections, and figured this was because it was just in the beginning stages.
So I did what any natural-minded health conscious person would do:  I used this search engine that brings up only the sites I trust!
I wanted to see what the people do who do NOT want to run right in to the doctor, because I really really didn't want to take an antibiotic if I didn't have to, knowing what a number this does on your gut health (but yes, sometimes you just have to).  So this gave me the information I needed on how to get rid of a UTI fast: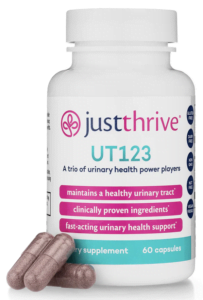 Chamomile tea is known to help UTI symptoms, and regular green tea can help too–sip on this instead of coffee if you feel symptoms coming on!
I didn't know about homeopathy then, but if I had, I'd have been taking these (these recommendations are from Joette, a homeopath I've learned a lot from):

Medorrhinum 200c, twice a day (in severe cases, every three hours).
If there is a fever present, add Pyrogenium 200c, once a day. "And unlike with antibiotics, that protocol comes with no risk of ruptured tendons, neuropathy, muscle pain, or fatigue."
"As is common in teaching these protocols, I must make it clear that this particular protocol is not the only one I use. There are others, which depend on the symptoms and circumstances. For example, if there are repeated UTIs as the result of intimate relations, we'd have to consider Staphasagria 200c. Without the presence of fever, we'd likely add Cantharis 30c."
I also keep these Banerji Protocol remedies on hand now for kidney stones: Berberis vulgaris, mother tincture or 200c, and Sarsaparilla, twice daily. Both should be used for 3 months.  (Or just take acutely if you don't have chronic issues.)
Arsenicum 200 is good for acute cystitis!
Nux Vomica if you have any vomiting or GI symptoms.
Hepar Sulph 200 if you think a bacterial infection is coming on, or to prevent it!
Those are good starting points, but if you have chronic UTI's and the above suggestions aren't helping, you may need to consult a homeopath for more help!
Here's where I get all my homeopathic remedies because they're a good company PLUS you get the best deal for your money.  This remedy kit has some but not all of the above remedies in one spot.  ***Just use the search bar there to find the remedies mentioned above then use the drop-down menu to find the right potency.  ***If they're out of stock, check here for this brand because I'm not familiar with the other brands.  (***Check out my self-study class to learn more about how to help your family with these SAFE and super effective remedies.)
Guys, you don't have to get all of these items to have on hand, but I'm convinced that just throwing everything I had at it is what helped me get rid of the UTI fast and without antibiotics!
It wasn't quite that simple in my case, though…
I went about my day pretty normally and even made us a delicious chicken dinner. 
I was still confident that I'd be feeling better by morning, even though the pressure was getting a little worse — it was annoying and a little painful, but if I sat down and crossed my legs I was okay.  Around 7:00 or 7:30 pm, though, I started feeling some pain in my lower left abdomen.  Next it got worse fast, and it started radiating around to my lower back on the left side.  I took a couple Ibuprofen, hoping I could hold off whatever was going on, because I figured that all the stuff I was taking would kick in before long.  (Again, I didn't know about homeopathy then or I wouldn't have taken the Motrin.)
My body has never ever hurt like this.
It kept getting worse and I was literally rolling around on the bed moaning and trying different positions, then on the floor, trying to get the right pressure point on my back somehow.  (I felt bad because the kids kept peeking their heads in my room, "You okay Mom?"  I'd say, "Not really honey, please pray."  They'd never seen me like this!)  I tried applying cold, I tried standing up and swaying, I tried walking, I tried lying still.  I was even doing my labor breathing exercises!  Nothing was helping.
They weren't lying about the pain!
I was starting to think this could be a kidney stone along with a UTI, they say the pain is like labor (and they're right!), but this was even worse than labor pains because it didn't let up for even a moment, and it was excruciating.  I gave it an 8 on the 1-10 pain scale.  The pain got so bad that I started vomiting (so much for that nice dinner), and then there was a little blood in my urine.
Kent had been asking if we should go somewhere and after a while of me saying, "Let's just wait a little bit to see if the Ibuprofen will help...", he finally said, "Okay, that's it, get dressed.  We're going in."  I knew I couldn't stand the pain much longer and the thought of them knocking me out with pain meds was so enticing, but I was worried about being in the car and not being able to move around to attempt to get comfortable.  I didn't have a choice, though.  I was all over the place as he was driving, on my back, on all fours, it was so bad!  Then we got to the urgent care center (took 10 loooong minutes) and I had to sit there in a wheelchair while they got me all checked in and did paperwork–again, it wasn't long, maybe 5 minutes, but seemed like for-freaking-ever.  Finally they got me to a room where I promptly vomited again.
Then I immediately started sobbing for a different reason.
The room looked and smelled just like all the rooms we had taken Mom to so many times in the last few weeks of her life, which was only 4 months ago, and as soon as I turned the corner and saw it, the memory hit me in full force.  So now along with the tears of pain I was also an emotional sobbing mess.  The nurse must have thought I was a complete dingbat.  Plus I just couldn't get any relief and was moaning and holding my side and walking, then lying down, then swaying.  Strong spasms began happening too, it was terrible!  They needed a urine sample and took me to x-ray–the first time in my life that I didn't even care about getting an x-ray, I wanted to know if there was a stone there!  Then finally they got an IV in and some pain meds.  It still took a few looooong minutes to take hold, but when it did and I drifted off to sleep, it was relief like you just can't fathom unless you've been there.  Just being able to walk and move without pain, oh the stuff we take for granted!!!
My urine didn't show an infection and the x-ray didn't show a stone…??
Often stones are too small to show up, though, and I wondered if everything I'd been taking ALL day had already wiped out any signs of infection?
They discharged me and we had to drive a bit to find a 24-hour pharmacy for the pain meds, anti-nausea meds, and a urinary tract muscle relaxer that they sent me home with.
There are definitely times to be thankful for doctors and pharmaceuticals…
You all know how much I've written in the past about the pharmaceutical industry, and there are some pretty rotten things going on there for sure (the many vaccine scams, the push for statins, etc.), but WOW, there are times when we can be really thankful for doctors and drugs.  As I've said before, the medical establishment is very good at acute care like emergency or surgical medicine, but they're NOT good at chronic care, and for sure not great about prevention or knowing the impact that real food, real fats, and natural remedies can have.
On the way there and while Kent was in filling the prescriptions, the pain came back! 
I started doing my breathing again and praying more.  I tried not to panic since I was stuck in the van again and couldn't try much to get comfortable.  Next I felt something move inside me on the left side, just a little urnk.  (Do you like that professional word?) I'm assuming a little stone moved just a touch, because although it was still hurting as Kent came back with the meds and some water, within a few minutes, before they could've even done anything, the pain stopped again.
That was about 11:00 pm and it hasn't been back since.  EVER.  Weird, right?!
I was fine the whole way home, walked in normally, got ready for bed normally, I even went to the bathroom normally, everything felt totally fine and has ever since.  I haven't taken any more meds, either.  They sent me home with a little urine strainer, but I keep forgetting to use it, so I may have passed something, who knows?  It's now three days later and I haven't had one twinge of pain since, and believe me, I've been thanking God for this a lot, and if YOU are pain-free right now, you should, too!
So that's probably more than you cared to know about my little issue the other night.
It's all pretty weird, but the only theory I can come up with is that I had a mild UTI which I caught early and helped take care of with everything mentioned above.  And I must have had a small stone that finally shifted (the urnk I felt) and I either passed it without knowing, or it's still coming… (???!!!)
Has anything like this ever happened to you?  What are YOUR tips for how to get rid of a UTI fast and hopefully without drugs?
I've never been a patient in my life except for when I had our 4 kids, so this was all new for me.  I didn't care for it much, obviously (and our little trip was probably expensive too, can't wait for that bill), so it makes me want to take good care of myself and our family all the more.
Find more natural remedies here, from head lice to ringworm to high blood pressure and everything in between.
Surely you know someone who needs to know how to get rid of a UTI fast and without drugs, will you please share this post with them and also on social media?  Thank you!
UPDATE:  I now know what can cause kidney stones!
Kidney stones or gallstones are caused by a build up of calcium in places it should not be vs. in our bones where it should be!  If you've had kidney stones in the past OR if you're taking extra vitamin D or calcium, you will want to read this about vitamin K2, and the implications can be even more dangerous than stones in places we don't want them, as in clogged arteries!  Don't ask me why doctors don't know about all of this, even my natural doc didn't know, but really almost everyone should be taking K2, we're all deficient because it's not in the soil like it used to be!  (Don't forget to use the code KOP for a discount.)  Be sure to read more here:  Are you taking calcium or vitamin D?  What you MUST take with it!
Also, Dr. Berg suggests drinking lemon water regularly to prevent stones.
And see this comment below for some good info about kidney stones and foods high in oxalates as another cause!
As always, remember I'm not a doctor or anywhere close.  Do your own research!
~~~~~~~~~~~~~~~~~~~~~~~~~~~~~
Guess what happened 9 years later?!! 
How I stopped a UTI in its tracks…
It's been 9 years since I had any UTI symptoms and that's when I learned a ton which made all the difference this time!  (<–That story is above.)
Here's what happened recently–it was just a few days before I was headed to Kansas City for the WAPF/Wise Traditions conference and of course I did NOT want to deal with this there…
As always, my biggest goal in treating myself or my family is:
A. avoiding a trip to the doctor, and
B. avoiding the gut-busting antibiotics. Like I always say though, if you need those two things, okay, but if they can be avoided safely, why not?
So I pretty much did everything wrong when it comes to the homeopathics I used (homeopaths, please don't hate me!), which is why it's best to have a homeopath to work with. That way you won't end up just throwing everything at it like I did, and you can instead use the right remedy and stick with it.
But what I did still worked, yay!!!
It started at about 2:00 am when I woke with pain on the left side of my abdomen that was about a 4 on the 1-10 pain scale, but then it moved toward my back too and escalated to an 8! At first I wasn't sure what I was dealing with, maybe a bug, maybe GI related, so I started a couple homeopathic remedies. (More on that below.)
Soon I started having bladder/UTI symptoms so then it was more clear (pressure, urgency, frequency, felt like I had to go but couldn't), and I vomited from the pain, yuck, so I started searching my notes and tried ALL the things. After I had a few remedies in me, the pain lessened and I was able to fall asleep for a few hours, thankfully! When I woke later, I still had the pressure and urgency, but NO pain, so I kept going with everything and by 1:00 pm, I literally had ZERO symptoms, and haven't since!!!
(I was never so happy that our son is a night owl–he helped me so much when I just needed to rock in pain or lay in bed and moan. He'd hunt down remedies for me and do anything I needed!)
Here's everything I used/took, some right away and some later after I woke up:
Extra K2 in case I had a small kidney stone that was causing pain? (I wasn't sure at first.)
The UTI23 supplement mentioned above for bladder health!
Probiotics to boost gut health, which helps everything!
(For the above 3, use the code KOP to save.  Use the search bar to find each one.)
Extra cod liver oil to decrease any inflammation.  (KOP code also works at that link.)
I drank lots of water with fresh organic lemon juice.
Also drank Chamomile tea which is said to help UTI symptoms, and regular green tea can help too–sip on this instead of coffee if you feel symptoms coming on!
Made my favorite cranberry sauce and ate a bunch of it over the next 3 days.
Took D-Mannose that I always keep on-hand.
No caffeine or wine/alchohol for a few days.
I alternated the below remedies:
Berberis vulgaris homeopathic remedy for UTI symptoms.
Arsenicum Album homeopathic remedy for GI symptoms, but turned out it's also good for cystitis! (Bladder infection)
Hepar Sulph homeopathic remedy in case it was a bladder infection.
Medorrhinum 200c homeopathic remedy for UTI symptoms. (It's out of stock so can't link to it.)
Yay for having this homeopathy remedy kit on-hand that has some of the above remedies, but not all. (It's on sale right now!)
Another score for natural remedies with no side effects, no trips to the doctor, and no gut-busting antibiotics!!!
More posts you might like: