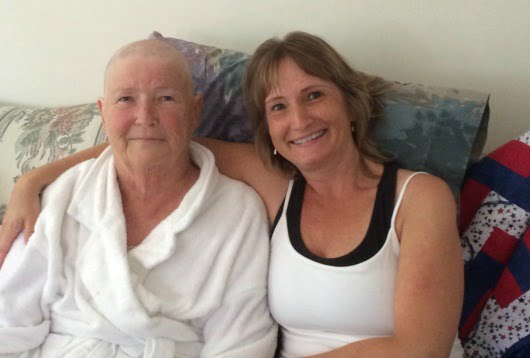 It's still not real.  I don't know when I'll be able to wrap my brain around the fact that my Mom is really gone.  I must have sobbed and yelled at the sky a thousand times now, "NOOO MOM!  NOT YET!!!"  We all really thought we'd have more time.  There's so much I wish I'd said, but I didn't want to get too mushy on her, because I didn't want her to think that I thought she didn't have long.  We wanted to keep giving her hope that she'd have a few more months or years.  And look at her in that picture!  That's how she looked right before she died, except for the hair, she didn't look like a cancer patient on her deathbed, she wasn't frail and sick looking, and most wouldn't even guess that she was almost 80!
It happened in an instant, it must have been a blood clot, which is what took her back to the hospital on Saturday morning.  We were in Chicago for the weekend with the kids and I was a mess when my sister called to tell me she'd been taken in by ambulance, because I was SO worried that Mom might die without me there.
I desperately wanted to be with her when that day came, like I was with my Dad in his last moments… 
They got her on blood thinners and she ended up doing fine all weekend so they were sending her home.  Meanwhile, we got home from Chicago Monday morning, and a little after noon my sister called to give me an update on how Mom was and what appointments I'd be taking her to later that week.  Terri had stepped out of the room to call me while the nurse got Mom up for the first time to use the bathroom before she was discharged.  Only five minutes or less after we hung up she was calling back and I remember thinking, "That's weird, we just hung up and I thought we were done."  She was distraught and told me Mom died while we were talking on the phone!  Later I found out that after we hung up that first time, my sister had turned the corner and saw TONS of doctors and nurses racing down the hall and then she realized, "They're all running to my Mom's room!!!"  An aide who was with her said that she was in the bathroom and apparently just dropped.  Before that Mom had been talking like normal, eating well, and didn't even have any pain right then.
None of it was real, and it still isn't!
We are happy for Mom that her suffering is over (she was diagnosed with stage IV cancer at the beginning of summer and it's been rough at times) and that her death was quick, but wow, what a road of healing we have ahead of us.  I remember some of this pain from when my Dad died, but there's something even more painful when it's Mom (and she was the type of Mom who was there for us for any and everything), and how it happened so quickly and unexpectedly, and now both our parents are gone.  It's weird how the hurt is so strong that it feels like a true physical pain.  Sometimes all I can do is let out long pathetic groans with lots of tears and just ask the Holy Spirit to pray for me as the bible says He will in Romans 8:26:  "In the same way, the Spirit helps us in our weakness. We do not know what we ought to pray for, but the Spirit himself intercedes for us through wordless groans."
We all know that our time here on earth could be over in an instant, and we don't know the day or the hour, but when someone you love dies so suddenly, this fact hits you like a brick wall.  It also makes you appreciate Jesus and heaven more than ever, knowing that this life isn't IT, and that if we love Him, we will be together again.  (Read more about all of that at my other blog.)
Here are a few random thoughts from this crazy week…
Your comments on Tuesday (my assistant Jill posted that day for me, asking for your prayers) and all of your emails have blessed me more than I can express to you, thank you for lifting me up my dear reader friends, I love you all and pray often for YOUR prayer requests.  One reader sent a Scripture that was so comforting, it was the first one I thought of when Mom's pastor asked which readings we wanted at the funeral:  1 Thessalonians 4:13-18.  (Look it up!)  Thank you Patti O.  🙂
Our friends have been amazing, praying for us constantly, bringing us food, helping with the kids, and just being there.  Both Jill and Nancy let me wail into the phone soon after I found out, and I'll never forget Mary Jo praying with me when I was on the way to the hospital to see Mom after she passed.  I was an inconsolable mess and her prayer really calmed me and gave me strength for what was ahead.
Mom's pastor/friend Kathy was so good to us–she'd been with Mom several times throughout her illness, including just an hour or two before Mom died, and then she came right back up to be there and pray with us after Mom passed too.
The friends, WOW.  Not just Mom's huge army of friends who have been so good to her these last couple of months, but our friends and my siblings' friends, too, they were everywhere we turned at the visitation and at the funeral, we have never felt so blessed.  You just can't believe all the people that showed up, and my brother and I were talking about how it makes you want to do better at blessing others in the same way by being there when their loved one passes.
Mom's church was packed for the funeral–they had to seat people up in the choir area and chairs were in every single spare spot they could put them.  Mom would've loved all the hubbub!  She also would've loved that we got the picture she wanted with both her and Carl's grandkids together (Mom married Carl a few years after Dad died), she loved each of them so much.  As I walked over to where the grand kids were all gathering, I looked up and said, "Are you seeing this Mom?  We're finally doing it!"
Look at this beautiful garden stone Kent's brother and sister-in-law gave us (Susie always finds the most thoughtful gifts):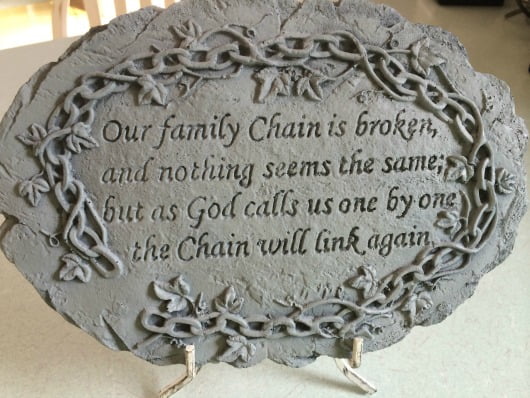 You know what kinds of things hurt the most?  The little things…  Like seeing her purse right after she died.  Her bathrobe hanging in her closet and her slippers still under the bed.  The pill we kept at her bedside in case she was nauseous in the night or the insulin syringes that she won't need anymore.  Her endless lists.  (I'm like her in many ways, but especially in that way!)  Her diary that she kept for her whole life I think, that she'll never write in again.  Joy dish soap, her favorite.  Thinking of the day we'll say goodbye to our house full of growing-up memories and so much love, always with Mom helping us or loving on us in some way or other, often it was her hosting all of us for pool days and delicious family dinners.  I guess the worst isn't the little things, though, it's seeing her grandkids say their last goodbyes before the casket closes–she was that Grandma, so very close to every single one…
Here's one of my favorite pictures of Mom, with our youngest just after he was born (oh how she loved babies and I loved having her there for the birth of all four of our kids):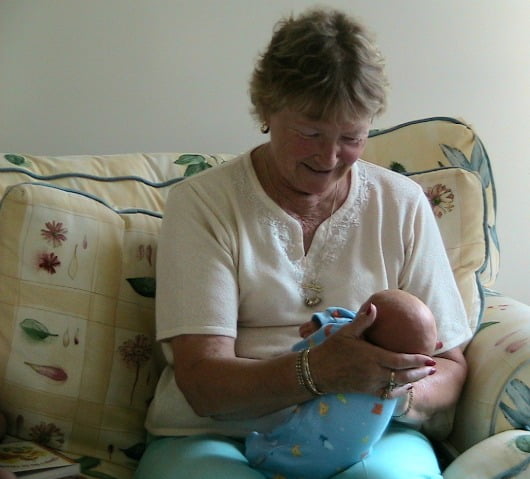 A very good friend of ours, David, sang at the funeral and made it especially beautiful.  His first song was Mom's request:  How Great Thou Art, and then two more:  On Eagles Wings, and the song in the video below, Give Me Jesus.  The version here is by Jeremy Camp, but I liked David's version better and wish it had been recorded.
This next video is one of my favorite songs by Matt Maher.  I played it over and over as I drove to the hospital Monday after she passed, I wanted to remember that as much as it hurt, God really has defeated death through His Son Jesus, and because of that, I will see my Mom again.  (If that lingo is foreign to you, don't worry, you're not alone, read these Christianity FAQ's over at my other blog.)
At the graveside a few of us were sitting in chairs and everyone else was gathered all around in a big circle, I felt surrounded by so much love and it got me wondering…  Do you think when we get to heaven we're surrounded by loved ones in a huge circle, or do you think they come one by one in a long line to get a big hug?  I'd love to know what Mom saw as she crossed from this world to the next.
I'm adding this part later, it's something I've thought of often.   When Mom died she was only a couple of months or so into her cancer journey.  It had already been tough because she was either nauseous or she had no energy to buzz around her house like normal and get things done or cook for us, etc., and at times she was in a lot of pain too.  She had recently told my sister that she wasn't ready to go yet though.  Terri said, "Don't you want to see Dad and all of our babies we lost?"  Mom said, "Yes, but I'm not ready to leave my babies here."  So the day Mom died she had gotten up to use the bathroom before being discharged.  That was when Terri stepped out to call me.  The aide had given Mom privacy and said to hit the call button when she was done.  (Mom may have tried getting up alone and we assume that's when a fatal blood clot dislodged…)  I have an image I believe the Lord gave me…  I picture Mom right after she fell on that cold hospital bathroom floor, and then Jesus, holding out His hand and asking in the most gentle, calm, peaceful, loving voice, "Do you want to just come now?"  In that moment with the unfathomable love of our Lord surrounding her and beckoning, she joyfully took His hand and went off with Him.  I'm so happy for her that she did, but ohhhhhh how difficult it has been to not have that chance to say our goodbyes!
Another story I'm adding later…  As I said, not being able to be there to say goodbye was the worst part of my grieving process.  Part of me knew that she knew how much I loved her and how grateful I am for SO many sacrifices she made for us kids.  I had told her that stuff at various times in our lives, but just wished I had been able to tell her again before she left us, or that we'd had chats about dying, how she felt about it, etc.  My sister Gail and I were the same–we both just didn't want her to think that she didn't have long, so we didn't "go there" yet in our conversations with her.  We thought we'd have plenty of time!  You always read in the obituaries how those with cancer died "surrounded by their loved ones".  Surely that's how it would be when our Mom died too, or so we thought.  Fast forward a few months after she died.  As I was crawling into bed the night before my birthday in September I was feeling sad, just thinking about ALL the ways Mom would always make our birthdays special each year.  Even as adults, she and Dad would sometimes make the drive over to bring my favorite foods for lunch and a little gift on my birthday.  And as a kid she'd make our favorite cakes, throw us parties, she did ALL the Mom things and you don't realize at the time how blessed you are.  So that night she actually came to visit me in my dream!  Here's what I wrote when I woke up:  "I feel so grateful.  I can't quit crying and can't see to write because the tears keep coming, but I have to write every detail before I forget anything!!  I just woke up from this dream with Mom, it's like I got this moment with her that I've wanted desperately, it was so short, but so powerful!  She was behind the glass front door at home standing there smiling in her white robe and slippers and I remember thinking as I started to hug her, "Tell her what you never got to, don't miss your moment, tell her now!"  So I got real close to her face and she was smiling this happy smile and I said kind of fast, because I was so thankful to have my chance, 'Mom I'm never got to tell you how much I love you and I'm so sorry for all I put you through when I was such a bratty teenager, and and thank you so much for all you did for me, I miss you so much, thank you so much Mom for always being there for us kids, for taking such good care of Dad when he was sick, thank you thank you Mom!!!!'  And then I woke up with a sudden jerk and started sobbing and crying out,  'Was that really you Mom?! Did you hear all of that?!'  It was so real, 'Jesus was that Mom?, please tell her all of that if not!!!'  Oh my gosh I just remembered it's my birthday!!!!!!!  It's like she was still trying to make it special for me!!!!!"  Talk about a birthday gift.  After that dream I had such peace in my heart, I just knew that was her and that she knew what I wanted to tell her.
Following is the eulogy I wrote for Mom.  A family friend, Mr. Shepard, read it out loud so I didn't have to, and he shared some neat stories of his own, too.  Also at the funeral a good friend of Mom's shared her eulogy and a few more friends got up to share some memories too, how brave they all were!  I had planned to finish this and read it to her before she passed.  Hopefully she could still hear it from heaven…
None of us can believe we're here right now.  You probably wonder why we're so shocked, when we knew Mom had advanced cancer, but we didn't expect it to be so fast or for her to die suddenly the way she did.  However, we all know that it was a gift from God so Mom didn't have to suffer anymore.  No more needle pokes, no more knee or back and hip pain, no more nausea and vomiting, no more worry about what's to come.  Now there is just peace and joy and love and reunions with family and friends.

We can't imagine life without her, though. To think that it's been 16 years since Dad passed, years that we've all moved on with our lives, it's so hard to think of how it will be the same as time passes with Mom gone.  Life can be pretty awesome here on earth sometimes, but it can also be pretty heart-wrenching, to say the least. While death is a part of life, and we are very very sad today, we are not in despair…  Sadness and despair are two VERY different things. To be in despair is to be without hope, but we DO have hope and assurance that THIS isn't all there is.  We know we'll see Mom again because she believed in Jesus and what He did for us.  Mom loved God and her giving spirit came from Him.  She would take me to church right here as a little girl, and she helped plant the seed of faith in my heart from when I was young by her example of daily sacrifice, and how she loved and gave so generously to others in her life.

Now we ask for your prayers for us, and for Carl.  He has been a gift in her life for the past 12 years — we all love him and his giving spirit, and know he will feel lost without her.  Mom loved how well our families blended and was very proud to tell people that she had 20 grandchildren and 4 great grandchildren.  They were her greatest joy and she especially loved going to their sporting events.

It's sad that she didn't have the chance to do the one thing she really wanted to get to before she died, which was to sort through & organize her files!  However she did do the more important thing, the thing she valued more than anything on earth, which was spending time with her family and friends.

Mom was blessed with an army of good friends, all of you blessed her so much throughout her life but especially in the last couple of months since her diagnosis.  The cards, phone calls, visits, and food meant a lot to all of us.  We know that you would say how much she has done the same for you throughout the years.  She was the best example of how to love others and serve God with your life, by the way she filled her days with helping and giving and loving others with her time and especially with her great cooking and baking.  One day early on we needed to get the CD with Mom's PET scan to her oncologist. We already had Carl off on another errand and the rest of us were either out of town or working. When they asked if we had someone who could pick it up in Mt. Pleasant and bring it to Alma I said, "Yeah, I can come up with about 25 people we could call." Eva ended up getting out of work early to grab it, but just knowing we had the support of SO many of you meant the world to us. As time went on and the cards and calls and visitors came in a constant stream, everyone said, "Call if you need anything".  We knew you all really meant it, and realized that number was closer to 50 or more. But this is what happens when a life is spent giving to others, it always comes back a hundred-fold. Whether it's unending meals for our sweet 99-year-old friend Eva, or sitting with her dying friend, just days before her own diagnosis when she already wasn't feeling well, or taking care of our Dad before he died, and before that, both our Grandmas, or being there when any of us kids needed her throughout difficult pregnancies and raising our kids, she was a true blessing to so many.  That's why it has been an absolute gift to be able to care for HER in her last days.  We truly learned from the best."
More you might like: