Could it be?  Are the pink ribbons a scam??!!
Have you ever wondered about the pink ribbons we see everywhere, especially on all the pink ribbon merchandise?  Could the whole thing be a big scam?  When you think about it, does the Susan B. Komen Foundation really understand breast cancer and what's important for preventing it or curing it, when they promote things like fast food and "KFC Buckets for the Cure"?!
And have you seen this:
Why did Komen for the Cure give Nancy Brinker a 64 percent raise? – Komen, already under fire for shrinking contributions for breast cancer research, paid its CEO $684,000 last year.
and this…
'Pinkwashing' info from Wikipedia.
IMPORTANT NOTE:  By questioning the pink ribbon campaign, I mean no disrespect to those who have fought the breast cancer battle or those with loved ones who have done so.  As a matter of fact, my mom and more than one good friend are breast cancer survivors!
(Update:  likely it was the radiation treatment they used on Mom's original breast cancer that caused the stage 4 cancer throughout her body that came back and took her life just a few years later!  Here are my posts on that:  It's not benign and I've already had a run-in with the cancer doc and How do you say goodbye to your Mom?)
This meme is from @DavidAvocadoWolfe on FB many years ago: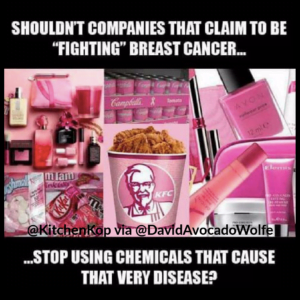 So as with anything else, we need to question what we're giving and raising money for.
You may have seen this movie, Pink Ribbons, Inc., and the trailer is powerful.  (You have to watch that below, it's short.)  This is the DVD description on Amazon:
The ubiquitous pink ribbons of breast cancer philanthropy – and the hand-in-hand marketing of brands and products associated with that philanthropy– permeates our culture, providing assurance that we are engaged in a successful battle against this insidious disease. But the campaign obscures the reality and facts of breast cancer – more and more women are diagnosed with breast cancer every year, and face the same treatment options they did 40 years ago. Yet women are also the most influential market group, buying 80 percent of consumer products and making most major household purchasing decisions. So then who really benefits from the pink ribbon campaigns — the cause or the company? And what if the very companies and products that profit from their association have actually contributed to the problem?

In showing the real story of breast cancer and the lives of those who fight it, Pink Ribbons, Inc. reveals the co-opting of what marketing experts have labeled a "dream cause."

Here are a few excerpts from the trailer:
The first ribbon was salmon colored, made by a woman named Charlotte Haley.  Estée Lauder came to her and said, 'We love your ribbon and we want to make this a symbol of breast cancer.'  And Charlotte said, 'No, that's about your bottom line.'  They said, 'Well all we have to do if we want it is to change the ribbon:  pink.'"

"It is hypocrisy to use carcinogens in products and at the same time be raising money for a cure." 

"It's almost like our disease is being used for people to profit.  And that's not okay."
Read more details here:  Think Before You Pink.
Watch the trailer below and then tell us – what do you think, are the pink ribbons a scam?
By the way, a reader friend, Sharon, emailed me and made an even better point than I have:
The primary reason I will never get behind the "pink" campaign is because it is spearheaded by the Susan Komen foundation. The Komen foundation is also a huge supporter of Planned Parenthood, to whom they provide funds/grants that provide funding for abortions. It's always astounded me that a group that supports the ostensible saving of lives by research into "the cure" also supports genocide."
Have you seen my other posts on this topic?
More you might like: