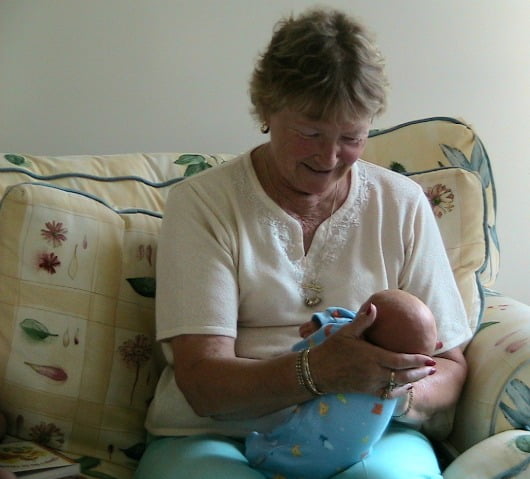 My first run-in with the cancer doctor…
Remember Monday I asked for prayers for a loved one and we were hoping to hear the "benign" word?
We didn't.
Instead we found out my Mom has stage IV cancer throughout many areas of her body.  When I first got home from that appointment it never felt so good to hug my husband.  Kent wrapped me up in his arms, held me for a long time, and let me sob into his shoulder.  Many many wonderful friends and other family members reached out to offer a listening ear (we're so blessed), but mostly I just wanted to cry on the phone with my sisters (my brother was at work, but he and I cried together later too).  We sobbed thinking about Mom not being here for all the big happenings in our lives, or for holidays, and for our step-Dad, for our childhood home not being there anymore, and everything in-between.
My theory is that it's from the radiation treatment she had for breast cancer 5 years ago, but we'll never know for sure, and besides, it's what she was told was best at the time.  (I've since learned that yes, it was from that.  Now the oncologist says she should've had chemo then since she was a triple negative, but at the time, none of the three cancer doctors she went to said so, and chemo is so toxic who knows what that would've done to her anyway…  It's all stuff we'll never know and we can't look back.)
She's still doing pretty good now except for painful areas off and on, plus low energy and appetite; now we wait for more tests to know exactly what we're dealing with and what treatment is recommended.  (We're getting two different doc's opinions.)  We're praying for a few more years with her!  She's almost 80, so it's not like we expected her to be around forever, but when you're faced with it, it's so much harder than you think it will be.  I remember feeling the same way when my Dad passed away 16 years ago.  Then I wonder how in the world my Mom and Kent's Mom got through it when it was their spouse?  I don't want to be here without Kent, I want us to go to heaven together!  But people do get through it all the time, and I thank God for my faith, so I know this isn't it.  Paradise is waiting for us.  I know that with everything in me, but it sure is hard to grab hold of it in the dark days right after the diagnosis.  That's why all those who have called, emailed, or sent texts to say they're praying, or to send along a comforting scripture verse, has meant SO much.
My first run-in…
At today's appointment I liked the oncologist in many ways.  She had a nice personality and I liked her approach, as far as wanting to find the best area to biopsy and getting a solid diagnosis before suggesting treatment, rather than taking a guess based on how it all looks, even if it's probably a pretty good guess.
However she really rubbed me wrong when I asked what she thought about natural therapies like medicinal mushroom supplements or turmeric, which my friend, Jill, suggested we ask about, because it has really helped her loved one who has cancer:
Medicinal mushrooms have great cancer fighting properties for many different types of cancer.  They enhance the effects of chemo and radiation and also offer protection from any damage those treatments can cause, as well as helping with energy and mood — they are adaptogenic and help your body adapt to stress.  L takes 8 per day, plus other things, but that is one we found by research and also something her naturopath recommended.  Some oncologists routinely recommend it to patients, too.
If she's interested, turmeric is another one in that same category — it fights cancer AND makes conventional cancer treatments more effective, and helps protect the patient from damage from those treatments."
The cancer doctor had obviously heard such "nonsense" before.
She went on to spout the same phrase many of us have heard a thousand times, "Show me a randomized clinical trial published in a peer reviewed journal and I'd be happy to read it, I'm open to reading anything, remember I told you that for 15 years I did mostly research."  (She made a point to tell us previously how a bigger hospital in Lansing recruited her to come to this smaller hospital to help it along because she had the all the right credentials.)
Me:  "So you don't believe there's any treatment out there that has merit unless there are "randomized clinical trials published in a peer reviewed journal" to back it up?  Because I don't have faith in these studies, mostly funded by pharmaceutical companies making billions off the results.  There's not as much money in natural treatments."
"Oh, well the NCI does do studies on natural therapies sometimes.  Not long ago they did one on vitamin A and found no benefit at all."
Me:  "Well yeah, you can't take one isolated vitamin and expect it to make a difference, it comes in nature with many other nutrients that help our body use it."
"It's just like how people say various things can build the immune system, well there's nothing that can "build" your immune system."
Me:  "I totally disagree with that."  (She looked shocked that I dared to contradict her, but was still being very "nice", mind you.  I do think it put her in attack mode, though…)
"Do you know what are the components of the immune system?"
Me:  "I'm sure there are many components, I'm not sure what you're getting at?"
"What are the components, can you name some, or how about you just name one?"
Me:  (I still didn't have a clue what answer she was looking for here…)  "Well there are many I'm sure, and I can't name each part, no, but the point is there are ways it can be strengthened for sure."
"Like what?"  (With a smirk.)
Me:  (Here I go!!!)  "Like cod liver oil for only one.  We take it regularly.  (Along with other things that I wasn't going to get into — she'd have fallen off her chair if I'd told her that I thought pastured butter was a health food!)  It has vitamin A and D in their natural form, it has omega 3's, and other benefits that do help strengthen the immune system, because I've seen in it my own family, we're very rarely sick!  Are you saying that you ONLY believe in what a study shows?  Do you ever just believe what you see with your eyes, or what has helped people that you know?"
"Oh sure I do, but you've probably heard of the placebo effect.  There have been studies done showing that 1/3 of people, no matter what you give them, if you tell them that it will heal them, it will, just because a doctor told them so.  For a while it was shark cartilage, eeeeveryone came in with it and wasted their money on it, until there was a study that showed it didn't do anything, and now no one comes in with it anymore."
Closed-minded
While it's pretty sad that she's obviously not open to anything natural, unless there was a randomized clinical trial published in a peer reviewed journal, I have to remind myself that this is all she was taught, and if she can help my Mom, it'll all be forgotten!
Turns out, however, that there ARE studies on medicinal mushrooms!
And oh. my. gosh. Guys, look what I found just now as I was writing this post.  Jill told me to look for the Paul Stamets videos on the mushrooms, but I didn't have time before today's appointment, I wish I had, watch this!!
That isn't in any study, but I believe it.  Do you?
Regardless, Mom may or may not choose to add some natural stuff to whatever mainstream treatment they recommend, and if so, I know I need to accept that as her decision.  Cancer is scary how it's full of so many unknowns and it's just really difficult to know what path to choose at every turn.
Sadly, snarky doctors who are full of themselves don't help this process.
Please pray for my Mom!
MORE:
In case you're wondering, no, I'm not going to start wearing pink ribbons:
I need to go back and read Katie's recent posts on how she's attempting to help her Dad who was diagnosed with cancer this past winter:
Where to get the medicinal mushroom supplement
Where to get Turmeric
p.s.  Mom gave me her OK to write this post and ask for your prayers.  🙂