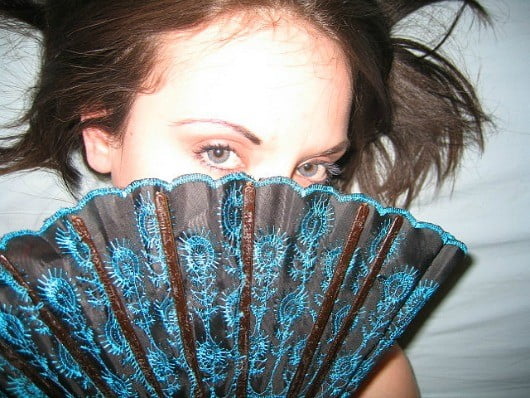 If you're having extreme menopause symptoms, or *any* menopause symptoms, you're probably wondering if this is normal. 
When the dreaded signs crept into my life a little over a year ago, that's definitely what I was wondering, but I wanted to know if there was more to it…  From what I can gather, the normal age of menopause is pretty broad, so I wasn't sure at first if that's what this even was.  (I'm 47.)
Note: this post is longer than most, and I hope that if you're any where near this stage in your life you'll read through and share your own research and experiences in the comments, because while I'll share a lot of what I learned, I also still have a lot of questions.  There are basically 3 sections below: 
My own experience and symptoms
Information I've found
What I'm doing now
And remember, I'm not a doctor or anywhere close, do your own research!
UPDATE:  After you read this post, read the follow-up post:  Is Bioidentical Hormone Replacement Therapy Safe? Plus My Menopause Update and Breast Cancer Rants.  And thoughts from the other side here:  Are Bioidentical Hormones Natural? Thoughts from the Other Side of the Issue.
1.  Here is what my menopausal symptoms looked like:
My peri-menopause symptoms first began when I realized I was becoming mineral deficient. (Did you know that most people are mineral deficient?) I started getting leg cramps, or "charley horses", at night, along with heart palpitations. I especially noticed it on the days when I drank more than one cup of coffee, that's how I knew coffee was the culprit, and this makes sense since I know it does deplete minerals. Apparently mineral depletion, specifically Magnesium, is heightened in menopause due to low estrogen, because estrogen helps our body utilize Mg, and this can be dangerous

 (source). The first thing I did was cut way back on caffeine. I already didn't drink much, usually one cup a day, but now I don't always drink coffee every day, and if I do, it's fairly weak.  Or often I'll have half-caffeinated/half decaf.  (I drink Dandy Blend now and then instead, or drink more raw milk, or if I have bone broth 

on the stove, which I do a lot, I'll just drink some of that to try and put more minerals IN! Here are more 

good coffee replacements to try.)  UPDATE:  How I Stopped Painful Leg Cramps at Night (They came with menopause, yippee) & Why I Love Our New Water Filter!
Then my periods started stretching way out or just being all over the place.  My cycles would be anywhere from 20 days to 65 days.  Good times!
I began having hot flashes and WOW did I have hot flashes.  Thankfully I didn't drip with sweat like some women do, my face would just get really really hot, and sticking my head out a moving car window like a dog felt amazing, LOL.  I was having hot flashes 5-6 times or more per DAY last week and sometimes 3 times or more each night!  It was no biggy really, except for the weird looks when I'd fan myself like crazy or stick a cold drink into my cleavage.  (Okay I only did that once or twice, and not in public unless it was absolutely necessary, ha!)  Update that I'm adding later:  I've heard that many women get relief from hot flashes by drinking 2 Tablespoons of ACV in 6-8 ounces of water am & pm — let me know if it works for you!
During the times when I was having longer cycles and not ovulating, THAT is when I noticed extra weight coming on, mostly in my belly, but also just more "thickness" throughout my middle.  Thankfully it wasn't a lot, maybe about 10#, which may not seem like much to some people, but it's a lot to someone whose weight had been pretty much the same for years.  (Except for when I actually went down a pant size after my "food conversion" 12 years ago.)  By the way, later when ovulating and normal cycles kicked back in, my pants fit normal again, the weight came back off, and the hot flashes let up, too, weird huh?!  But that didn't last of course.
I already eat pretty well (not perfectly, but I'd say 95% homemade, with ingredients I trust), however I made an effort to decrease sugar/wine consumption.  🙁          (Side note:  I'm looking over my handwritten notes over the past few months on all of this and I see…  "Avoid caffeine and alcohol?!  How bad do I want my clothes to fit?!!"  I've since decreased them both big time, though, and guess what?  It didn't kill me!  And I do plan to indulge a little next week…)
I had low ambition to exercise.  I try to still make myself get out (with varying success, and of course this always depends on other life factors), but when my cycles fire up again, then I actually like it and look forward to it.
Very mild eczema, which isn't a big deal at all, but it's noticeable because normally I don't have any skin issues at all.
This one is hard to explain, but sometimes I feel like I have "dull brain", like I'm not 100% present in each moment.  I don't notice it much until I ovulate, and overnight I feel my senses are sharpened.  (And not just related to libido, ha!)  I'm VERY curious about this one and if anyone else has felt this; if so, how do you describe it?  (Turns out it's called "fog brain", and it's very common at this stage of life!)
Another symptom that isn't a big deal, it's just interesting:  my nails don't grow as well.  I fixed this, though, by adding in more gelatin and/or collagen, both are easy to get more in, just add gelatin to your bone broth or soups (hot liquids), and add collagen to anything, hot or cold, and no one even notices:  smoothies, homemade ice cream, soups, pudding, etc.
This may not be related, but I'll wake up with a sore neck for weeks (can't seem to get my pillow right, but it was never a problem for years prior), and once my cycles normalize, this significantly lessens.  Weird huh?
What are your peri-menopause/menopause symptoms like??
These symptoms of menopause have become so accepted and "normal" in our society that I was tempted to write it off as just that, but for me, it went much deeper. 
As many of you know, my Mom passed away recently of breast cancer that metastasized.  (Yet I still hate the pink campaigns because I don't think they are helping much – scroll down through these breast cancer/pink posts for more about why I feel that way, or see all the links at the bottom of this post.)
I'm convinced that she originally got breast cancer due to the accepted menopausal therapy at the time she began having these symptoms:  Prempro, which is a Premarin/Provera — estrogen/progesterone hormonal combo pill.  It just makes sense that when you start messing with the hormones in your body, you're putting yourself at great risk.  Do some searching online and you'll see that many studies have now found this to be true and that those are toxic pills.  (More related posts on that are listed at the bottom, too.)  Of course no one is held responsible for these deadly drugs, because her breast cancer wasn't until years later.
So obviously I knew "going on something" wasn't an option, but I also knew that there are many natural options out there as well. 
What I was concerned about, however, is this:  When you start taking something new, natural or not, you have to be careful because one thing always affects another, and I just wasn't knowledgeable enough to trust whatever I could piece together with internet research.
2.  I did learn a lot in my research though… could a muffin-top be protective?
I figured out that this was an obvious periodic low estrogen issue (not constant, because my cycles return here and there).  My naturopath friend, Kathy, told me years ago that a muffin-top is normal as women age, because adipose tissue (fat) makes estrogen, and estrogen protects bones and prevents osteoporosis.  It's our body's natural defense mechanism and, she says, it's a good thing because it's better than no estrogen.
This Weston Price Foundation article also suggests we just accept this stage in life.

Start at the "menopause" section to read their advice.   Here's my short version:  It's all a normal part of aging, just avoid processed foods, seek out nutrient-dense foods, and embrace this new era as we age.
So as long as we're eating well, not taking fake meds to counteract these symptoms, and we're keeping stress in check (adrenal exhaustion from stress can make it all worse), all will be okay?
Other things I read said something different…
This fat isn't just unsightly. It's dangerous — because a muffin top is made of the visceral fat that builds up around the organs, increasing your risk of diabetes, heart disease, and an early death."  (Source)
Here's more info that shows it's not just an estrogen issue:
Traditionally it was thought declining levels of estrogen were to blame for the weight gain, hot flashes and flooding periods at this time in a woman's life, but research has shown that it's not actually that simple.  Estrogen doesn't work in isolation. While it courses through our body at fluctuating levels throughout our monthly cycle, its partner progesterone is working alongside it as a soothing, calming balm to minimize the negative impacts of estrogen's peaks and troughs."

"Between the ages of 37 and 50, estrogen levels in women typically decline by about 35 per cent in total. Over the same period, progesterone levels drop by up to a massive 75 per cent which means there is a bigger gap between levels of the two hormones and less balm to calm the fiery behavior of the estrogen as it peaks and troughs throughout the month. This is why women in their 40s often begin to experience more dramatic premenstrual symptoms such as mood swings."

"To add insult to injury, during peri-menopause our levels of androgen are increasing. Androgen is a hormone responsible for body weight distribution and it distributes it around your waist."  (Source no longer available.)
As you can see, I was still unsure of what to think.  Things weren't setting right with me.
Hot flashes I can deal with.  My clothes still fit, just not always comfortably, and if I knew this was normal and not dangerous long-term, then whatever, but what about the women who are really struggling and have extreme menopause symptoms?  How do they just "accept this new era"?  For these women is it just that their diet may not be the best?
It's not that I think I need a flat tummy as I age. 
My tummy has never been what I'd call perfectly flat anyway, and as long as my clothes fit, I can handle that.  But there's just part of me that wonders, is extra weight really normal as we age?  Or is it just the first step toward diabetes and possibly cancer and other health issues later???  And will the extra weight just keep coming?!!
I'm not going to wait around to find out.
I wanted to make sure that there wasn't some simple solution, what if hormonal changes cause the body to become deficient in certain nutrients, and if I'm supporting my body where it's needed, will things just level out for a smooth transition?
Keep in mind that I'm being totally real here. 
I'll share what I know and what I don't know.  If any of you can fill in the blanks, please share in the comments!
3.  So here's what I did…
I asked around to find a highly recommended naturopath and set up my appointment for next month. I knew I needed help figuring all this out.
In the meantime, I began doing the things I knew wouldn't hurt and that wouldn't interact with or affect anything else, but that I knew could make a big difference:
In the past year or so I've been MUCH better about getting sleep, and I'm thankful that insomnia has not been one of my peri-menopause symptoms as it is for many. I sleep about 7-8 hours at least 5 or 6 nights a week. Yay! (This only works because we are homeschooling and I can work in the mornings while the kids sleep in.) More on sleep: "Women who sleep less than six hours per night on average have significantly greater odds of obesity than women who sleep between 7-8 hours nightly. An imbalance of progesterone to estrogen can trigger insomnia, and fluctuating blood sugar causes that 3am wake-up – making it harder for women to lose weight." (Source no longer available.)  My question is, which came first, not sleeping enough which can mess up the hormones, or the hormones going nuts causing insomnia? None of this is simple!  (Here's more about how we've finally found our groove around here.)
I got more consistent at taking these supplements (NOTE:  most of the below are from Perfect Supplements, so be sure to use the code KOP for a discount!):
Here are other supplements to consider:
I know most of us are also deficient in iodine (and here's the kind I have), but I want to talk to my naturopath first, because I've heard that supplementing with this can cause other deficiencies, so I'm just taking one ever other day.
Here are the B complex vitamins I take — good for regulating blood sugar, for mood, memory, energy, a metabolism boost, and building up the immune system.
Menoremin menopause tabs have also been recommended (each pill has black cohosh and red clover, both good for low libido and other menopause symptoms).
UPDATE:  Thank you Diane, a reader who just sent me this:
Dr. Hobbins and Sellens furthermore recommend thermography because it can help women see the effects on their breasts of the many foods, herbs, supplements and other products commonly recommended to support breast health. They've consistently seen ill effects from the following:

Birth control pills
Hormone replacement therapies (including bioidentical hormone replacement therapies)
Soy, flax, red clover, alfalfa and other foods high in phytoestrogens
Black cohosh, red clover, xiang fu and other herbs high in phytoestrogens
Supplements such as DIM and calcium D-glucorate."

"Similarly, black cohosh, red clover, evening primrose and xiang fu (cyperus rhizome) are estrogenic herbs."

"Stop believing flax, soy and bioidentical estrogen are healthy because they come from a plant. Stop believing they are weak estrogens because they are natural. Stop believing propaganda that estrogen keeps women young when it is in fact killing us."  (Source)
So maybe the answer IS to just do nothing?!
My appointment is next month and I look forward to discussing all of this with her and getting answers from a professional about how best to move forward. I'll keep you posted!
In the meantime, please comment below to share your experience and your thoughts.
And will you share this post with those who may be interested using the social share buttons below?!
(See recommended books below.)
ADDED LATER — FOLLOW UP POSTS: 
Here are the breast cancer/pink campaign related posts:
More related posts & other stuff:  
Here are books that I haven't read yet but have been recommended: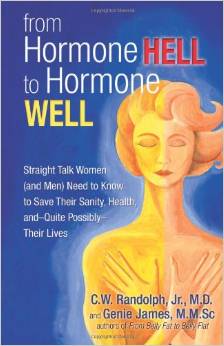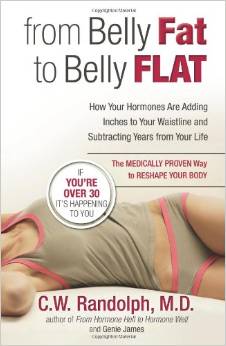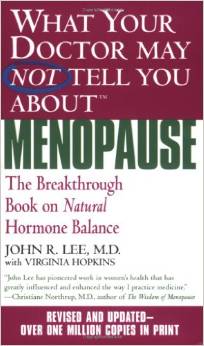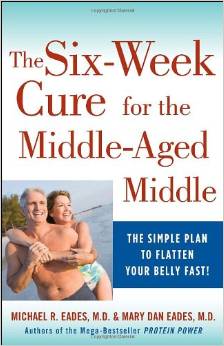 If you read any of those books, I'd LOVE for you to do a guest post/book review on them for me and I may post it!