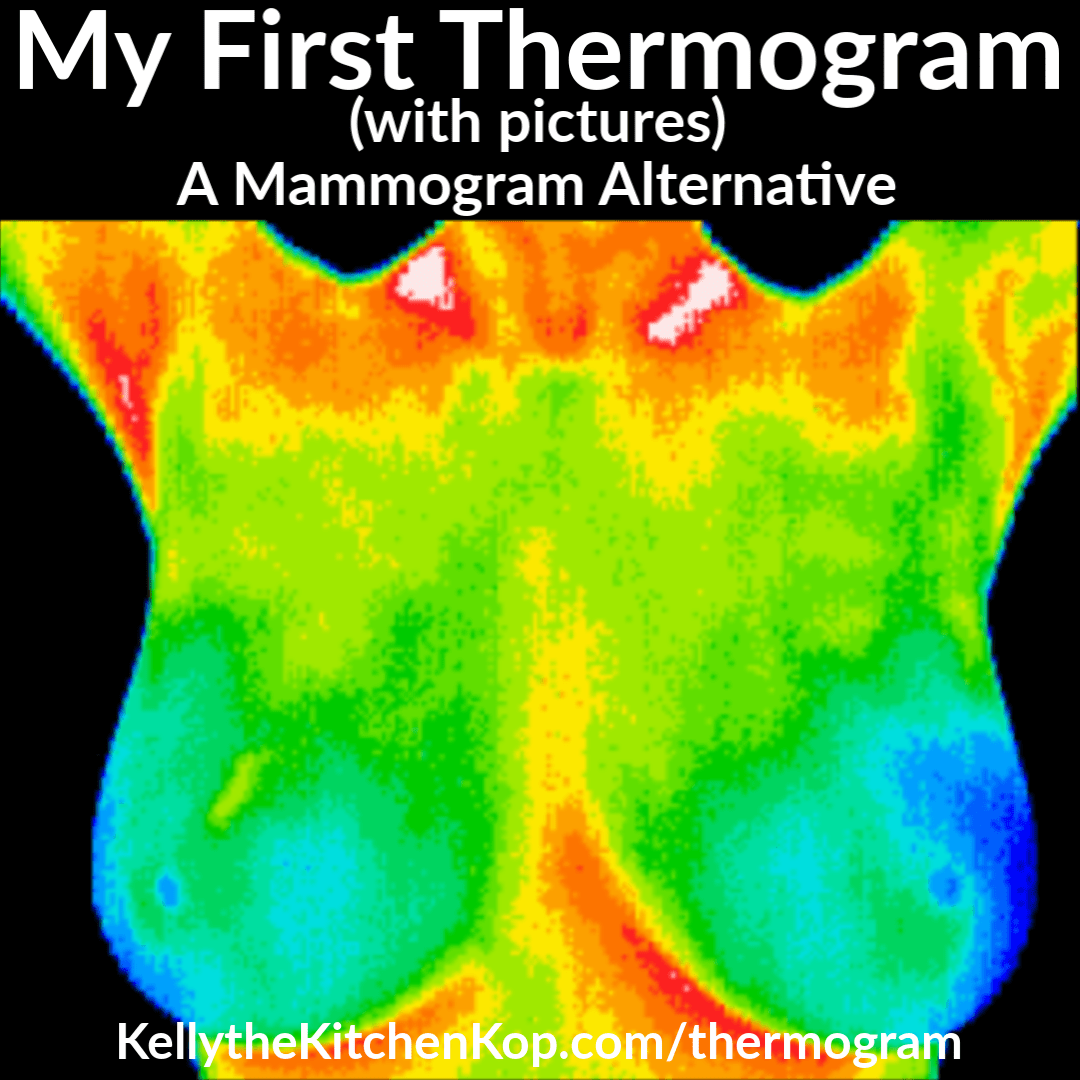 The Best Breast Test:  My First Breast Thermogram with Pictures (A Mammogram Alternative)
Don't worry, I'm not sharing the thermography picture of my girls, that might be kind of awkward.  🙂  The picture here is just a screen-shot from the video below, but I did snap a few pictures when I went in for my first breast thermogram the other day, to show you how simple it was.
There was NO smash-fest or radiation anywhere!
Thermograms are a great mammogram alternative, because they simply show where the heat is in your body, and it can detect breast changes YEARS before a mammogram — all without any risks.  As in NONE.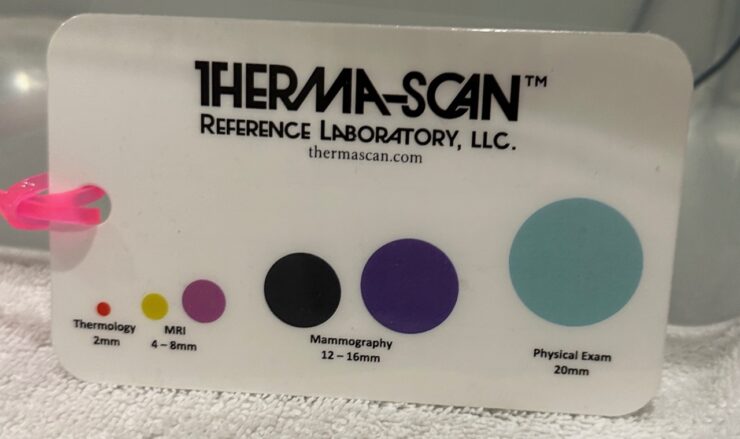 That is, unless you listen to the FDA, who say that the risks of a thermogram are that women then may not get a mammogram, which they believe is the better option for detecting breast cancer.  However, others believe mammograms increase the chances of getting breast cancer:
Dr. Samuel Epstein said Radiation from routine mammography poses significant cumulative risks of initiating and promoting breast cancer (1-3). Contrary to conventional assurances that radiation exposure from mammography is trivial–and similar to that from a chest X-ray or spending one week in Denver, about 1/1,000 of a rad (radiation-absorbed dose)–the routine practice of taking four films for each breast results in some 1,000-fold greater exposure, 1 rad, focused on each breast rather than the entire chest (2). Thus, premenopausal women undergoing annual screening over a ten-year period are exposed to a total of about 10 rads for each breast. As emphasized some three decades ago, the premenopausal breast is highly sensitive to radiation, each rad of exposure increasing breast cancer risk by 1 percent, resulting in a cumulative 10 percent increased risk over ten years of premenopausal screening, usually from ages 40 to 50 (4); risks are even greater for ««baseline»» screening at younger ages, for which there is no evidence of any future relevance.  Furthermore, breast cancer risks from mammography are up to fourfold higher for the 1 to 2 percent of women who are silent carriers of the A-T (ataxia-telangiectasia) gene and thus highly sensitive to the carcinogenic effects of radiation (5); by some estimates this accounts for up to 20 percent of all breast cancers annually in the United States (6).      Source
My disclaimer:
I am not a doctor, there's a lot I don't know.  Research this issue and make your own informed decisions!  Read my full disclaimer here.  ***And because I like to share ALL sides of the story, read another very different opinion below.
My first breast thermogram
First the gal took me back to the room, which was a little cool.  Apparently this slightly cooler room temperature helps get more accurate images of the breasts.  She asked me to take everything off from the waist up and just hang out for about 15 minutes to get acclimated to that room temp.  So I sat in a comfortable chair behind a privacy wall and sent some texts from my phone and read the book we're using for bible study right now…
Next she explained how I needed to stand for the different camera shots she needed to take — the camera was hooked up to the computer.  It took maybe 3 minutes: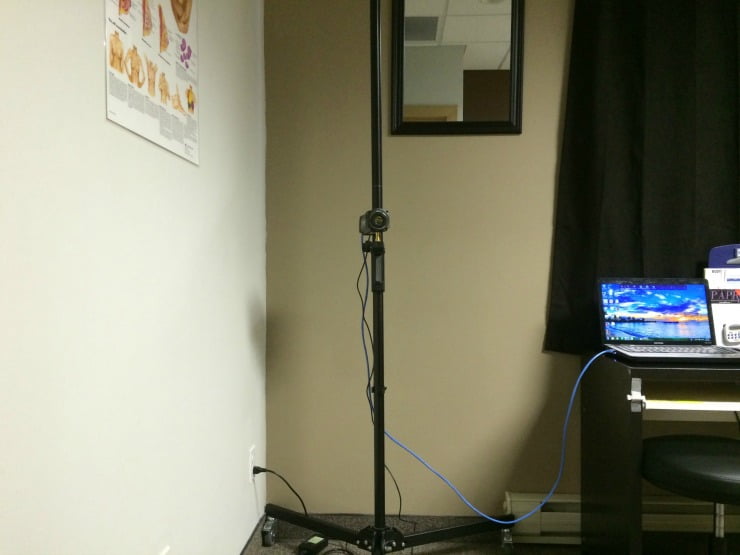 Half-way through I was instructed to put my hands in freezing cold water for one minute.
At that point she took a few more pictures and that was it, all done!  They'll call me with the results in a few days.  (Results were all good.)
It felt great not having to worry about the dose of radiation I would've gotten with a traditional mammogram.  (Have you read about the huge decision process before I got a mammogram a few years ago?)
Below are a few highlights from another article in the Truth About Cancer series: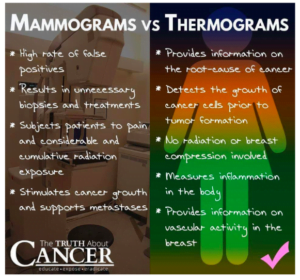 Heat is an indication that inflammation exists, and typically inflammation is present in precancerous and cancerous cells, too.
Thermography's accuracy and reliability is remarkable. In the 1970s and 1980s, a great deal of research was conducted on thermography. In 1981, Michel Gautherie, Ph.D., and his colleagues reported on a 10-year study, which found that an abnormal thermogram was 10 times more significant as a future risk indicator for breast cancer than having a history of breast cancer in your family.
Since thermal imaging detects changes at the cellular level, studies suggest that this test can detect activity 8 to 10 years before any other test. This makes it unique in that it affords us the opportunity to view changes before the actual formation of the tumor. Studies have shown that by the time a tumor has grown to sufficient size to be detectable by physical examination or mammography, it has in fact been growing for about seven years achieving more than 25 doublings of the malignant cell colony. At 90 days there are two cells, at one year there are 16 cells, and at five years there are 1,048,576 cells–an amount that is still undetectable by a mammogram.
Today, women are encouraged to get a mammogram, so they can find their breast cancer as early as possible. With thermography as your regular screening tool, it's likely that you would have the opportunity to make adjustments to your diet, beliefs and lifestyle to transform your cells before they became cancerous. Talk about true prevention.
Clearer Results, Fewer Additional Tests with this mammogram alternative
To many, it felt like the world was set on its ear when, in November 2009, the United States Preventative Services Task Force said it recommended that women begin regular mammograms at 50 instead of 40 and that mammograms are needed every two years instead of annually between the ages of 50 and 74. Some women felt this was a way for the insurance companies to save money, but I cheered these new guidelines. (For more information read "The New Mammography Guidelines" in the Women's Wisdom Circle on www.drnorthrup.com.) The Task Force concluded that the risk of additional and unnecessary testing far outweighed the benefits of annual mammograms–and I couldn't agree more.
Breast Cancer Risk Assessment Tool
Here's a Breast Cancer Risk Assessment Tool to at least give you some idea of your risk.  I thought it was interesting, especially since my Mom died from breast cancer, although I'm fairly certain her cancer was caused by the synthetic hormone therapy her doctor put her on years ago.  These were my results:
1.7% risk in next 5 years
17.5% risk in my lifetime
Who knows how accurate that is, especially since it doesn't take into account that I eat better than most (not perfect by any means, but definitely better than most), make sleep a priority, walk several times a week, keep stress low, etc.
What about the cost of this mammogram alternative?
Mine was only $179, I didn't think that was bad at all, considering that I'd probably pay at least that much for a mammogram, now that our health insurance co-pays are so high, and we're not at the doctor enough to ever get to the point where the insurance company pays anything.  (Which is a good thing, obviously, but the whole health insurance scam is another topic that I won't start ranting about now.)
A thermogram downside?
My friend Sarah found an angle to this story that I hadn't considered:  Thermograms: A Perfect Alternative to Mammograms?  While she still recommends them, she points to the cost as a possible deterrent for some AND she brings up the sticky issue of what to do if your thermogram turns up an area of concern.  The next step should be a breast ultrasound, but Sarah said she had trouble getting a doctor to order one without first getting a mammogram!
Sadly most docs also recommend a biopsy too soon in my opinion.  This makes me nervous because that procedure takes a closed "sac" and breaks it open to get tissue for testing, which could let any possible cancer cells go out into a bigger area.  I'd definitely ask for other options first.
Another opinion and a word about risks…
Since I like to share all sides, hear what a reader friend shared with me in an email (shared here with her permission):
Hi Kelly, I was going to share my thermography experience. In my early 30's I knew I had some precursors for breast cancer and dense tissue so I did my initial thermography appointment. I followed up accordingly. I did annual reviews and I even did a few full bodies just to double check and stay on top of anything. When I found a lump, a thermography appointment was the first thing I did. Again the report said all clear. I'm in the Atlanta area and used a leading group. I was fully confident in their services. The lump didn't go away and my doctor and I decided we needed to do different imaging. A mammogram found a large mass and further testing found a large mass in my liver also. At 36 years old that was not the news I wanted. I contacted the thermography company and she said just like any testing it is not 100%.  And for some people with especially dense tissue it is not able to see….which was ironic because I had read and been told that is was an especially good option for dense tissue. All that said, I know there are radiation risks with frequent mammograms. I have watched and read all of the Truth About Cancer series. But at the end of the day thermography failed me. My kids were 5 and 7 when I was diagnosed. It is a little over a year later now. My family and kids have been through a lot as we have all walked this cancer journey. I think thermography is a great option….but I also know its limitations and wish so badly I would have found my mass sooner.  So while mammograms have risk….in retrospect it is a risk I wish I would have taken. I just hope other women are not relying so heavily on thermography that something gets missed as well. It is all a balancing act for sure.  If I were to recommend regular check-ups I would recommend ultra-sound!  The more I read in the comments, the more I feel I should have read more about thermography. I recognized its strengths, but not its limits.
I'm grateful she shared her story so you can make a fully informed decision when deciding on whether or not to pursue a mammogram alternative.
More you might like:
Look here to find where they do thermograms near you or also here.  BUT the one I go to isn't even listed on either of those, neither are other places I know of here in our city (Grand Rapids, MI), so you may have to call around to some natural health clinics and ask if they know where to get one near you.