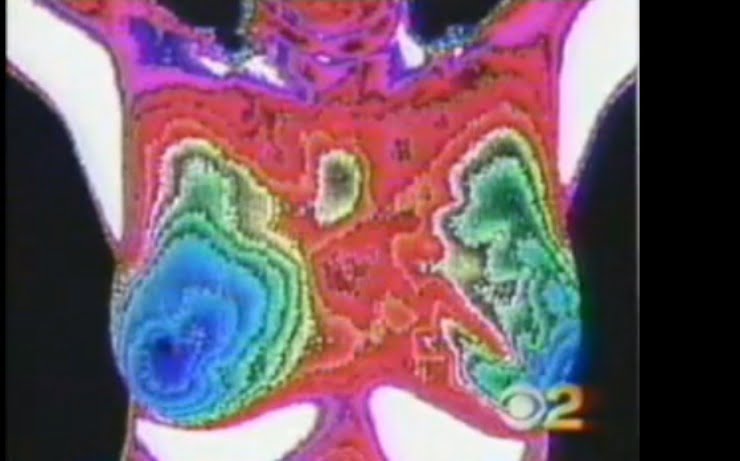 The Best Breast Test:  My First Breast Thermogram with Pictures (A Mammogram Alternative)
Don't worry, I'm not sharing the thermography picture of my girls, that might be kind of awkward.  🙂  The picture here is just a screen-shot from the video below, but I did snap a few pictures when I went in for my first breast thermogram the other day, to show you how simple it was.
There was NO smash-fest or radiation anywhere!
Thermograms are a great mammogram alternative, because they simply show where the heat is in your body, and it can detect breast changes YEARS before a mammogram — all without any risks.  As in NONE.
That is, unless you listen to the FDA, who say that the risks of a thermogram are that women then may not get a mammogram, which they believe is the better option for detecting breast cancer.  However, others believe mammograms increase the chances of getting breast cancer.
My disclaimer:
I am not a doctor, there's a lot I don't know.  Research this issue and make your own informed decisions!  Read my full disclaimer here.
My first breast thermogram
First the gal took me back to the room, which was a little cool.  Apparently this slightly cooler room temperature helps get more accurate images of the breasts.  She asked me to take everything off from the waist up (unlike the video below where they stayed dressed) and just hang out for about 15 minutes to get acclimated to that room temp.  So I sat in a comfortable chair behind a privacy wall and sent some texts from my phone and read my book…
Next she explained how I needed to stand for the different camera shots she needed to take — the camera was hooked up to the computer.  It took maybe 3 minutes: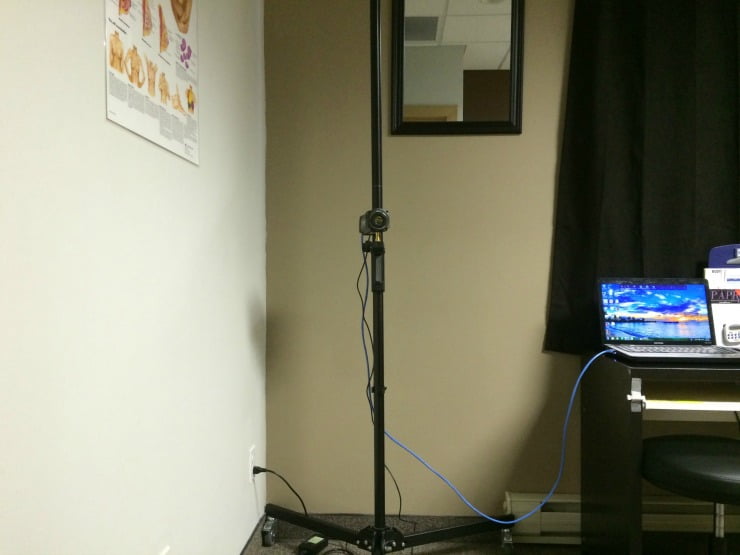 Half-way through I was instructed to put my hands in freezing cold water for one minute:
At that point she took a few more pictures, and that was it, all done!  They'll call me with the results in a few days.
It felt great not having to worry about the dose of radiation I would've gotten with a traditional mammogram.  (Have you read about the decision process before I got my first mammogram a few years ago?)
This is the BEST article I've seen about mammograms vs. thermograms:
Below are a few highlights, but you'll want to read the whole thing because you'll find information not mentioned in the excerpts below, such as how safe thermograms are, how mammography often leads to false negatives and unnecessary procedures, AND 6 things I wish I'd have known to ask before I had my thermogram done.
Heat is an indication that inflammation exists, and typically inflammation is present in precancerous and cancerous cells, too.

Thermography's accuracy and reliability is remarkable. In the 1970s and 1980s, a great deal of research was conducted on thermography. In 1981, Michel Gautherie, Ph.D., and his colleagues reported on a 10-year study, which found that an abnormal thermogram was 10 times more significant as a future risk indicator for breast cancer than having a history of breast cancer in your family.[1]

Since thermal imaging detects changes at the cellular level, studies suggest that this test can detect activity 8 to 10 years before any other test. This makes it unique in that it affords us the opportunity to view changes before the actual formation of the tumor. Studies have shown that by the time a tumor has grown to sufficient size to be detectable by physical examination or mammography, it has in fact been growing for about seven years achieving more than 25 doublings of the malignant cell colony. At 90 days there are two cells, at one year there are 16 cells, and at five years there are 1,048,576 cells–an amount that is still undetectable by a mammogram.

Today, women are encouraged to get a mammogram, so they can find their breast cancer as early as possible. With thermography as your regular screening tool, it's likely that you would have the opportunity to make adjustments to your diet, beliefs and lifestyle to transform your cells before they became cancerous. Talk about true prevention.

Clearer Results, Fewer Additional Tests

To many, it felt like the world was set on its ear when, in November 2009, the United States Preventative Services Task Force said it recommended that women begin regular mammograms at 50 instead of 40 and that mammograms are needed every two years instead of annually between the ages of 50 and 74. Some women felt this was a way for the insurance companies to save money, but I cheered these new guidelines. (For more information read "The New Mammography Guidelines" in the Women's Wisdom Circle on www.drnorthrup.com.) The Task Force concluded that the risk of additional and unnecessary testing far outweighed the benefits of annual mammograms–and I couldn't agree more.
Breast Cancer Risk Assessment Tool
She linked to a Breast Cancer Risk Assessment Tool there but it's a broken link, so I tracked down the correct link here.  I doubt it's super accurate, but I thought it was interesting anyway, especially since my Mom died from breast cancer in July, although I'm fairly certain hers was caused by the synthetic hormone therapy her doctor put her on years ago.  These were my results:
1.7% risk in next 5 years
17.5% risk in my lifetime
As I said, though, who knows how accurate that thing even is, and it doesn't take into account that I eat better than most.  (Not perfect by any means, but definitely better than most.)
What about the cost?
Mine was only $185, I didn't think that was bad at all, considering that I'd probably pay at least that much for a mammogram, now that our health insurance copays are so high, and we're not at the doctor enough to ever get to the point where the insurance company pays anything.  (Which is a good thing, obviously, but the whole health insurance scam is another topic that I won't go ranting about now.)
A thermogram downside?
As usual, Sarah found an angle to this story that I hadn't considered:  Thermograms Not the Perfect Alternative to Mammograms.  While she still recommends them, she points to the cost as a possible deterrent for some, AND she brings up the sticky issue of what to do if your thermogram turns up an area of concern.  The next step should be a breast ultrasound, but Sarah said she had trouble getting a doctor to order one without first getting a mammogram!
Here's an informative video about getting a thermogram:
Read these related posts too: