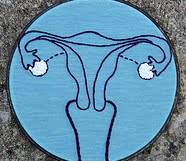 Should You Get a Hysterectomy or Not?
Do you suffer from heavy bleeding or fibroids?  Have you been told that you need to get a hysterectomy and you wonder if it's really necessary?  Since many (most?) hysterectomies are done to treat heavy bleeding and/or fibroids (this is so common now!), I wanted to let you know that below in the related links you'll find information on how high doses of the right vitamin A (in cod liver oil) can take care of that problem; unfortunately most doctors don't know this.  You'll also read more today about how taking bio-identicals can help.
Should you get a hysterectomy?  Is it really necessary?
Recently I received a very interesting email from a reader friend, Susan:
Hi Kelly, I am in my 40's and at that age where everyone around me is starting to get, or has already had, a hysterectomy.  I always used to joke that my uterus was for sale; I was done having periods!  But then after reading in one of Suzanne Somers' books, Breakthrough: Eight Steps to Wellness, that hysterectomies are way over-performed unnecessarily in this country, I started to investigate, should I need one in the future.  Suzanne says the ONLY time a woman should have a hysterectomy is when it is cancer or medically necessary from childbirth, etc.
But the sad fact is, that doctors are doing them for no reason at all.  (There's that evil money thing again!)  One of my girlfriend's doctors told her she should do it even though she is not having any problems.  When she asked him why he told her it was time, that she is the right age!  Another girlfriend was starting to get the heavy bleeding that comes with age, her doctor told her that all he could do to help was to take out her uterus.  A forward thinking doctor would have balanced her hormones with bio-identicals to ease up on the bleeding.  Instead, 2 weeks later, she had her uterus removed.  Since then she has had her bladder operated on twice because it keeps falling down.  Her joints ache, she has gained weight and she is often depressed.  Keep in mind, her only complaint before the surgery was heavy bleeding.

When I think about the people I know who have gone through it, 8 out of 10 of them have failing health that all started shortly after their hysterectomies.

I came across this video while researching, and coupled with the info I've learned from Suzanne and her doctors, and the info in the video, I will never, ever let someone remove my uterus. (Unless, of course, there is cancer.)

I think every woman should see this movie.  Young and old.  Women with a uterus and women who have already had it removed, because I don't think doctors are ever very honest with us.  How many women who have had a hysterectomy and are wondering why they feel so crappy, yet all the doctors do is give them Prozac and tell them to go home?  Obviously, they can't get their uterus re-installed, but it may provide some knowledge that will help them get help from someone who understands.  And for those, like myself, who always believed a hysterectomy would be a blessing, will be in for a real eye opener.

Here's the video.  It's only 12 minutes, but it is packed with info.  Listen to the symptoms and see how many of your loved ones and girlfriends you recognize.

I think this is something that all women should know!!
(Note from Kelly, even though the information in this video is read in a monotonous voice, parts of what you'll hear are very disturbing, but being aware is always a good thing.)
A quote from the video:
"The most consistent problems women experience after a hysterectomy are loss of sexual feeling, a loss of vitality, joint pain, profound fatigue and personality change."
More from Susan:
P.S.  I did show this video to my friend before she had the surgery and when she went to the doctor with the facts she learned, he blew her off and told her, "I'm the doctor."  Now crippled with pain most days, I bet she wishes she would have found a new doctor.

The book that Suzanne spoke about this in is "Breakthrough: Eight Steps to Wellness" and the person she is interviewing who said a uterus should only be removed for cancer is Dr. Jennifer Berman – the urologist and renowned expert in the field of female urology and female sexual medicine.  Dr. Berman said most doctors don't acknowledge, or simply don't know, that there are many other ways to deal with female problems.  It is too easy, and lucrative, to just encourage a hysterectomy.

Another person she interviews in the book, Dr. Steven Hotze, said that any woman, regardless of age, whom has had a hysterectomy, is being surgically thrown into menopause, and then usually left to fend for herself as her hormones begin to decline and she becomes more and more ill.

Kelly, I don't know if you have read any of Suzanne's book, but if you are new to her work, I would start with "Ageless: The Naked Truth About Bioidentical Hormones" and then go onto to "Breakthrough: Eight Steps to Wellness." 

"Ageless" gives a complete look at bioidentical hormones. 

Are you familiar with them?  If not, let me sum them up for you quickly: The reason Suzanne, and a growing number of doctors, love bioidenticals is because our bodies have a clock in them.  Once we are no longer considered "viable" any longer because we are too old to procreate, our hormones begin to decline.  It's natures way of slowly shutting us down and preparing us for death.  This is why older people get Alzheimers, MS, arthritis, heart problems and strokes.  We can't procreate, so it is time for us to leave the earth.  But by balancing those fading hormones through bioidenticals, you trick the brain into believing you are still young and vital.  The brain, receiving plenty of the youthful hormones through replacement, now has no reason to allow the body to become ill because it believes you are still young.

Many of the doctors she interviews for her books believe hysterectomies can be avoided simply by bringing balance back to the brain and body. 

I know that's true because my friend had a hysterectomy at 32 and the doctors gave her nothing afterward.  Not even the toxic Big Pharma hormones – nothing!  She has since been diagnosed with fibromyalgia, chronic fatigue, depression and then MS.  I begged her to get her hormones checked.  When she finally relented, and was put on bioidentical estrogen because she had NONE, within days she was out of bed.  Within weeks her husband was calling to thank me for encouraging her to look into bioidenticals because he finally had his wife back!
Have you already had a hysterectomy?!
There may be times when a hysterectomy is necessary.  Please know that this post is not a judgment on your decision.  Just be aware of this information and share it with others so they can be informed about all the risks and options before moving forward.  Do not use this information to beat yourself up over what you didn't know until now!
Are you familiar with bioidenticals? 
I'd love to hear more about that if anyone has experience with them or with anything mentioned today.
Susan also shared some interesting links: