Dangers of the Birth Control Pill
Many young women are put on the birth control pill for acne or for painful/irregular periods because that's all docs know to do.  (Keep reading for natural options to use instead!)  A long time ago I was also on the birth control pill before Kent and I had kids, and I may never know how that affected my future fertility (or infertility as it so happened), or if it will cause any other health issues down the road.  If only I knew then what I know now!
Here's what Dr. Natasha Campbell-McBride had to say about the dangers of the birth control pill:
Someone asked, "How does the pill affect our nutritional status?"  Her answer:
"It causes many deficiencies.  It tends to create copper/zinc imbalances, and it causes women to lose all interest in sex, which seems very counterproductive.  We need to teach young women about natural family planning and about honoring our cycles!  The estrogens in the pill are synthetic, and not the same molecules that the body produces.  Instead they're called, "xeno-estrogens" and are harmful to the body.  The pill also causes differences in the viscosity of the blood, and can cause heart disease, stroke, and a long list of problems.  We've just touched the tip of the iceberg in our understanding of the complexity of  hormonal balance in the human body, we are in no position to be messing with that."
She has also said in the past how damaging the birth control pill is on our gut flora.
We've already got an epidemic of issues that are all related to poor gut health–with people who are anxious/depressed and have messed up digestive systems, multiple food sensitivities, auto-immune diseases, and on and on!
Just in case that isn't enough to scare you far away from contraceptives, read this article from the Weston A. Price Foundation, Rethinking reproductive health.  Here's an excerpt:
"Recently, in a medical journal, I read that oral contraceptives are useful "in establishing regular menstrual cycles"1 for women with polycystic ovarian syndrome (PCOS). For years, I've observed that western medicine's primary treatment of common gynecological problems is the birth control pill; still, I was dismayed to read this misinterpretation of what a menstrual cycle is and what oral contraceptives do to it."
More from that article on the many reasons birth control pills are dangerous:
A woman who takes the Pill for two years before she's 25 and before she's had a pregnancy to term increases her risk of breast cancer tenfold.
Because of blocked hormone production, women who take the Pill have decreased sensitivity to smell. Because sexual interest is communicated through smell, the Pill may decrease women's sex drives.12
In Solved: The Riddle of Illness, Dr. Stephen Langer writes that "the Pill. . . can cause severe bodily damage in hypothyroidism."
Oral contraceptives may aggravate insulin resistance and longterm risk of diabetes and heart disease.13
Many women taking the Pill have reported weight gain–a sign of estrogen dominance and/or insulin resistance–as well as depression and even psychosis.
It's worth noting that the mini-Pill, a progestin-only pill, may not suppress ovulation or conception from occurring.5,6  (This is the most serious risk of all, in my opinion, because I know what this means…do you?  *More on this below…)
Were you or your daughter put on the pill due to painful periods?
How sad that all docs know to do is to put girls on dangerous birth control pills!  Did you know that there are safer, natural options to help?
That's just four of many natural options, which I'm happy to dig into more for you if those don't help, but you DON'T need to go on a dangerous medication for this issue or put your daughter on this dangerous health-altering substance.
This is a shocking comment from my friend Susan that I had to add here, have you heard this one before?!  I hadn't…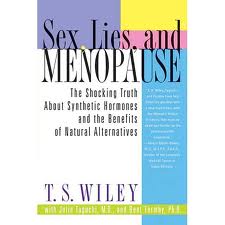 "After reading about T.S. Wiley in one of Suzanne Somers' books, I decided to read "Sex, Lies and Menopause." It ended up taking me everything I had to get through it. And not because it is a bad read, but because the info in it regarding the pill made me so upset. I was on the pill for 17 years!!!  The book explains how the pill puts us into a chemical menopause, so during the time when we are most fertile and should be making babies (according to nature's plan), we instead take the pill to avoid a pregnancy we are not ready for, which puts us into menopause. The book explains all things female and although it has menopause in the title, don't let that scare you. It has info for all ages. I wish I would have had this book when I was in my 20′s. I would have done so many things differently! Because my doctors kept telling me it was perfectly safe, I never thought of any further circumstances, and now because of it, I have put my hormones in such a chaotic mess that it may take me years to heal it. The pill completely destroys your adrenals and once those are out of whack, every hormone in your body is out of whack. It is painful, excruciating, frustrating and maddening for me. How different my life may have been had I not poisoned my body for 17 years!"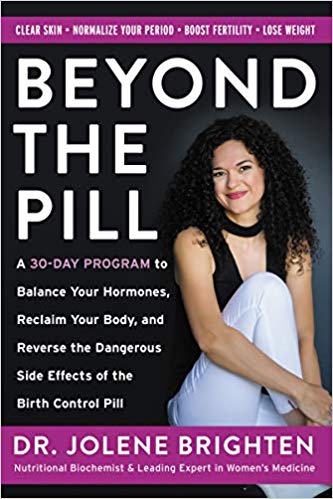 Here's another good book on this topic:  Beyond the Pill.
SAFE ALTERNATIVES to the birth control pill and its many dangers: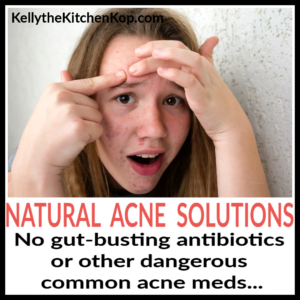 Where to learn about Natural Family Planning–learn about honoring your cycles and how to follow them naturally.
From Erica in the comments: A very effective alternative to birth control and solution to CURE the majority of women's health disorders is the Creighton Model FertilityCare System & NaPro Technology. It may be used by married couples for family planning and/or by couples or single women to help identify and treat numerous gynecological abnormalities. The system stresses fertility appreciation and respects the dignity of women & marriage. It aims to accurately diagnose and treat the root causes of women's health disorders such as PCOS, endometriosis, miscarriages, infertility, PMS, hormonal imbalances, heavy/painful menstruation, irregular cycles, and more. IMO, Creighton is what women's health care SHOULD be. Backed by extensive scientific research, Creighton Model FertilityCare centers are located across the U.S.  You can look here to find one near you. For more information visit www.creightonmodel.com, www.naprotechnology.com, or www.popepaulvi.com.
Here's a suggestion from a reader for a hormone-free birth control method (thanks Megan!):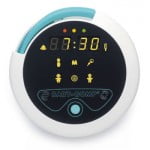 "Just wanted to offer up another option for birth control for those that are overwhelmed or scared of natural family planning. I use a Lady-Comp Fertility Monitor and love it. It takes your temperature first thing in the morning then gives you a simple red, green or yellow light. Red for fertile days (flashing red for ovulation), green for no chance of pregnancy and yellow for possible chance.  It learns your cycle over time so you get fewer and fewer yellow lights as time goes on. If you abstain during the red days, the monitor is just as effective as the pill. It also gives you a six day forecast of your cycle. I have loved how I don't really have to think about it, but yet became so aware of my cycles and symptoms. It also included my husband in decisions every month. It's a little pricey, but was well worth the cost to me. Hope this helps someone who is scared of making the transition from chemical means to more natural ones.  I should also note that it was very easy to transition from preventing to trying for pregnancy. We got pregnant our first try three times."
Note:  if that device is out of stock,  here are other fertility monitors you could try.
Need another reason to avoid the birth control pill?
*I didn't know until many years after I was on the pill that it doesn't prevent conception, it prevents implantation.  This rocked my world because I wonder how many more of our children do Kent and I have in heaven that we unknowingly aborted?!!!  It's one thing knowing that our many miscarried babies are there waiting for us, but not knowing how many more souls God created, which happens at fertilization NOT implantation, is hard to grasp.  Lord have mercy, I was on the pill for years.  🙁
How sad that I once thought I had the "right" to mess around with my body in such a way without ramifications…
Have you ever been on the birth control pill?  Do you know if it has been harmful to your body in some way?
More you might like:
Are you on the pill for PCOS (Polycystic Ovarian Syndrome)?  Here's a post geared toward PCOS and infertility, but would also apply for someone just wanting to treat it without the Pill.