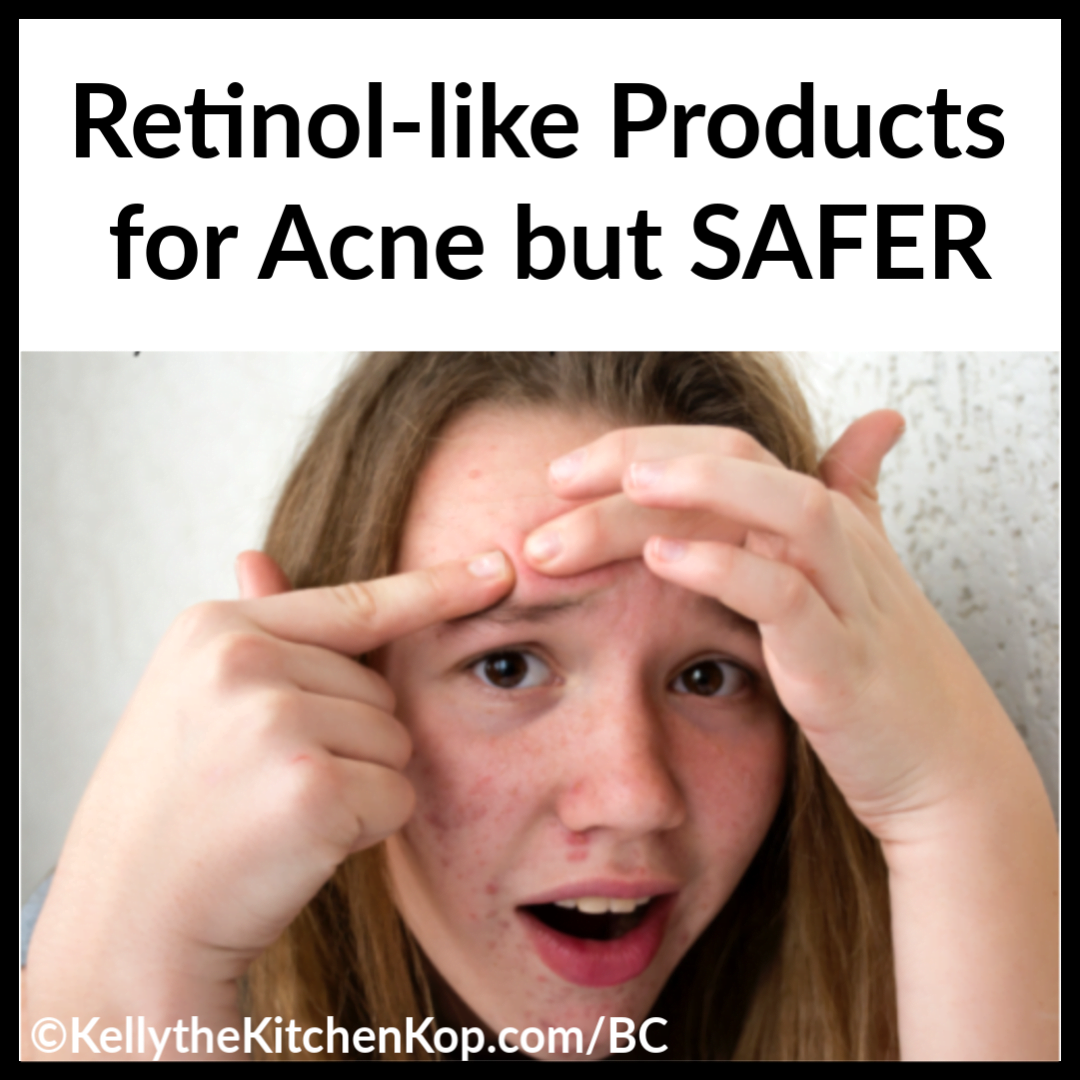 Beautycounter with Bakuchiol for acne — a Retinol-like ingredient but SAFER
You've probably heard of retinol for anti-aging, it's what the conventional world of skincare uses in many of their products.  ("Conventional" as in, they don't worry enough about safety!)  Well it's also what the conventional dermatologists prescribe for acne.
When a young gal I'm helping with an acne problem told me that she's taking a retinoid medicine, I sent her the following interesting info–I found it when I began researching more about that drug…
I looked up the acne med you're taking and found this:
"This medication is a combination of adapalene (a retinoid) and benzoyl peroxide (an antibiotic and skin-peeling agent)."
So Retinol is used pharmaceutically for acne AND for anti-aging, and it's the ingredient Beautycounter was trying to replace with something safer when they came out with their new Countertime anti-aging line with Bakuchiol.
Here's why:
Vitamin A in the form of Retinoic Acid (a form found naturally inside cells) has proven efficacy in reversing the signs of extrinsic aging (such as photoaging).  Skincare products utilize synthetically engineered derivatives of Retinoic Acid known as retinoids. (Source)
What are the risks of this synthetically engineered vitamin A?
Increased risk of cancer (of course), also increased risk of sunburn and sensitivity to sunlight, birth defects, liver damage, brittle nails, hair loss, and osteoporosis and hip fractures in older adults.  (Source)
So that's what Beautycounter tried – they tested and formulated for THREE more years before the full launch of Countertime to be sure it was safe. (I love how careful they are!)
Then I did some digging on a Beautycounter Facebook group I'm in to see if anyone had tried the Countertime anti-aging line with Bakuchiol for ACNE since the same ingredient is good for both, not just for aging.  Turns out they have, and with good results!
So I'm sharing some testimonies below, keep in mind I know this stuff isn't cheap (nothing valuable is), so I have some ideas on that:
If you have an HSA through work, I wonder if you could use that to buy skincare since it's for a medical condition…?
With Beautycounter you have a 60-day window for returns if it doesn't work for you, so you're not out anything for trying.
Here's another idea:  ask your parents for a Beautycounter gift certificate for Christmas!
OR you could join as a consultant and get 25% off anything you buy, then tell your friends and earn more $.  (Let me know if you want more info on that:  [email protected]).
You could host an online party and earn free or half-off products!  (I make it super easy on you so it takes very little time on your end!)
You could join as a member for $29 then you get 10% product credits on anything you buy plus free shipping on orders over $100.  (Plus the free gift that always is worth more than the membership cost!)
First, here are 4 other products people said helped them along with the Beautycounter Countertime with Bakuchiol (and you'll see them mentioned in the below testimonies):
Charcoal mask pulls impurities from your skin, use 1-2 times/week: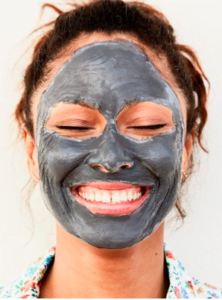 2. Charcoal bar also pulls out impurities as it cleanses your skin: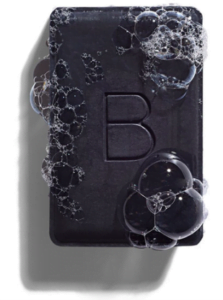 3.  To cover blemishes this makeup is safer and works too:  Skin Twin Foundation, Creamy Concealer, and this beauty blender helps apply them both for a natural look.  (See my video about these here!)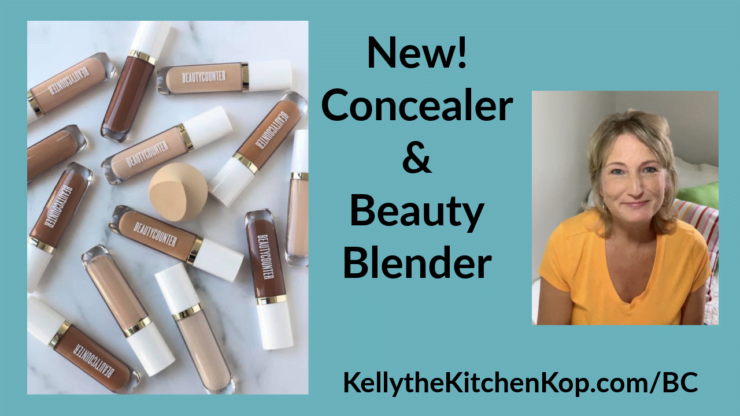 Overnight Resurfacing Peel (for nighttime) and Vitamin C Serum (for daytime) are great for helping to fade acne scars, for uneven skin tone, redness, and more–and see the drastic before and after pics below when these products are used!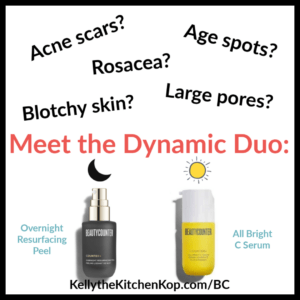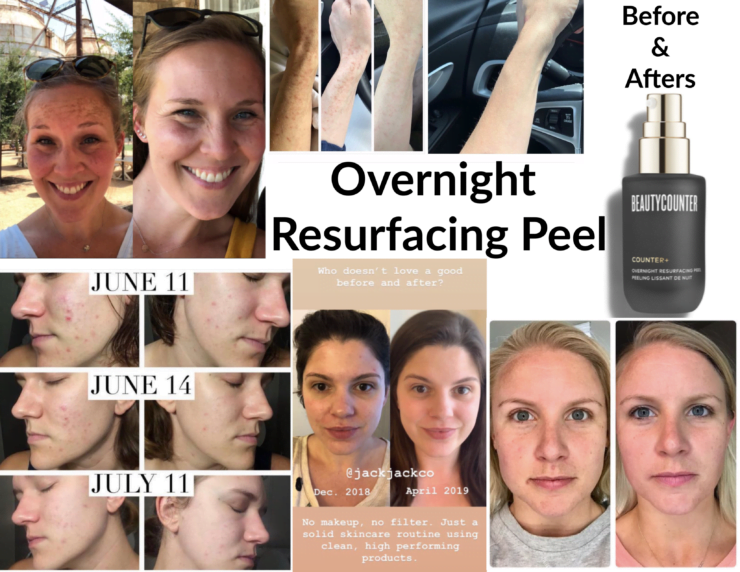 4. #3 Balancing Facial Oil calms skin and also good for acne-prone skin to hydrate and reduce redness: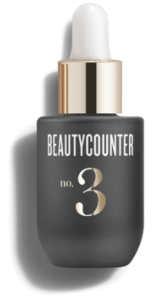 So here are the testimonies I've found…
***First here's something I found about the Countercontrol regimen — this is specifically formulated for oily skin, so if that describes your skin, you'll still want to start with this one (and then move to the next option after if this doesn't help):
I thought I would share with you all how much the Countercontrol line has helped my skin! I'm so amazed and am in just absolute awe.
There was a period in my life where I had some pretty bad acne. Everything the dermatologist told me to use had made my acne worse or caused my skin to have an allergic reaction where it would swell up to the point where my eyes were swollen shut. Eventually I stopped trying their methods and started to feel hopeless. Then a friend of mine introduced me to Beautycounter. I was skeptical at first because I didn't think anything could work at that point, but I was desperate enough to try anything to get rid of the acne I had been fighting for years. These pictures are of my skin at it's worse to now after two months of using the Countercontrol regimen. My skin is almost completely clear!!
I've been with the company since late November and I all I can say is life is good and I am so lucky to be a part of Beautycounter!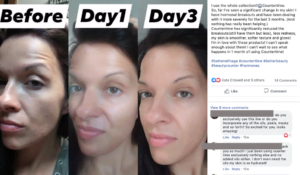 I have adult acne that is typically worse doing my period. Since starting Countertime it was the 1st time in a while that I didn't have a break out during my period this month.  This also helping with acne scars.  I'm still using the peel 3-4 times a week as well.
I have very oily skin with occasional mild acne. I've been using the entire Countertime line only at night (minus the supreme cream) for the past few nights and have seen great results! It's not making me more oily or causing breakouts. I can even use the Countertime soft cream during the day without getting too oily.
I've been using Countercontrol for a long time with good results as well, but my skin is smoother and brighter now that I'm using Countertime at night and it's helping to fade old acne marks. I use Countercontrol cleanser and matte gel moisturizer during the day.  And the Countertime line at night. I have not tried the supreme cream. So far it's awesome!!!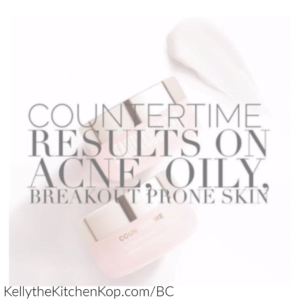 This line has been AMAZING for my hormonal acne. I have been struggling with it for almost ten years – it's been painful, cystic, red, and is always on my chin. I most recently was getting some relief from using the Countermatch, charcoal bar, and the no.3 oil. It was calming but still not keeping it entirely controlled. Countertime (Beautycounter with Bakuchiol for acne) has been a game changer!! My skin is almost 100% clear after using it for only 2 weeks. It's really calmed it and I haven't really had any new breakouts but it's healing what I had. It's incredible. 
I have redness prone and cystic acne (neck & jaw) and Countertime has been amazing! My skin has never been moisturized without being oily, or clear without being irritated!! Also no breakouts of any kind from it.  I'm currently only using the whole Countertime collection plus Countercontrol SOS spot treatment on breakouts.
I do the full Countertime pm regimen and that seems to be working! It clears up any active breakouts quicker than usual and it's lightening my acne scars.
I have oily acne prone skin with some scarring from teenage years. I was using the CounterControl and Rejuvenating line before and loved my skin, but always looking for anti-aging results.  I introduced the full CounterTime line all at once and it was too much, it caused raised bumps and breakouts in places I never break out. So I stopped the cleanser, serum and supreme cream. I'm loving the results with my new routine:
-Countercontrol face wash morning and night
-Countertime hydrating essence morning and night
-Countertime soft cream morning and night except for treatment nights
-Treatment nights I do essence with the CounterPlus Resurfacing peel
-Followed by Countertime supreme cream.
My skin is glowing, smooth, looks healthier than ever, I'm not wearing face make up at all and I see a reduction in my acne scarring more than I ever noticed with the peel!
I am amazed at how Countertime is stopping blemishes in their tracks. A pimple will start to form and it's gone in a day or so instead of coming out full blown. Another great benefit that I've found is that it's clearing up the red marks from old blemishes and the newer blemishes don't even get those red marks. So awesome!
I hope that's helpful, let me know if you have any questions! 
Here's a video I did about how to make your skincare last longer (plays after the ad): 
Don't miss this too!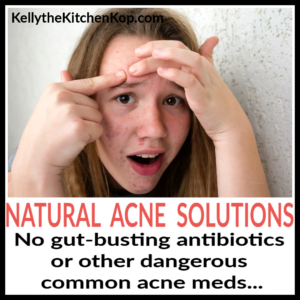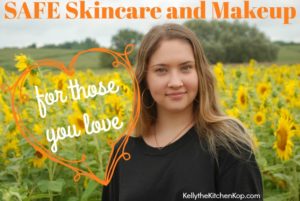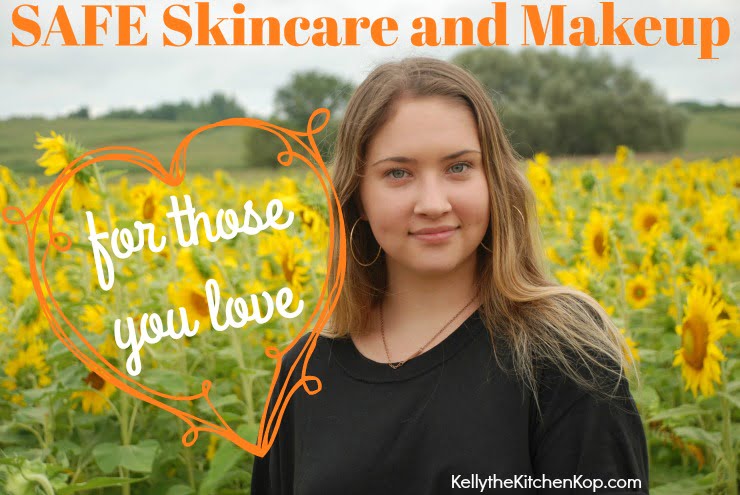 Follow my private Beautycounter social pages here:  (I'll add you as soon as I see your request.  This is where I share more about how this company is advocating for safer beauty laws, info on sales coming up will be here, AND often I'll have free product giveaways.)