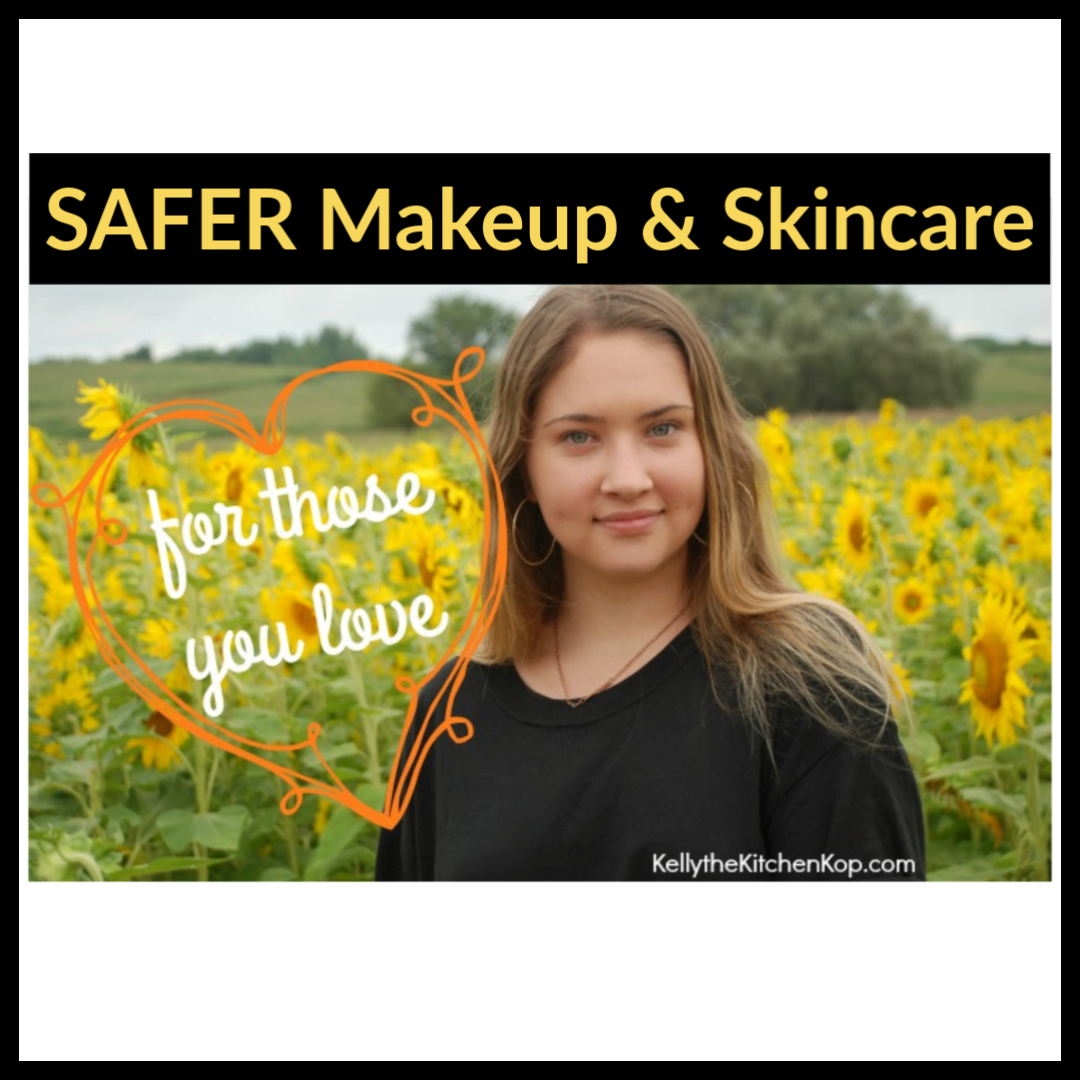 You probably know that we have 3 sons and one daughter.  Our daughter Kierstyn is 17 and in chef school now, how fun is that?  Especially awesome is how she loves healthy food and likes to cook for us sometimes.  Here she is making homemade pasta.  (And I've already told you about Kasey and how he likes making desserts.)  Yep, we're totally #blessed, but I have to keep throwing in some fasting and keto meals now and then or I'll be in major trouble — even more so as I navigate "stupid menopause"…  🙂
Our girl is also into ALL the girly things.
Whether it's clothes, hair, and of course, skincare and makeup too, she loves it all.  I've tried to steer her toward some of these safe and inexpensive DIY options, but who's going to make all of their own makeup or skincare products?  Not many of us, and I know I don't have time for that, I've got enough with making all of our meals.
But as most of you know, we really should be mindful about what goes ON our bodies like we are with what goes IN our bodies.
This is crucial because everything that goes on our skin gets absorbed quickly, including any toxins!  I can't even tell you how many makeup wipes, beauty creams, lotions, and containers of makeup she's gone through over the years.  While some of it was supposedly better quality, that basically just means we spent more money for the "natural" option, though I never really knew what I was looking for on the skincare ingredient labels.  I know what to look for on the food labels, but skincare is a totally different ballgame and I just hadn't gone there yet.  But as Kierstyn has grown, her love for all the skincare and makeup stuff has grown too, so I've been motivated to clean up our act in that area FINALLY and look for safer options.
Especially since women use an average of 12 personal care products each day containing 168 ingredients, look at this: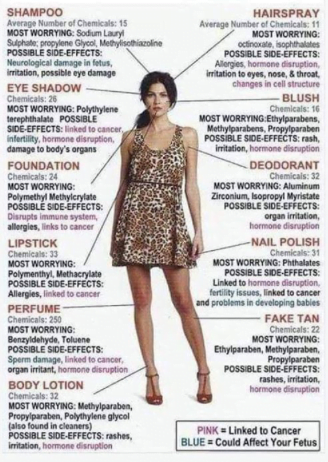 Again though, I had no idea what to look for.  So as I dug in deeper…
I kept hearing more and more about Beautycounter…  Mostly I was excited about their safer skincare and their "never list"
This "never list" has more than 1800 unsafe ingredients that will never be in any of their products.  They meticulously screen each ingredient for safety and are transparent about all of it, so I love that I can buy from them without researching every single product, knowing they have safer skincare and there's nothing scary that our daughter will be putting on her skin!
Icing on the cake:  Their ingredients are safe PLUS they still work too.  I fell so in love with the products that I now sell them—my clients tell me all of the time how thankful they are to have finally found safer products that actually WORK and don't cause skin reactions.  Also awesome:  Beautycounter was THE MOST GOOGLED beauty brand in 2018!  They are working to truly change the industry to make it safer, by lobbying for the Personal Care Products Safety Act for one example.
I'll share more of my personal thoughts as I try more and more of their products…
Request to follow my private Beautycounter social pages here on Instagram or Facebook.
Here's what I tried first:
First was this lipstick and not only did it feel really nice going on, I also couldn't believe how long it lasted — I put it on before church then came home and had coffee and ate breakfast.  I sat down to read for a while and did a few other things then later went into the bathroom and did a double-take in the mirror when I saw that the lipstick was still on!
Here's my most recent order:
Not sure if you can afford these better quality, safer skincare products?
As we always say when talking about better quality food from farmers you know and trust, you get what you pay for.  However, I get it, some of the products are pricey, sooooo…
I plan to just switch over one or two products each month to slowly weed out all of the rotten stuff in our makeup bags and replace with safe products over time.
If you want to save more, you can become a member here for $29 and you get 10% product credits and free shipping moving forward on orders over $100.  <– See what else you get at that link, including a free gift worth $43!
Or get even higher discounts and do what I did by becoming a consultant <– More info at that link or email me with any questions:  [email protected]. (You can earn a side income and get free products too.)  Don't worry, it's technically not an MLM (did you know they have actual stores?!) and there's no required monthly minimum buys or I wouldn't have joined.  It's just a nice way to earn a little extra money, or a huge income for some women.
Don't want to wait?
Try the FLAWLESS IN FIVE!  It's a one-stop solution to detox your whole makeup bag.  6 products, a bunch of savings and you just said goodbye to HUNDREDS of chemicals. Dozens of those chemicals are hormone disrupters that can cause infertility, hormonal acne, weight gain, mood swings and other hormone issues. The Flawless in Five swaps out your essential skincare and makeup products with safer options that perform AS WELL if not BETTER than the originals.  These include:  the tinted moisturizer or a lightweight foundation, mascara, brow pencil/gel, under eye concealer, blush/bronzer, and lip gloss. That's 6 products, less than 5 minutes and you too can have a detoxed make-up routine!  Order the Flawless in Five and make your picks here.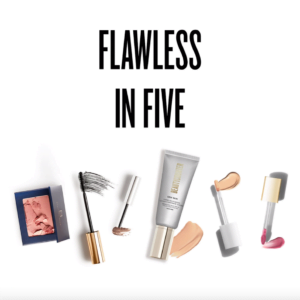 These before-after shots show the results with the Overnight Resurfacing Peel
(Note that you don't actually peel it back off, it soaks in and then you moisturize, that's it, not sure why it's called a Peel.)  Check out this gal's results after using the overnight resurfacing peel 4 times per week for just 2 months — that's all she changed in her skincare routine: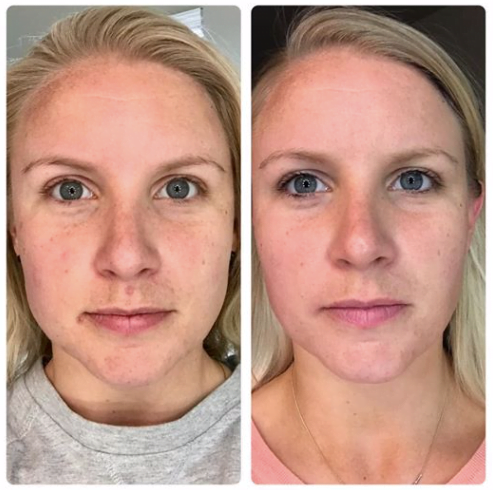 Here's another one showing results after the Resurfacing Peel:
Learn more about BeautyCounter from this Today show segment:

Let me know if you have any questions!
Remember you can check out their products here!
An update later:
I'm loving this company because of their safer products that work so well!  (Unlike some super crunchy products that are perfectly pure but don't work at all.)  I'm loving it as a consultant too and have earned more than I ever thought I could in only the first 2 months!
By the way, Beautycounter is technically not an MLM because you can buy online NOT through a consultant if you want or even at a few retail stores around the country, but in the past I hated the business model of MLM's anyway because you'd HAVE to keep buying product that you don't need each month as a minimum required buy, or to meet your minimum inventory requirement.  BC has none of that, so I can be a consultant and just promote them like I do my other affiliate products without pressure or the need to keep buying even if I don't need something that month.
There's also no need to keep any inventory and there's no requirement to recruit more people under you, however, most naturally want to tell others about it because it's so great and it's so easy to earn well.  I want my friends to be able to earn money at home too, while helping educate others about the dangerous stuff in their skincare and makeup, so I've been building a team after all.  If you want to join me or have any questions, just shoot me an email:  [email protected].
Follow my private Beautycounter social pages here:
I'll add you as soon as I see your request.  This is where I share more about how this company is advocating for safer beauty laws, info on sales coming up will be here, AND often I'll have free product giveaways.  🙂
Here's a video I made about how to make your skincare last longer (plays after the ad): 
Any questions let me know!  More you might like: