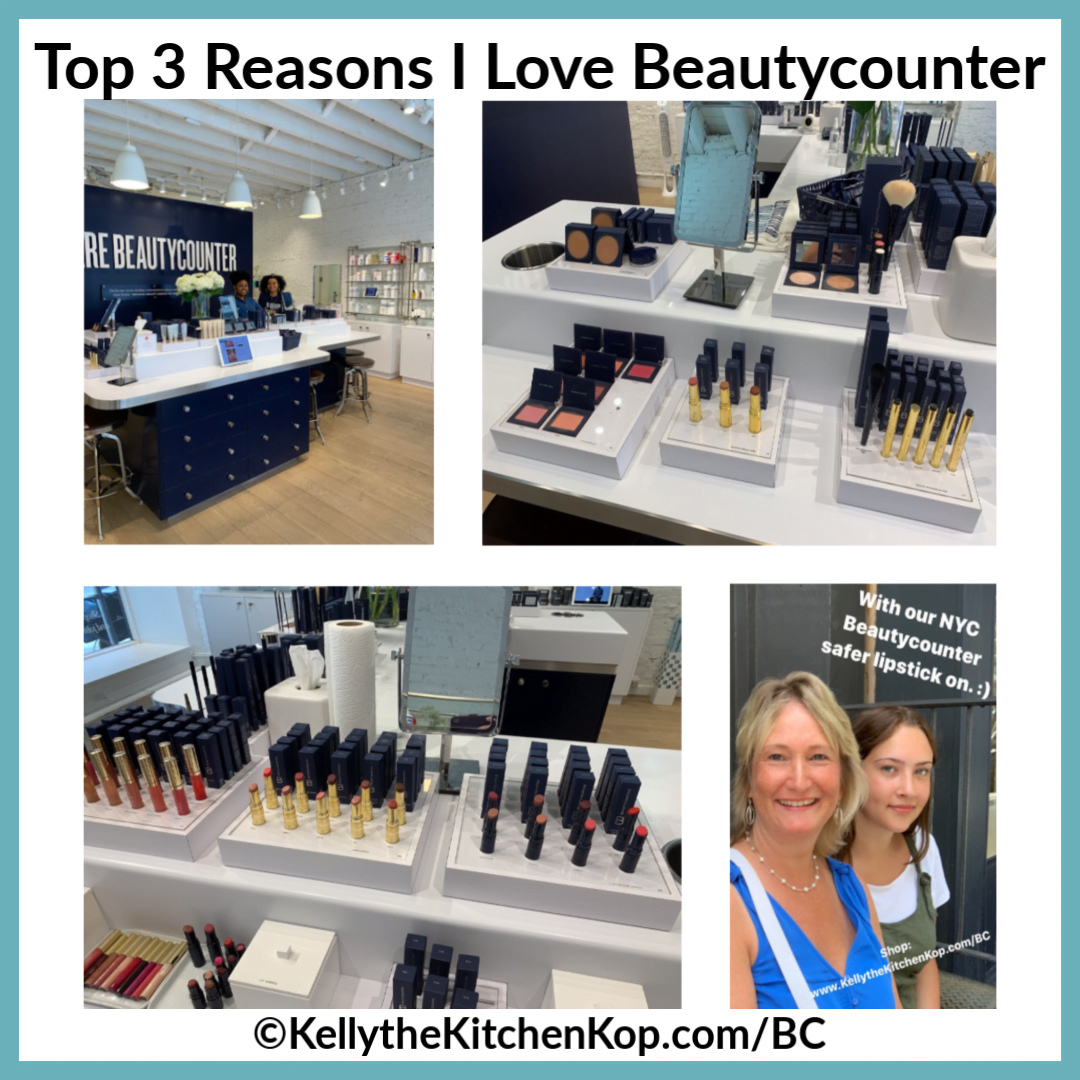 Today I'll share the top 3 reasons why I love Beautycounter and why it's become my passion to teach others that they don't have to compromise safety for beauty!
As time goes on I've only been more excited and more sure of my decision to teach others about the safer skincare and makeup options out there.  It started with just being worried about what our daughter was putting on her skin and has turned into a passion to help others know the truth behind the beauty industry — it's about so much more than just how we look!  (By the way, the top photo is from when we went to the Beautycounter store in New York City recently, it was so neat being there!)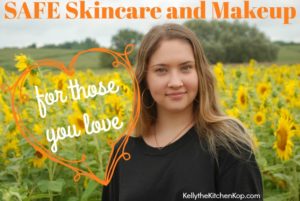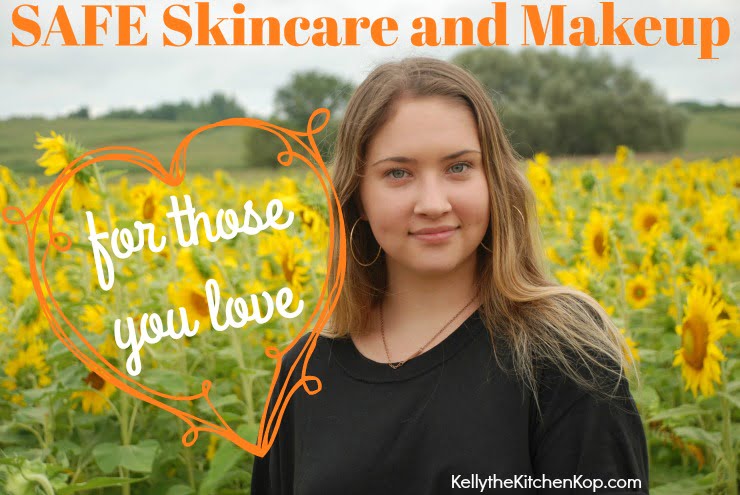 1.  Why I Love Beautycounter:  Transparency (did you know about the "fragrance loophole"?)

"Many safer fragrances, including essential oils and natural fragrances, can have naturally occurring allergens that make up the scent. For example, a pure essential oil like rose oil is made up of naturally-occurring chemical subcomponents. Those subcomponents may be linked to allergies in some sensitive populations.  In order for a product to be EWG Verified or sold in the EU, a company must disclose all of these allergens above EU threshold limits (0.01% for rinse off and 0.001% leave-on).
We wanted to lead the way in North America by being transparent, because it's the right thing to do. 
Believe it or not, it's still industry standard to keep fragrance ingredients secret!  This is known as the "fragrance loophole", and it allows companies to shield their ingredients from the public under the guise of trade secrets.  At Beautycounter, we are committed to creating high-performance products that are also enjoyable to use, which is why many of our moisturizers, lotions, and cleansers are lightly scented with fragrances. But our commitment to transparency means we disclose all of our fragrance ingredients, so you know exactly what is in our products."
Fragrance transparency is just one of the ways they're committed to being truthful about what's in your skincare and makeup products.
2.  Why I Love Beautycounter:  Safety and Screening

Here are just 2 examples of how carefully they screen their products for safety:
Senior Research Toxicologist, Kwaku Agyekum on the ground breaking safety screening that Beautycounter does:
We screen first for the most vulnerable populations (the very young, the very old, pregnant and breastfeeding women) because once products are safe for those people, we know they're safe for the general population.  We have 112 pages of banned ingredients. People talk about the number 1500 and the Never List (ingredients that'll never be in BC products) but realistically it's many more than that.
We screen each ingredient using 17 research databases evaluating 23 different endpoints for human end environmental health.  
These endpoints range from human reproductive toxicity and hormone disruption, to environmental consequences like aquatic toxicity and bioaccumulation. To put this in perspective, most big corporations are only screening for things like allergic reactions, skin irritation, or death.  This means that even if research shows an ingredient is safe with respect to human health, for example, if it doesn't degrade and ends up in the water supply, we won't use it.

Retinol, a chemical used in skincare for anti-aging, can be magic for a variety of skin issues, like acne, wrinkles and hyperpigmentation. But it can also be hard on skin, causing redness, flakiness and increased sensitivity to the sun. Beautycounter promises retinol-like results with Retinatural Complex, which uses Bakuchiol (a plant extract) instead.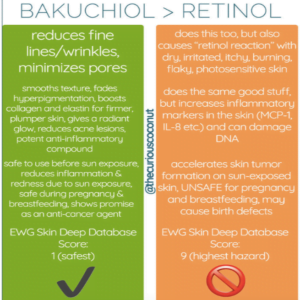 This plumps and firms up skin, reduces the appearance of fine lines and wrinkles and improves the skin's texture too.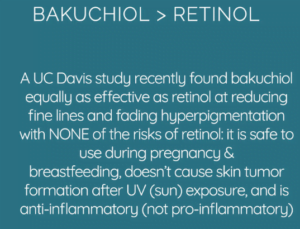 3.  Why I Love Beautycounter:  Safe, transparent, AND high-performing products  
Who cares if food is good for you if no one will eat it (that's why I love recreating favorite recipes that taste good and are healthier too), and in the same way, who cares if skincare or makeup is safe if it doesn't actually do anything for our skin?  Beautycounter is both:  the products are safe and they work, because we should never have to sacrifice safety in the name of beauty.  (Remember that whatever goes on your skin goes in your body.)

I shared a few of our favorite products in my other post, but here are some new favs as we've tried more:
And here's what we just ordered to try next:

Here's my most popular seller:
The Overnight Resurfacing Peel — and it's no wonder, check out these before and after shots:   (Note:  this link is acting weird so if you get a message saying it's only available in Canada, just use the search bar and put in "Peel" and it'll come up.)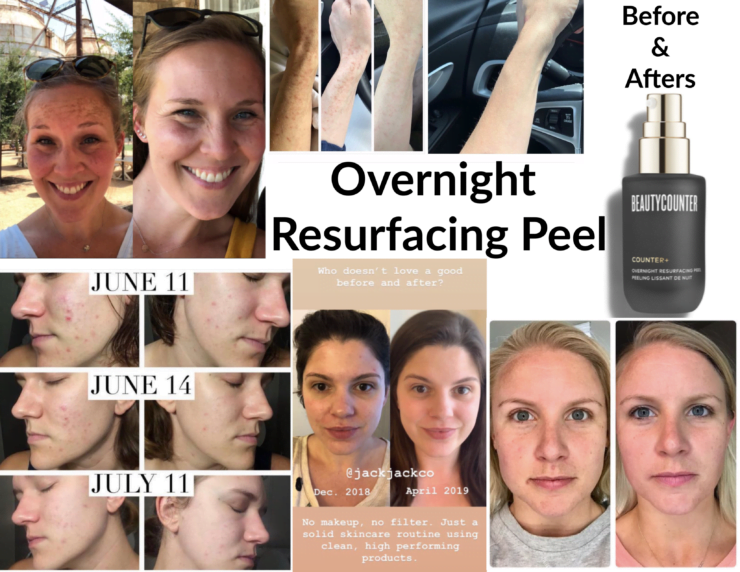 Why I Love Beautycounter:

   $22 billion in sales by 2024 — get in on it!
Clean beauty was valued globally as $11 billion in 2016 and is on track to grow to $22 billion by 2024.  Right now, Beautycounter has market recognition of only about 2% of the American public, so there are many who don't know about them yet.  With how quickly it's growing, given that they're the number one trending beauty brand of 2018 according to Google analytics…
If you've ever wanted to work from home, now is a great time to check this option out.  
It only costs $98 to join, plus you get free products (Resurfacing Peel + lipstick!) and also an enrollment kit, which includes a personalized website, training and everything else you need to start your business.  (No requirements to buy products or keep an inventory, so it's easy to start.)  Imagine if you started today, how many more people you care about would be empowered with the information to make better choices for their makeup and skincare that could affect their heath for the rest of their lives!  Bonus:  work from home with flexible hours too.

How easy is it to earn?
As a blogger it was a little easier to get going and do well, but most consultants are not bloggers, and so many are really rocking their business!  It doesn't take a lot of time, but it does take some and if you're somewhat of an organized person and can give it your all for just a few hours a week, there is so much help and support, you could easily earn a nice extra income to take some of the pressure off your budget.  (More to spend on real food for your family!)
Recently I watched a video with a gal who is not a blogger, and she grew her business and her following from scratch within just a few months and is now earning a great income.  It's not difficult, I can show you everything if you're willing to learn and I have a bunch of tips and forms all ready for you to copy so you can start earning fast.  Plus there's a whole Facebook group available with super helpful and supportive women who can answer any question I can't!
Shoot me an email with any questions.
I can call you to explain more if you'd like and see if this would be a good fit for you.  🙂
You have options!
Get involved in this movement, you choose how:

Join me and be a voice for change:  start telling your circle about Beautycounter and the safer-beauty, better-beauty movement and get 25% off !  Learn more here.  Make sure you put me as your mentor:  Kelly Moeggenborg.  Or email me with questions:  [email protected].  (Note that you can also get a starter set when you join — it's a big bundle of products that are super discounted up to 44% and only that price right when you join — these are great to have for samples or to share with your prospects, but they're not required.  You can also shop a la carte and get 25% off immediately.)
Just want to shop for your favorites or try something out?  Do that here.
Want something in the middle — not interested in selling it yourself but want more discounts?  If you become a Band of Beauty member for only $29, you'll get credits with every order, a free gift with your first order over $50 (always worth more than the $29 cost), and free shipping on orders over $100.

If you already use Beautycounter products, share your favorites in the comments!
More you might like: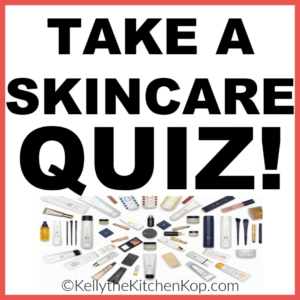 Don't know where to start?  Try the "Flawless in Five".

  

It's a one-stop solution to detox your makeup bag.  6 products, a bunch of savings and you just said goodbye to HUNDREDS of chemicals. Dozens of those chemicals are hormone disrupters that can cause infertility, hormonal acne, weight gain, mood swings and other hormone issues. The Flawless in Five swaps out your essential skincare and makeup products with safer options that perform AS WELL if not BETTER than the originals.  These include:  the tinted moisturizer or a lightweight foundation, mascara, brow pencil/gel, under eye concealer, blush/bronzer, and lip gloss. That's 6 products, less than 5 minutes and you too can have a detoxed make-up routine!  Order the Flawless in Five here.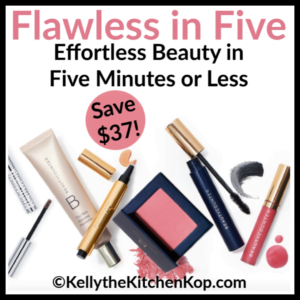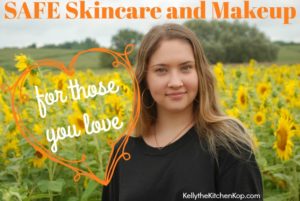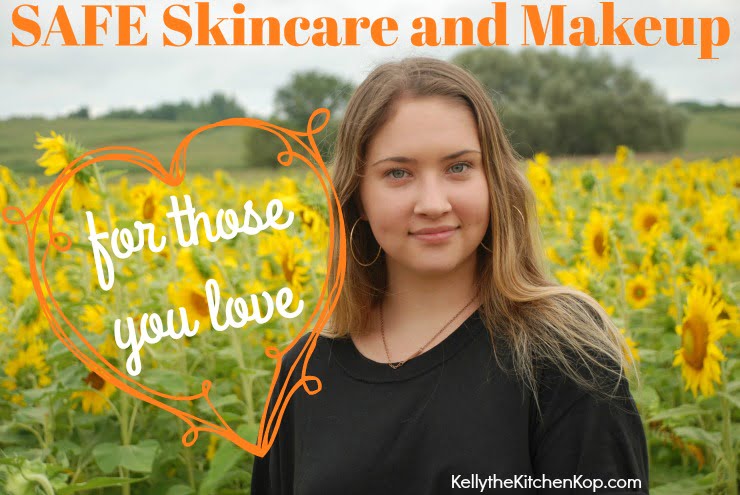 Watch this great video for more on why I love this company: